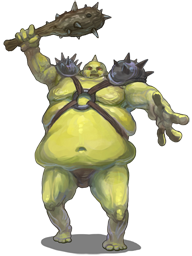 The description kind of says it all. The ogre picture above is from the RPG Maker VX RTP. I'm looking for an edit to turn him into a cyclops battler for RPG Maker VX Ace. The Relay Point material I found on another site has cyclops character sprites but no battlers for them, and since they look like this fellow anyway, well...
The edit I'm looking for might just require a change from two eyes to one central eye, but if the face has to be redone to make it work, I'm fine with that.
Thanks in advance
Edited by garodthefighter, 09 April 2012 - 06:45 AM.