Third-Rate Noob
Joined

Mar 10, 2014
Messages

193
Reaction score

302
First Language

English
Primarily Uses

N/A
Hey guys, this is my
first project ever
and a very ambitious one at that... so I am really nervous about revealing it.
This has been my dream project ever since I made a comic for a 5th grade newspaper project. After more than a decade of dreaming and thinking, I am finally, hopefully, skilled enough to bring this story to life.
Please let me know whatcha think!
Download Link
- By the Great Old Ones, Please Give Me Feedback!!
Last Updated Feb 3 2015
NoRTP
https://www.dropbox.com/s/7jw7rv82gmzaw1i/4Runes%28NoRTP%29.exe?dl=0
RTP
https://www.dropbox.com/s/j1l7ohskkzjgga8/4Runes%28RTP%29.exe?dl=0
Note to all, if you can't make out the four characters on the title screen... erm... you might wanna turn up your brightness for the full enjoyment of the game, maybe...
Issues I am Aware Of
-Jumping is broken as hell, and can easily break events...
Reworked Jumping Mechanism
-Crafting is currently tedious... I'll throw in a script or something since I am bad at this...
Added Syzu's Crafting System
-Story pacing is mreh....
-Cinematics are mreh....
-The Game assumes you do certain events first
-Chapter 1's combat is boring... eh I swear it will get better in later chapters...
Development Progress
-Chapter 1 (30ish minutes of gameplay so far, finished, undergoing polish, changing some events and cinematics)

-Chapter 2 (Story in final stages, currently mapping and making events)

-Chapter 3 (outline done)

-Chapter 4 (rough ideas in place)

-Later Chapters (Putting atoms together to make molecules, then hopefully a skeleton)

-Hope to release... before the next Mayan Apocalypse

Currently Doing

-Chapter 1 Refinement

-Chapter 2

-Chapter 3 and 4 Planning

-Classes and Skills

-Battlers, Pictures, Faces

-Crafting System, Weapons and Armor

To Do List

-Make a decent Crafting System (maybe I should find a script or two?) Added Syzu's Crafting System

-Facial Expressions for Character Portraits

-Cinematic Drawings for the end of Chapter 1

-Cinematic Drawings for Chapter 2

-Guest Party Members (Rough ideas in place)

-Moar Monsterz (Chapter 2 Monster sketches are done, need to be digitized and animated)

-Moar Skillz (Ugh, I hate combat balancing)

-Original Icons

-Figure out why I am doing this to myself
Things I want to do but probably won't
-Create Animated Battlers for Main Party with different weapons and stances (not sure I can do this)
-
Create fully Animated Cutscenes (like an Anime or Cartoon or something! But Great Ones, I have no idea how to do that!)
Working on something!!
Things I will do
-Share this game with everyone when it is done completely for
free
4Runes
Legend of the Void
Eons ago there existed a darkness that seeped through the Void, everything within its reach holding a chilling and chaotic air.
It had engulfed the world in the entirety of its grasp, and shrouded all living creatures in the pits of sorrow and despair.
Just a few centuries ago, the Great Ones descended and gazed with pity towards the ball of darkness that was the world.
With a snap of their fingers the darkness of the void dissipated and then condensed, in their hands it was held and then hurled.
Nearly blinded by the light that had begun to shine, the people looked up in bewilderment and awe.
The Great Ones spoke, "Children of this realm know whom it is your saviors and forever thank us as law."
"For if you do, light will forever shine upon this great world as it does now or else shall that light be destroyed."
And thus the Age of Light began, with the entirety of the prior existence to be known as the Age of the Void.
-Great Revelations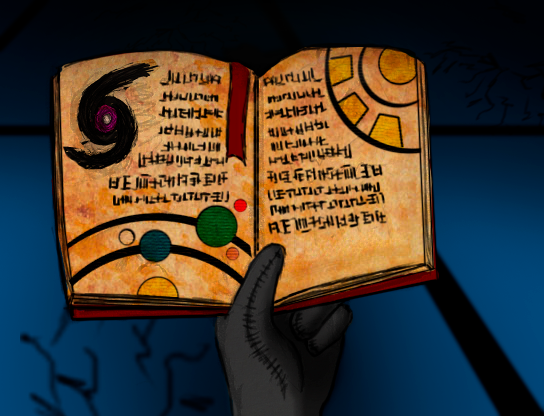 Features
(subject to change)
- An story that explores the lost history of the world
- Character development
- Dungeon Crawling with Platforming Elements
- Traditional RPG Combat an Active Time Battle System
- A basic crafting system
- A  simple class system that allows party members to be several roles, and can be changed anytime out of battle.
Err... umm... let's see...
- Artwork made by an amateur
- Handdrawn Animated Battlers made by the same amateur
- A game being developed by one guy, and this is probably too much for me to handle by myself...
World
World Map (work in progress)
For a thousand years now the world was controlled mostly by the Church of the Great Ones. It is largely unknown what state the world was in prior to that, but for the most part the discovery and research of any relics and ruins of those that lived in the Void Era has been largely taboo.
That is, until the establishment of the Magic Guild roughly 150 years ago. With their tower built directly upon the remains of a lost civilization from the Void Era, they immediately began development of wondrous technology. Their research has revealed the past eras were highly advanced and soon the Magic Guild was quickly opposed to the Church regulations and immediately began scrouging as much of the past they could, and released what they could to the public.
While the Church and Magic Guild directly opposed each other for some years, they have began to at least cooperate more or less after the Magic Guild help establish new technologies for the good of all... for the most part, the Church and Magic Guild developed Airships and a Bank together.
Either way, both the Church and Magic Guild are still at odds with one another... seeking the ruins and relics of the past, and claiming rights to history.
Characters
Main Characters
(Class Features Subject to Change)

Kyo
Age: Appears mid 20's
Main Class - Mage
Specializations:
Warlock - Single Target Heavy Raw Magic
Magus - AoE Magic Self Substain
Eldritch - Condition Heavy Debuffer
Ritualist - Supportive Buffs and Healing Magic
A low ranked mage from the Magic Guild, Kyo is actually a well experienced adventurer.
He seems to be holding several secrets about himself, and holds back showing his true powers. While he is currently traveling on assignment from the Magic Guild, he holds his own goals in much higher regards. On his left ring finger he securely wears a ring embedded in an unknown language.

Clay
Age: 27
Main Class - Soldier
Specialization:
Slayer - Single Target Heavy Raw Melee, small chance of multiple Conditions
Gladiator - Aoe Melee with high chance to cause Conditions, Immunity to Blind
Guardian - Tank with Debuffs, Self Substain and Immunity to multiple Conditions
Paragon - Buffer/Support with Access to Holy and Lightning Damage
Born in a farming town near the mountains to the north west, Clay is the local blacksmith as well as a skilled swordsman.
His father was reported to have died out on a joint Church and Magic Guild excavation mission about 15 years ago, the scarred helmet Clay wears was the only thing recovered from his father. Since his death he was taken care of by his neighbors whom he calls his Grandma and Grandpa. Although an adult now, he still wonders about the mystery of his father's death.


Lyra
Age: 24
Main Class - Theif
Specializations: (WiP)
Hunter - Single Target High Raw Damage
Trapper - Multi Target Heavy Conditions
Rogue - Debuffer, Greater Item Usage
Bard - Buffer, Greater Item Usage
A half-elf that managed to escape genocide thanks to the efforts of a rogue knight.
Although Lyra was forced to live in the streets she is still forever curious about her savior. She wears a small red cloak that is actually a knitted blanket. The blanket itself was given to her by the one that saved her. She hopes to one day meet the one that saved her.
She will join the party in Chapter 3.

Akara
Age: Appears early 20's
Main Class - Magician
Specializations: (WiP)
Duelist - Versatile Physical/Magical Striker Condition Heavy
Dominator - Magic AoE with Multiple Effects
Illusionist - Magic Debuffer
Enchanter - Magic Buffer
A mysterious girl with an even more mysterious origin...
She will join the party in Chapter 4.
Supporting Characters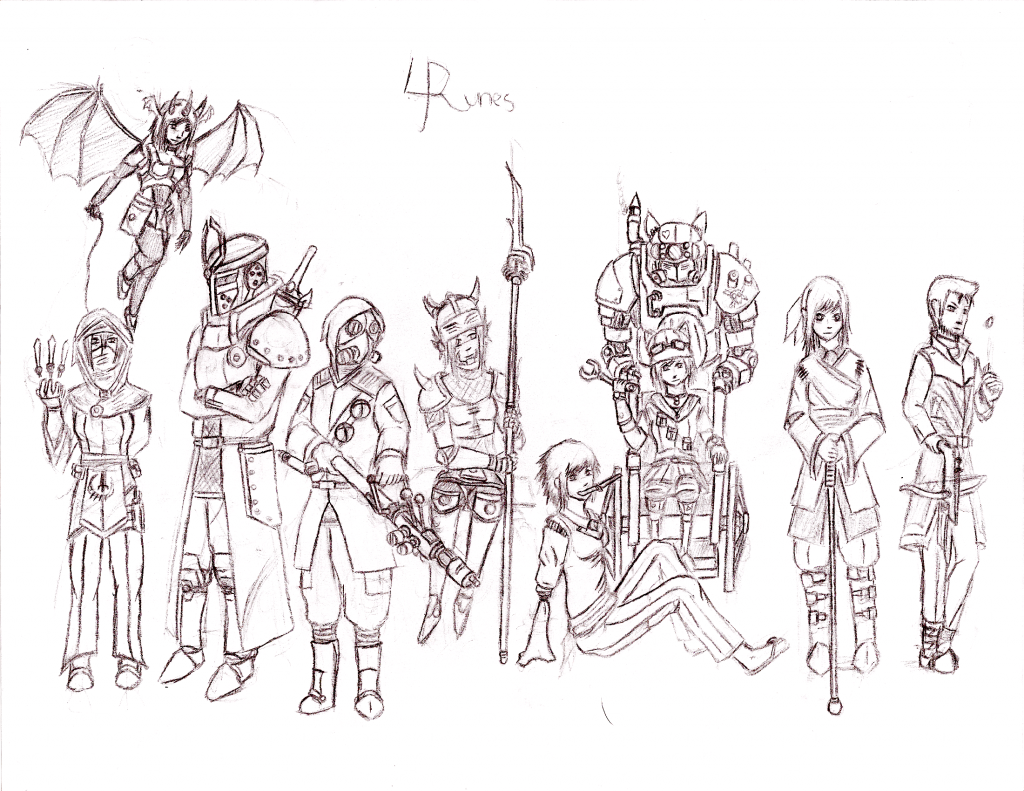 Biggs
- A Guardian for the Church of the Great Ones. He's not the brightest thinker and usually answers obstacles with a beating. His preferred weapon in battle is a great hammer.
Fortune
- A traveling merchant that owns a shop in the adventuring city of Virtus Blade. She dons a set of red armor with draconic designs. She is somewhat cowardly and uses a spear in battle in order to keep her distance in a fight.
"Grandma" Helen and "Grandpa" Fareko
- Clay's loving neighbors and essentially a retired witch and warlock. Although Fareko claims to be done with magic and inventions, he still tinkers with his dream invention called the "mechanical broom."
Tolshin
- An Alchemist and Cryomancer, he is an associate of the Magic Guild. He runs a small mining company and sells a line of unique hair dyes. Hidden behind his gas mask is a young man with blue hair... because you gotta have blue hair! His weapon of choice is a new type of weapon he invented called an alchemer... which is essentially a magical staff converted into a type a hose that shoots alchemical stuff...
Tyrosine
-  A mysterious knight that has never shown his actual face. His helmet is actually enchanted to allow him to eat and drink without taking it off. He wields a magical sword and shield in battle, and he is always willing to give advice or help to those in need.
Granite
- Clays father who was said to have died 15 years ago in a joint excavation by the Magic Guild and Church. His body was never recovered, and any information about that excavation had been locked away.
More info coming eventually...
Screenshots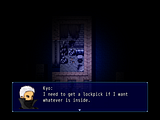 Video Footage
Sorry of the Video Quality is bad...
Credits
(Not all of these assets have been utilized yet in the demo thingy)
Scripts
Moghunter
Mithran  
Jet10985    
Syzu
Victor Sant
Yanfly
Music
Joel Steudler
Quigon
mjomusic
Scythuz
Gorlami
Kairi Sawler
JDB Artist
Jeremiah "McTricky" George
Tilesets
Lunarea
Other Assests
Obsidian Dawn - (Photoshop/GIMP Brushes)
http://www.obsidiandawn.com/
Last edited by a moderator: