One of Rem's Many Husbands
Joined

Mar 7, 2014
Messages

45
Reaction score

22
First Language

English
Primarily Uses

RMMV
(note: I AM willing to pay a small amount depending on the quality of your work, but it won't be much cus I'm not rich.)
Hello you very nice and willing-to-help-a-pour-soul people,
I'm new here, unless you mention my 2.5 years of inactivity, and I have a pretty big dream at the moment, which is to take on the daunting task of making a very good game. And yes, I don't mean just any old game, I want to make an amazing game - something like To The Moon. Ever since I played that game 2 years ago, I've decided to take game design seriously, and I've been working on my art, story-writing, and music composition skills. But before we get into me, I will explain the game I want to make. I haven't started on the actual game, although I have a killer story and a few sample resources made. Also, take note that many things about the game is subject to change, including the name, which means that if you want to join me in my quest to create an awesome game, I promise that you will have a say in how the game will be made. The game will be made using RPG Maker MV
So, the game is currently titled "5 Wishes". It's about a high school graduate in Japan that revisits his hometown after ten years and meets a ghost of his past.
Kaito, an eighteen year old high school graduate, revisits his hometown after ten years. He finds the Japanese cherry tree garden where he used to play with a little girl around the same age as him named Chisato. He buries himself within his memories...


The two children used to play various games in the garden like tag and hide-and-seek. They would laugh and smile at each other in a time when life was carefree. Kaito would go there everyday after school, and Chisato would climb out from under a hole in the garden wall that connected the beautiful, pink garden to her own backyard, where her strict parents would keep her confined. Kaito was Chisato's only friend besides Momo, a teddy bear given to her on her sixth birthday, and Kaito knew this, which is why he kept coming back to play with her. However, one day, tragedy struck, and a cigarette thrown on the side of the road set fire to the front of the garden while Kaito and Chisato were playing hide-and-seek. Kaito, who was near the entrance got out before the entrance was engulfed and tried to get help, but no one on the road wanted to jump through fire to save a girl they didn't know. Kaito could only hope that Chisato had gotten out through the hole in the wall, but when the smoke cleared, and the firemen ran through, they found her body crushed under a fallen cherry tree.


Ten years later, Kaito walks through the garden, now restored and back to its original beauty. He stops at a small stone plate near the pathway. It reads "Sakata Chisato". As he offers a prayer to the memorial and kneels down to place a pink flower on the stone, he feels a light tap on his shoulder. He turns around and finds a transparent eight year old girl looking up at him - it is Chisato. She smiles at him cheerfully and tells him to follow her. At a loss of what to think, Kaito doesn't think and does what she asked. They come to the center of the garden that holds a small pond with a couple of Japanese Koi swimming around in it. They stand at the edge and talk briefly before Chisato suddenly pushes Kaito into the pond, and he loses consciousness as soon as he hits the water. When he comes to, Kaito is on the side of the pond, but the landscape around him has changed slightly. The pathway that looped around them is a deeper brown, and the pink trees around them seem to have switched places. Chisato kneels beside Kaito.


"Welcome to my dream world!" she says excitedly.


"W-what?..." Kaito mumbles, still dizzy from waking up, "What- what did you just do?"


"What? I brought you to my dream world." Chisato replies, as if it were obvious.


"Dream world?"


"Yeah. Sorry for asking like this, but can you do me a big favor?"


Perplexed, Kaito nods and says, "Yeah... What is it?"


"Can you help me be reborn?"


And so, Kaito embarks on a wish-granting journey, unaware of the horrors, the tears, and the retribution he faced.
The game will be a mixture of adventure, puzzle, and horror, but once again, it's not set in stone. The story does allow for action and battles, although it wouldn't be good to call it an RPG. I currently don't have much to show, but I'll place the newest resources/samples I create down here. The following two are for Chisato. I used the
MACK character generator
 template for the character sheet, but drew the dress and the hair on my own.
      -Sample character sheet originally made for Ace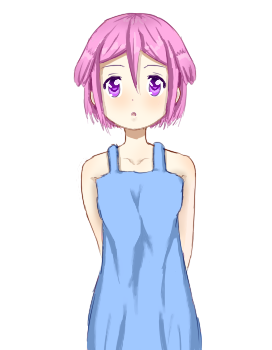 -Sample portrait of Chisato
Her unique character design is her weird doggy ear hair flabs on either side of her head that I'm planning on having point up when she is excited.
I'm still planning a LOT for this game, but I just wanted to see if I could recruit a team member that could stay with me the whole trip, maybe make a new friend... But really, any help will be appreciated, and you'll be credited regardless of how much you help - even if you just give me an idea. Mostly, I'll need a reliable source of scripting, whether it be a bunch of free plugins from different people, or someone helping me out with scripting, because I can basically handle everything else myself (I'm a do anything type of person, I just don't do coding). But of course, it will take a very long time to achieve the minimum 3+ hours that I want for the game just by myself.
Example of my art on DA
And yes, I do have a decently high standard for any artwork or music in my game, mostly because I consider myself decent at both of those. Basically, if your work obviously looks worse than mine, I don't want it. As I mentioned above and in my title, I am willing to pay a small amount for resources or special scripts, but it won't be much. So, mostly I am hoping for someone nice enough to help me out or interested in my game enough to join me on this journey. And who knows, maybe I'll even go commercial and split the profits one day.
My point is, I have a big dream and a short arm. I can't offer much, but if we can form a team to help each other up... Who knows what'll happen?
Edit: Basically, my role in making the game would mainly be drawing the portraits and the story pictures, and of course the majority of the story (although I can add/change things if someone has suggestions). I could also compose some music, try mapping, and do some spriting. However, it would take an absurdly long time for me to create everything myself, which is mainly why I'm asking for help in any one of these fields. I'm not looking for a specific skill. Furthermore, I don't feel that I'm at the stage to actually need help. My main purpose here is to invite anyone that is interested enough in my story to join me for the long run.
Last edited by a moderator: