Drinker of Coffee
Joined

Aug 17, 2012
Messages

984
Reaction score

288
First Language

English
Primarily Uses
"A mystical world of might and wonder"​

Aesparia's gameplay takes place on the continent of Gallavis, which is located right above the Inferno Belt of Aesparia. Three ruling kingdoms are located here.
The game will be divided into episodic content that tells the story of Hilian's war against Unadaer, as well as the mystery of Hilian's Sealed Castle. The game will also be free.  
Episode 1: Rise of Briglivek
will be released soon!
The Free Kingdom of Hilian​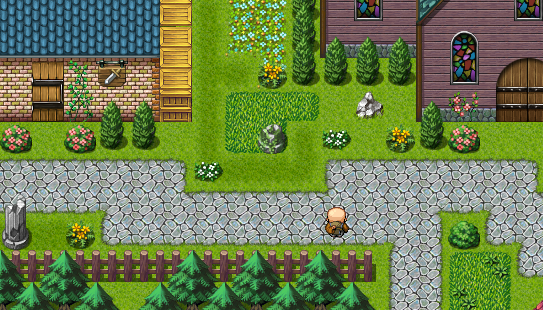 Located in the center of Gallavis, Hilian was born from the dreams of slaves who escaped the Unadaer Empire. The kingdom was named after Julius Hilian, who lead the rebellion. Unfortunately, Hilian has always had a bloody pastwith the constant battling against their former oppressors, the Unadaer Empire. Hilian today, however, is still recovering from a period of time which was known as "The Rule of the Mad Prince.". Hilian is where the game begins.
The Water Kingdoms of Aeland​
Located to far east on the continent of Gallavis, Aeland has been the naval trading center for all the Far Kingdoms of Aesparia. Even though the kingdom is built on the ocean, it has survived through powerful tsunamis and hurricanes in it's past, making it a very stable city. It's most dominant ally is The Free Kingdom of Hilian. King Yoshira Aeland rules this kingdom with a gentle hand with his wife, Queen Tira Aeland-Nyl of the Desert Cities.
The Iron Empire of Unadaer​
Located far west on the continent of Gallavis, The Unadaer Empire has been a dominant power for centuries. Ruled by Emperor Uther Unadaer IV, the empire was built on active volcanos to form a natural barrier against their enemies, as well as a way to forge the finest steel of all of Aesparia. How the volcanos are controlled are unknown. The empire has always been frowned upon since it was built and maintained on the backs of slaves.

Aesparia, has a very rich history, and the continent of
Gallavis
was no exception. During the past century, most of
Gallavis
went through several bloody wars that sculpted the continent to where it is today.
The Slave Uprising
The Unadaer Empire
's citizens are made up of the following.
The Unadaer Clansmen, who have an appointed bloodline rule until that bloodline is extinguished.
The middle class, who consist of various artisans and craftsman.
The lower class, which are mostly slaves who are ordered to do anything and everything dictated by the Unadaer Clansmen. These slave were also reponsible for mining in the active Unadaer Volcanos Some slaves are used as experiments for Unadaer's Court Mage, Lagos Dullahan. To maintain the population, slaves were also forced to reproduce.
For a long time, the slaves were oppressed to the point of no hope. It wasn't until one of the
Unadaer
Clanswomen,
Lady Adella Odette
took interest in one of the slaves and his newborn child with obsidian black hair. The slave's name was
Julius Hilian
. To this day, nobody knows why the
Unadaer
noblewoman took such an interest.
Lady Adella
used some of her influence to assist
Julius Hilian
escape. With this influence,
Julius
was able to start a successful uprising.
The uprising costed a lot of lives, but allowed for a group to escape from
Unadaer
's boundaries. As various soldiers and guards hunted down the escapees through the forests,
Julius
, while holding his
baby son
, lead them to an opening where
The Druidic Clan of Mot
resided. The
druids
, first encountering these strangers, helped and defend the escapees from their oppressors, eventually causing the
Unadaer
guards to retreat.
Julius
, in thanks, felt indebted to the
druids
. The
druids
welcomed the escapees into their circle, where they could be together as equals.
The Rise of Hilian
With the new group between the druids and the
Unadaer
escapees, they began to prosper. The druids allowed them to build on the sacred land as long as it did not interrupt with any rituals.
The alliance continued for 5 years, until the leader of the druids,
Aishe
, discovered a new source of Aesparian Power located to what is now present day "
Sacred Swamps
".
With the discover of this,
Aishe
took his druids on a pilgramage, and gave
Julius
and son,
Barius
, his blessing. With the
Unadaer
escapees now their own people, with enough power to look after their own,
Julius
believed they would be fine without the
druids
. With the
druids
now gone from the lands,
Julius
and the rebels continued to build, fortifying the area. This area was named after the rebel leader's family name,
Hilian
.
Julius
was then declared as their king. It was then that the
Kingdom of Hilian
was born.
Hilian
's doors were always open from that day on to refugees or any others on
Gallavis
who wanted a new life.
Hilian
rose in population very quickly since then.
Because of
Julius
' uprising,
Unadaer
marked the king, as well as all citizens of
Hilian
enemies of the empire. Because of this, what is now known as "The Old War", began.
The Prince and the Farmer's Son
King Julius Hilian
had an aide for many years named
Paul Valliant
, who was with
Julius
during the
Unadaer
Rebellion.
Paul
, while thankful for all that
Julius
had done for him, wanted to continue the life of labor and become a farmer.
Julius
, as thanks, gave
Paul
a sizeable plot of land. The two remained close friends.
Because of this friendship,
Paul
's son,
Leonardo Valliant,
became close friends with the Prince of
Hilian
,
Julius
' son,
Barius
.
At the age of 25, like his father,
Leonardo
wanted to forge his own destiny, and leave the life of a farmer behind.
Leonardo
became one of several hired swordsmen to protect the small village of
Royal Oak
, which had seen increased attacks from aggressive bloodthirsty
trolls
. Night after night, the trolls were attacking
Royal Oak Village
with more aggression and higher numbers.
Leonardo
knew he needed more numbers to protect the village, and figured he would ask his friend,
Barius
, for intervention from
Hilian
's soldiers.
Prince Barius
, always willing to assist his best friend, warned
Leonardo
that
Julius Hilian
's soldiers were going to be tied up with the conflicts with
Unadaer
.
Barius
could sense
Leonardo
's frustration, and promised to go with him to protect
Royal Oak Village
if
King Julius
was unable to give aid.
As
Barius
predicted,
King Julius
regretted he couldn't help
Leonardo
with his request.
Prince Barius
then journeyed with
Leonardo
to find a way to defeat the
trolls
.
It was there the two friends met with someone who would effectively tie their fates together: a
druid
that went by the name of
Marcus
.
The Derelict Druid
As
Prince Barius
and
Leonardo
journeyed together to find something that would defeat the continuous
troll
population, they met again with
The Druidic Clan of Mot
in the
Sacred Swamps
.
Aishe
, leader of the clan, apologized they couldn't do anything, since the
trolls
were natural creatures, and
Royal Oak Village
was built on their lands.
Barius
and
Leonardo
didn't approve of this answer.
It was then that a druid by the name of
Marcus
stepped forward to volunteer.
Marcus
was not born into the
Druidic circle
, and was considered an outcast by his people most of his life. When
Marcus
revealed that he was studying
sorcery
of the dark arts, the
Druids of Mot
immediately shunned him. With
Marcus
feeling as if he didn't belong to the
druids
anymore, he went with
Leonardo
and
Barius
to defeat the trolls. It was during this journey that Marcus felt a significant bond with both
Barius
and
Leonardo
.
They were able to defeat the entire clan of
trolls
, and
Royal Oak Village
, as well as
Hilian
, continued to live in peace for the next five years...until that fated day, which would begin one of the saddest eras of
Hilian's history
.
Desperation of Unadaer
Hilian
, for the past couple of years, was winning the war against
Unadaer
.
Emperor Uther Unadaer IV
knew that if this trend were to continue, his empire may not exist in the next decade. It was then that he appointed his court mage,
Lagos Dullahan
, as his head general of the war, allowing him free reign to do whatever he wished, no matter the consequences.
Lagos
was a powerful wizard who was once part of
Guild Tenenbom
, an organization of brilliant scholars who are constantly expanding the borders of magic.
Lagos
, however, continued to push ethical boundaries, once which costed him his sanity, and was banned from the guild. It was there that
Uther Unadaer III
allowed him to be court mage. Since then,
Lagos
has been the court mage of
Unadaer
since.
The first thing
Lagos
decided that the army was weak. He performed countless experiments on soldiers to make them stronger, all which ended in catastrophic deaths.
Lagos
knew mere mortals would not suffice if he was to create the ultimate army. It was then
Lagos
did two several things that would alter the fate of all of Aesparia.
One of
Lagos
' more successful experiments was the creation of what he called a
"Demon Seed"
. What this did, when injected in a mortal, would manifest into a creature that grew from the darkness and sin the mortal committed. Because of this, subjects, almost in a possessed matter, would commit atrocious acts to empower the demon that was injected in them. After several years, the host would transform into a unique demon reflected on the sins committed. This seed however, was always being rejected by the host. This caused the host and the demon inside to die painfully within hours.
Lagos
, for a long period of time, was always trying to figure out how to create the perfect host. It was because of this he started to create homunculuses: genetically engineered human beings who would be able to handle the manifestation period of the demon. The only problem was the homunculuses would take decades to fully mature for the demons to take control.
For a more immediate solution,
Lagos
turned his eyes to the
Druids of Mot
. With them being in tune with Aesparia,
Lagos
felt they would be perfect hosts for demons, and wouldn't immediately die off. With that theory in mind,
Lagos
and an battalion of soldiers invaded the
Druids of Mot
, effectively wiping them out, and turning them into hosts for the
"Demon Seed"
. The unfortunate side effect that
Lagos
didn't take into account was the fact the
druids
had a strict code of peace, which meant there was not enough sin to manifest. Instead, the seed transformed the
druids
into
horrific creatures
that were going to die within hours.
Lagos
took advantage of his failures, and sent the creatures towards
Hilian
.
Hilian
began a violent fight to defend their borders from the
Unadaer Army
, and now
Lagos
with his failed experiments.
Barius
lead the defensive which ended in a duel between
Lagos
and himself.
Lagos
, taking advantage of
Barius
' valorous attitude to lead the front lines, took the opportunity to cast a spell, successfully planting a
"Demon Seed"
in
Barius
, assuming that would sentence him to a painful death.
Hilian
somehow managed to end victorius once the creatures died out, causing
Lagos
and the remainder soldiers to retreat.
Barius
, however did not die that night...he was beginning to transform into something far worse...
Rule of the Mad Prince
Over the next few months,
Prince Barius
was transforming into something unrecognizable to the King. The prince's hair was thinning out and turning grey, his skin was growing pale, and a giant scar was forming over his right eye, getting worse daily. People inside Castle
Hilian
began to fear Prince
Barius
. Because of this,
Julius
requested that
Barius
was not to leave the castle until his condition improved.
Prince
Barius
' attitude was worsening by the day as well. He was fearful at what he was becoming, but soon turned that fear into anger. He would snap at anyone that glanced at his scar, becoming increasingly defensive.
Barius
became so aggressive that he would violently fight anyone that looked at him the wrong way, needing to be contained several times.
One night
Barius
was thrown into
Hilian
's cells by a desperate King
Julius
who was unsure what to do.
Barius
grew angry by this, believing King
Julius
only did so because he resented his new appearance.
The next day, King
Julius
, accompanied by a guard, released Prince
Barius
out of guilt that he would lock his own son up.
Julius
apologized to
Barius
, and promised him that they would find out what was wrong. It was at that moment that
Barius
caught the guard and
Julius
by surprise by grabbing for the guard's sword, quickly dispatching both King
Julius
and the guard that accompanied him.
Barius
yelled for assistance immediately. Guards ran down the empty halls to see the dead bodies of both a soldier and their King
Hilian
.
Barius
screamed at the guards, accusing the soldier to be an
Unadaer spy
who assassinated the king. It was then, that
Barius
showed an emotion other than anger, and weeped over
Julius
' body.
Prince
Barius
immediately inherited the throne to keep the peace. One of his aides suggested Prince Barius to wear a veil over his face while addressing his people about what happened.
Barius
immediately had the aide executed for their rude remark towards their king.
When, the now, King
Barius
, addressed the people Hilian, the citizens were horrified with
Barius
' new appearance that the king now wore proudly. It was there that the first of many speeches of the
"Mad Prince"
were given.
"People of Hilian! I humbly apologize for my appearance. For you see, the deceased King Julius...my father...felt it was imperative to hide his monstrous son from your eyes. He believed you were not strong enough to witness the atrocities that the Unadaer dogs committed up on me. He felt you were weak, that you couldn't handle the truth. And what did that paranoia show? Nothing! As my father was struck down by an Unadaer spy who infiltrated our walls! My father was too kind, and it was his downfall in the end. He didn't want you to know, but we are secretly losing this war with Unadaer. Why am I telling you this? Because I know you are strong. We are a kingdom of slaves, who stood up against their Unadaer masters, and said no! We will forge our own freedom, we will create our own destiny! And that is what we are doing today. As your new king, I promise to never lie to you. We will be prosperous! For Hilian!"
The rule of
Hilian
radically changed over the next five years.
Barius
began to draft many of it's citizens into war against
Unadaer
, as well as anyone else who would defy
Hilian
. He also began to enforce labor on citizens who were unable to fight, to continue to make
Hilian
powerful. A lot of people believed that
Hilian
was transforming into a second
Unadaer
.
Hilian
became prosperous, but only off the backs of it's citizens. Anyone that went against
Barius
was publicly executed as a warning, along with a statement that was always repeated.
"If you don't stand with us, with the might of Hilian, then you shall be crushed under our heel!"
Leonardo
,
Barius
' best friend, visited frequently to try to talk down whatever the
"Mad Prince"
was doing. People believed
Barius
took
Leonardo
's concern to heart somewhat...the public executions were less frequent.
Unadaer
was growing increasingly weak with
Hilian
's increasing army. In fact, many
Unadaer
soldiers defected to
Hilian
's army, figuring it would only be a matter of months before
Unadaer
was overrun.
Lagos
did not respond to
Hilian
's growth, and at some points, felt pleased with how the war was going.
One night,
Barius
' soon to be wife,
Yaria Aeland
, encountered
Barius
alone. She stated she didn't know him anymore, and that he was transforming into something horrible. With that,
Yaria
declared she did not want to marry
Barius
, and that
Aeland
and
Hilian
would never become allies.
Barius
, in his mind, believed
Yaria
was no longer attracted to him physically, because of his transformation from
Lagos
' attack. In a rage,
Barius
threw
Yaria
off of the top of
Hilian
Castle's balconies.
Yaria
did not survive the fall.
Barius
ordered his captain,
Chiles Eessi
, to take the body back to
Aeland
, with a message.
"If you are not an ally of Hilian, then you are an enemy. Choose your side wisely."
At this time,
The Water Kingdom of Aeland
's king had fallen ill. It's Prince,
Yoshira
, was in temporary rule until the king's health had improved.
Prince Yoshira
was to be wed soon to
Princess Tira Nyl
of the
Desert Cities
. She was there with one of her extended visits. After several days,
Chiles
, who was accompanied by
Leonardo
after hearing what had happened, arrived with
Yaria
's body.
Yoshira
became very distraught, almost sentencing
Chiles
to death immediately.
Leonardo
was able to talk
Yoshira
down from doing that.
Chiles
understood
Yoshira
's frustration, stating his love for
Hilian
was slowly dying while
Barius
was king. It was there
Chiles
and
Leonardo
swore their allegiance to
Yoshira
and
Aeland
to stop the
Mad Prince
once and for all.  

These are the current events of Gallavis in the game. They will effect what the protagonists will inevitably effect them throughout the gameplay.
Uprising of Unadaer
I
t has been twenty years since the rule of the mad prince, and Unadaer has once again took the offensive. The new king of Hilian has been defending his city with great vigor, but with both sides weakened, the fight has been a continuous stalemate.
Anointing of a New Prince
With King Yoshira Aeland and Queen Tira Aeland-Nyl's son, James, turning 18, he is to be blessed as the Prince of Aeland very soon.

Aesparia has a large cast of characters (most of them you are able to recruit), that has faced the shape and Gallavis.
Characters of History
Leonardo Valliant
A Farmer's son destined for great things. Leonardo Valliant became a mercenary at the age of 25, hired by those that needed his protection or assistance. Close friend of Prince Barius Hilian, the both set out together to take care of Hilian's needs. When Prince Barius went mad, Leonardo in the end lead the charge to stop the crazed son of Hilian. He is forever known as "The Hero of Hilian".
Prince Yoshira Aeland
Heir to the Water Kingdom of Aeland's throne, Prince Yoshira Aeland was part of the group of heroes that ended the Mad Prince's rule. Fueled by rage from the murder of his sister, Yoshira kept pushing forward, with his lover, Princess Tira Nyl, at his side.
Princess Tira Nyl
Lover of Prince Yoshira Aeland, she is the princess of the Desert Cities of Nyl, a smaller outlying nation on Gallavis. She was part of the group of heroes that ended the Mad Prince's rule. At the end of the Mad Prince Era, she married her lover, Prince Yoshira, changing her sur name to Nyl-Aeland.
Captain Chiles Eessi
Former Captain of Hilian's Guard, Chiles Eessi defected Hilian and aligned himself with Aeland. This was done in response from Prince Barius who had murdered Yaria Aeland, and then commanded Chiles to deliver the body with a threatening message. He was one of the heroes who fought against Barius.
King Julius Hilian
Julius Hilian was once a slave to Unadaer, until one of the noblewomen took notice, and helped him rebel against his oppressors. After escaping Unadaer, himself as well as the refugees formed a small outpost which inevitably formed to present day Hilian, and he was declared as king. Julius Hilian was a fair man that cares for all that has been mistreated or abused, opening his gates to those that are looking to start a new life. His life ended in tragedy, murdered by his own son in secret.
Prince Barius Hilian
Barius Hilian, born with obsidian hair, was the heir to the Hilian throne. Those close to him look at him as ambitious, and sometimes aggressive when it came to taking care of the needs of his people, and helping his closest friends. When the mad mage, lagos Dullahan, implanted a "Demon Seed" within him, his entire persona intensified. After murdering his own father and a guard in secret, and then accusing the guard to be an Unadaer spy, Prince Barius took the throne. Since most of Hilian's citizens never accepted the fact he was king, he gained the title of "The Mad Prince". In the end of his life, he manifested a new demon by the name of Bovid, who was born from his anger and ambition. He was killed by his best friend, thus ending one of the saddest eras in Hilian's history.
Emperor Uther Unadaer IV
Leader of Clan Unadaer, and ruler of the Unadaer Empire, Uther Unadaer IV comes from a long line of proud warriors who is empowered by the idea of war and conquest. Rules his people with an iron fist, he can be known, coldly, as the most efficient ruler in Aesparia's history, with his class system forced upon his citizens, with the inclusion of slavery.
Lagos Dullahan
Mad court mage of Unadaer, Lagos Dullahan was once a knowledgeable scholar of Guild Tenenbom. Inevitably banned for his unethical experiments, as well as his research to create a new demonic race for him to rule over, Uther Unadaer III saw potential in the mad man's ramblings, allowing Lagos to take refuge in his empire. Lagos Dullahan doesn't let things as morality get in the way of his experiments. Known for creating a magical experiment known as the "Demon Seed", allowing demons to be created through an individual human's darkness and sin. Lagos Dullahan was responsible for the genocide of the Druids of Mot, as well as the Prince Barius's transformation into a demon.
Marcus of the Mot
Marcus was an orphan found by the Druids of Mot. There, he was brought up to follow the druidic code, but Marcus enjoyed bending their rules from time to time. Marcus was a brilliant magician, who was able to manipulate Aesparia's elements rather easily, causing slight worry for his druidic clan. In the end, Marcus ended up discovering a sealed artifact that would assist him, as well as his two new friends Leonardo and Barius, defeat trolls that were plaguing a village. The Druids looked at this as sacrilegious, and banished Marcus. After a few years time, Marcus continued to explore Gallavis to gain more knowledge of it's hidden treasures and artifacts. When he was seen again, it was by Leonardo and his friends in Castle Hilian when trying to stop the Mad Prince. It was revealed then he had a demon manifesting in him by the name of Marquis. In the end, this manifestation sealed away Castle Hilian with himself inside. In the end, no one is for certain where this manifestation came from, and the reasoning behind sealing himself in the castle.
Characters of Current Day
Ted Meyers, Artisan
Ted is a seasoned blacksmith, originally from Royal Oak Village. After the Rule of the Mad Prince, he was asked by the new king of Hilian to assist with the rebuilding process. Ted accepted, and has been living in Hilian ever since. He is very serious about his craft, and didn't care for nothing else until Polli came into his life. From there, Ted discovered that fatherhood was far more important than any steel he forged. Ted has a curious, yet serious demeanor. The only time he jokes or opens up is when he around his adopted daughter, Polli.
Charla Lamont, Scholar
Charla has been a citizen of Hilian for several decades, and even survived through the Rule of the Mad Prince. Once a former scholar at Guild Tenenbom, she is constantly seeking knowledge of Aesparia. Charla served as Polli's mentor while growing up, and has taught her everything she knows about magic and it's studies. Charla grows bored of Hilian, since she's read through all the books of her library several times. With Polli grown up, she considers returning to Guild Tenenbom, or to explore the lands of Gallavis.
Garren Bennett, Mercenary
Garren is a retired mercenary, who was once a renowned sellsword. His sword was always offered up to the highest bidder, as long as the work wasn't
too
morally objective. He hasn't made many friends in Hilian, because of his choice to flee Gallavis during the Rule of the Mad Prince. After 25 years of being gone, he has returned to Hillian, for reasons unknown. Light hearted at times, he spends most of his time in Hilian's Pub.
Harris Munoz
Harris Munoz is a soldier of Hilian, who was assigned as head of an east operation fighting against the recent goblin attacks. Harris is slightly flustered since he wasn't given enough men to take care of the operation. This soldier feels he could be doing more than giving orders in the back lines. Very knowledgeable of goblins, and keeps an assortment of strange trinkets to his side.
Captain Lewyn Wade
Captain Lewyn knew he always had big shoes to fill...he became the next Captain of the guard after the heroic Chiles Eessi. Not much is known of Lewyn Wade, as he keeps himself quiet and out of the picture as much as possible. When he is around, however, people have reason to worry. Lewyn Wade is a lethal with a sword, and only takes parts of operations and missions when things can't get any worse.

Dungeons are where most of the gameplay takes place. Although there is several background stories going on in the world, Dungeons normally have their own individual stories, with a conclusion at the end. These places also contains various enemies, multiple bosses, and the ability to gather materials for your equipment. There are three types of stories.
"Stories" are the longest form of dungeons. They normally contain around five bosses, with plenty of ability to save. If you clear a boss, you are free to leave the dungeon, and continue where you left off in the story when you return. Most of your dungeon experience will take place in stories.
"Swift Tales" are a little more difficult, yet smaller dungeons. These will contain around three bosses, and can be played along side of dungeons. Because of this, "Swift Tales" are more of an optional dungeon. When you enter a "Swift Tale", however, there are no save spots available. Leaving the dungeon will force you to restart the Swift Tale from the beginning.
"Daring Epics" are the most difficult type of dungeon, also known as "Hellish Dungeons". They are unlocked after completing "Stories". They contain harder versions of enemies and bosses from the "Story" you completed. While they do not give experience points, the make up for this by dropping exclusive materials needed to craft powerful artifacts. While there are saves normally in a "Daring Epic", if you leave the dungeon, and return, you will need to start the Hellish Dungeon from the beginning.
Additional Facts to know about Dungeons & Encounters
Everything in a dungeon can be repeatable. Which means every time you visit a dungeon, you can repeat boss encounters, re-gather materials, etc. In "Stories", bosses you've defeated when re-visiting dungeons will be present where you fought them before. The only difference is they stand idle, and will only encounter you when you talk with them.

Even though in "Swift Tales" and "Daring Epics" reset to the beginning when you leave them, you still keep all gold, items, exp you earned during your attempts, so do not feel pressured to complete these types of dungeons all the way through if you are having trouble! You will still be rewarded for what you've completed.

"Swift Tales" and "Daring Epics" are entirely optional, and are not required to complete the game...although you will get additional items/extra materials you wouldn't be able to gather. This is something for the players looking for a little bit of a challenge!

"Game Over" does not mean Game Over. You will return back to Hilian at no penalty when your party's defeated. It is good to learn from your mistakes, and not be punished by them.
Repeatable Dungeons:
See Dungeon tab for more info!

This panel is reserved for when gameplay is released via demo and complete form. It will contain complete strategies for all bosses in the game. Be warned, you look at this tab at your own risk, as it may contain spoilers!  
 ​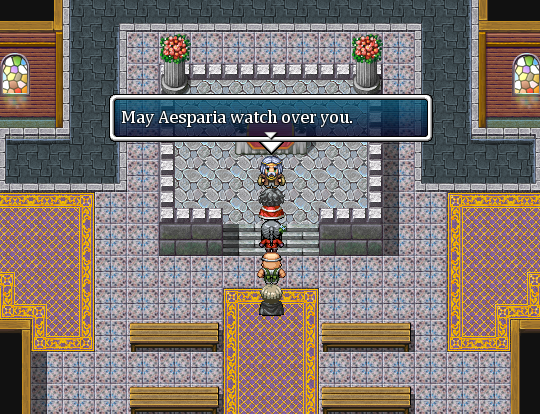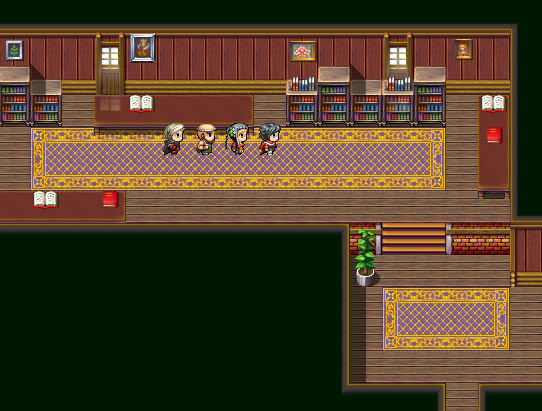 ​
Episode 1: Rise of Briglivek
 will be released soon!
Scripts: Yanfly, Yami, Fomar0153, Mr. Bubble

Graphics: Mack, Enterbrain, Thalzon

Music: ProudAardvark (Noah Potter), NemesisTheory, SantaBro, deadlyfishes, Enterbrain.
Last edited by a moderator: