Kevin O'Ryan
Joined

Dec 15, 2013
Messages

159
Reaction score

37
First Language

English
Primarily Uses

RMVXA
ANIMAL CROSSING: THE PARADISE​
(Final Name)​
This is 
NON-COMMERCIAL ONLY
!
​
 ​
Due to multiple projects in demand and real-life scenarios, this game has been on the slow-side. However, it is not abandoned! I have returned to working on it and will try to keep it updated. If you would like to help or join the project, please feel free to PM me, Broyi or Pelvichan or just leave a comment below!​
Thank you for all your support!​
 ​
Description:
I have seen what RPG Maker can do and I love breaking past the usual barrier of its normal design and to create something beyond its expected genre! I have read a lot of other posts from many other websites regarding how people have always wanted this to happen, an Animal Crossing for RPG Maker. Yet, only one made it for
XP
-- now its time for
VX ACE
! 
 ​
We are hoping that this project will ultimately test the true potential and abilities of the artists and designers within this community! I don't have much to offer in exchange except a GREAT game and perhaps my help with your project in exchange.
The download is the actual raw folder containing an editible file. All content in this folder must not be used else where without permission of me, Pelvichan and Broyi. HOWEVER, these graphics are intended for exclusive use and permission may or may not be granted.
-- Tileset by Kevin O'Ryan
-- Sprites by Pelvichan
If you would like to tinker with the file and share it with us, please feel free to do so. However, please only share within this forum.
Download:
(UPDATED: 1/10/2015)
DOWNLOAD (Raw File) - 2015, Rebuild (NEW VERSION) - Major Edits, New Mapping, New Graphics. NOTE: This is only a preview! It is intended to show off the new maps, graphics and some features.
DOWNLOAD (Raw File - Version 5.1 - Major Edits: Map edits, Graphic Updates, New Menu Interface, Region Step Sound Effects, Item Window Popups, Busts (Some), Nameboxes.
Project Leaders:
(UPDATED: 1/5/2015)
Credits:
(UPDATED: 1/9/2015)
Broyi

Pelvichan

Titanhex

Rcj8993

Yanfly

Zetu

Napoleon

Soulpour777

Galv

Acezon

Victor Sant

Zerbu

V.M of D.T

Bravo2Kilo

Aarticus

What does this game need? --
(UPDATED: 1/5/2015)
Villagers go in or out of their homes
Change music to Time (Ex. Song changes at Day/Night)???
Close Stores at particular times (Ex. Tom Nooks closing at 8-9 PM)
Wallpaper, Floors and Roof Colors
Better Day/Night that reads PC time -- With lights...
Menu interface just like Animal Crossing
Map.
I will Remove items on the list that are verified as IMPOSSIBLE or are completed! 
 ​
Features in-game so far: --
(UPDATED: 10/1/2014)
Name Character & Town
One movable chair in each home (LOL)
Return to Main Menu by Writing to Log
Have your own Gyroid that you can: Save and Hold Item. You can also change options such as: Show or Hide Clock and Turn Gibberish on or off
Bells currency hud
Time and Date in top-left corner that syncs to PC time
Day and night occurs to your PC time
Planting flowers
Chopping Down *small* trees
Shake trees (Only Cherries fall out right now...)
Dig holes && Holes are also randomized!
Write & view notes on bulletin board in front of homes
Randomize Mailing System
Travel to City (with Tickets)
Travel with Kapp'n to Animal Island
AC-like Menu Screen
Updated Icons/Objects in AC Style
Customized Music
Updated Sound Effects
Screenshots:
(UPDATED: 1/5/2015)
Did not notice the Shadow issues there.... eek..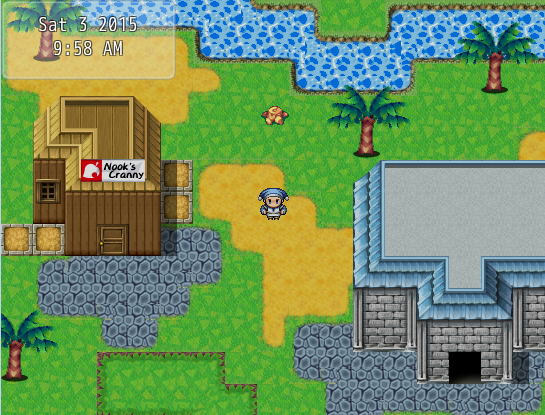 My Skills (Applicable to RPG MAKER):
Compose music (Midi, MP3 and OGG) - Showcase: Link
Work with Events Intelligently - Showcase: Link
Write Story-lines - Showcase: Link
Create awesome cut-scenes - Showcase: Link
Animate Sprites to work with RPGVXACE - Just look in this Archive, I did this for K.K. Slider, Gyroids and other sprites.
I can also build websites - Showcase: Link 
I can Test and Grammar check your game
I can Translate your game into Chinese or Irish Gaelic
If you want to see more of my Skills, check out my portfolio - Link
Last edited by a moderator: