Sleeping Dinosaur
Joined

Oct 13, 2012
Messages

3,740
Reaction score

25,347
First Language

German
Primarily Uses

N/A

Welcome to my MV resources! Here you can find a bit of everything, since I am a jack of all trades regarding resources :3
I hope you can find a use for some of them^^



What can you expect?
Nightmare horses your heroes or antagonists can ride into battle, a full ship tileset, vehincle tiles with realistic sizes, a lot of stuff the RTP was missing regarding the characters, unique figures, a lot of animated objects and much more!
A lot of the following is actually obvious, but while writing it I am so fed up with people not thinking twice before doing the same stuff over and over, some additions :
I DO NOT TAKE REQUESTS!!!!!!!!
This is NOT a goddam workshop! There is a request section, imagine strangers coming straight to you and asking you to to your hobby stuff for free for specific things they want for them, just because.
If you don't know how to save a picture from the internet on your PC, I can't help you.
No, there is no .zip-file.
Given that I have huge problems with images providers, I cannot add all my pictures to my start post in a reasonable time. So yes, you best start at the last post of the thread to collect all new stuff. Yes this is a lot of work, just imagine what time it took me to make that.
DO NOT ASK HOW TO USE RESOURCES HERE!
This is actually a forum rule, but many people seem not to read it.
​
TERMS
English:
Free for commercial & non-commercial use, as long as I get a free copy of the game.
You may edit these for your own use, but don't post them anywhere without my permission. This includes no asking for edits of them in request boards etc.
Credits to Avery.
You need to own RMMV to be allowed to use them legally (so if you own it, I don't care if you use it in Ace or XP or any other RM).
French:
Mes termes d'usage pour des jeux commerciaux et non commerciaux :
en cas de jeu commercial, vous devez m'envoyez une copie gratuite de votre jeu ;
il est interdit de reposter mes ressources et ce même si vous avez modifiées mes ressources sans ma stricte permission
il est permit d'éditer mes ressources pour votre utilisation personnel ;
veuillez me créditer sous le nom de "Avery".
Tout irrespect fait a mes termes me donnera le droits de vous forcer a enlever le droit d'utiliser mes ressources dans votre jeu.
German:
Kommerziell und nicht kommerziell, bei kommerziell muss eine Kopie des Spiels an mich geschickt werden!
Kein Repost, auch nicht von Edits, Edits für eigene Zwecke sind erlaubt.
Ihr müsst den RMMV besitzen, um die Ressourcen legal in RPG Maker Produken verwenden zu dürfen!
ICONS
Featured in the workshop, but just to mention them for those who mainly look at the Showcase
Click here to get to the icons.
GENERATOR PARTS
Face Parts



Mouths:





Noses:






Ears:
Variation:

Face:

Face Parts 2


Eyes:



Eyes 2:



Freckles:


Nose:


Nose2:


Bun
icon:

Face:


SV: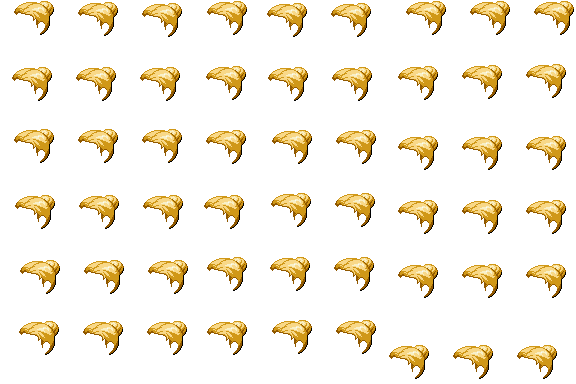 TV: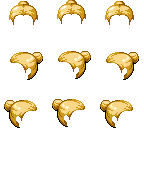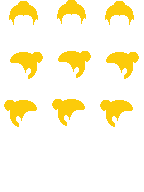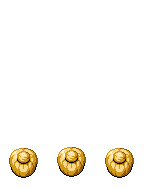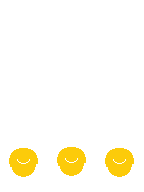 TVD:




Headpieces:
Variation:

Face:

TV: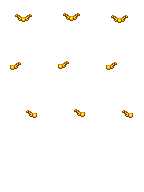 TVD:


SV: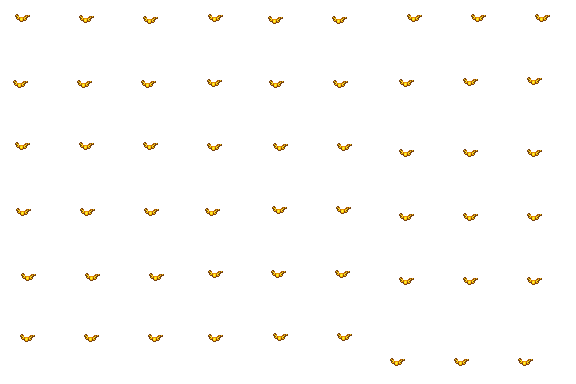 Variation:

Face:


TV: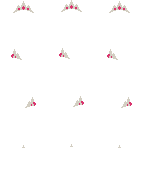 TVD:


SV: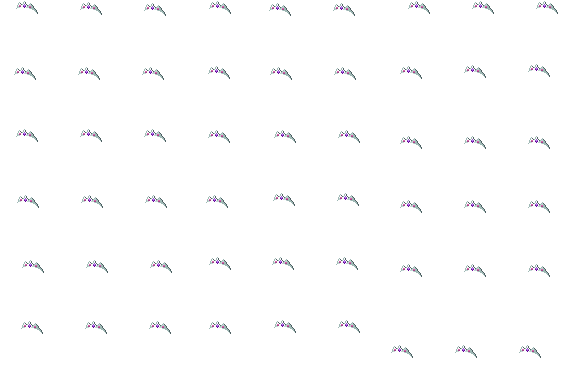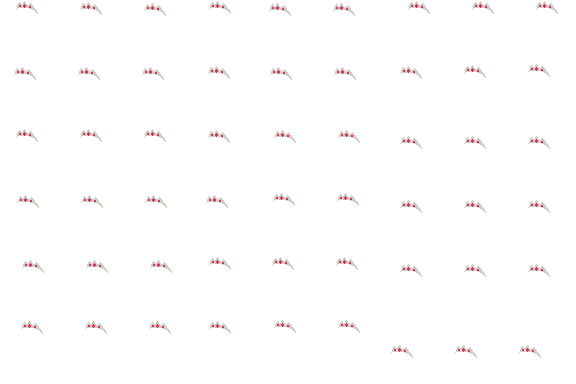 Crowns:
icon:

face:



SV: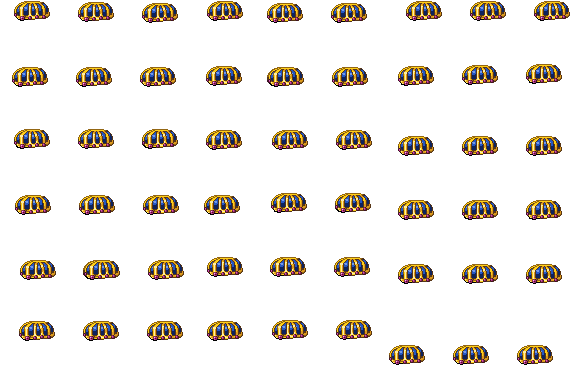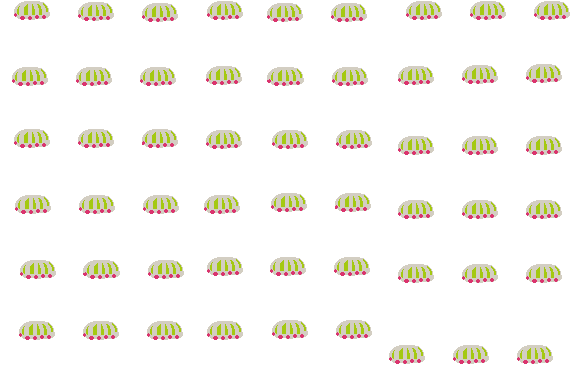 TV: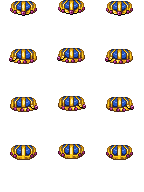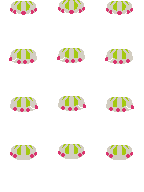 TVD:


icon:

face:


SV: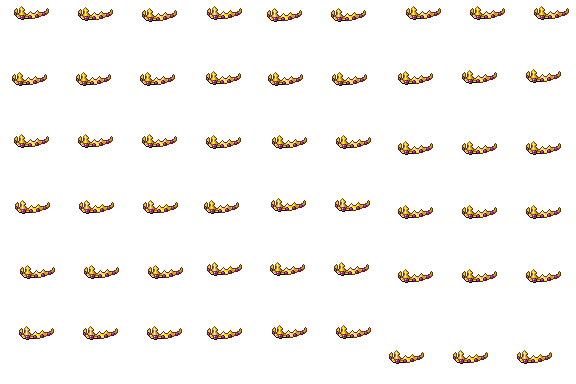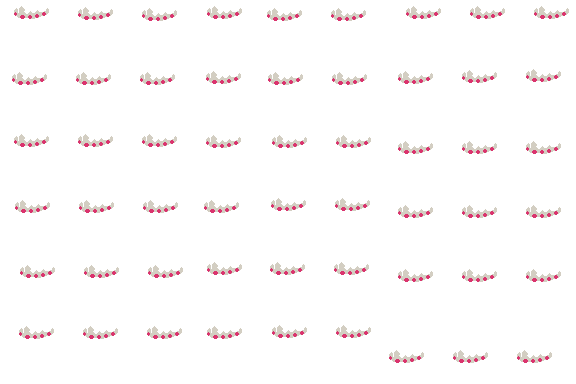 TV: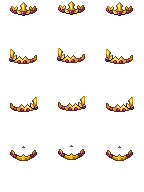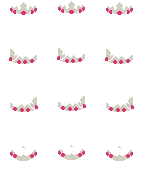 TVD:


Elven Crown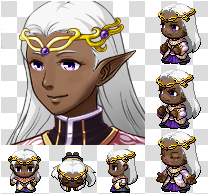 Variation:

Face:

TV: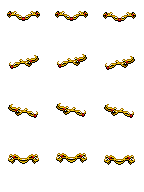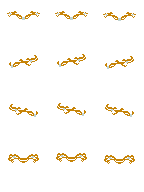 TVD:


SV: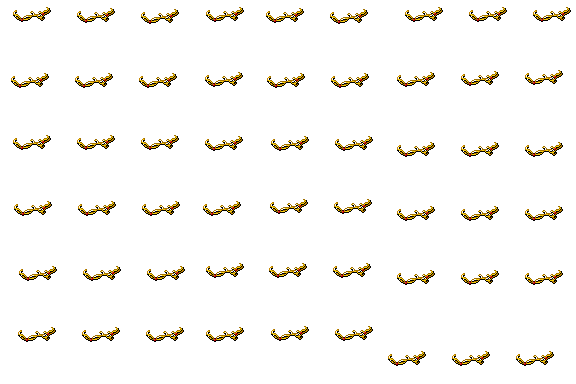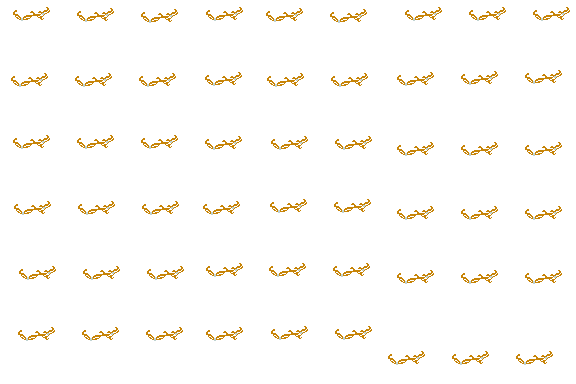 Elsa Hair (SV probably not works fine in the generator, needs manual adjusting)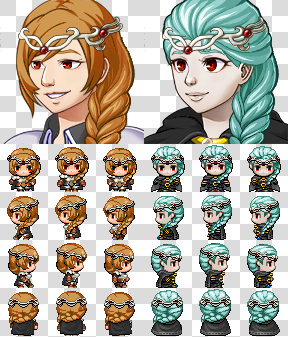 BATTLE WEAPONS
RTP Weapons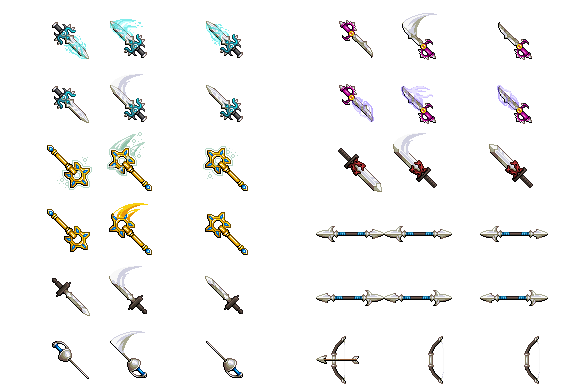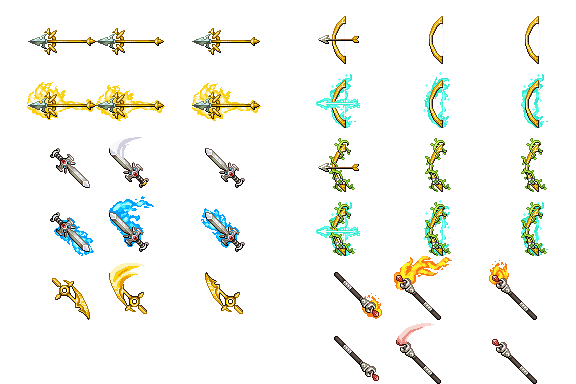 Mixed Weapons (swords, fan, lances/spears, dragon weapons)
for some of the swords are matching animated objects and icons avaiable, for the dragons there are sprites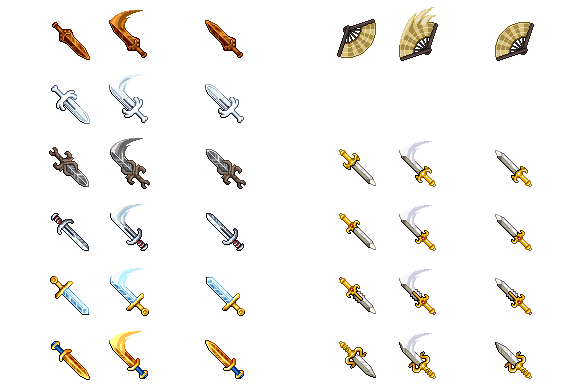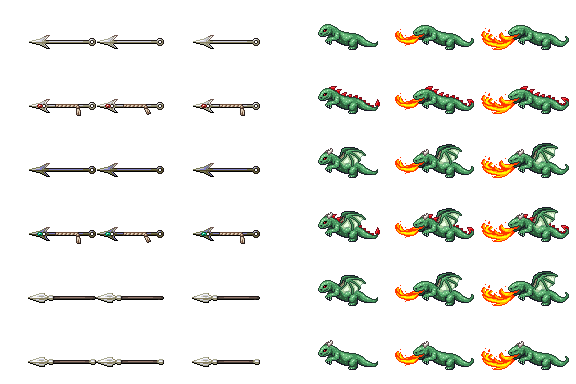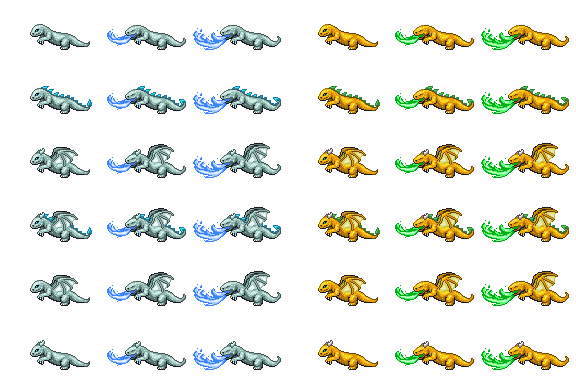 TILES
Interior
Modern
Metal stairs: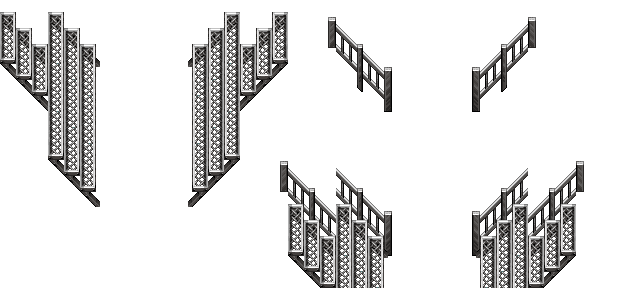 Plushies and dolls: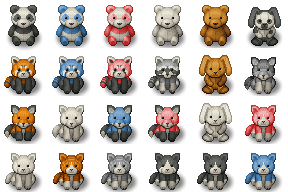 Kitchen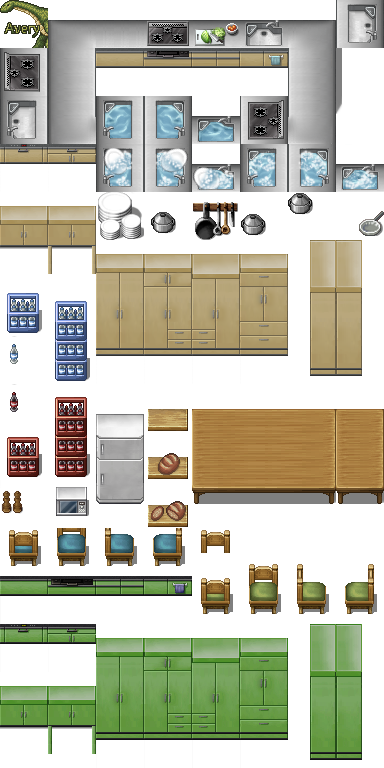 Mixed items: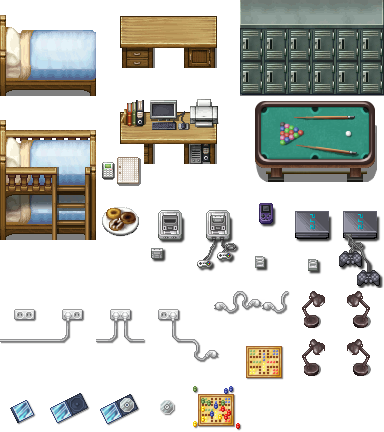 Dungeon
Ice Cavern
A2: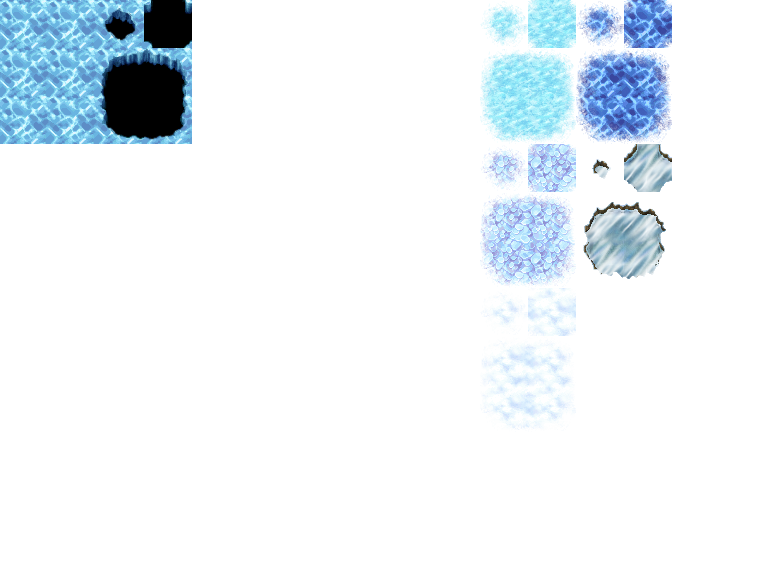 A5: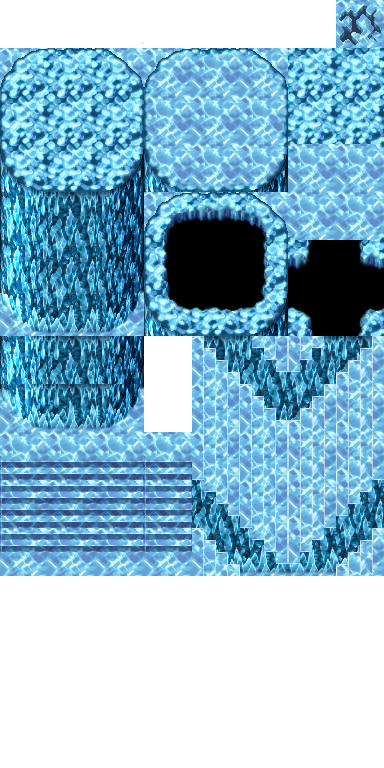 B: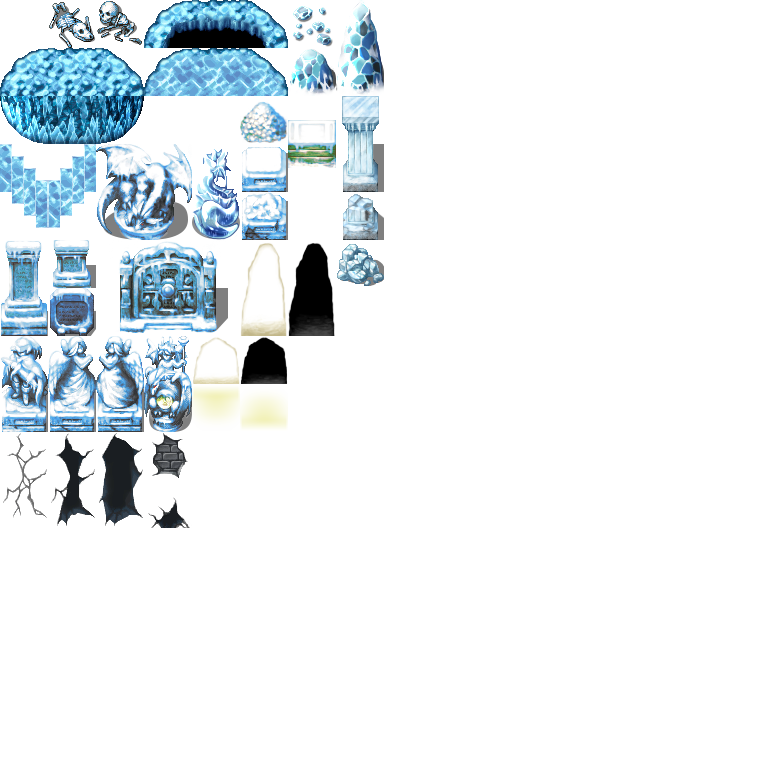 Water Cave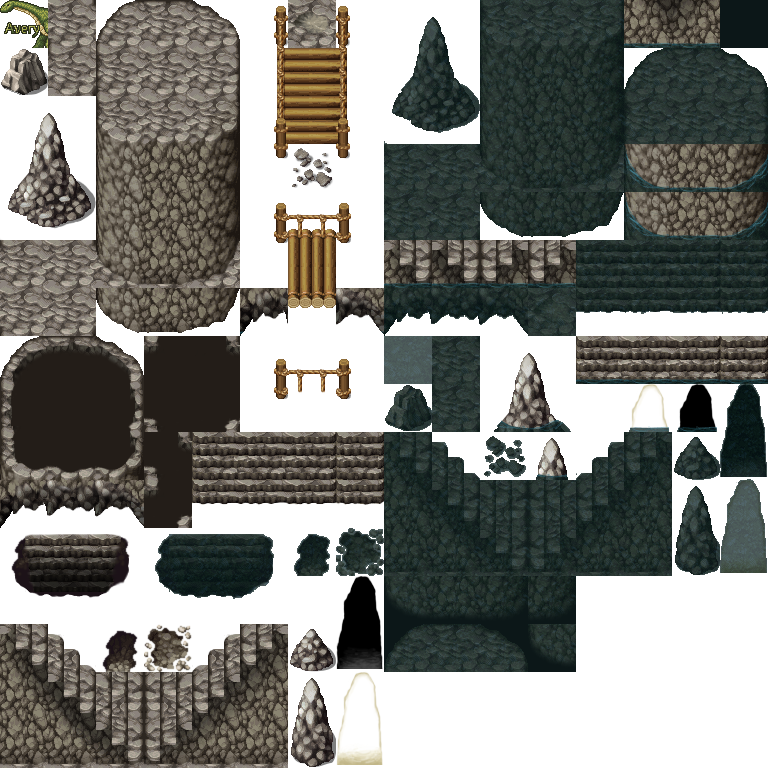 Jungle Cave: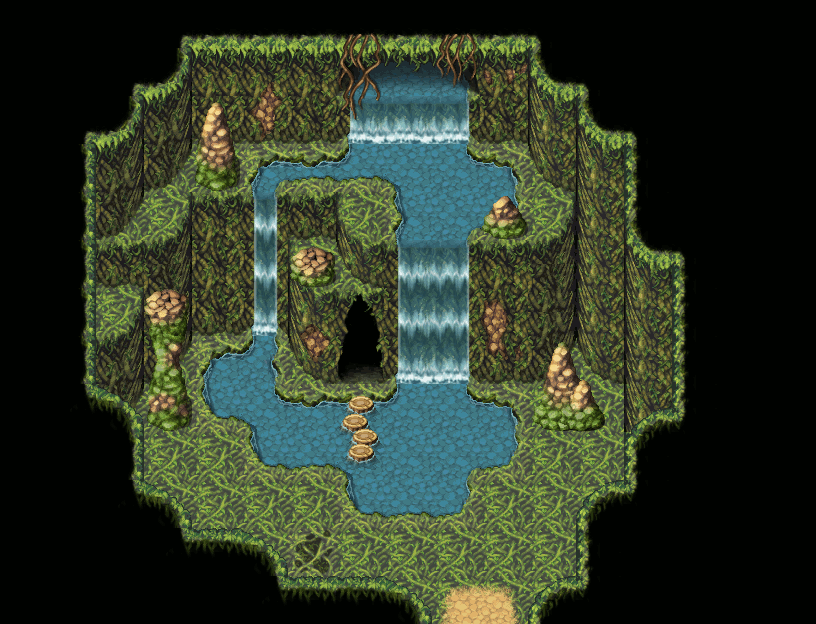 A1: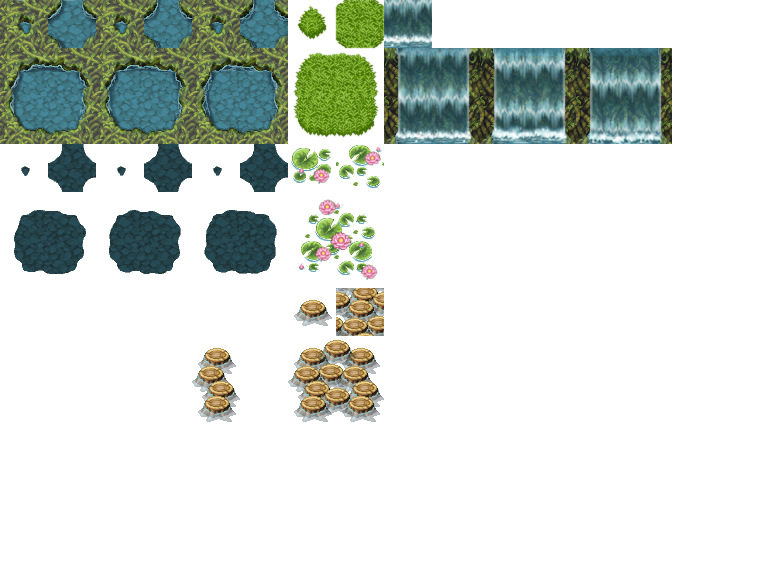 A2: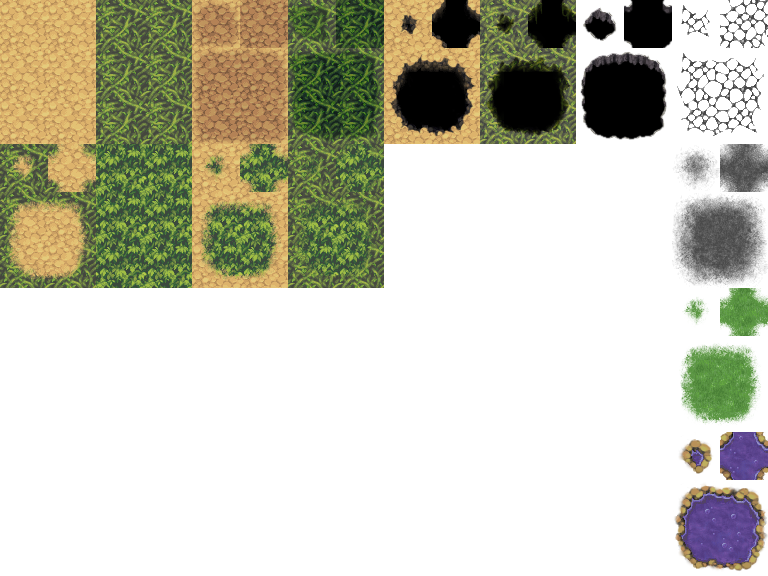 A5: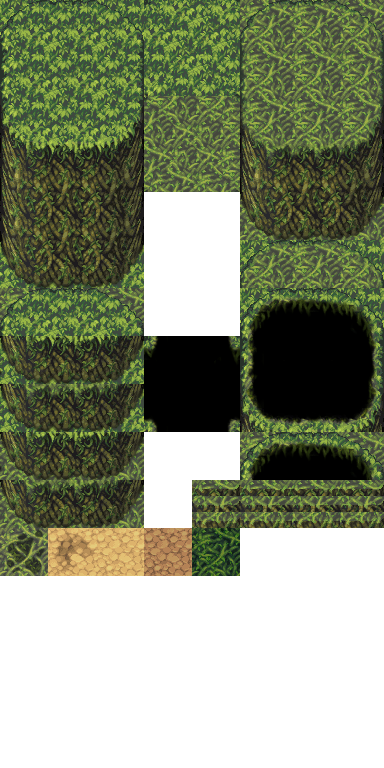 B: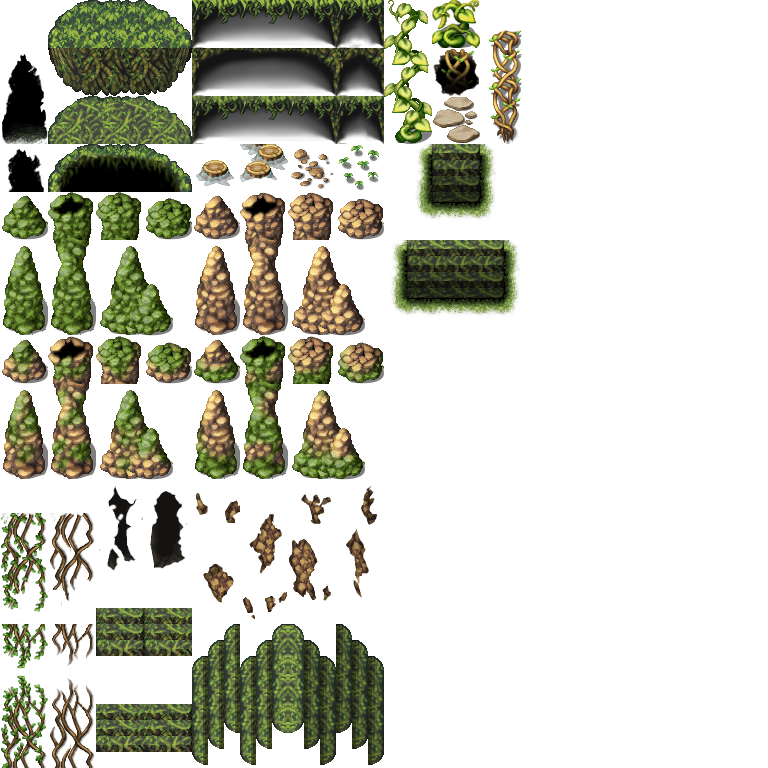 Fantasy/Medieval
chandelier

giant angel statues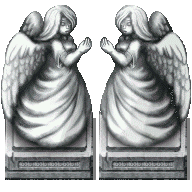 dragon skeleton
Castle: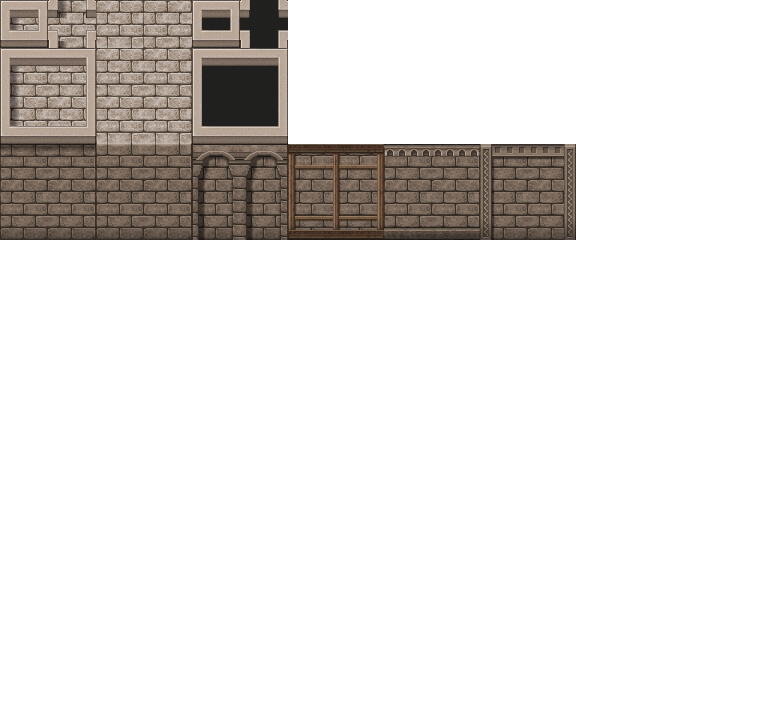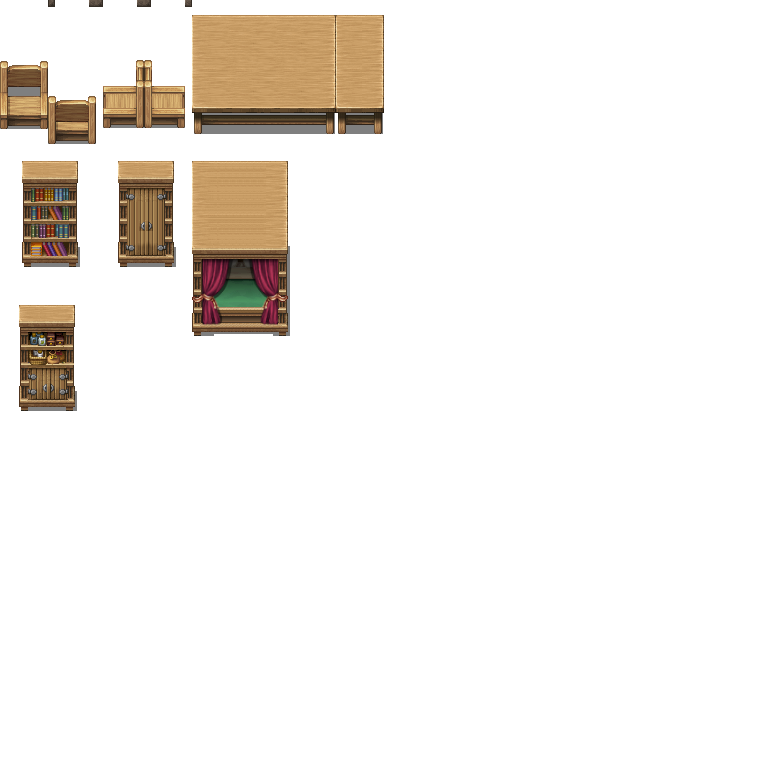 Crypt:

Attic: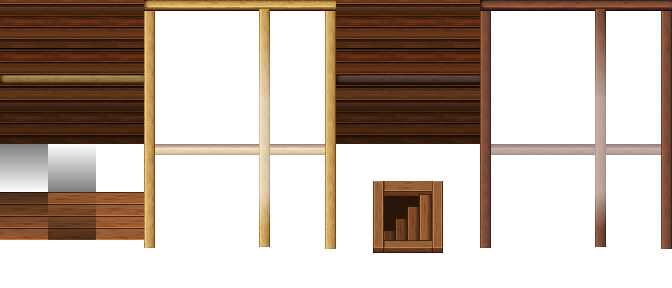 Stairs: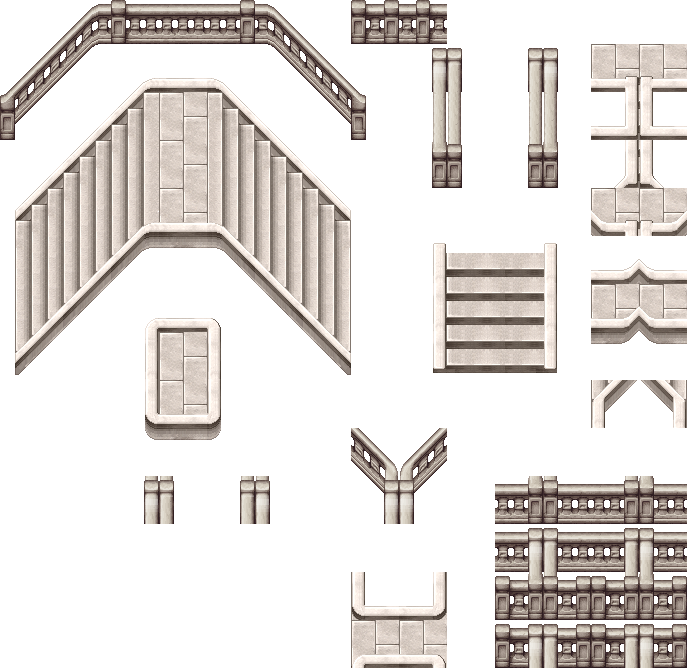 Exterior
Nature
Roses: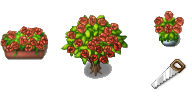 Palm Forest:
The Autotile is avaiable with two floors - or none to add your own. The parts below each autotile can be places either on A5 or B/C/D and the things on the right belong to B/C/D.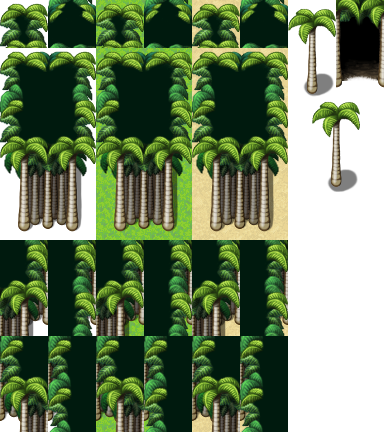 A4 Snowy hedge: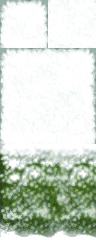 cliff, tree, dead tree, rocks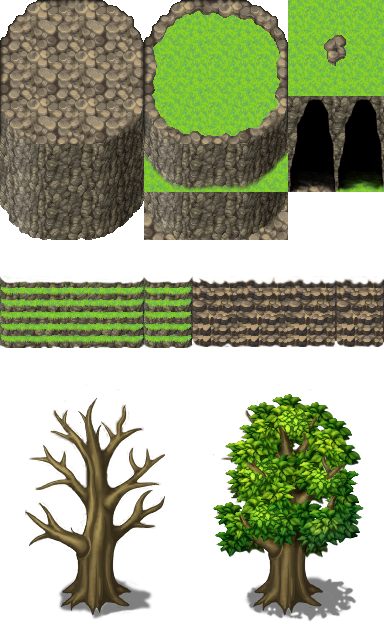 autumn, fall, trees, tree house, pumpkins
giant beanstalk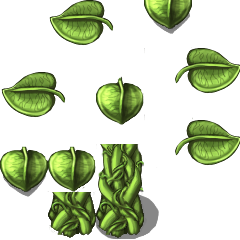 mushroom house, giant shroom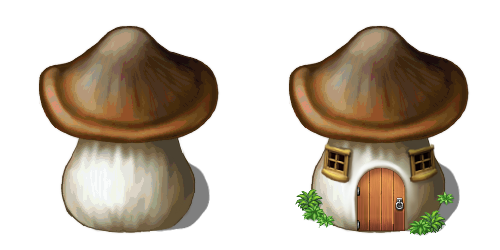 Giant tree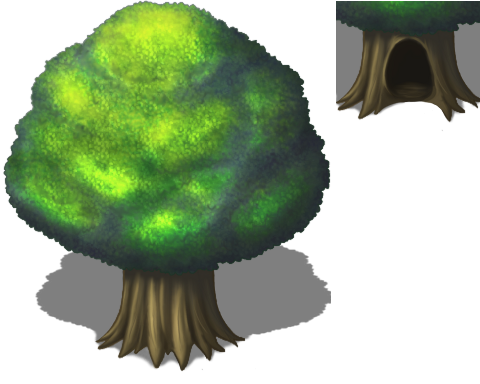 fir tree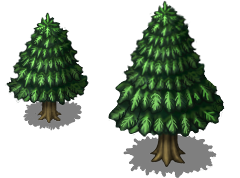 better tree autotiles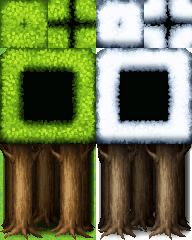 Architecture
Church: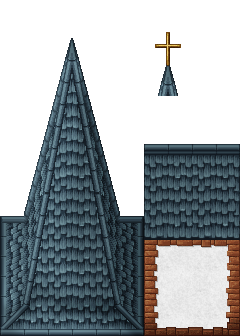 Snowy Sci-Fi A3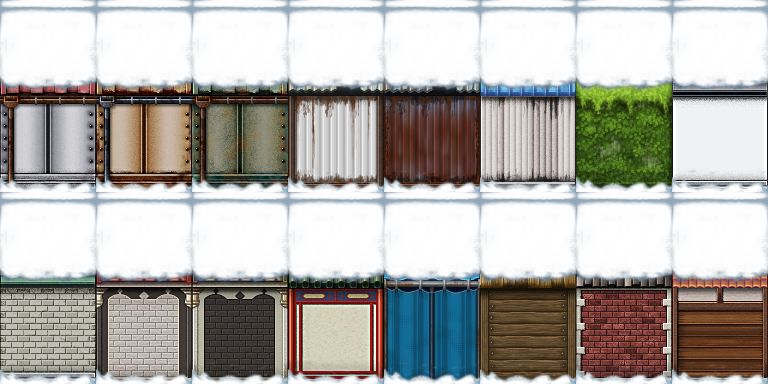 Large castle tower: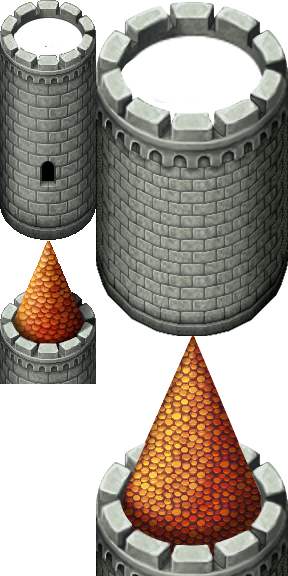 Snowy A3 tiles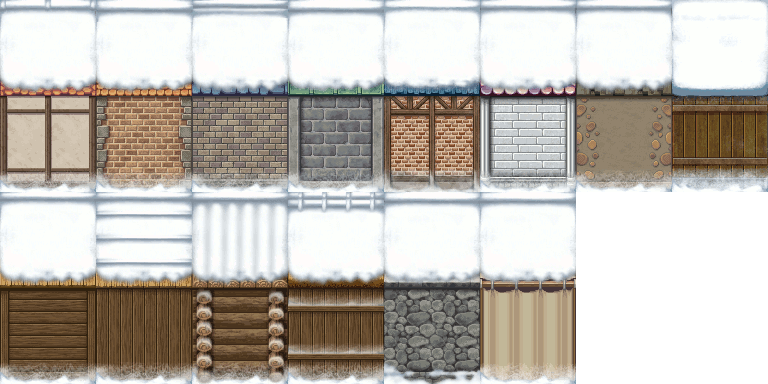 Half-timbered houses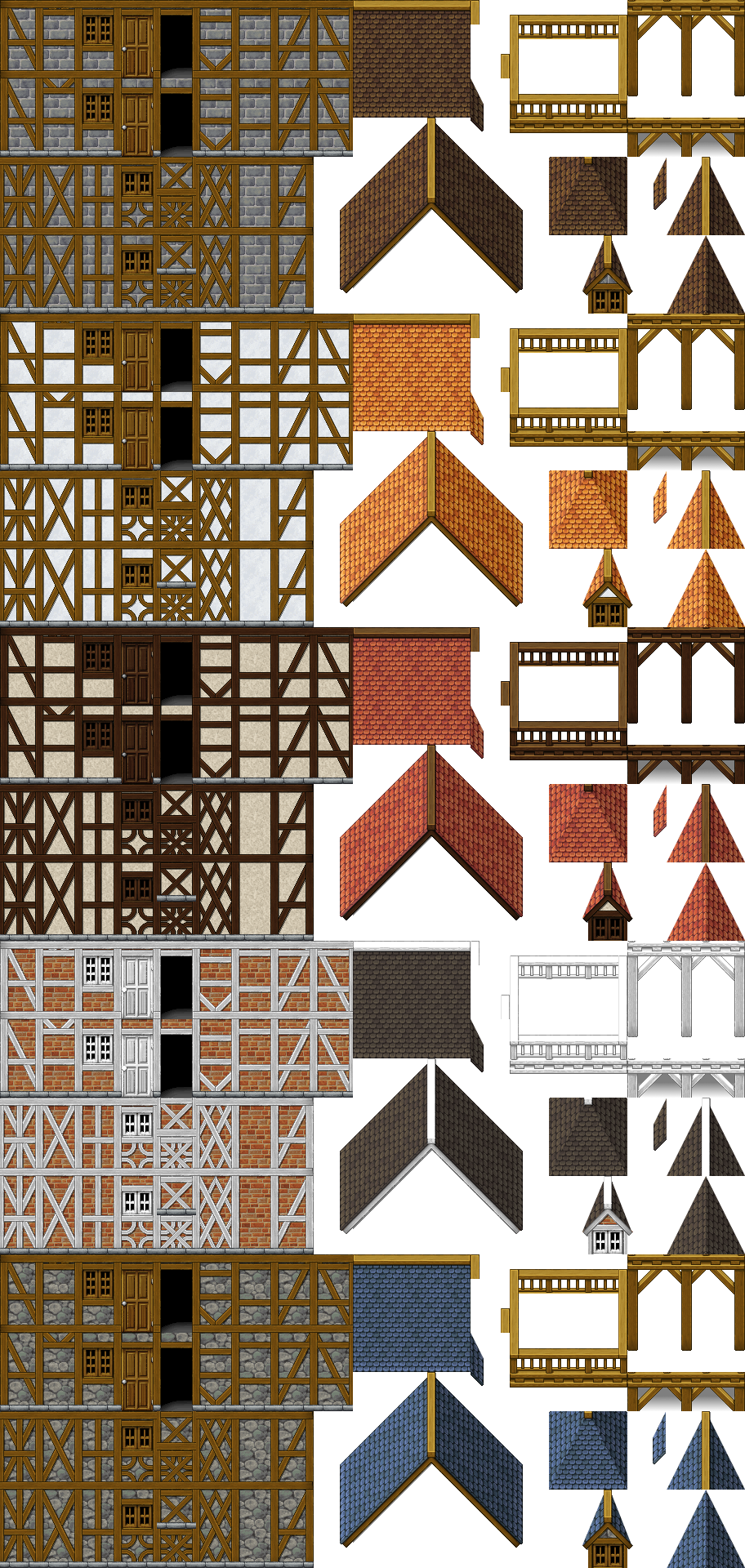 Mansion
A3
B: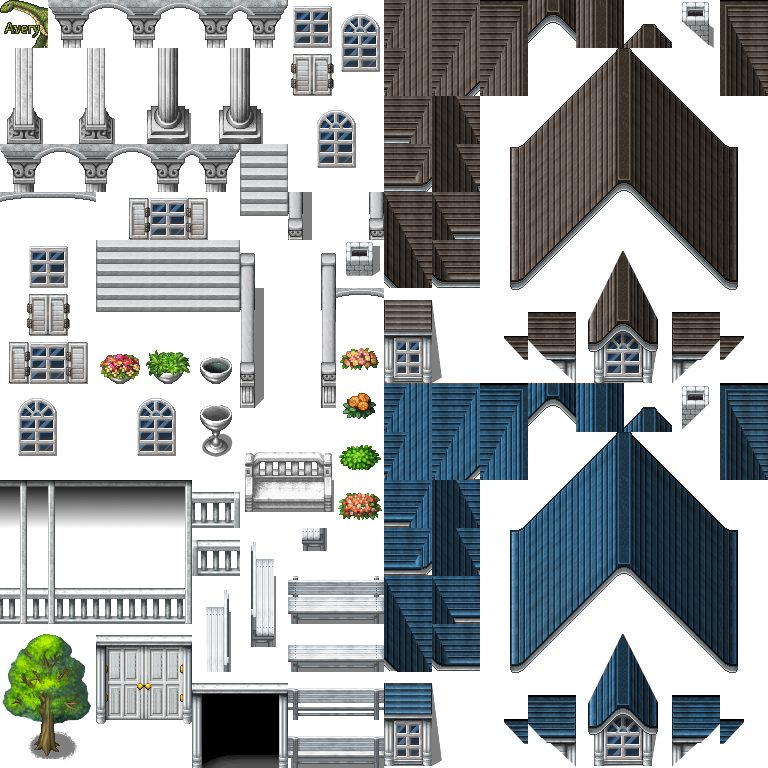 Church windows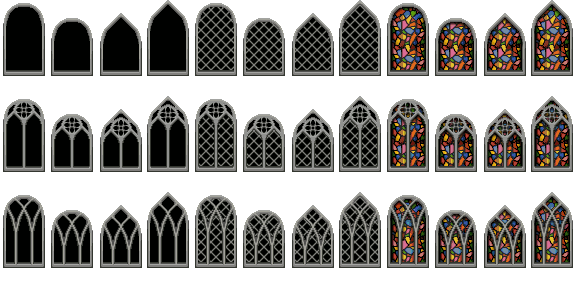 Vehincles
Water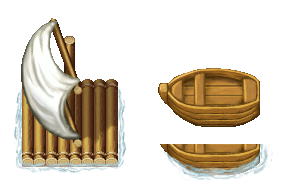 Modern land vehincles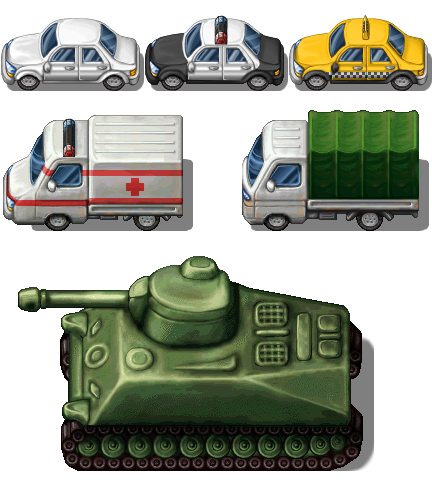 Airplane: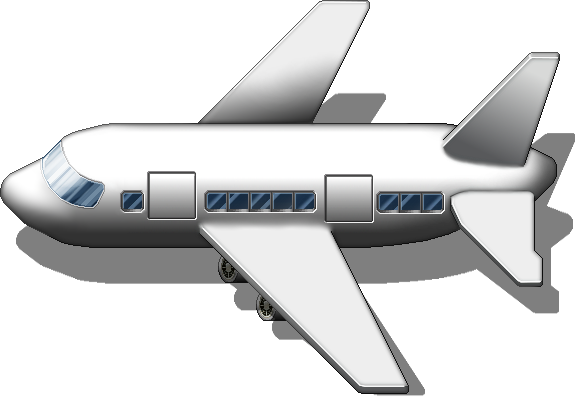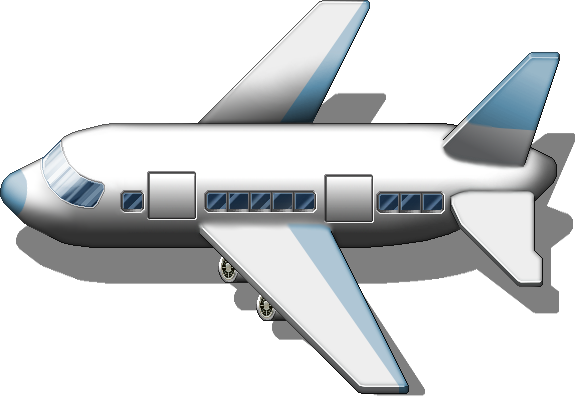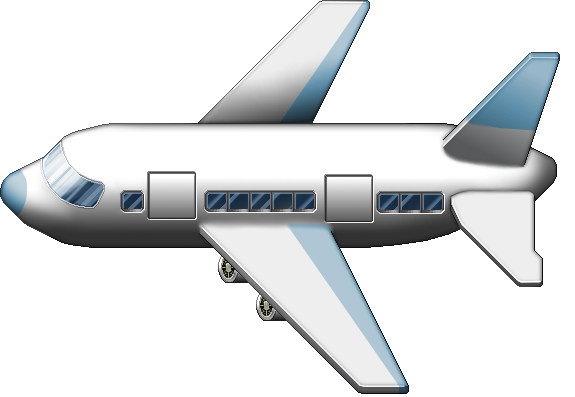 Ship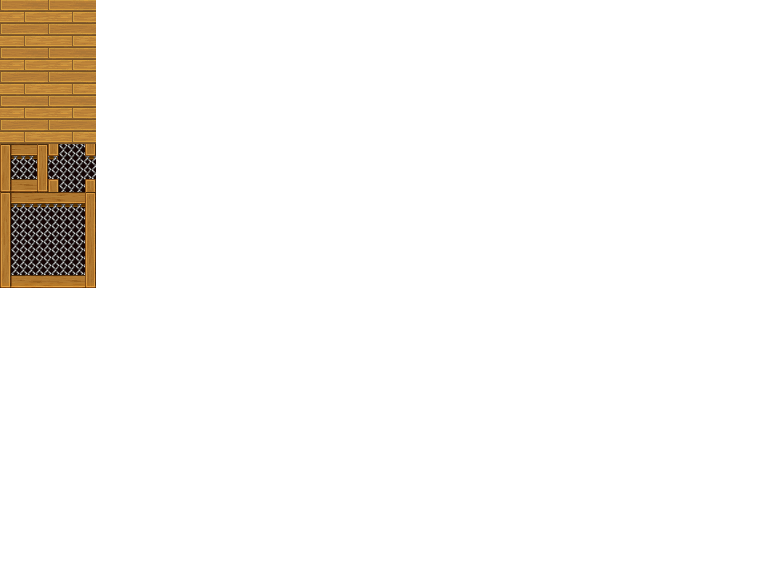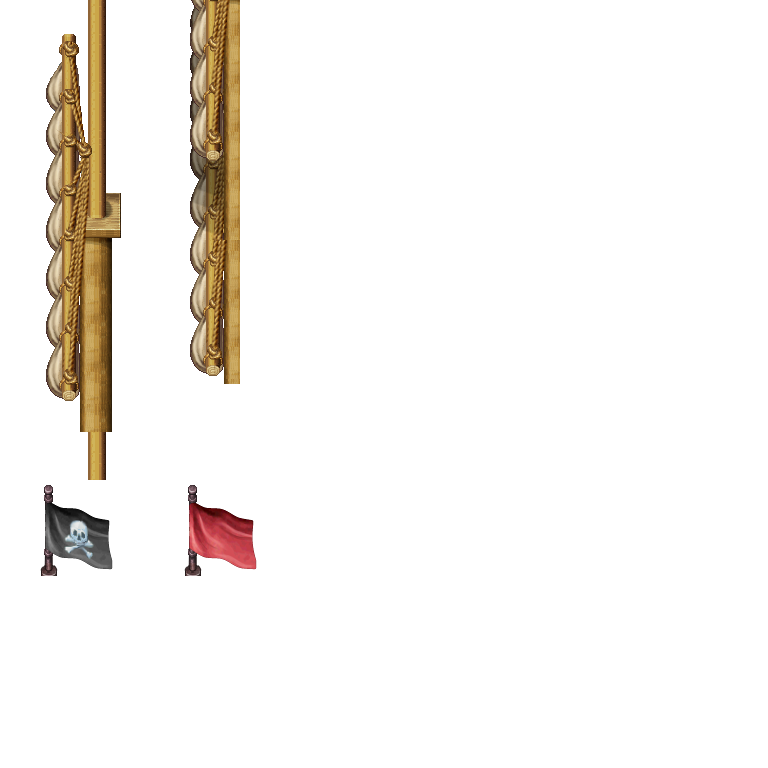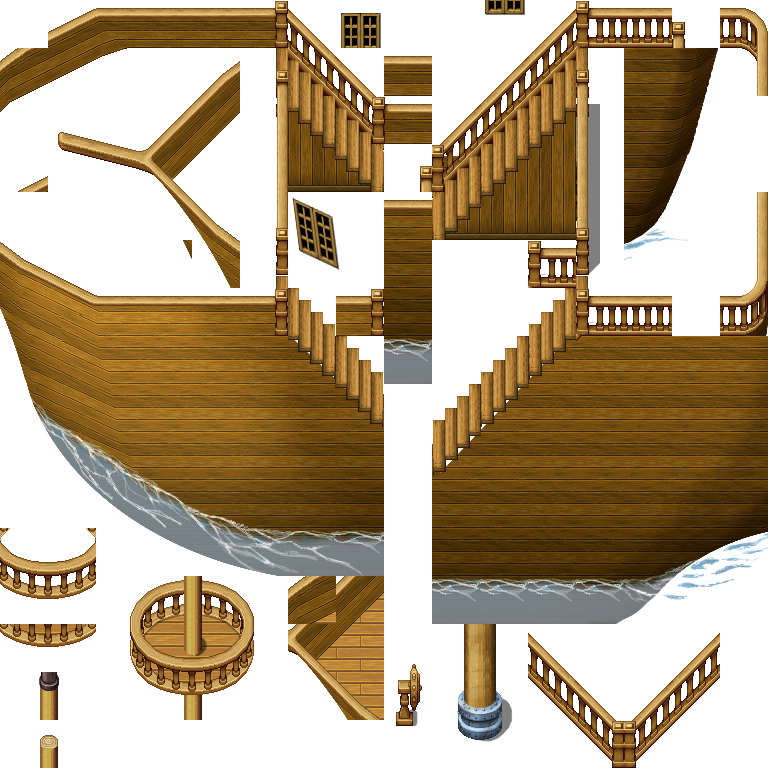 Premade large buildings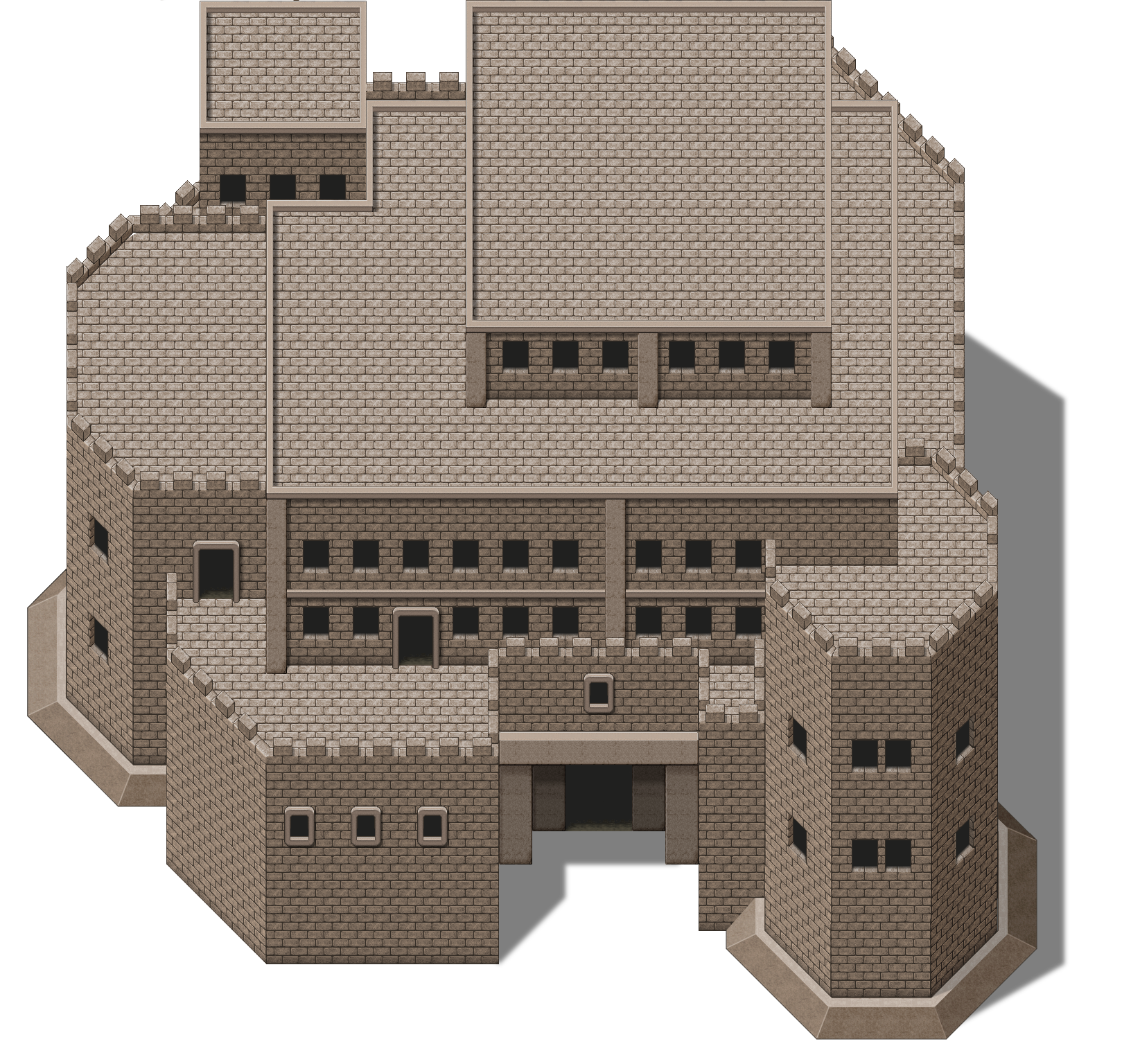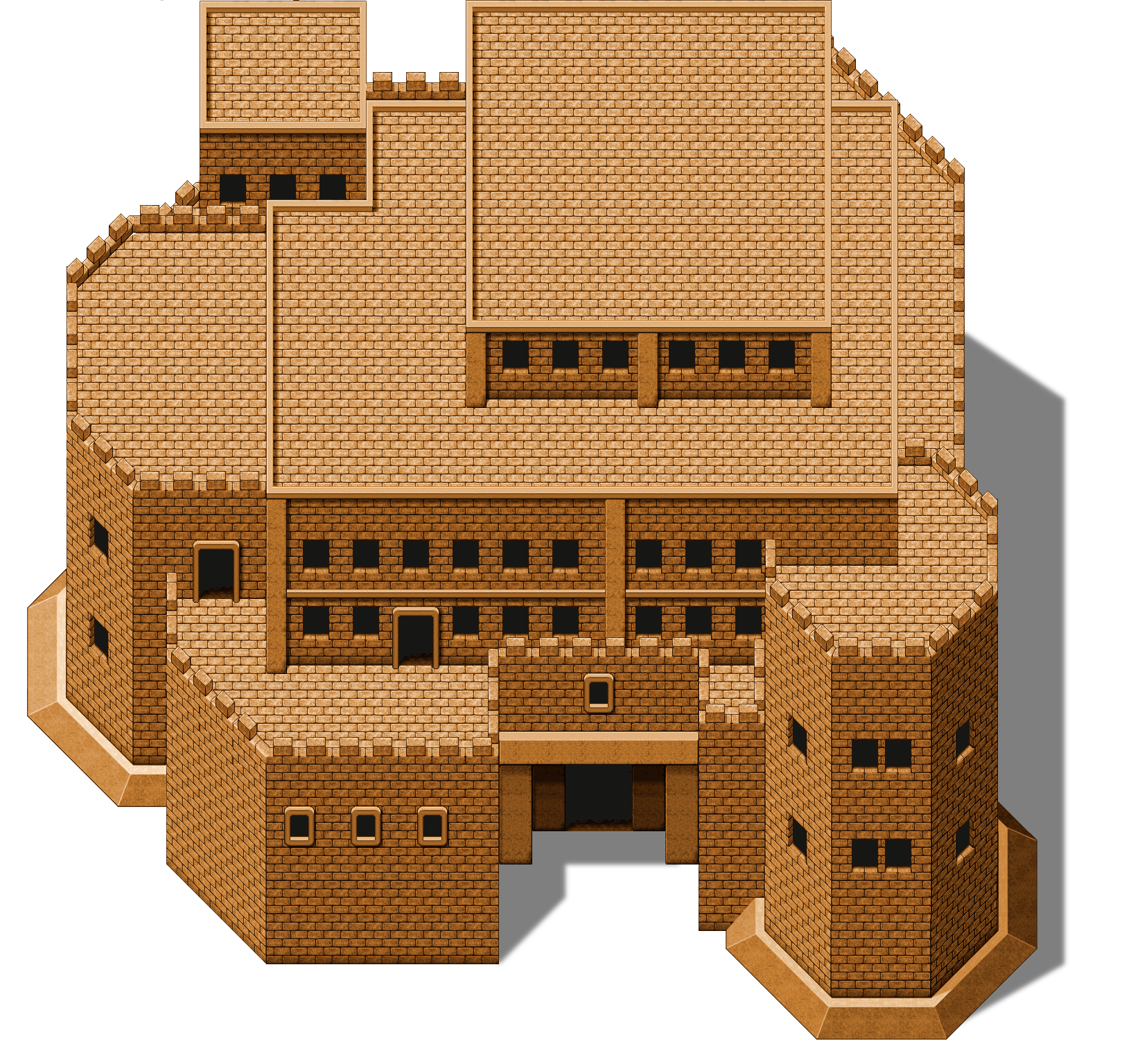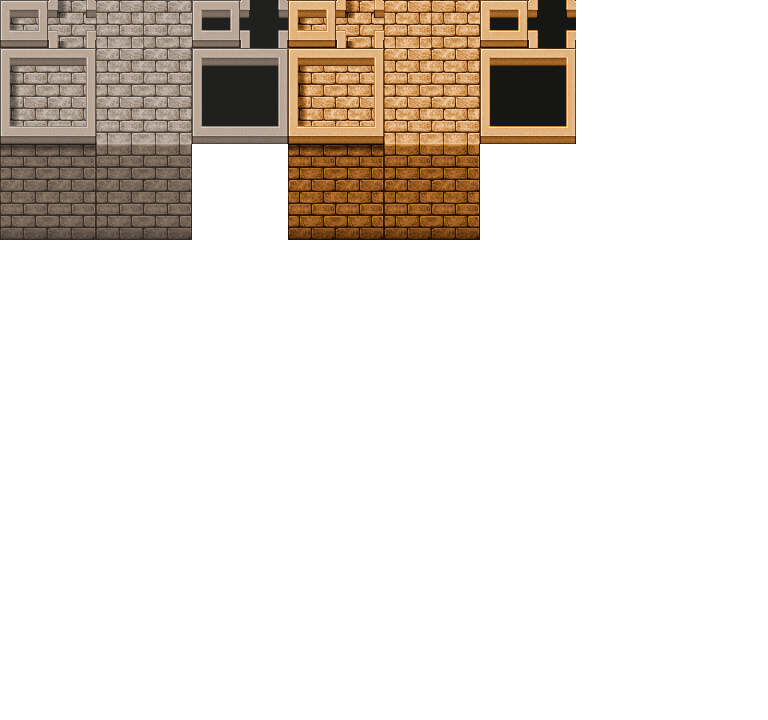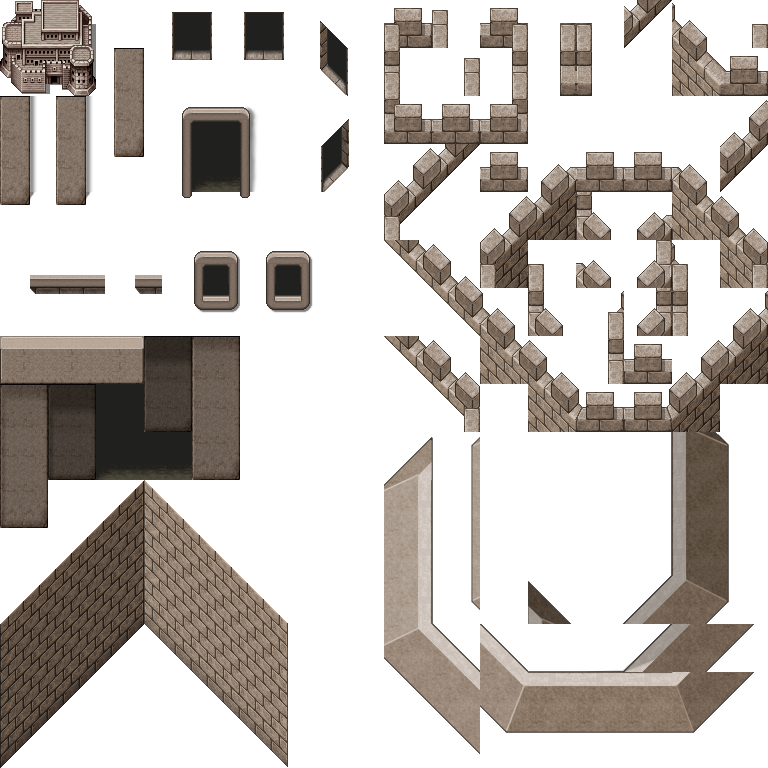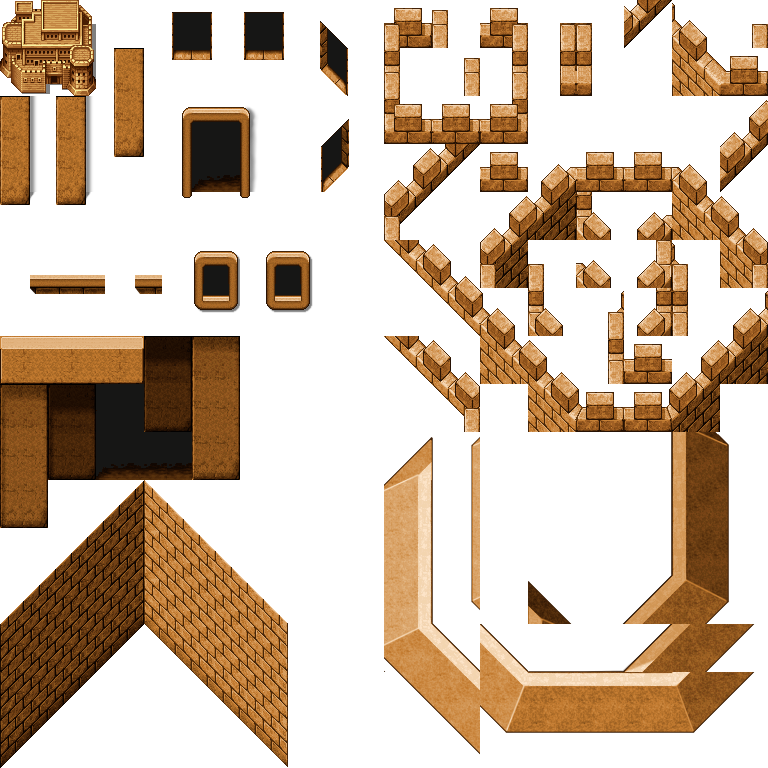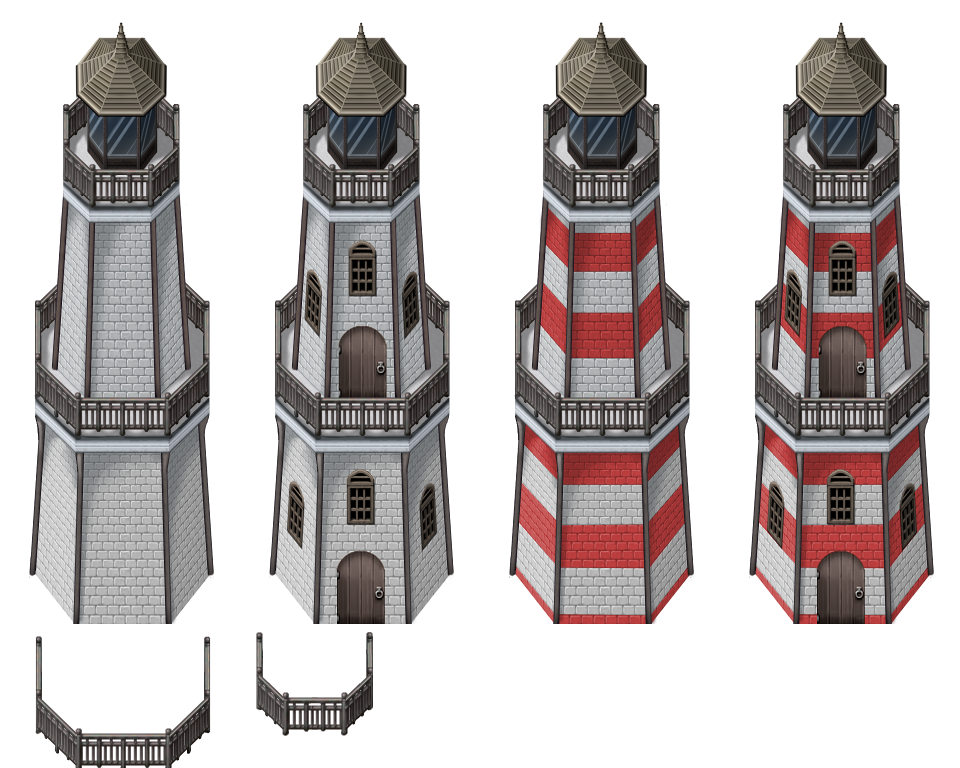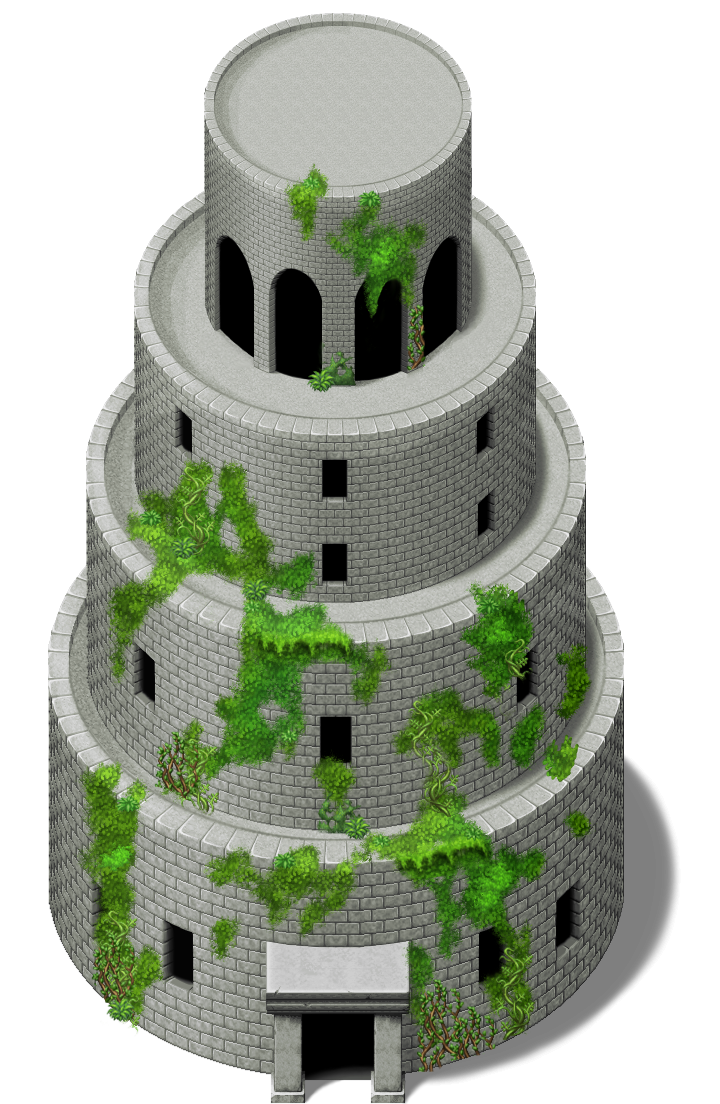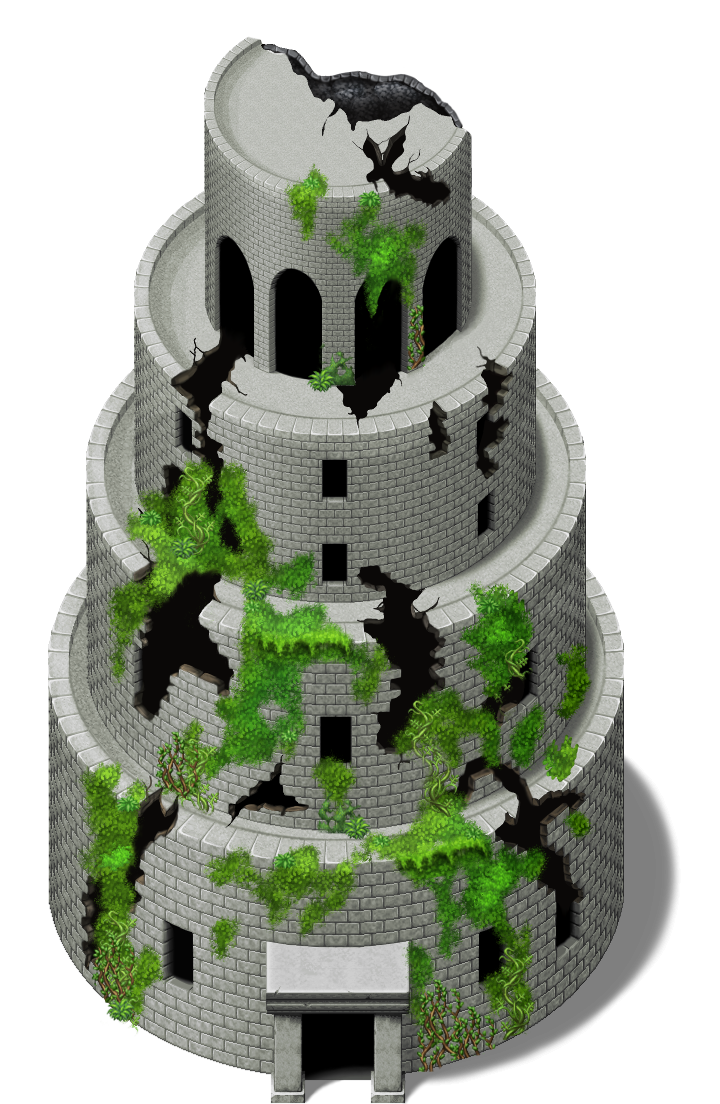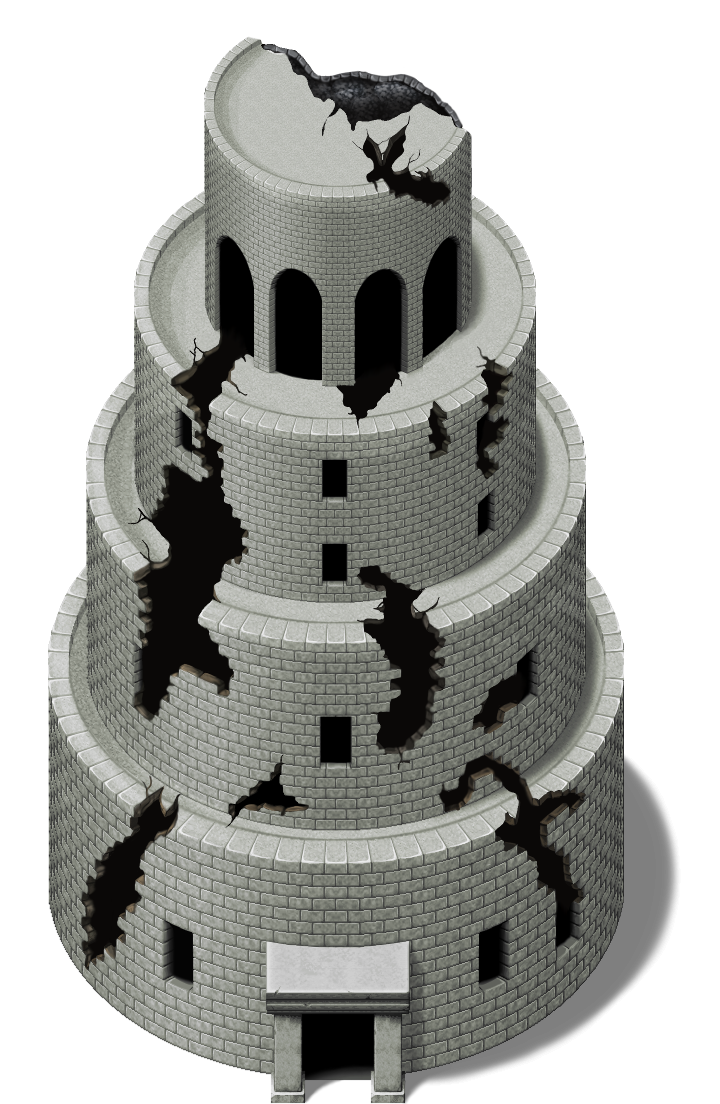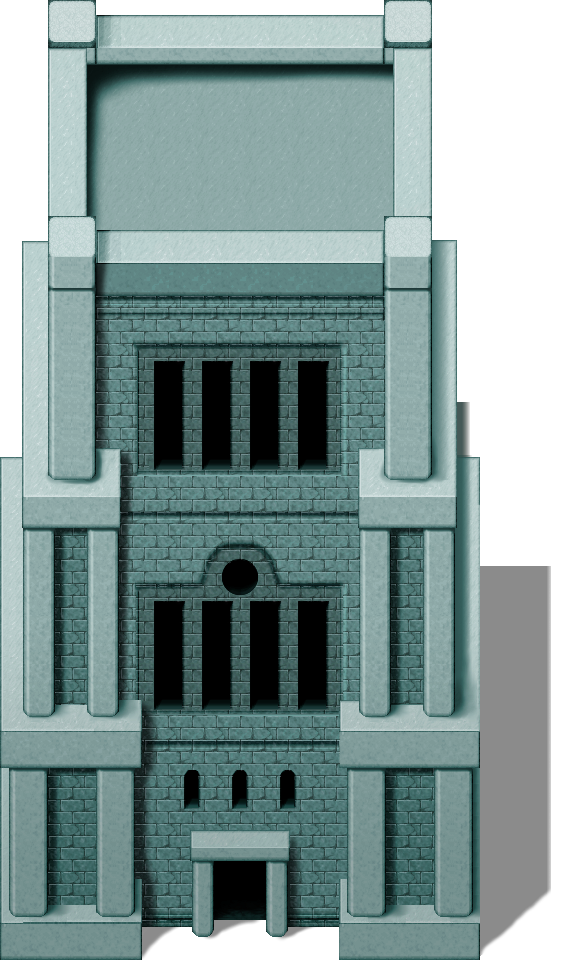 World Map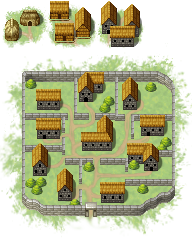 Other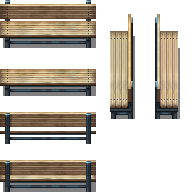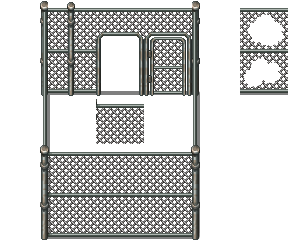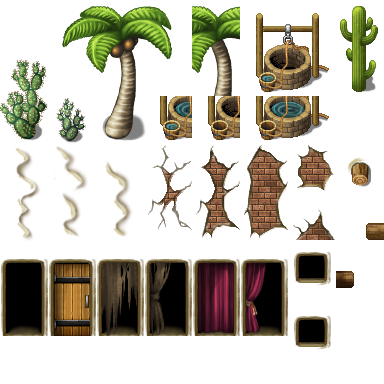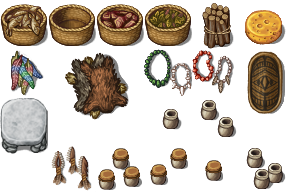 SPRITES, FACES & BATTLERS
HUMAN
Large Harold
If you are interested in how to create your own sprites of that style, here is the Tutorial:
Make Sprites great again!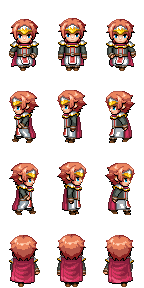 Mixed Fantasy Chars (Oriental Lady, small Princessm Queen, Potion mistress, Belly dancer, Elf)
Oriental Lady is a alive version of the RTP skeleton
small Princes is a child version of the RTP Princess
Queen is the RTP Queen with fixes (the original crowns doesn't match, face matches RTP sprite, sprite matches RTP face)
Belly Dancer is a from scratch remake of the XP dancer
Elf is inspired by the VX cover hero
Sprites: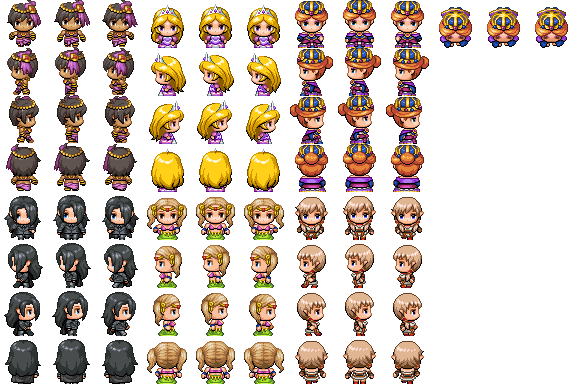 Faces: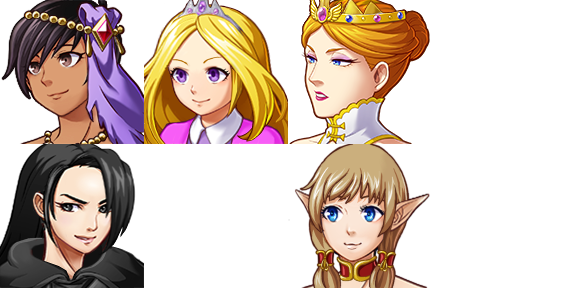 Battlers: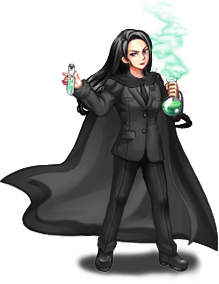 Flying Animation
including Base and *RTP*witch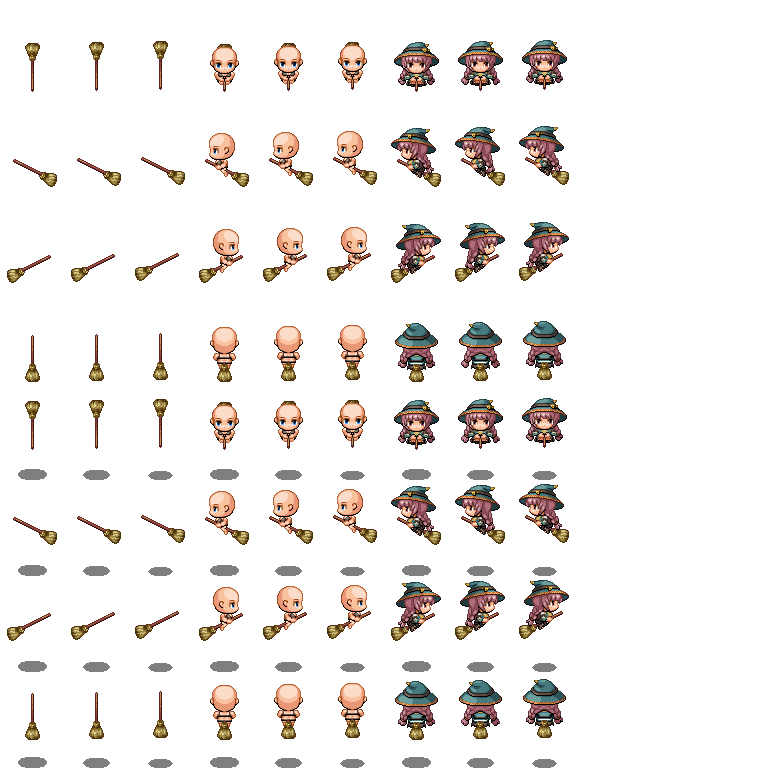 Avery
yup, that's me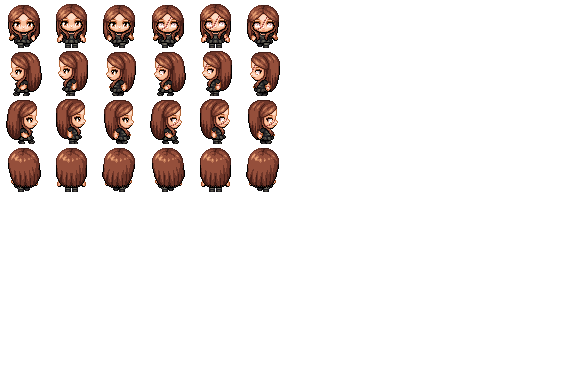 Wheelchair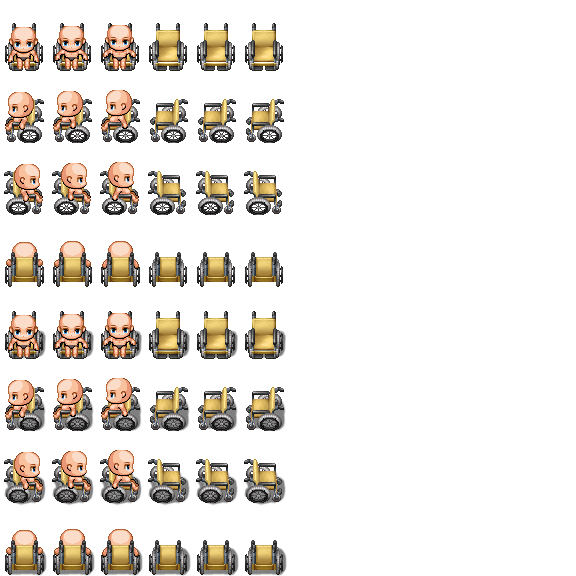 Fandom (Chii/Elda, Freya, Black Lady, Belle, Hermione, Rapunzel, Pocahontas, Elsa)
Sprites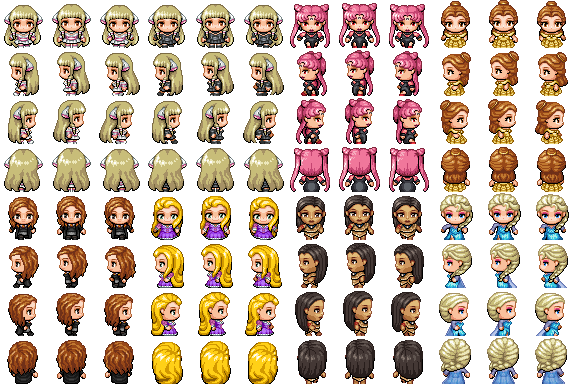 non-generator parts (the hair is also avaiable as generator part)
Face

Non-Generator winter clothing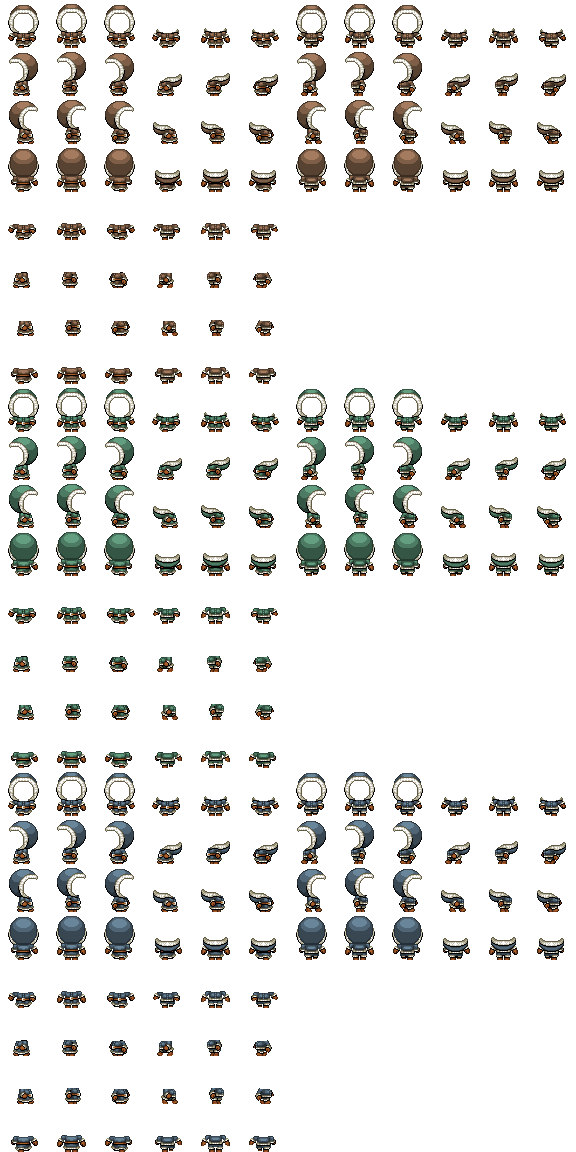 SF Nurse without Monster Arm*RTP*
matching sprite avaiable from Kadokawa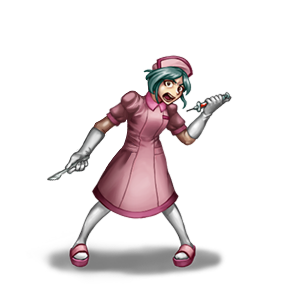 SF_People 3-4*RTP*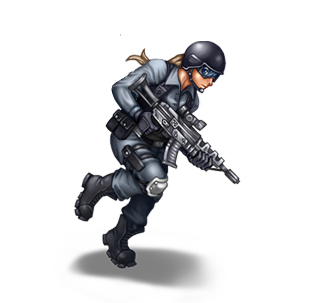 Actor_3-4*RTP*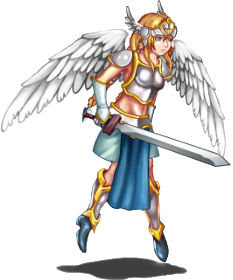 Angel*RTP* & SF_People 5,6*RTP*
Faces
Sprites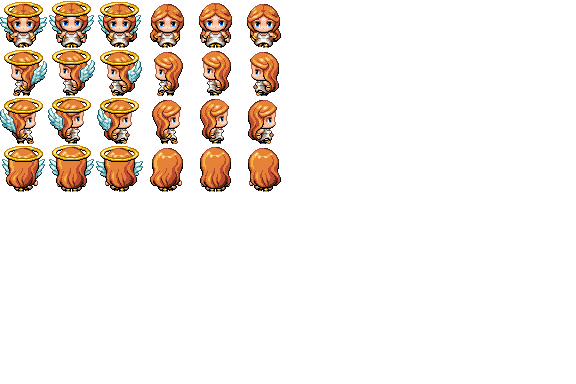 SF_People2-2*RTP*; SF_People2-5*RTP* and SF_People2-6*RTP*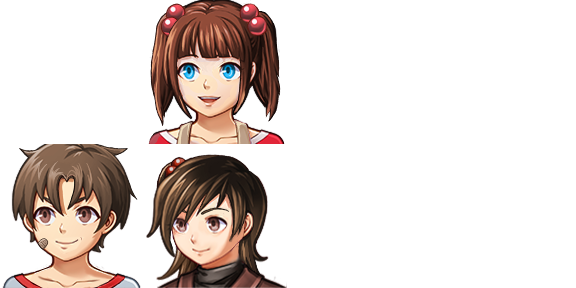 Behaviour Sprites
nursing People2-6*RTP*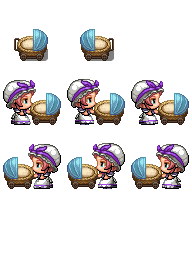 fishing People2-5*RTP*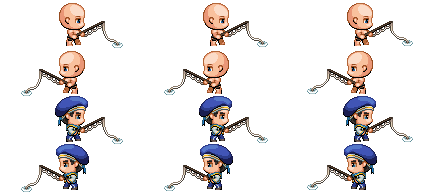 Butler bowing, medium/fortuneteller, child crying*all RTP*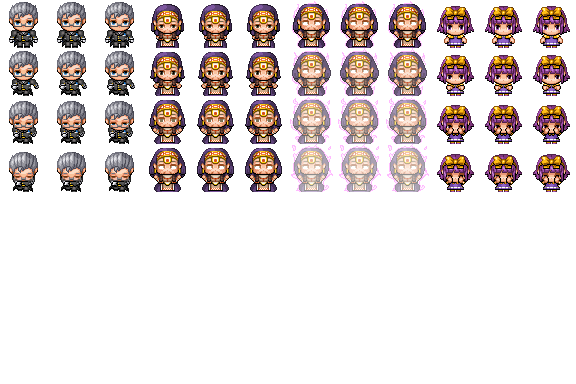 Soldier Poses*RTP*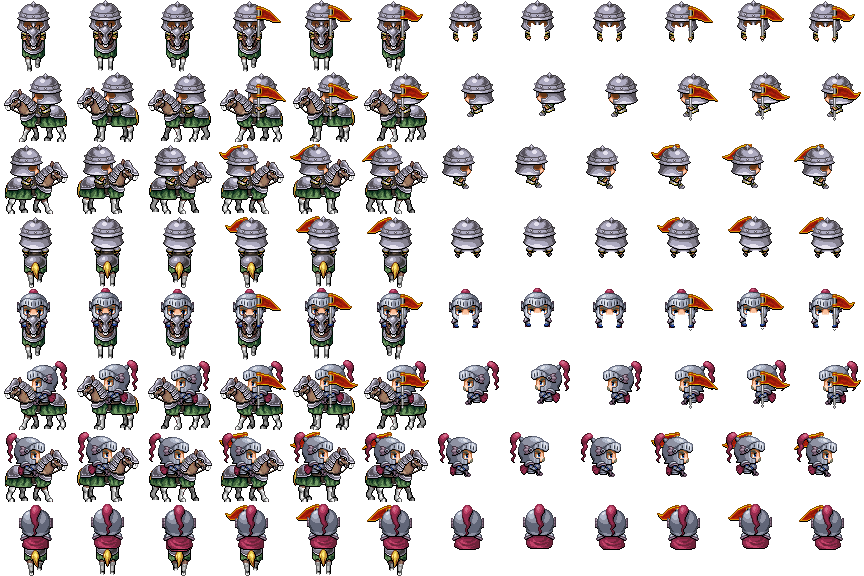 ANIMALS
Mixed animals (Red Panda, Wolf, Swan, kitten, sea horse, tortoise, rooster)
Sprites: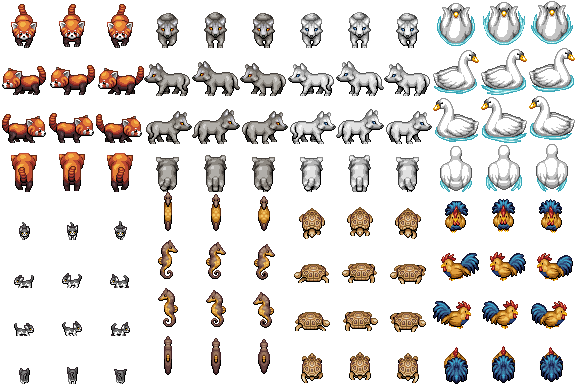 Faces: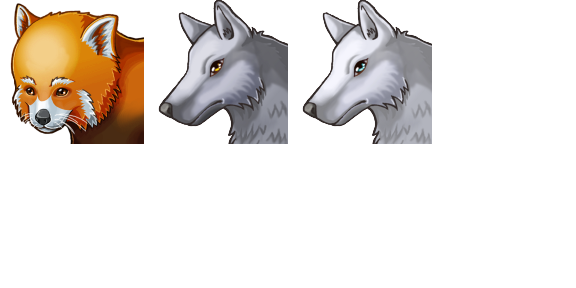 Battler: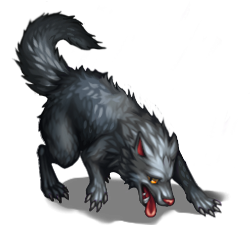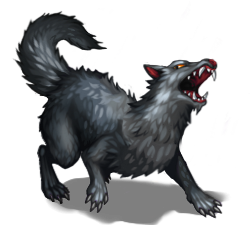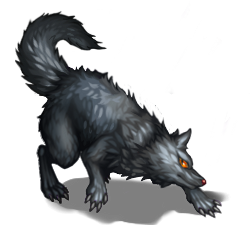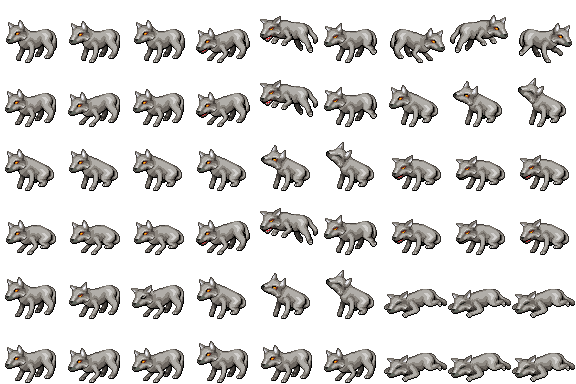 Large Wolf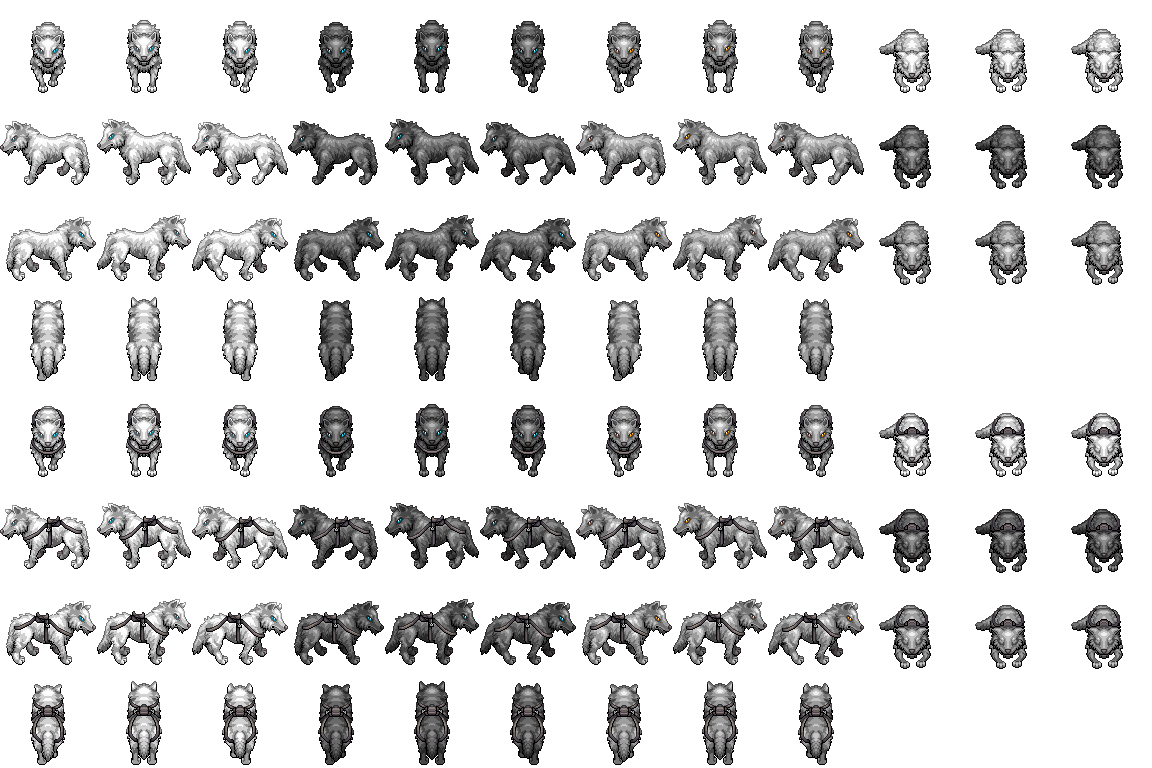 Alpaca: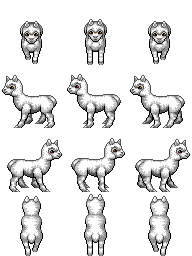 Guinea pigs: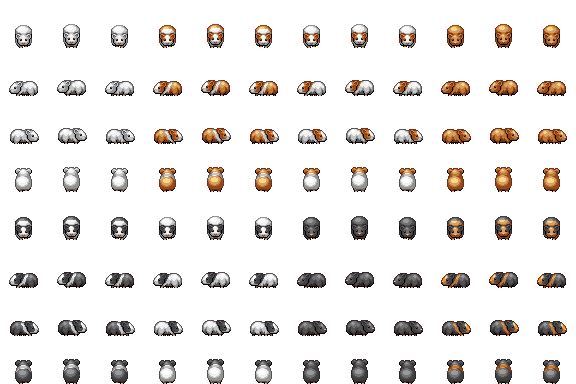 Shepered Dog Variations: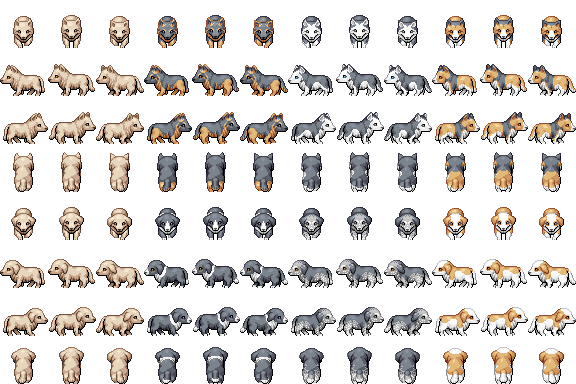 Lobster: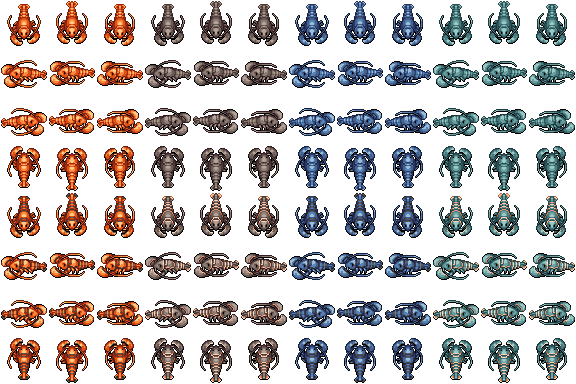 Fox: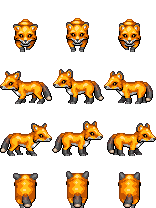 Sheep: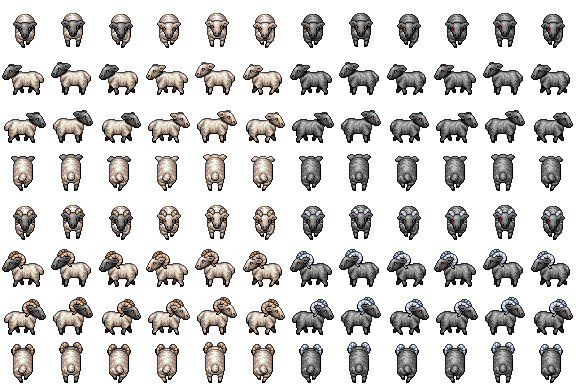 Horses:
old stand pose

arabian horse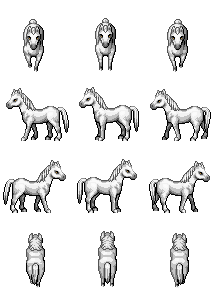 basic horse
Additions:
Wing addition in Monster spoiler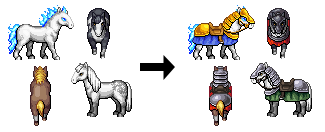 Horse armor nightmare version (under monster):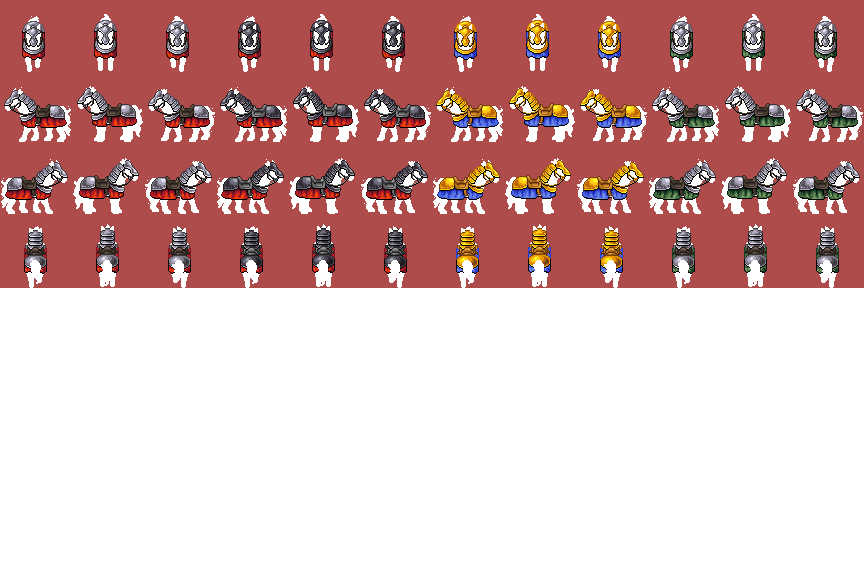 Horse armor normal horses, the upper row is for the mane type of the upper row of the original sheets and the down row is for the down row of the original sheets.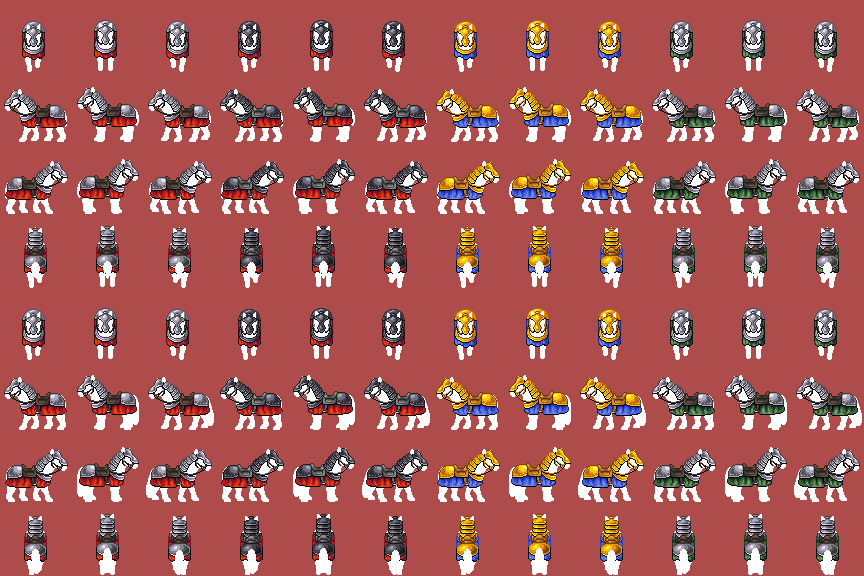 Faces
Because of the mass, here is the link to the post with
all of them
!
Example: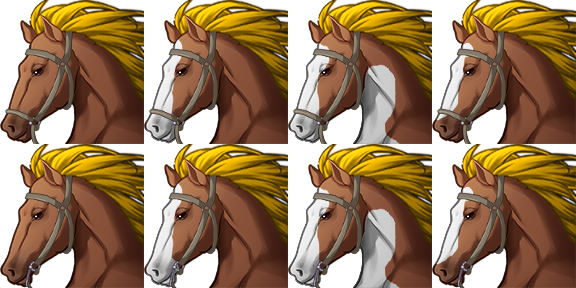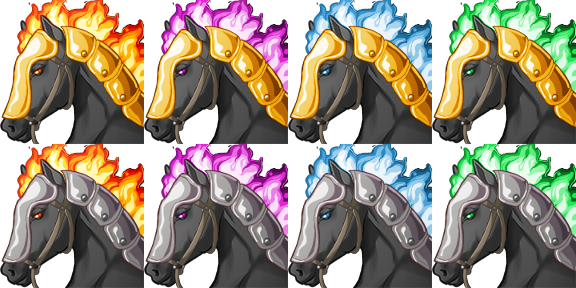 Sprites
Because of the mass, the sprites
are all in this post
Example: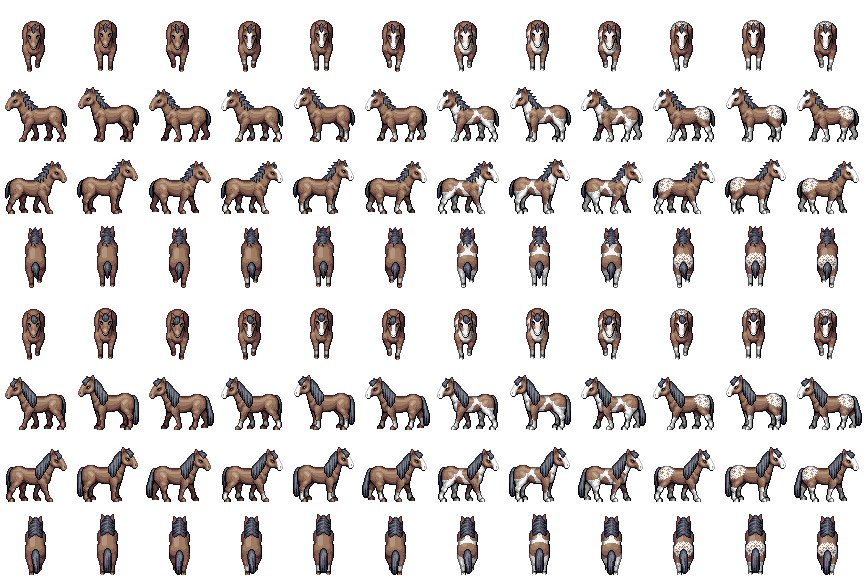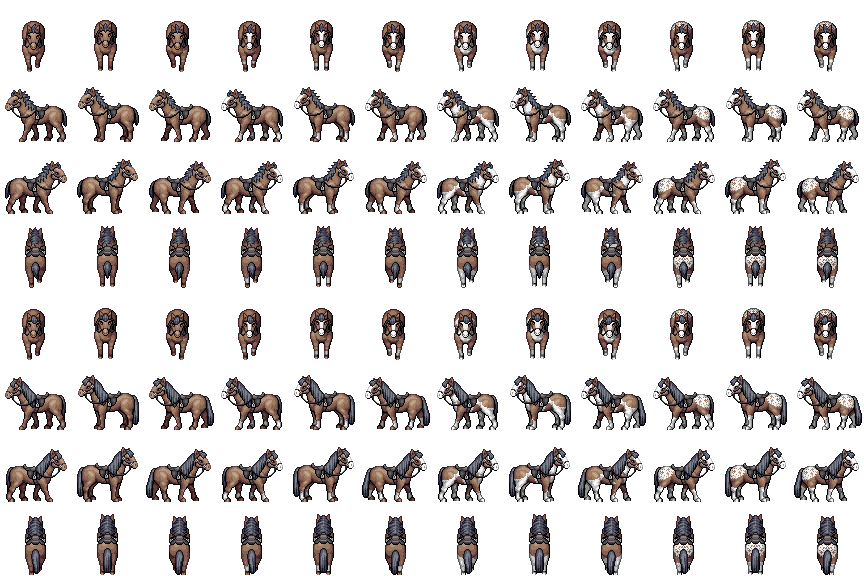 Addition: Wagon (matches all horses in the linked post)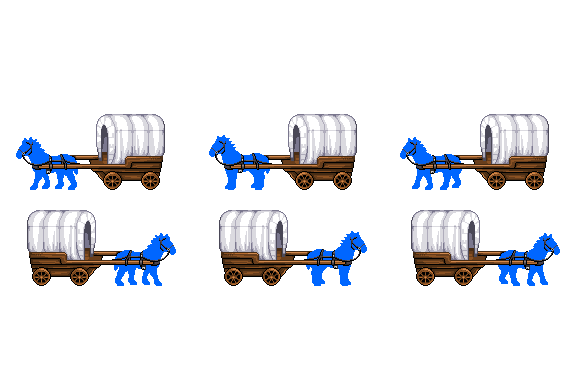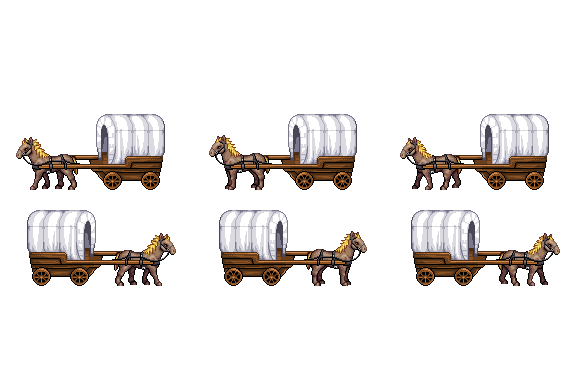 SV Battler
Base: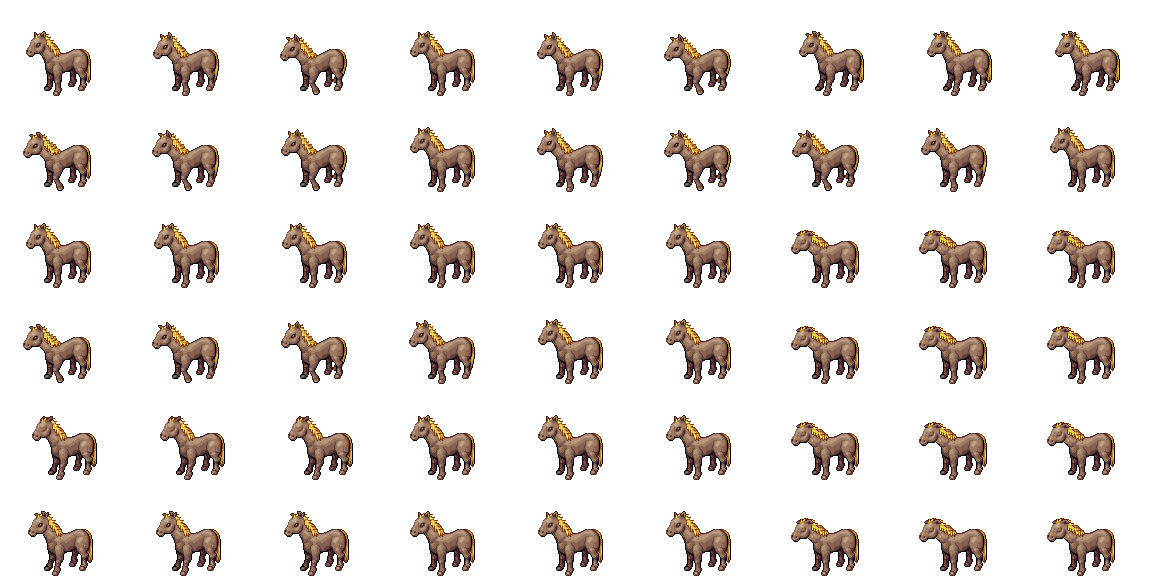 Overlay: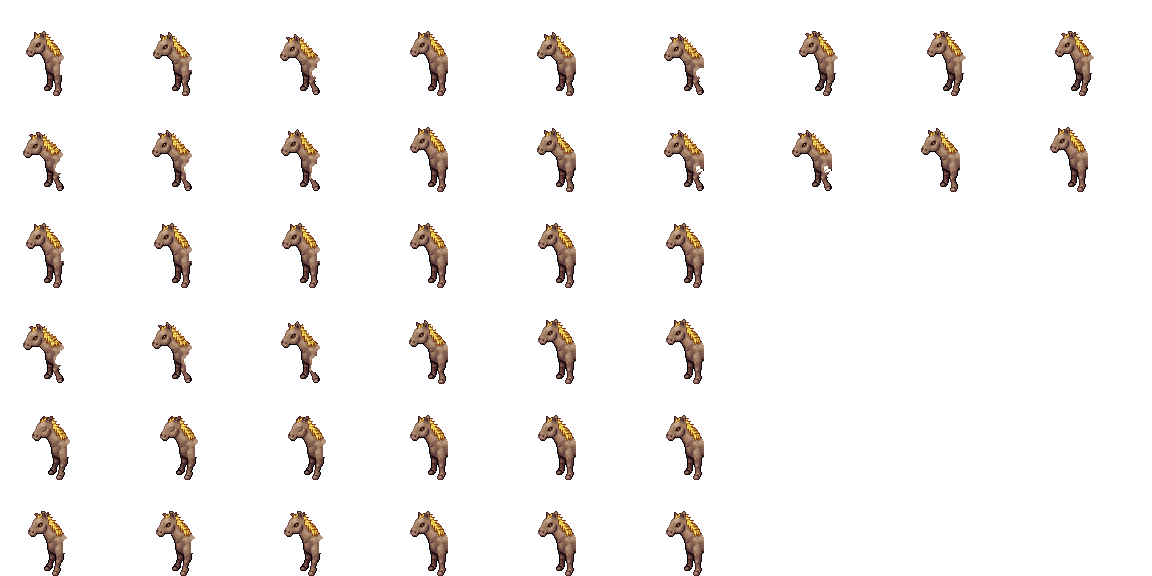 And how you use it:
Step 1: Enlarge Canvas: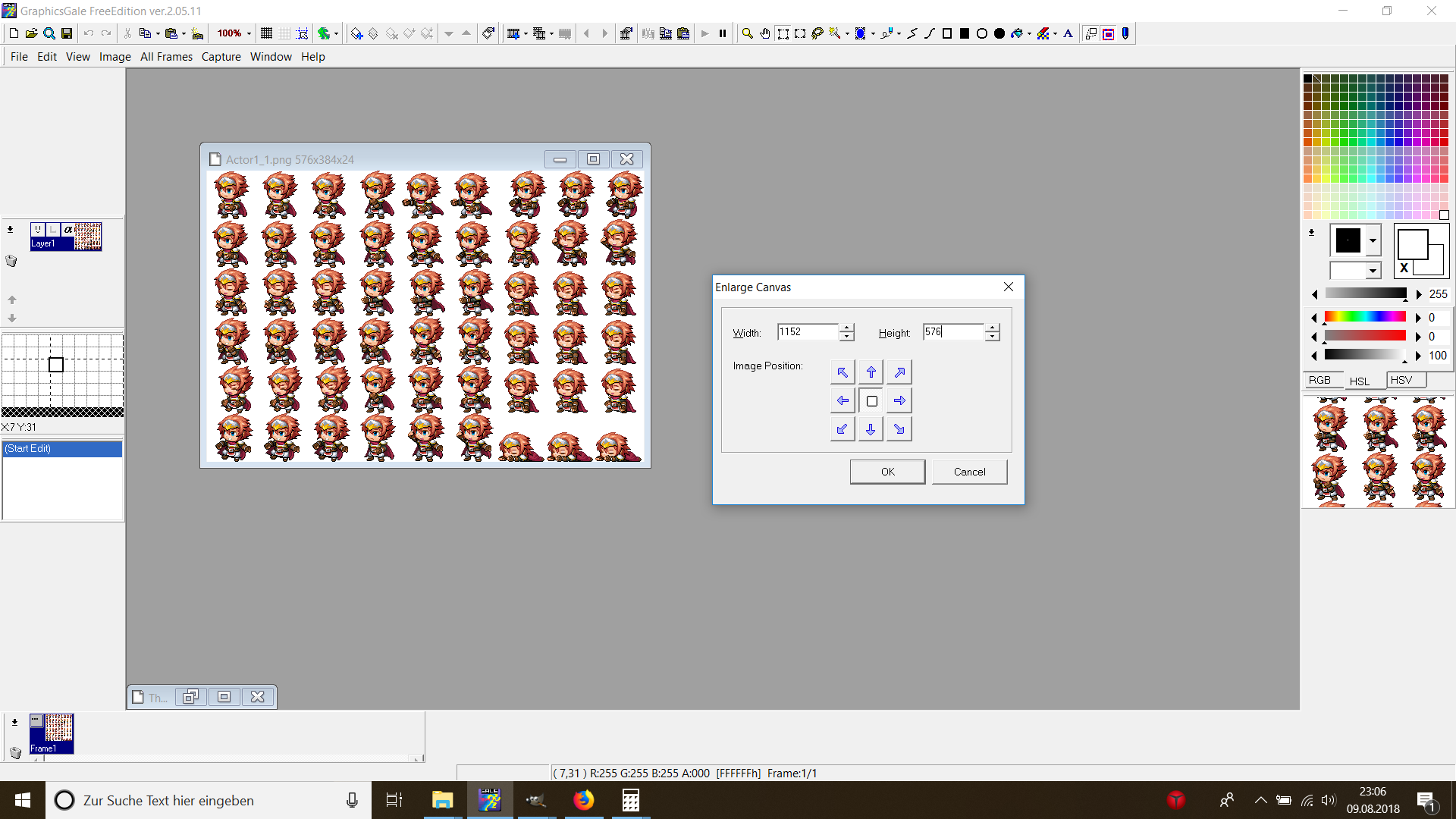 Step 2: Place your SV Battler like this in the (32*32) grid: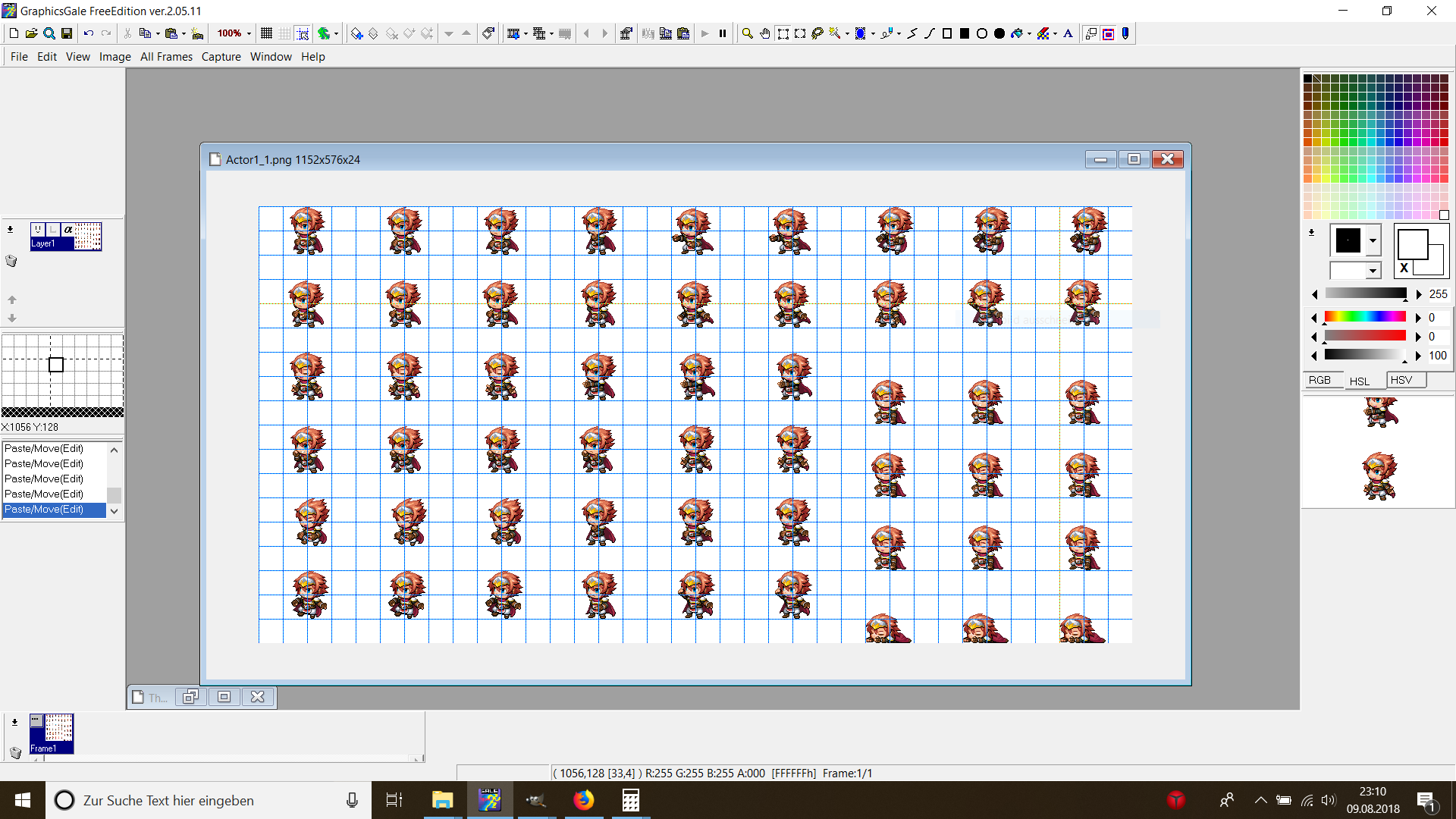 Step 3: Add Base below and overlay over the Battler - finished!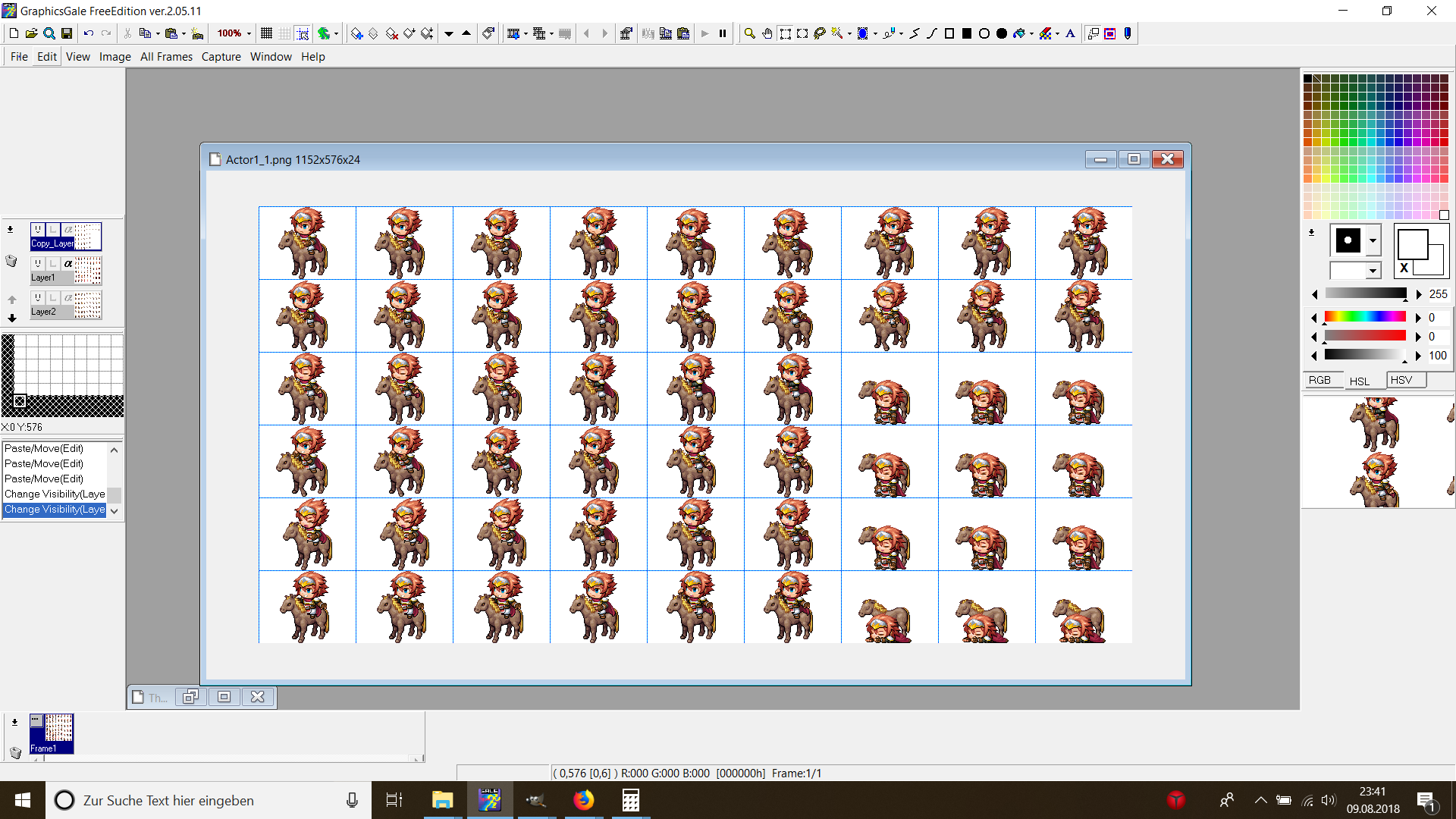 Cat - SV Battler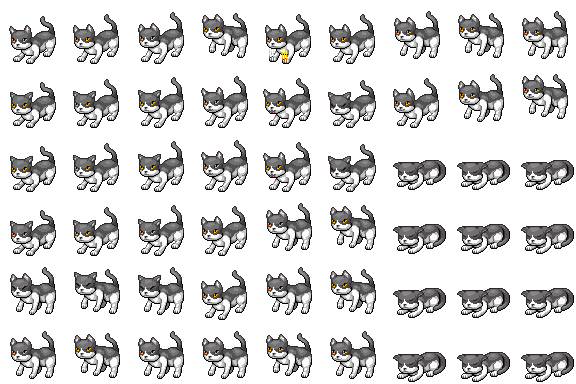 Butterfly - Sprite,Face



Owls:

Dog - Battler (matching Sprite in RTP)
Bat
Sprite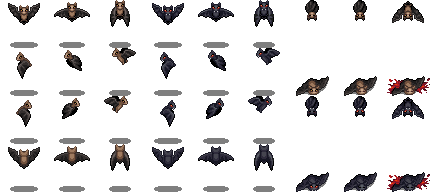 Battler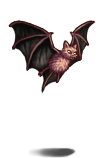 Pig - Battler (matching sprite e.g. by whtdragon)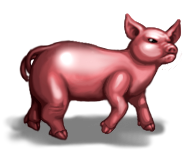 Lion - Battler, Boss Sprite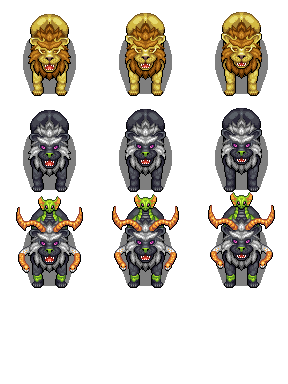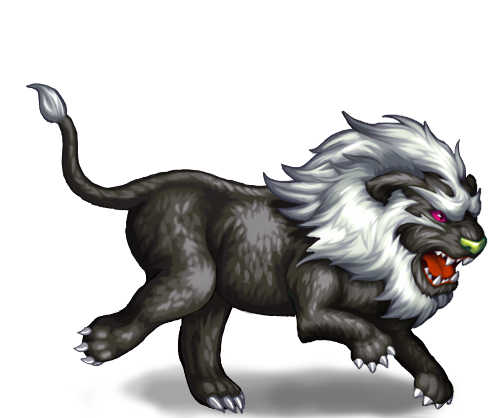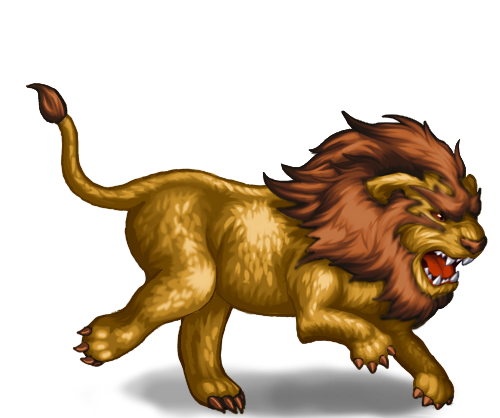 Bunny - Battler (Sprites exist by several other artists)

Jellyfish - Sprite, matches the default battler

MONSTERS
Fairy
*RTP* matching (Nature-5, Nature-6, Earth Elemental, Fire Elemental, Water Elemental, Wind Elemental)
Sprites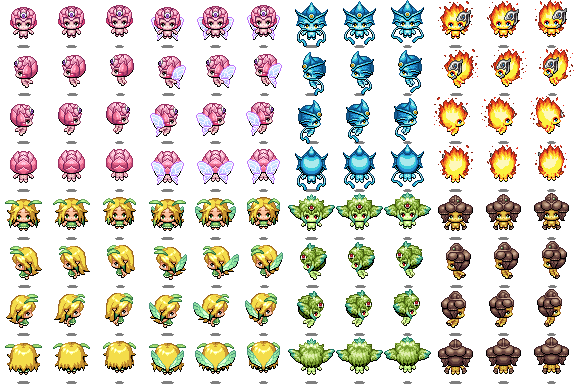 Faces: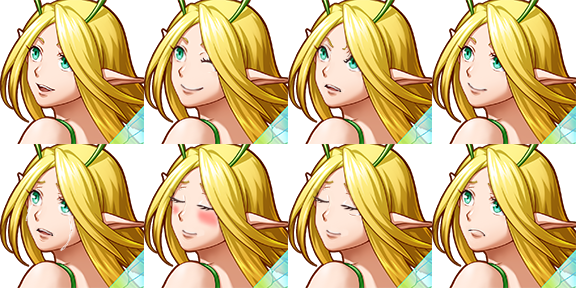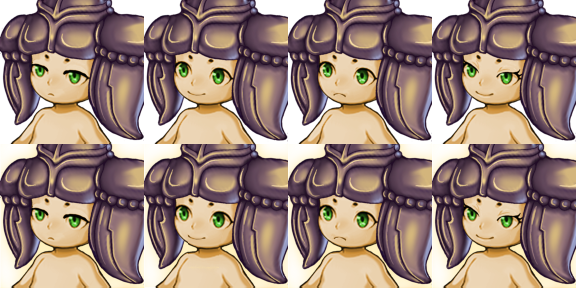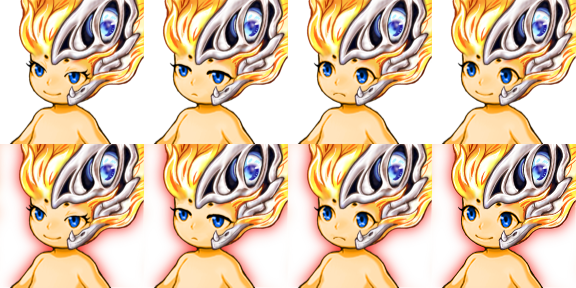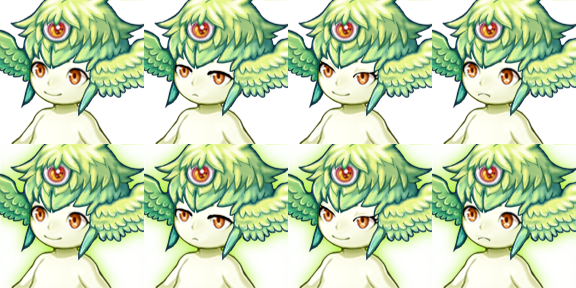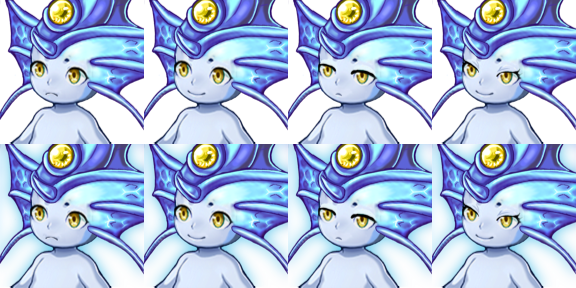 Battlers: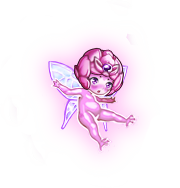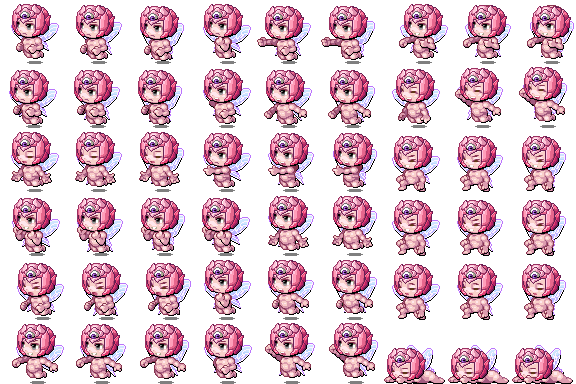 Base, Sylph(Cover Fairy)*RTP*, Bat girls/fairies
Sprites: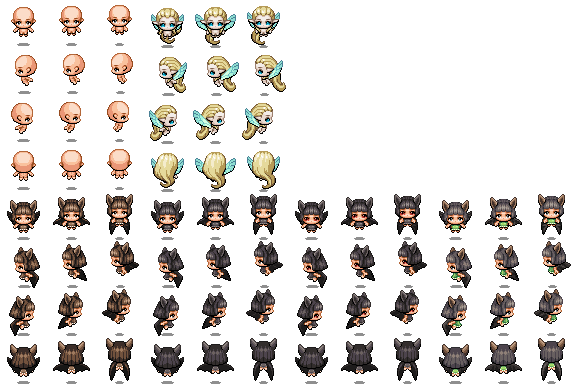 Faces: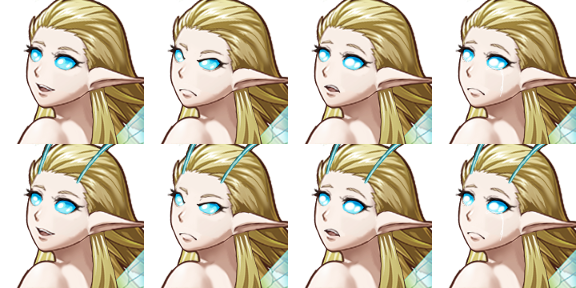 Battlers: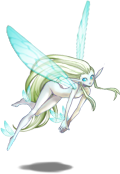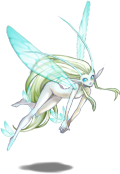 Demons
Succubus*RTP* and Incubus
Sprites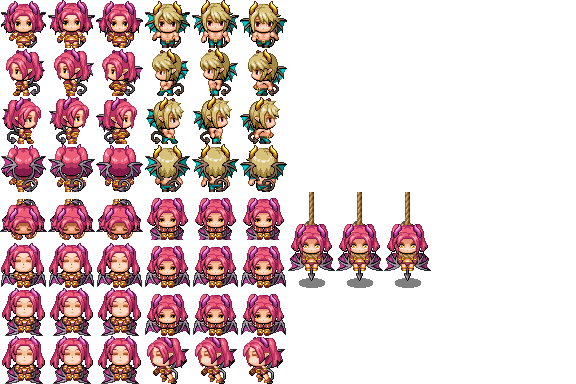 Faces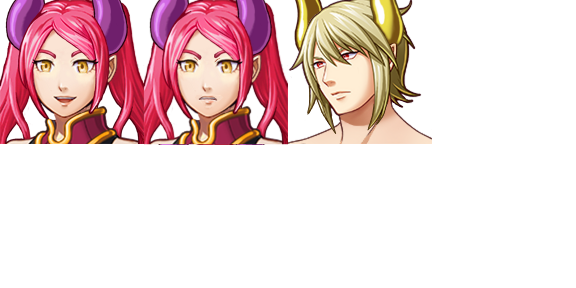 Battlers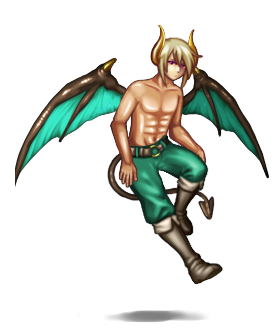 Demon Lady
Sprite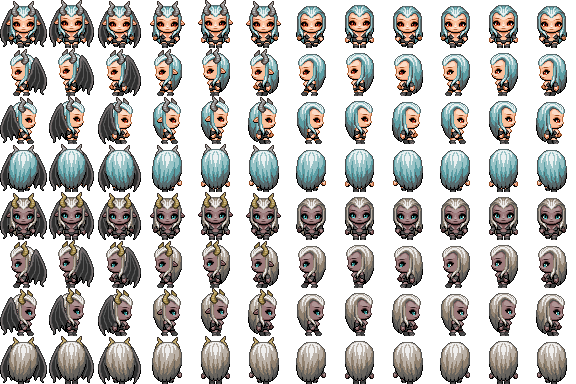 Big Monster
Evil God Transformation*RTP*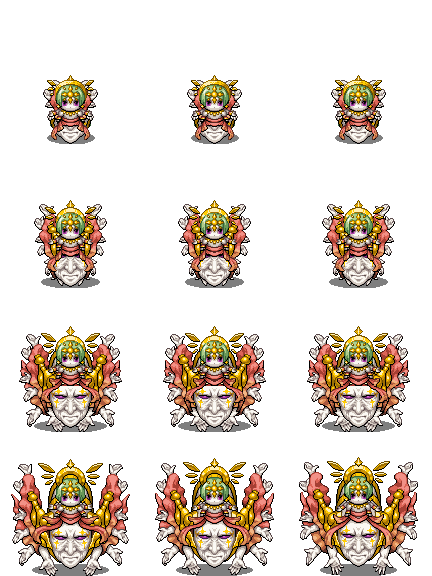 Mixed Monsters (Garuda*RTP*, Iron Giant*RTP*, Ogre*RTP*, Giant Ant, Cerberus*RTP*, Chimera*RTP*)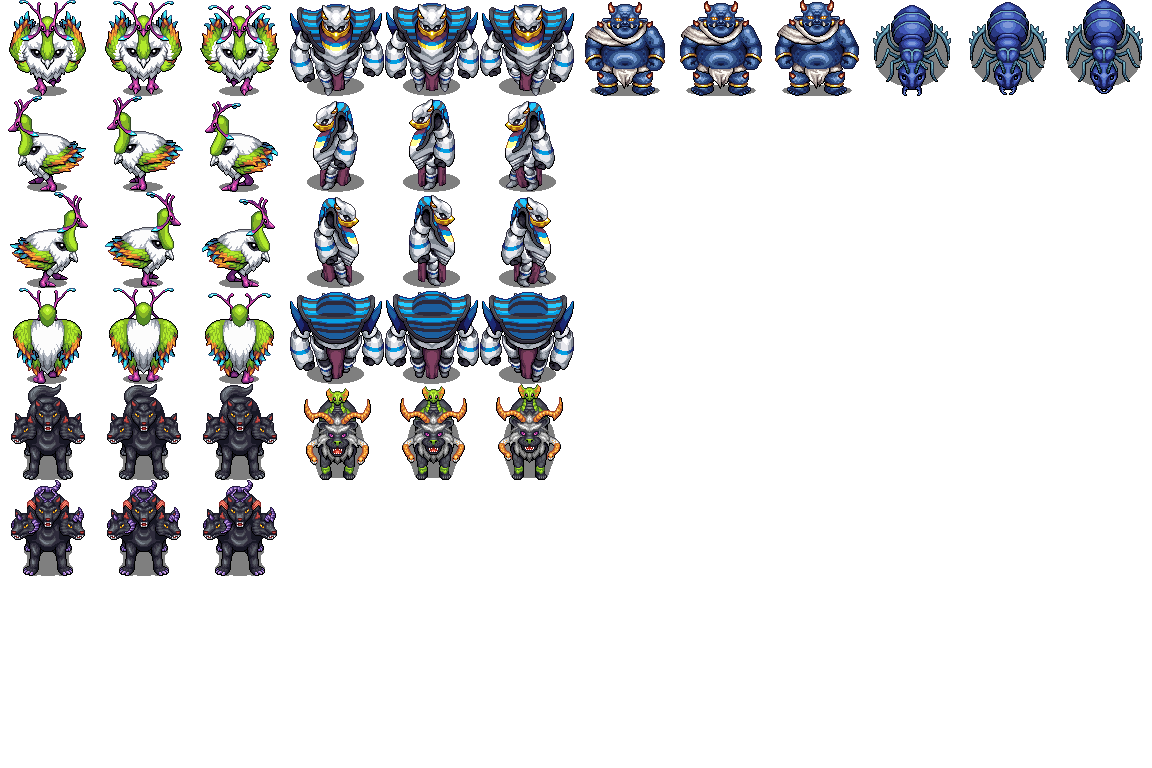 Face:

Battler: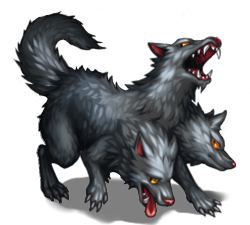 Tree Mimic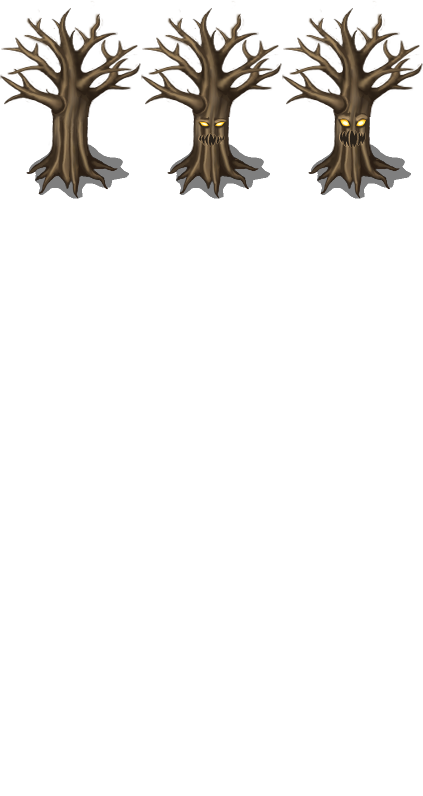 Dragons
Dragon *RTP*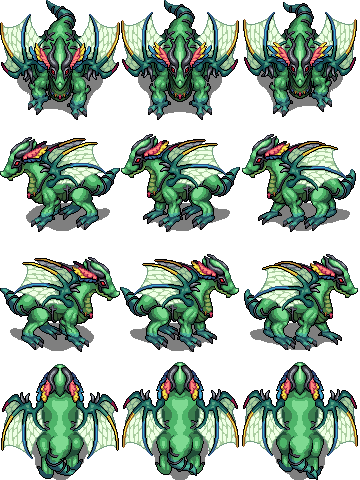 Baby Dragon
Sprite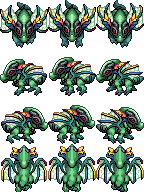 Battler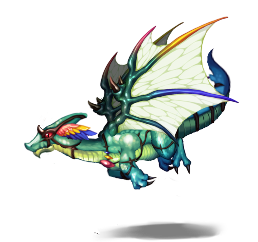 Mini Dragons
matching my Dragon Weapons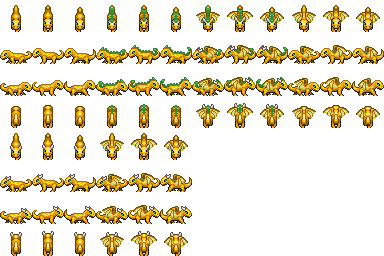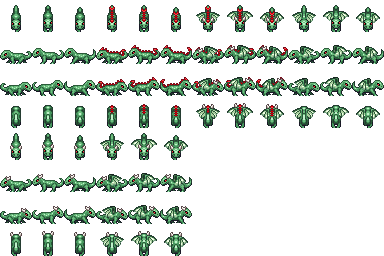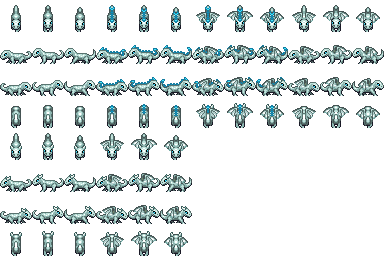 Winged Beasts(Sphinx, Hippogryph, Pegasus):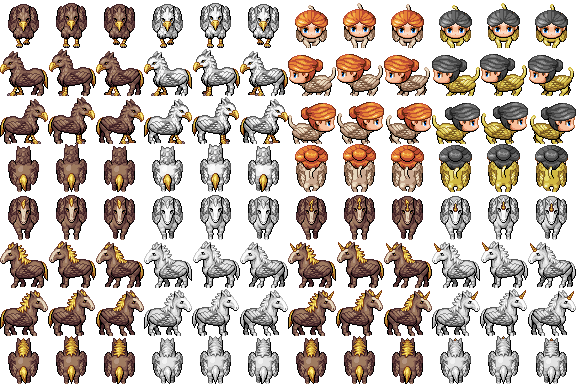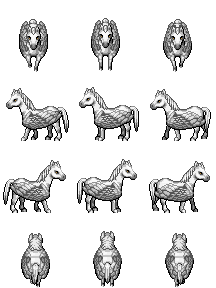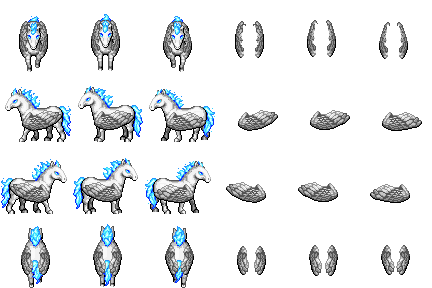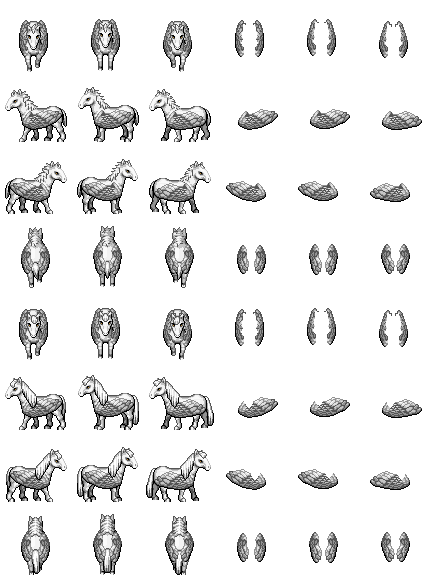 Forest Monsters: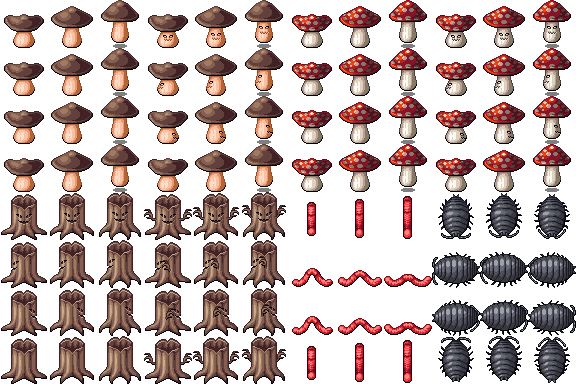 Slime/Wine/Blood Bats: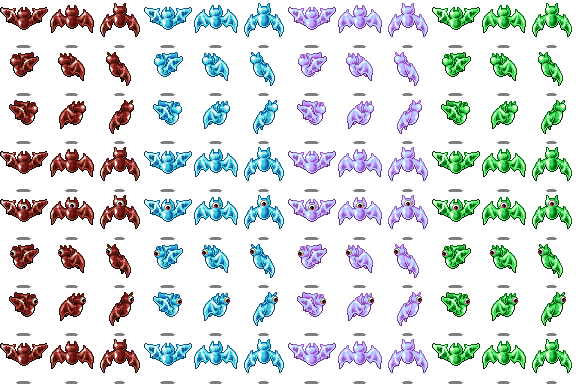 Carterpillar

Nightmare horses - Sprite

Skeleton - Face (matching sprites can be found by other artists)


Death - Sprite,Battler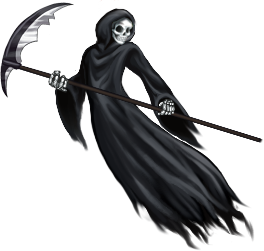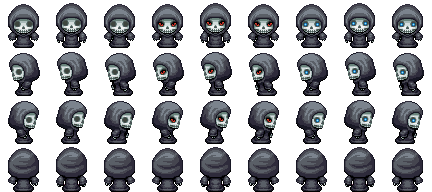 Gazer*RTP*
compatible with
hiddenone's battlers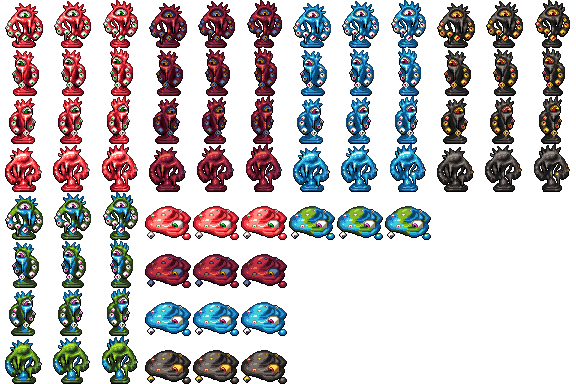 Cockatrice*RTP*
compatible with
hiddenone's battlers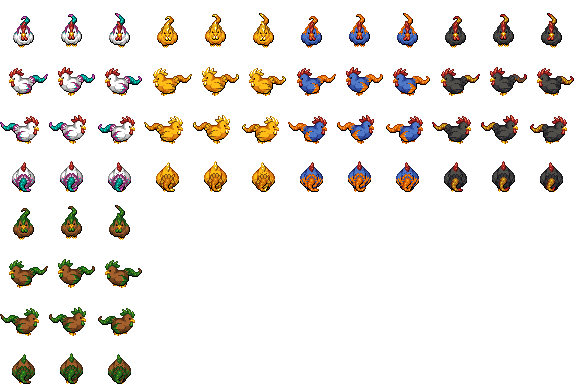 Snake*RTP*
compatible with
hiddenone's battlers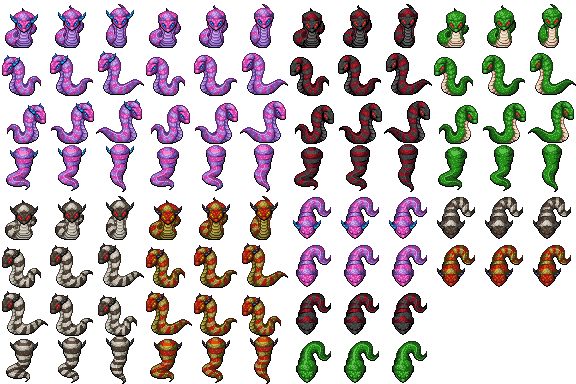 Medusa: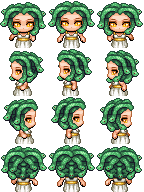 Giant Ants
Worker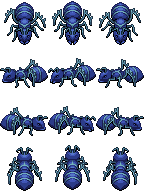 Mimic - Sprite, matches the default mimic battler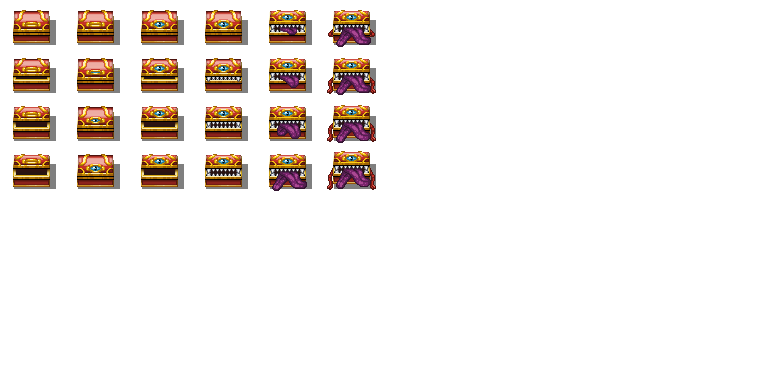 Plant Monster - Sprite, matching battler by
Thalzon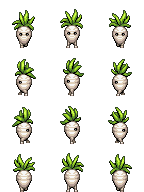 Mermaid - Battler, Sprite, completeBase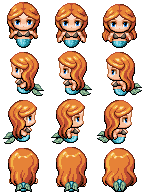 Base
Please note that they are not generator compatible, mostly because of the tai, but TVD and SV work well with any generator hair and there is a small and easy tutorial for adding generator hair to the sprite :3
TV: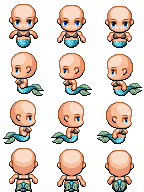 TVD (works well with generator hair and headgear):

SV (works well with generator hair, headgear and everything that doesn't need legs):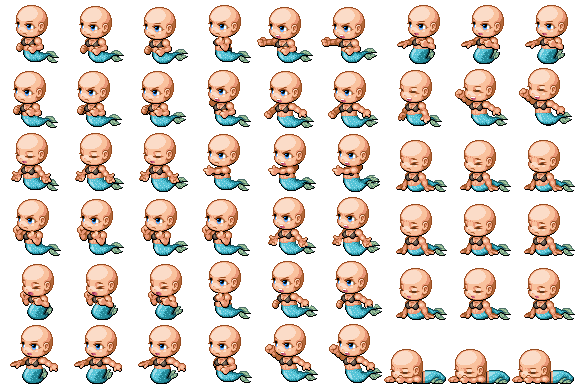 A quick tutorial for adding hair to the charset: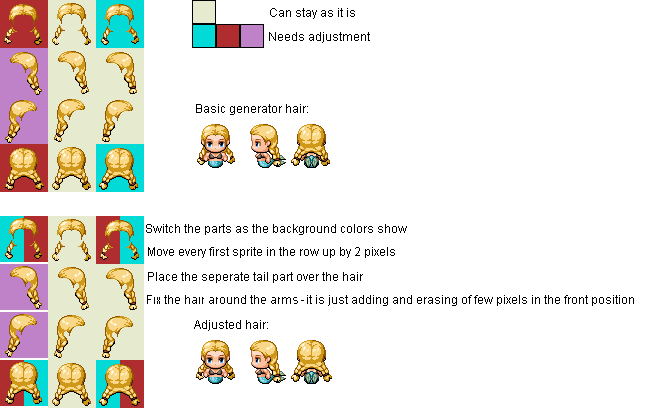 Jellymaid - Battler, Face, Sprite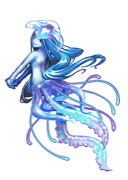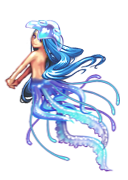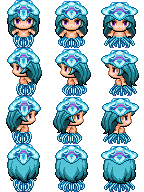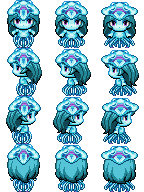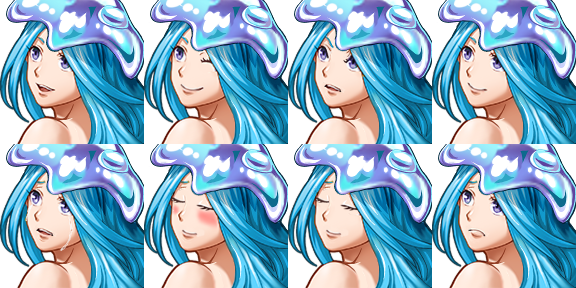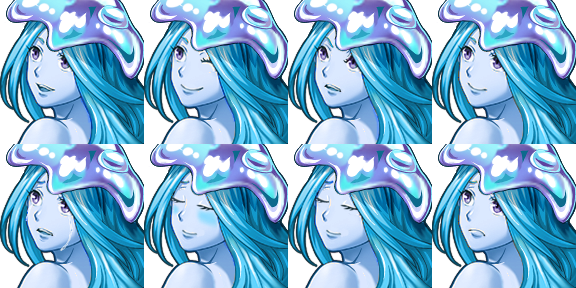 Evil 7 - Emoset

Dragon - Sprite, matches the default battler
Aliens
compatible with
hiddenone's resources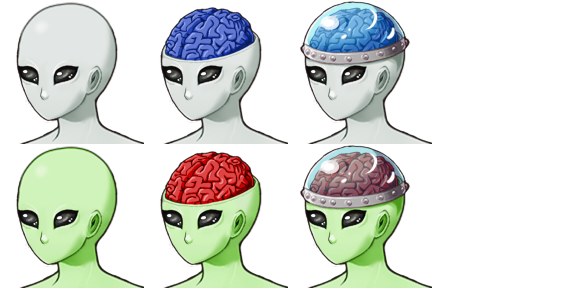 Mummy - Battler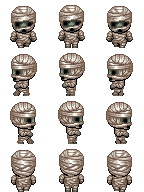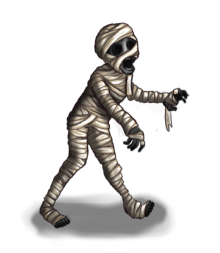 Fountain fairy - Battler and Sprite
Spiderpig - Sprite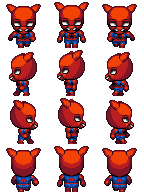 Skeleton horse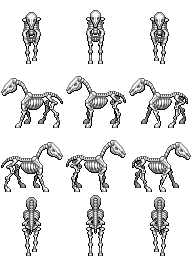 Slime

OBJECTS
Swords
Icons:

SV Weapons: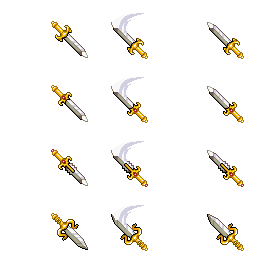 Charsets: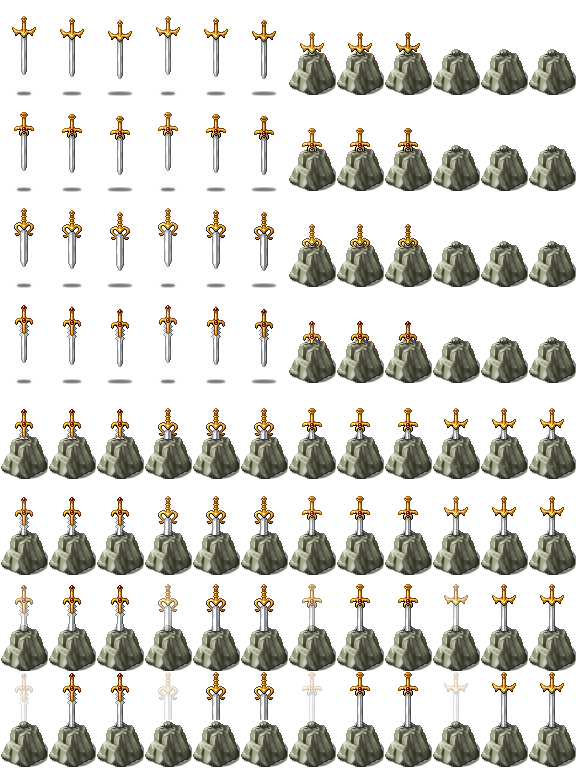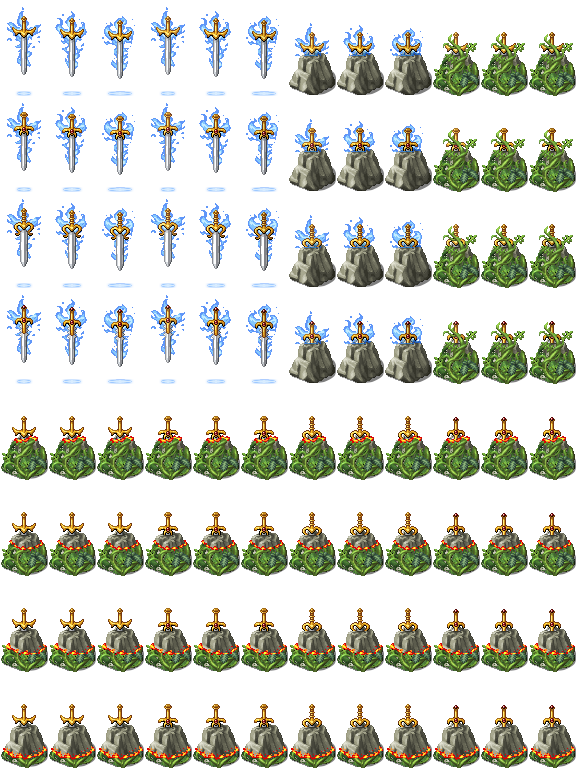 Water pump
Chests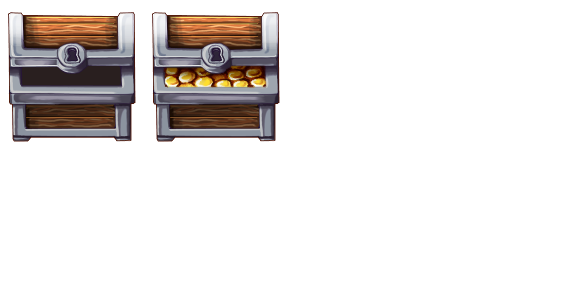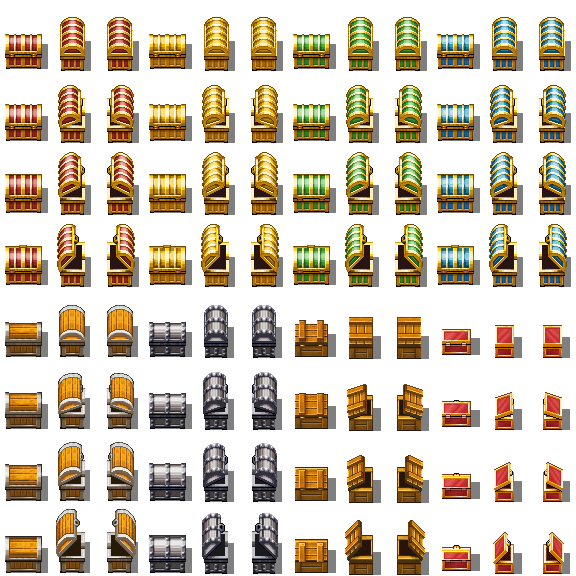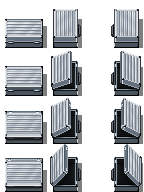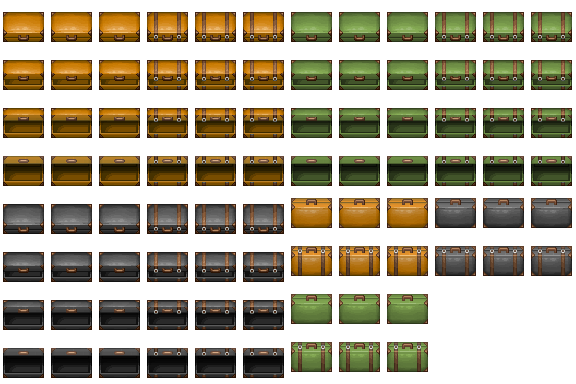 Train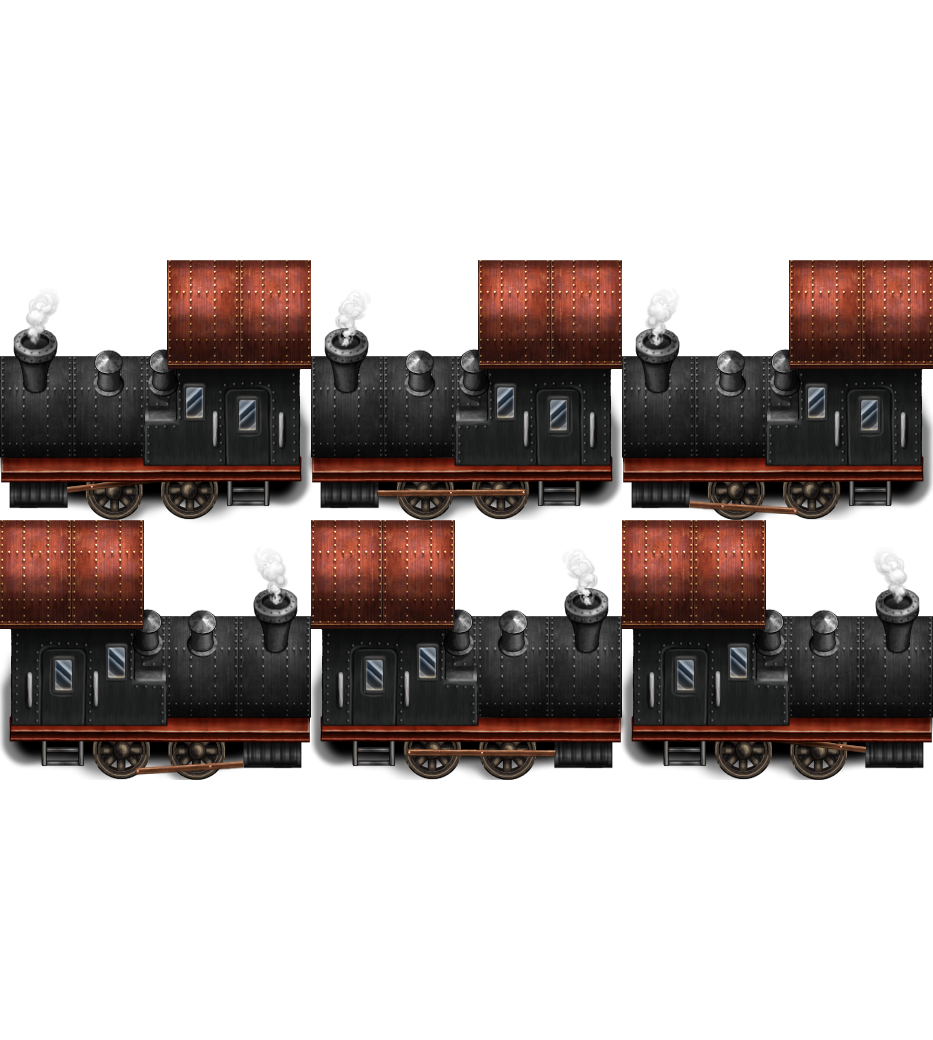 Phone box

Crops, nests
Animated Objects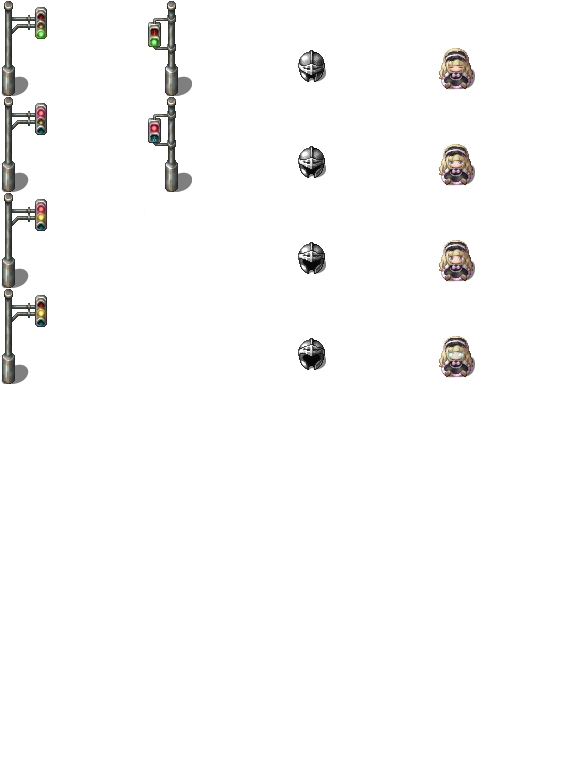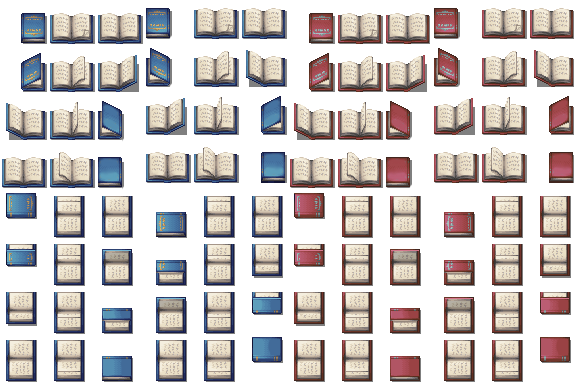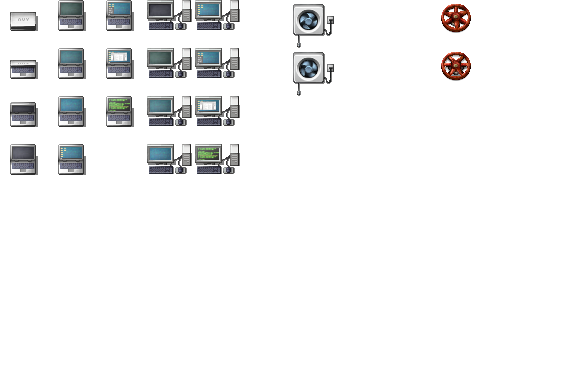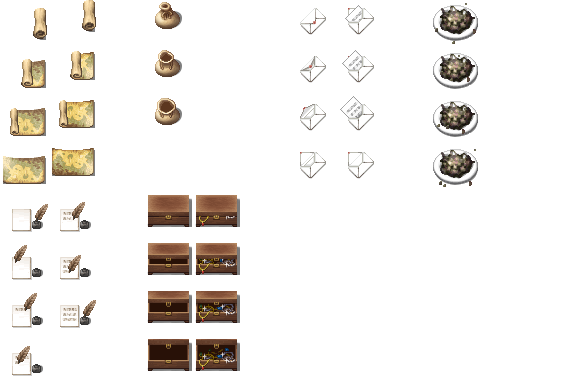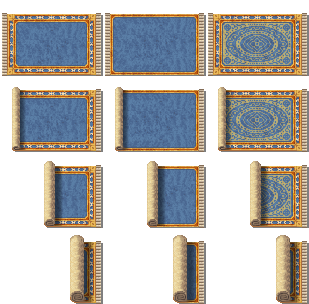 Worldmap Volcano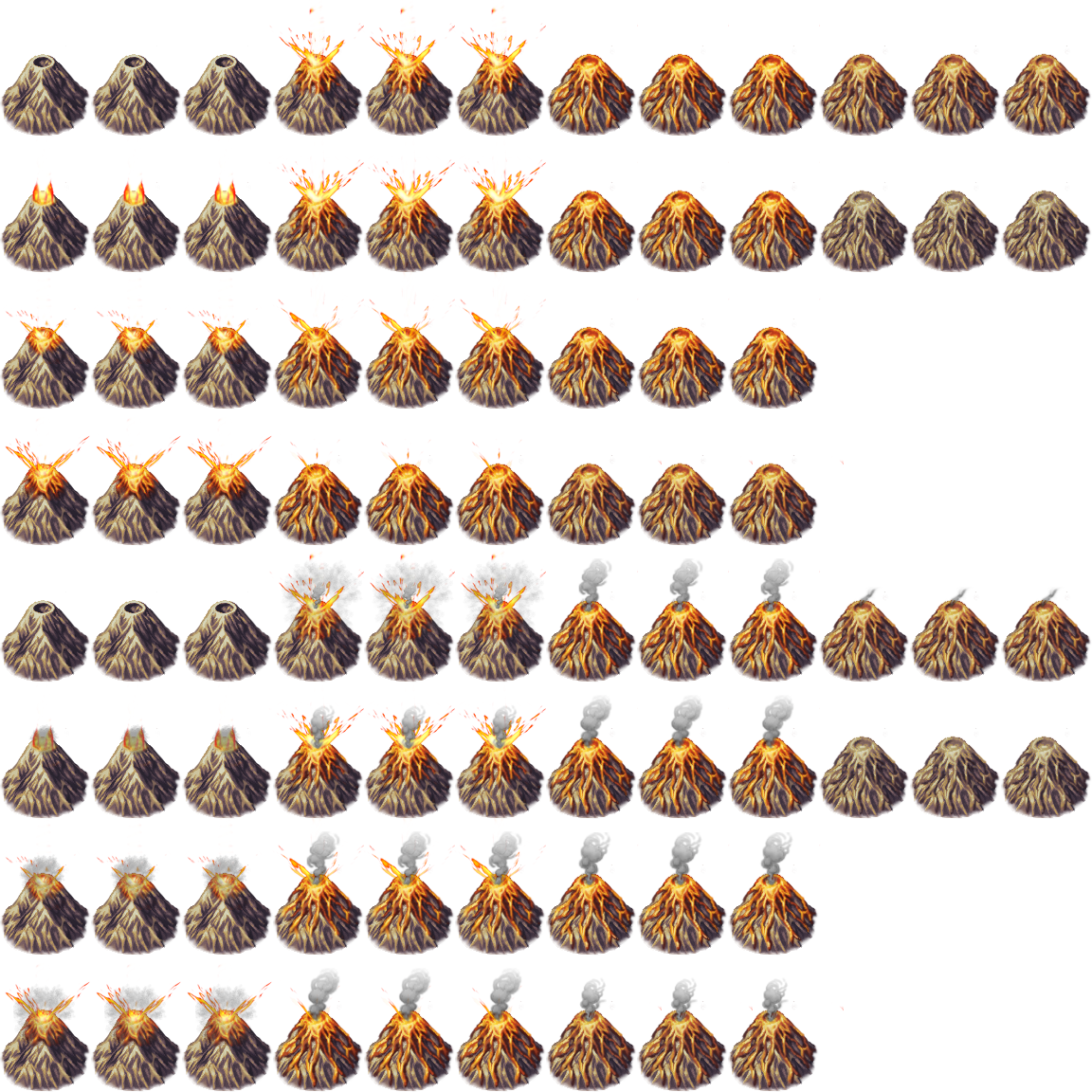 Chandelier: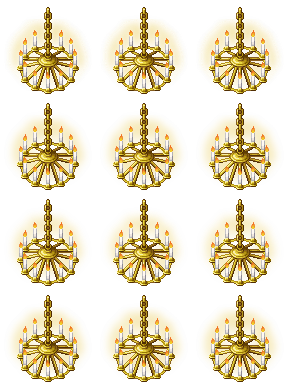 Boat: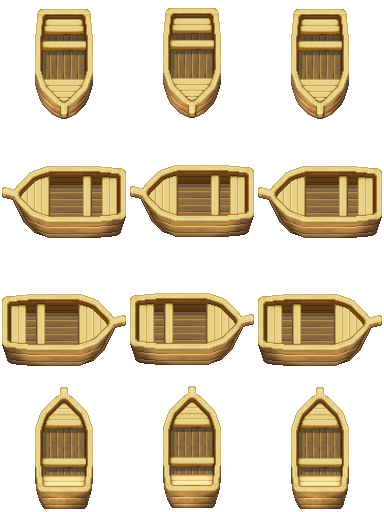 Cannons:
Boom!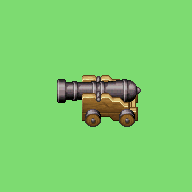 Grab those cannonballs:

And defend the castle, ship or whatever! BAM!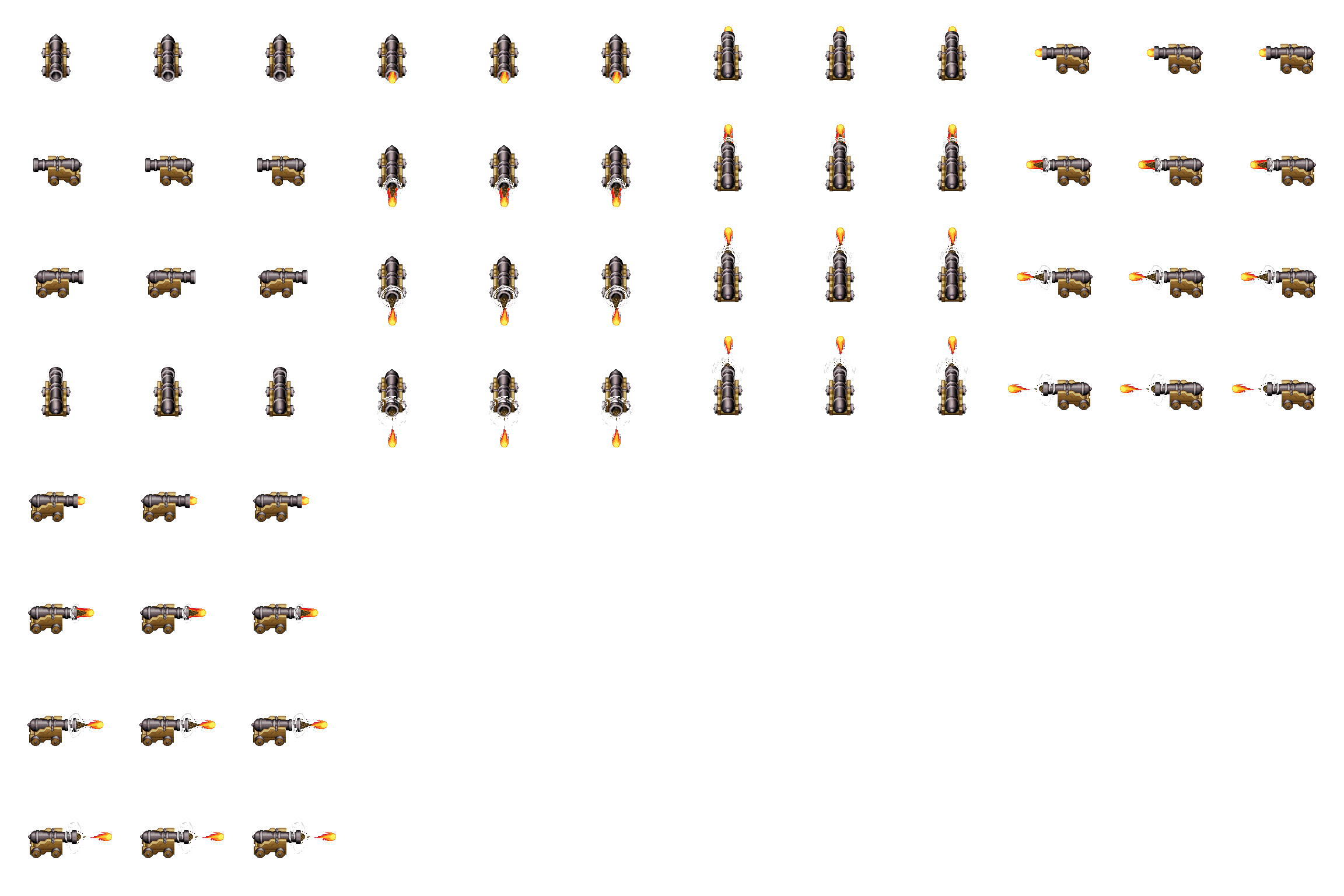 Cauldron: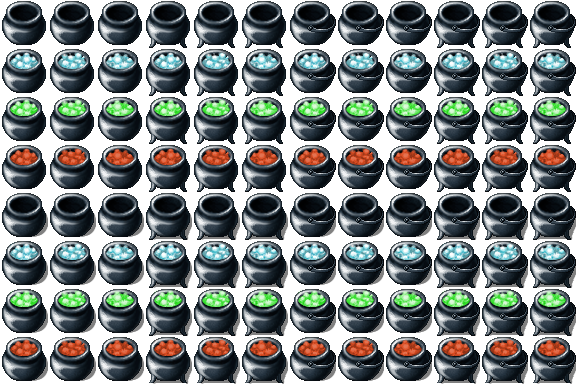 Torch:

A modular drawer with different content, fillable empty versions and even secret stairs:

Tile-Addon: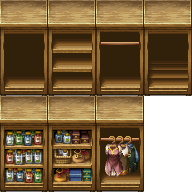 Doors as Charset:
Locks: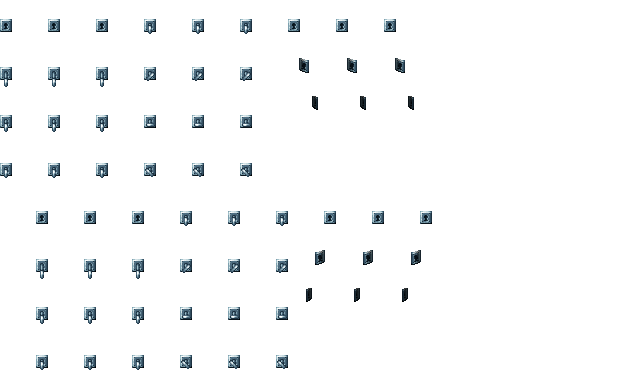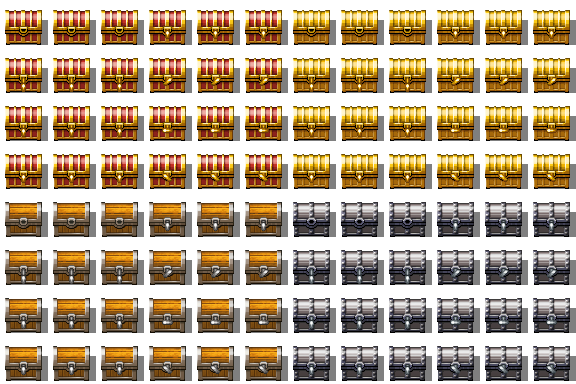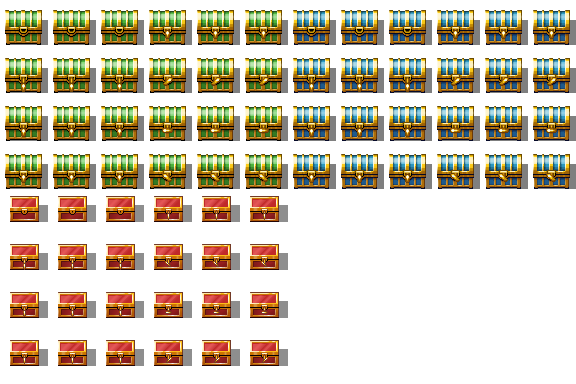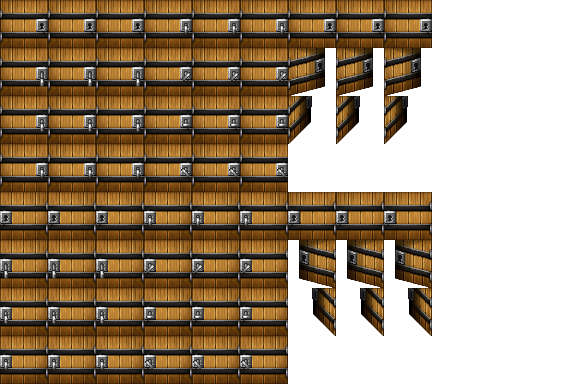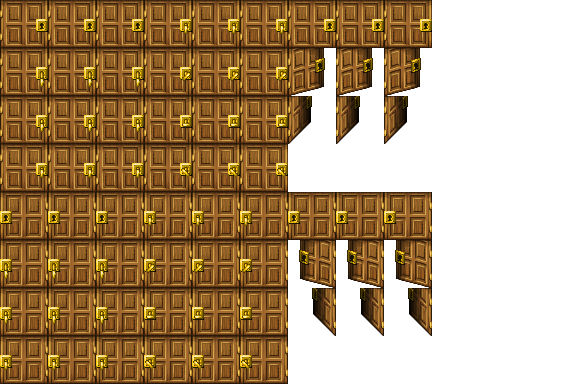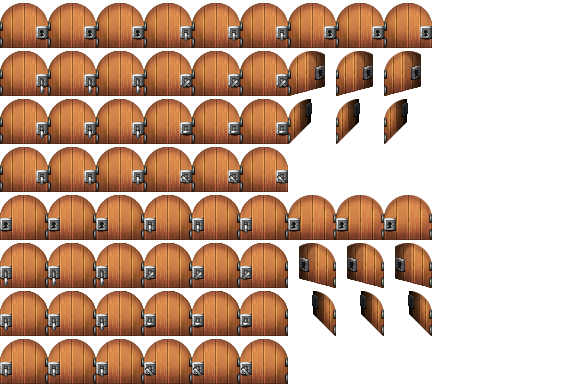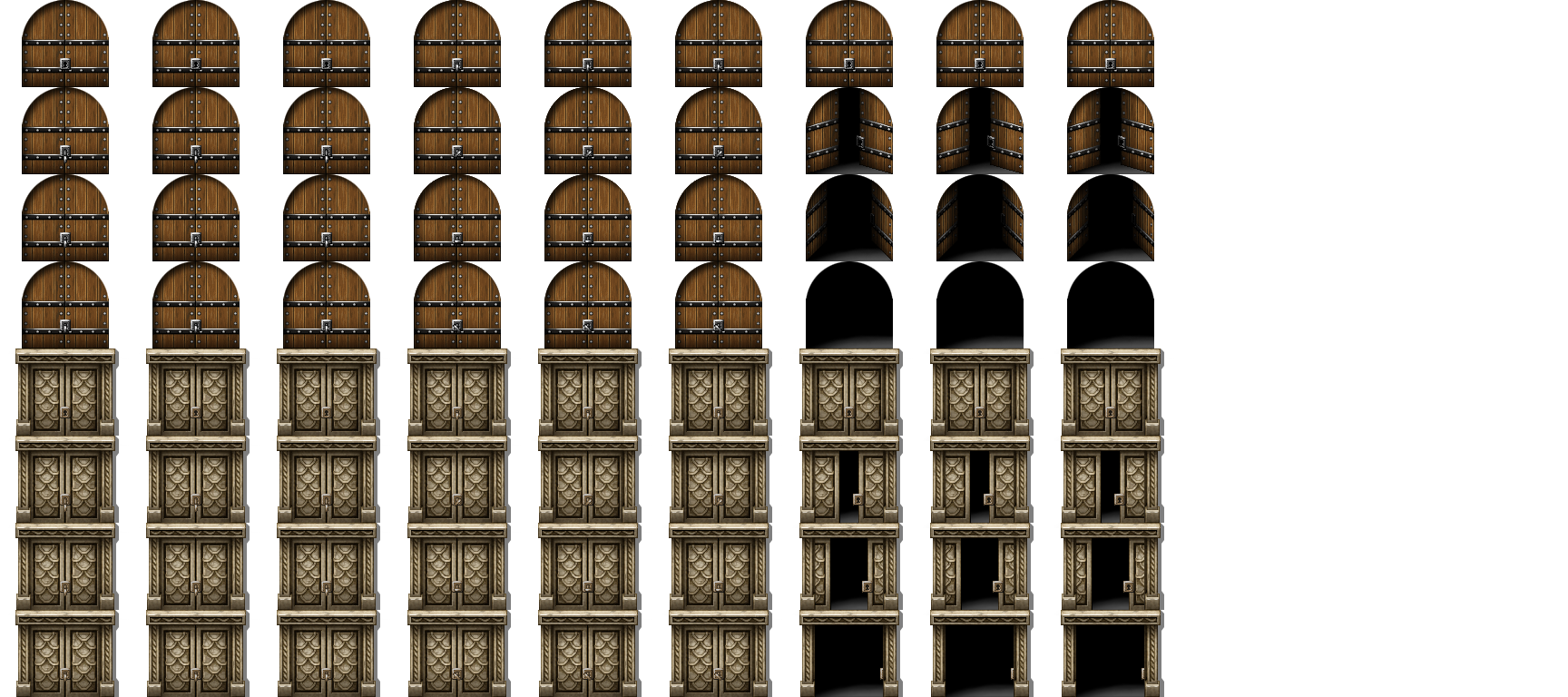 All-side doors: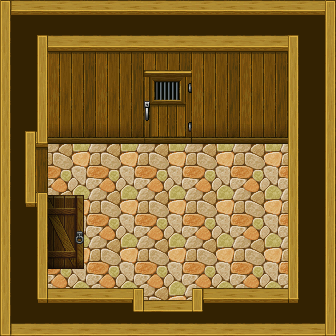 Ceiling additions (Walls might need to be edited):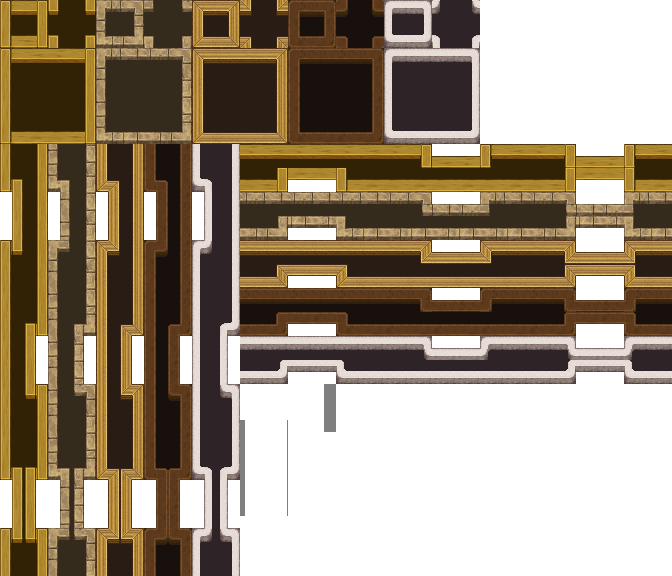 Front: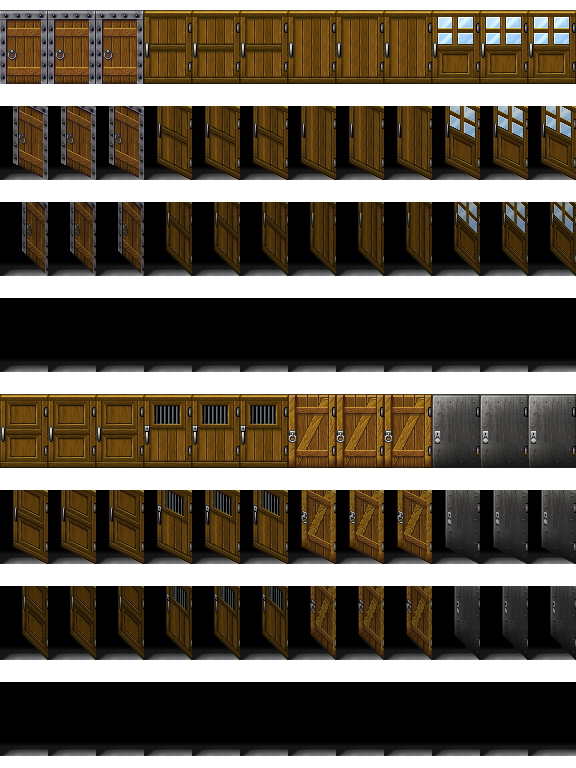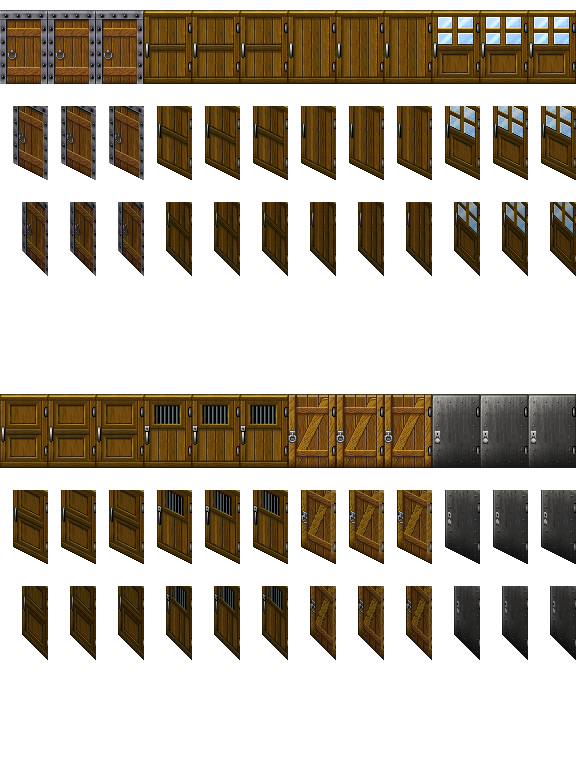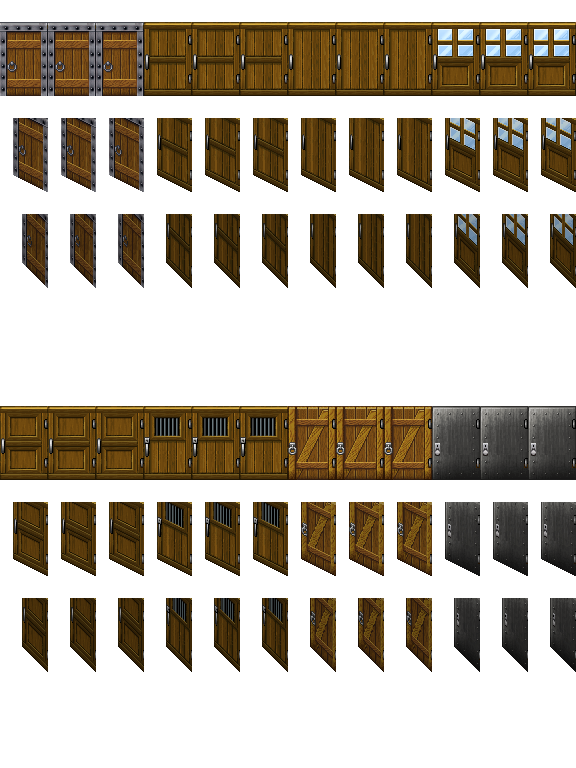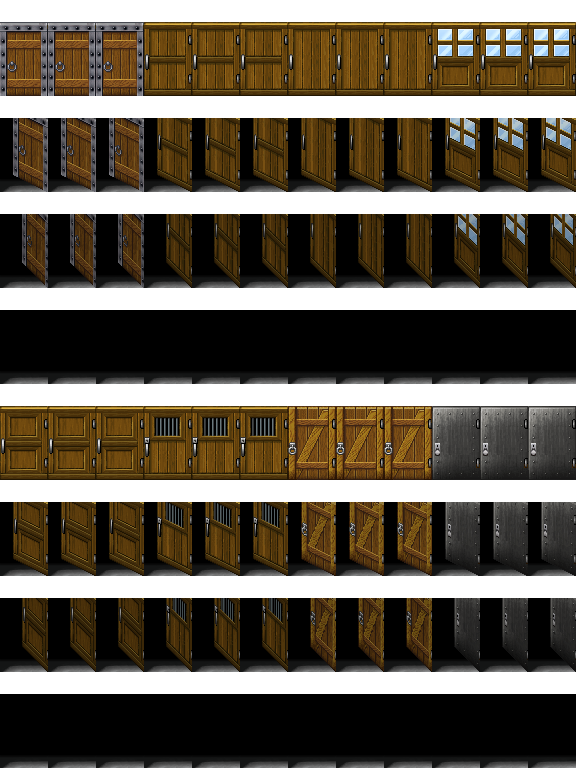 Side: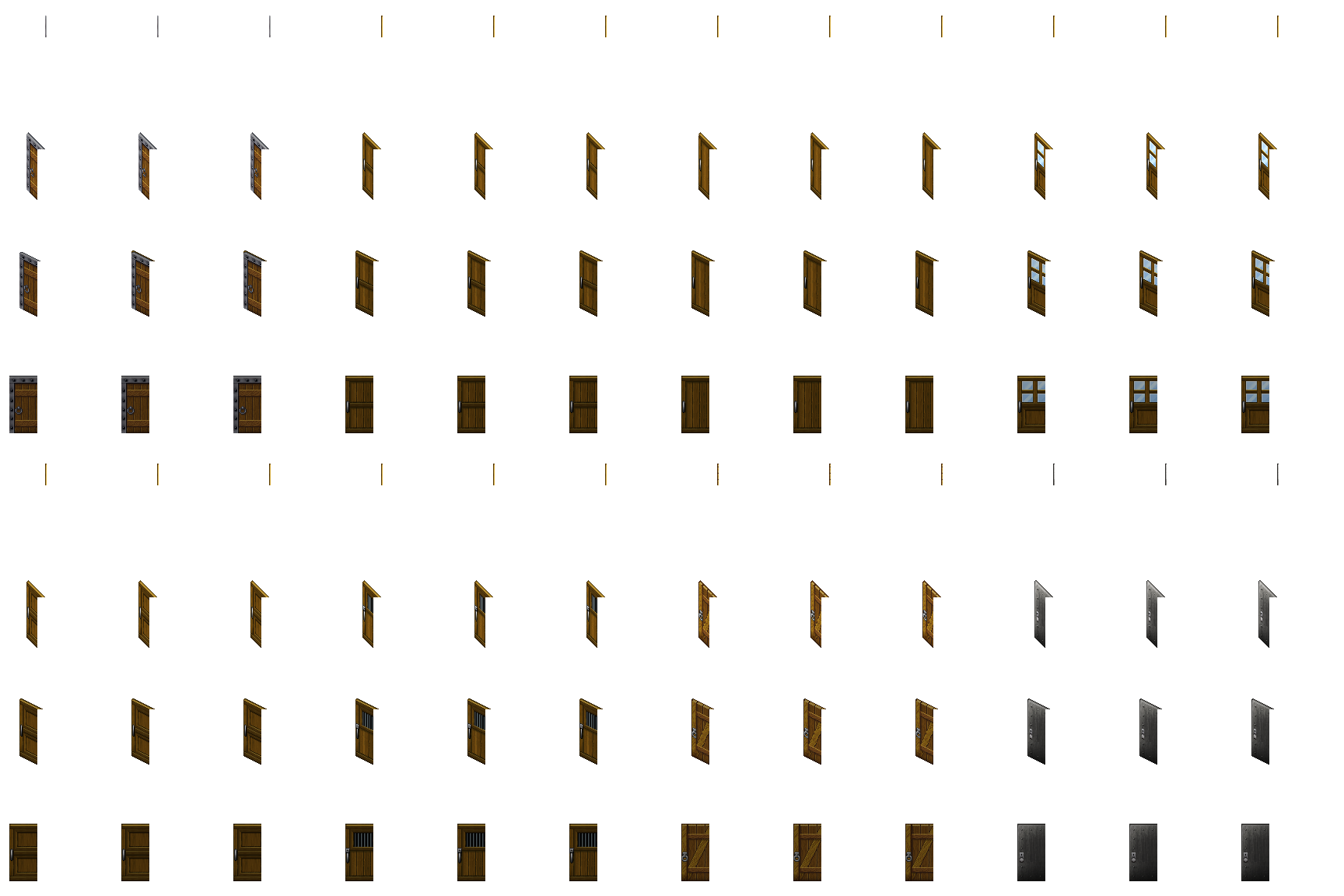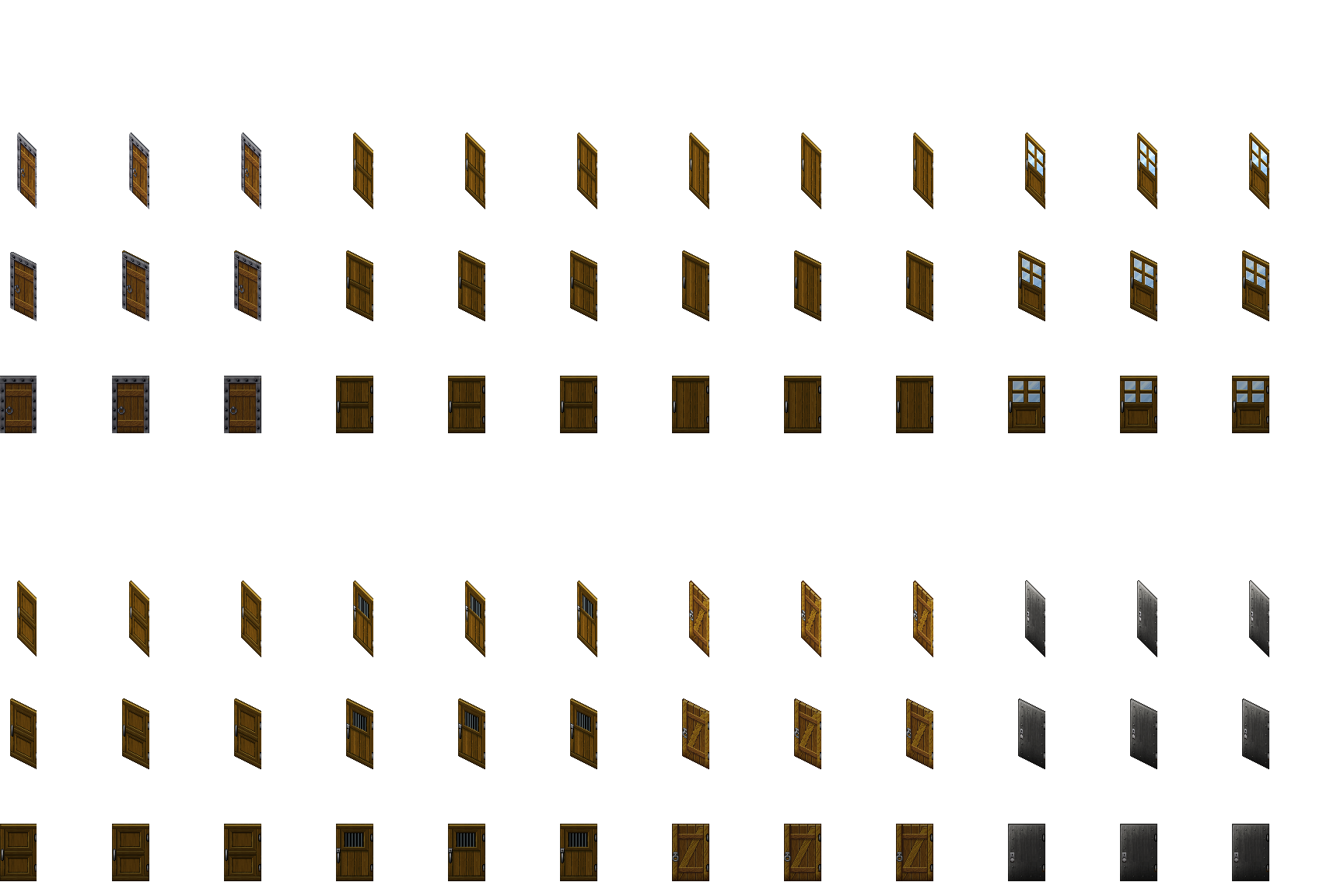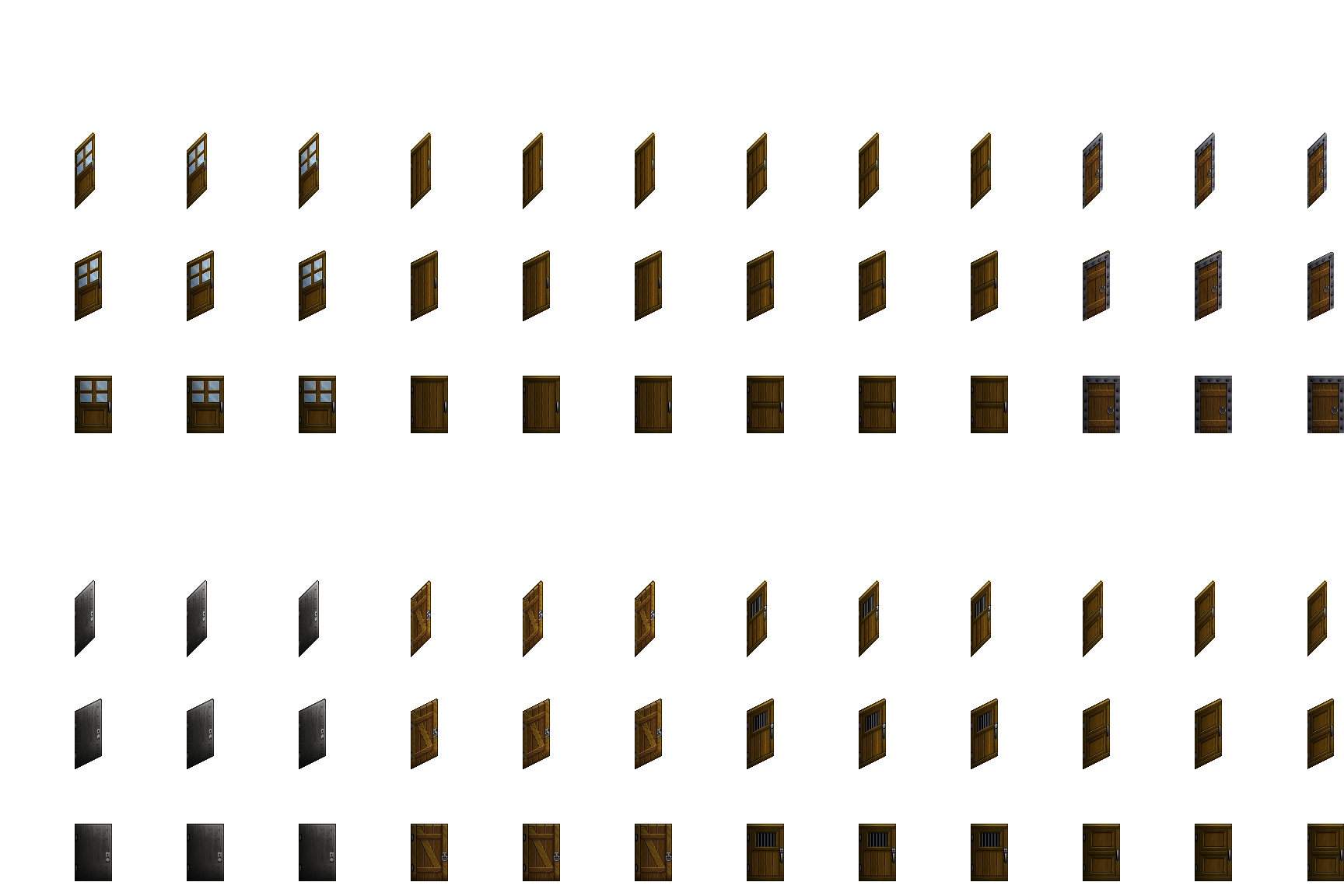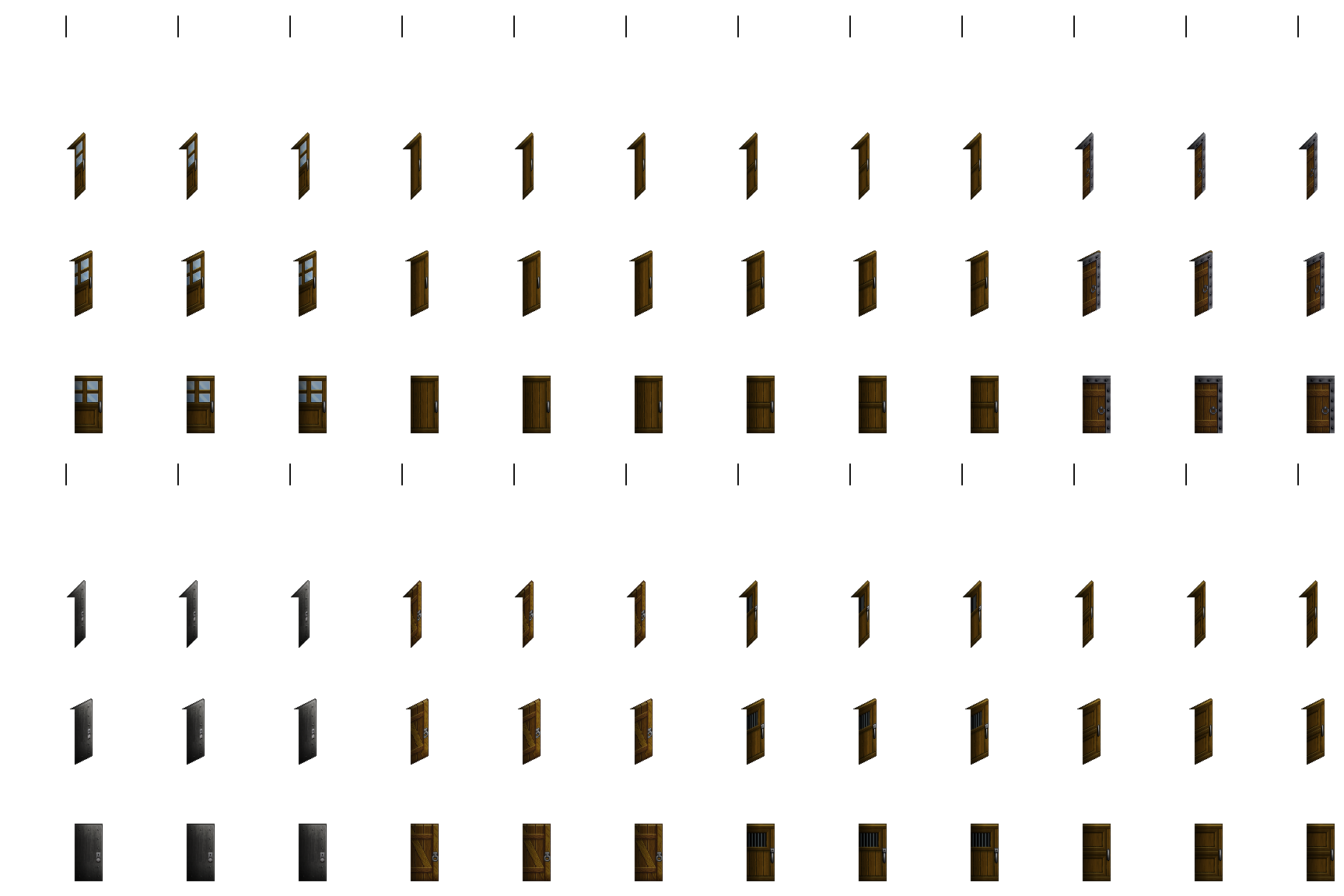 Back: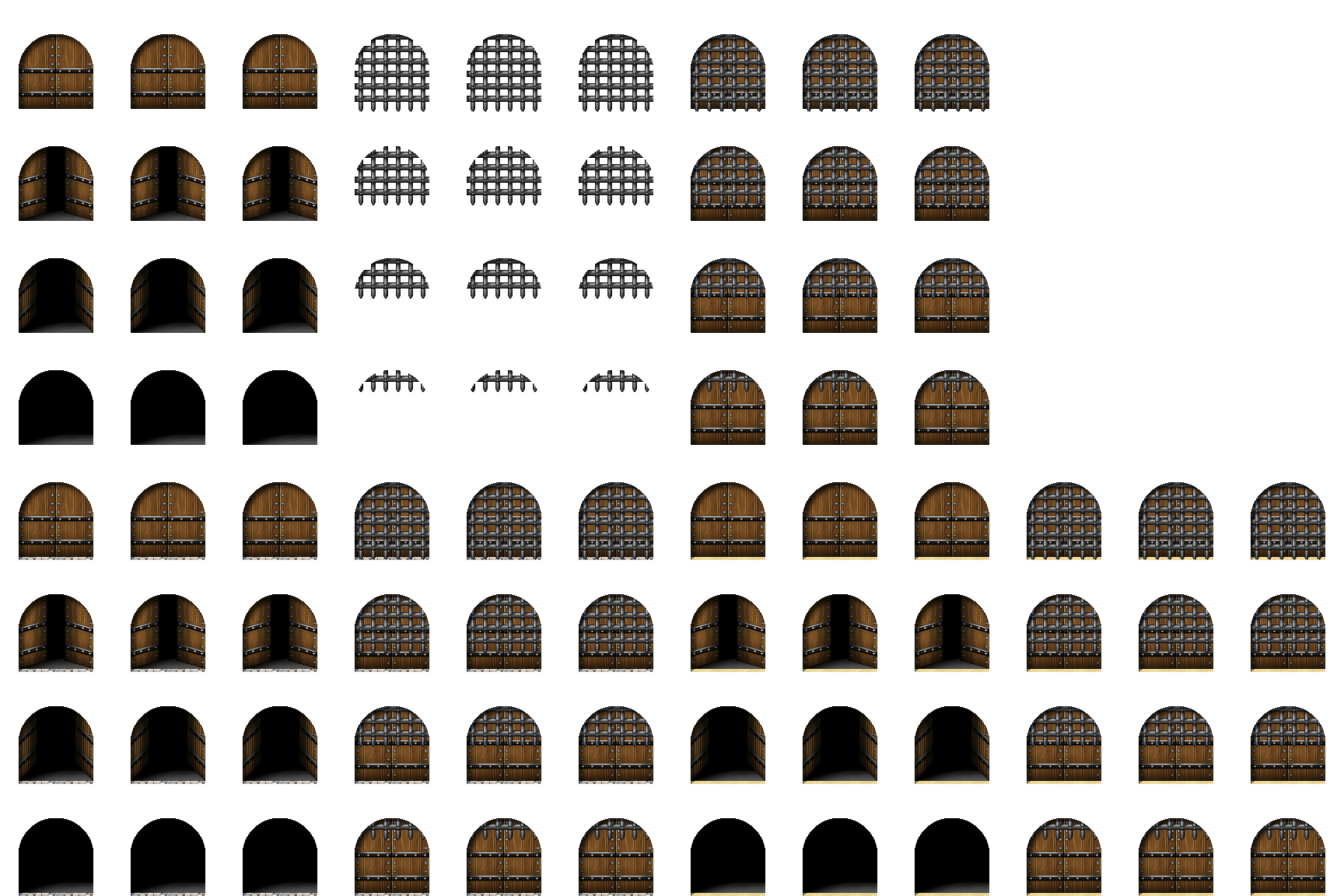 Worldmap Ship: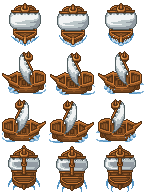 Waterfalls: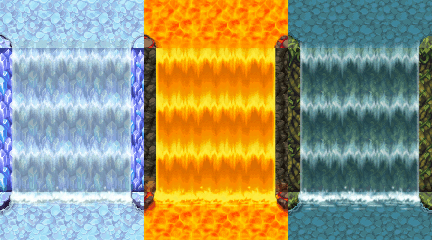 I made most average sizes, but of course you can edit them into every length you want by using gimp and a 48*48 grid, the parts loop!
light blue: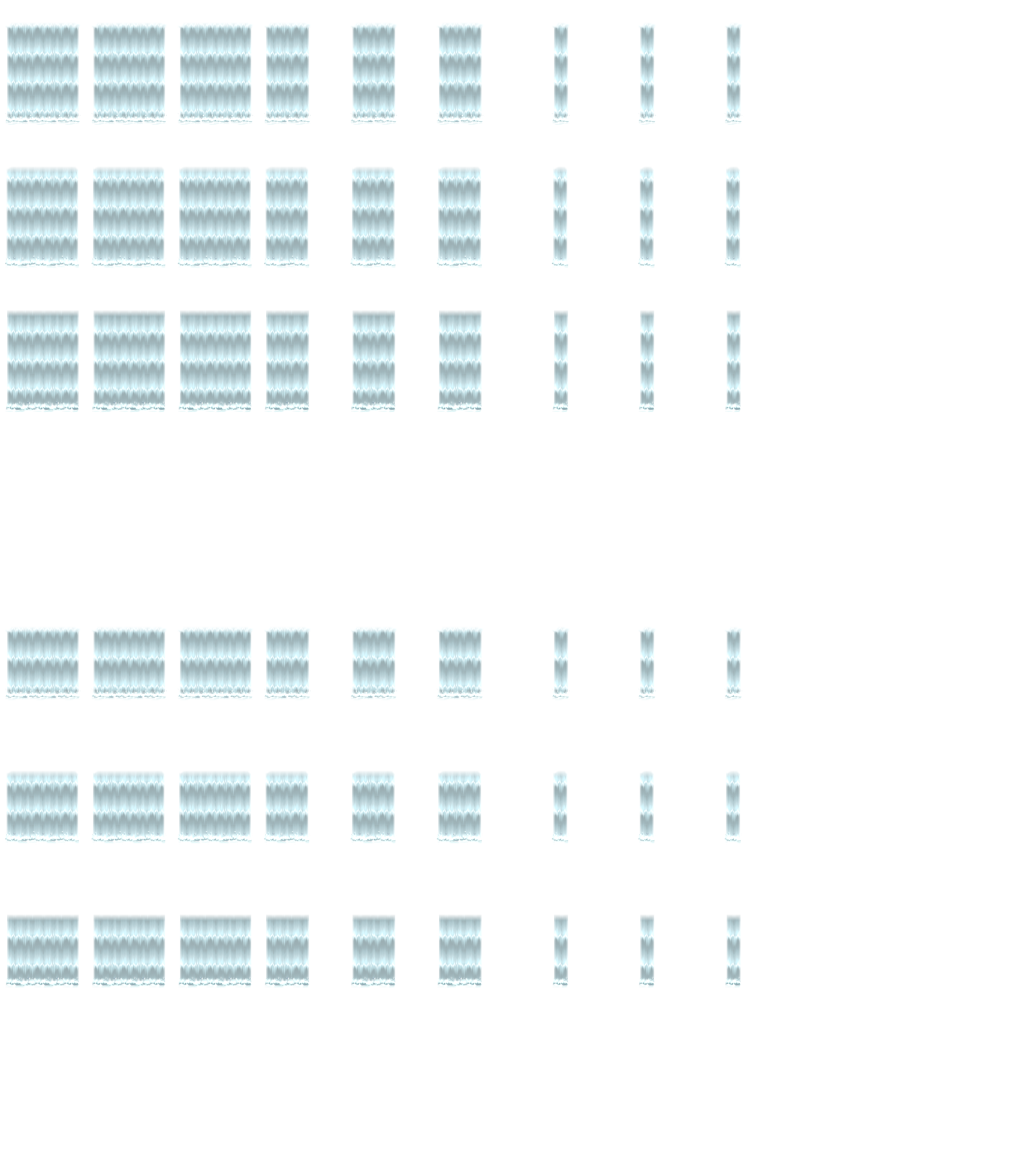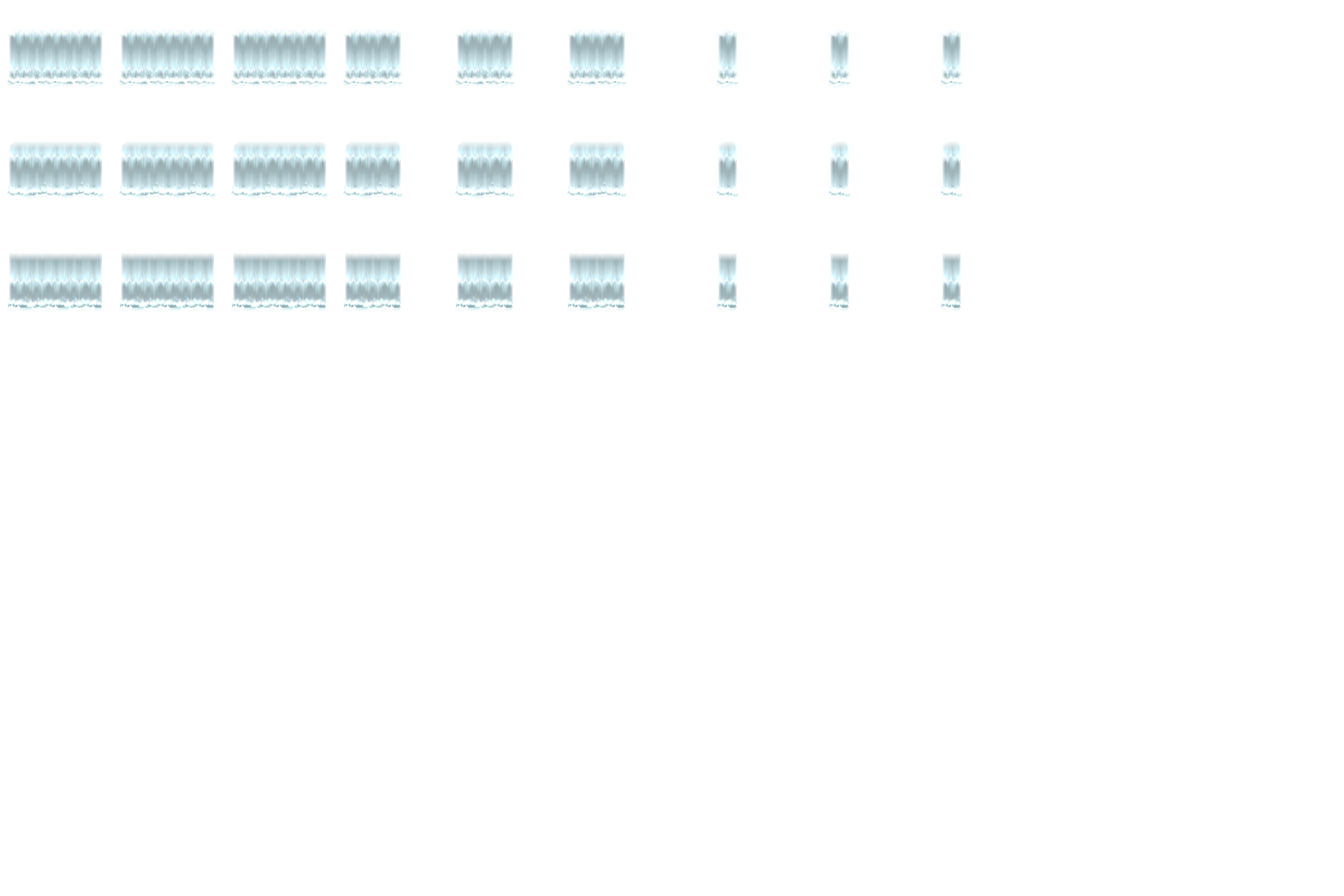 medium blue: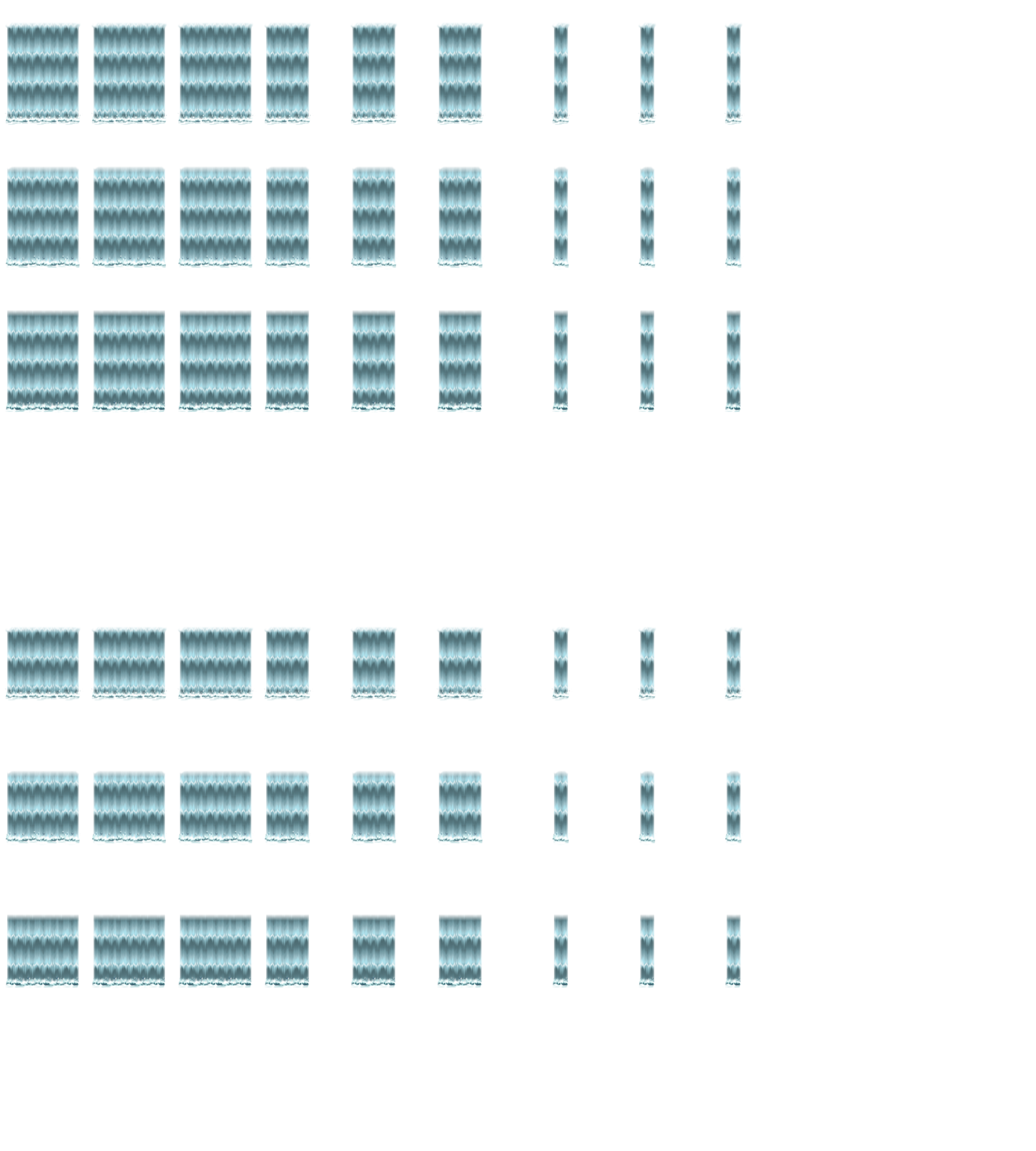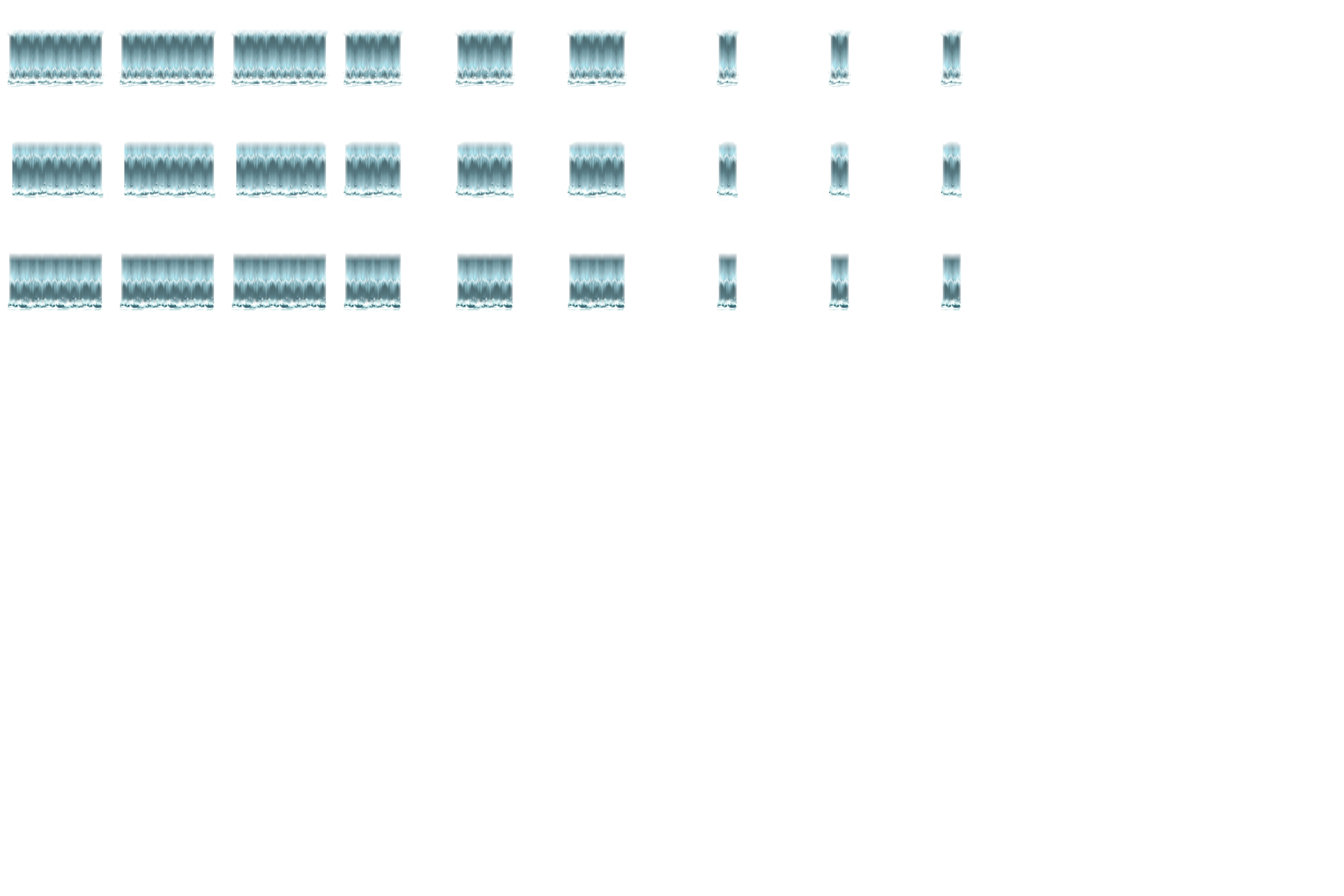 lava: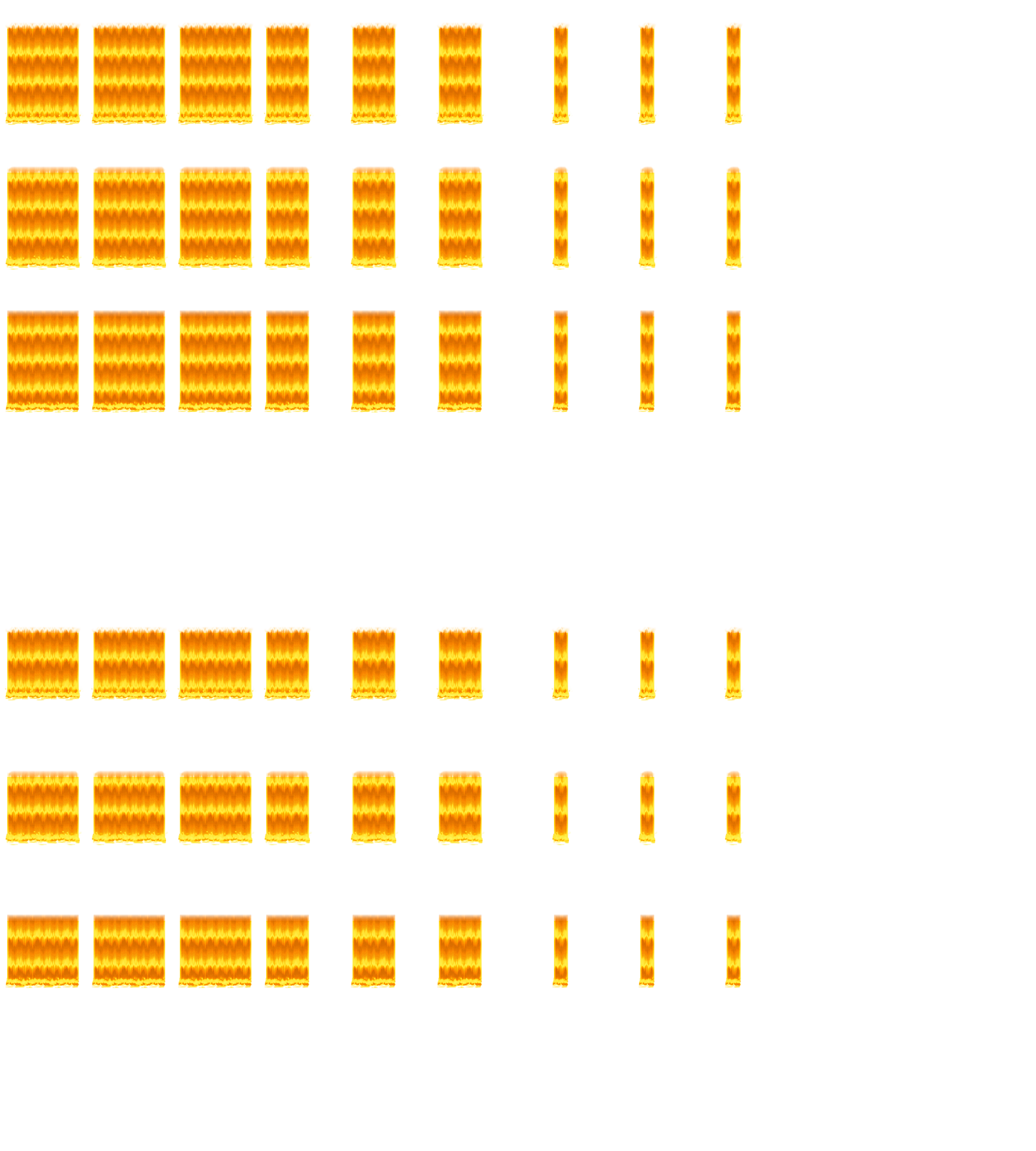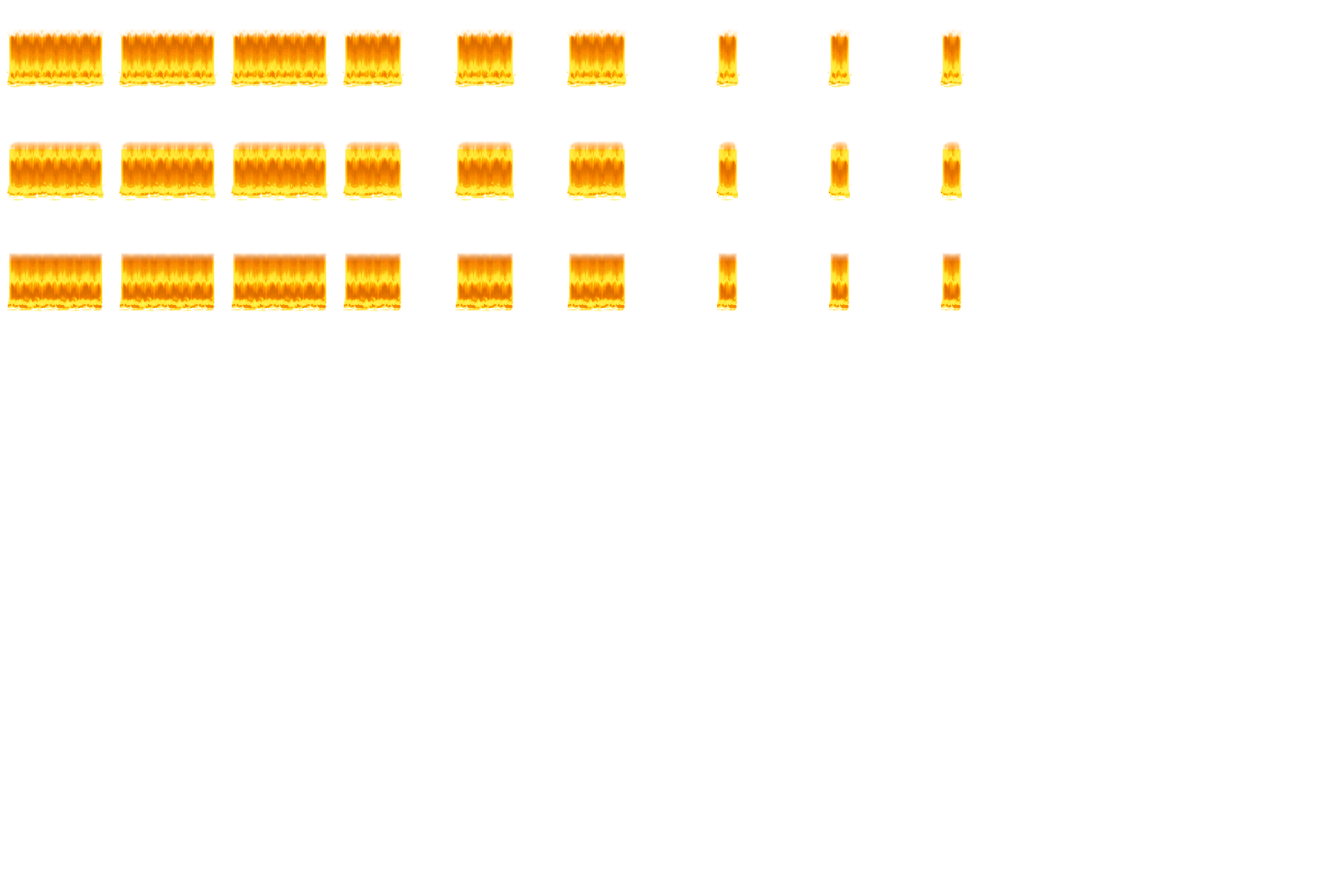 Last edited: