Sleeping Dinosaur
Joined

Oct 13, 2012
Messages

3,851
Reaction score

26,568
First Language

German
Primarily Uses

N/A
*~18~*
Since I want to prepare all the last resources for the calendar tomorrow: If you want to make a wish/a sugestion, do it now?
Having any ideas for a christmas special? I have none, so feel free to tell me!
Since there was a wish for animated Fantasy Objects as well, here we go!
And I have to admit, I love how the map turned out <3 I hope there is a use in some ouf your games :3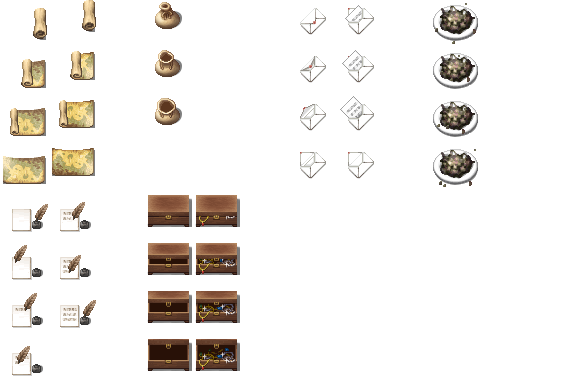 @RodsXP
I will never do matching battlers for Ækashics Resources because I dislike but respect his/her rules regarding matching charsets for the battlers. Specifically this:
Only for RPG Maker users, you are free to make your own charsets ( Walking map sprites) based on character designs the Librarium releases, however a few conditions apply!

You must notify me, and your contribution will become publicy available in our "Community contributions" section credited to your name and personal site,  this is the only allowed place and method to share your contribution should you decide to make it a public asset, if you're making one for the sake of a personal project, just notify me and keep said asset to yourself ♡ !

Maybe I'll do a llama one day, I guess this is one of the very few animals whtdragon has not covered yet.
@Alastor01
Back in my non-resource making days it really bugged me when I had a nice battler or character and nothing else... so now that I am providing them I try to release at least character and battler or character and face because this gives a lot more possibilities :3 Do you have a use for the pretty jellymaid?
@Lucy Fox
And thank you for following the calendar :3 This would not happen if there was no encouragement to do it <3
@162
&
@Euphony
As Euphony said, I would resolve this via semi-transparent windows and parallaxes, especially since large rooms would have the same "view" from every window (or the same 2-3 options of views) which might look weird ingame. I like the idea a lot, but I doubt I could make a solution that would work without having literally dozens of character sets (having every setting for every window, looping animations, options for lightnings and so on).