Talent Extraordinaire
Joined

Mar 13, 2012
Messages

589
Reaction score

378
First Language

English
Primarily Uses
Basic Options Menu v1.1


By Vlue

​
Introduction
Ever had people complain your sound effects were too loud? Or music maybe? If they have, or if they haven't, there's this script now.
Provides your players with an options menu to do things like... change the volume of bgm and se and etc... woo.
Compatible with Basic Window Resizer, Basic Message SE, and Basic Autosave just so I can have a cooler screenshot of an options menu!
Features
- It's an option menu. So you can option menuy things. Like change the volume of BGM or SE.
Screenshots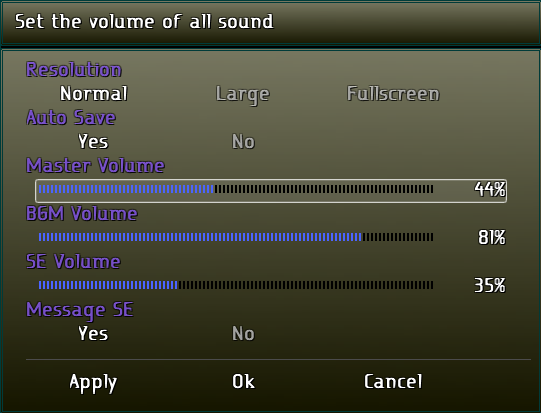 How to Use
Plug and play! Or setup as needed in the script itself.
Script
Grab it on the pastebin here:
http://pastebin.com/LjRsUGeH
FAQ
Nada
Credit and Thanks
- By Vlue
- Free to use in any project with credit given, commercial or not!
Author's Notes
I wasn't kidding, Basic Autosave and Basic Message SE were just created to make that screenshot better.
Last edited by a moderator: