Villager
Joined

Feb 8, 2013
Messages

24
Reaction score

3
First Language

English
Primarily Uses
Blade Fiction: Exterminating Angels
​
 ​
 ​
 ​
 ​
"Should a strong woman….stronger than she knows….die in the throes of passion, she may one day be reborn to the Covenant, an Amazon Sister!"
​
 ​
 ​
 ​
Warning: M-rated game! M for mature adult content. This game contains pervasive profanity, sexuality, and adult themes. (No nudity!)
Blade Fiction is a non-commercial game. The majority of resources are either default resources, free public resources, and/or resources from the Creative Commons. It is a story about the end of the Ancient world, told through the eyes a special class of warriors: The Amazons.
The game is about 40% done, and the story is 100% done. With this game I wanted to focus on the story and world building, and avoid bloating the game with unnecessary features (i.e. I don't know how to code.) I'm working on the game by myself, but I'm always open to help if anyone's interested. Constructive feedback and ideas would be GREATLY appreciated!
(Very) loosely based on Ancient history during the Archimedean period, this game involves conflict between the Greek City-states, the Scythian nomads, and the fledgling Persian Empire. Myth and history blend to create alternate history, leading up to the climatic Persian invasion of Greece. Discover what role the Amazons played in this mythic conflict!
This game takes inspiration from games like Saga Frontier and Final Fantasy 7, and anime such as Claymore.
Players can choose between three main characters and play a 3-part scenario for each: (1)Ainia, newly reincarnated as an Amazon with no memory of her past life; (2)Basileus, a top-ranking Amazon who lives as a man in Greece; (3)Helena, a rogue Amazon secretly behind the rise of powerful ruler: Darius the Great. Amazons do not age, and so each story segment can happen hundreds of years apart.
Play through each campaign and witness how these forgotten warriors played a part in end of the ancient world...
Ainia:

A young woman recently reincarnated as an Amazon. She remembers almost nothing about her previous life, except for one thing: she killed herself. Naive, timid, and shy, everyone can see she's not cut out to be an Amazon warrior. Will she prove them all wrong, and find a place for herself in this world? And will she rediscover the person she's been running from: herself?
Basileus:

Originally named Molpadia, the Number 8 Amazon Sister cares nothing for the Amazon Covenant. Desiring to be free and live as a man, she disguises herself as the Greek mercenary Basileus. During the Greek city-state wars, he meets a beautiful woman in the woods and falls in love. The pair are separated and Basileus vows to find her again. Will he ever find the mysterious woman in the woods? Can he save her from a past she refuses to reveal?
Helena:

A powerful Amazon long thought dead, Helena has returned from the shadows. She rescues fellow Amazon Derinoe from an Arab prison with one purpose: to build an elite army. One strong enough to crown a man king. Derinoe watches Helena orchestrate the rise of Darius the Great, testing their friendship. How far will Helena go to create an empire? And where do her loyalties truly lie?
Game Features​
Dramatic and engrossing story. Watch as the three scenarios intersect at the finale to create an epic tale of love, loss, self-discovery, ambition, and triumph.
Game lore is (very) loosely based on ancient history and Greek mythology. Dates and the order of historical events have been changed to fit this alternate history and fantasy setting. That said names, places, and locations were researched to give the game some authenticity. Characters in different countries will speak in different ways.
Simplistic battle system designed to be challenging yet fun! Use special moves, items or magic spells. Gameplay is less focused on leveling up, and more focused on obtaining the proper equipment or skills for each situation.
Resources and money are scarce! Monsters rarely drop money, but they can be poached. Sell poached items for money at trader outposts in major towns!
Traditional FF7 style Limit Break system. The limit gauge fills when being hit or attacking. Certain powerful attacks use up the Limit gauge, forcing the player to plan ahead.
Mercenary: All-purpose foot soldiers, weak but with strong specials and can equip most weapons.
Furrie: Savage warriors utilize swords, but cannot equip shields. High attack power and healing abilities.
Archers: Can attack with high accuracy and status effect arrows.
Martial Nun: Magic wielders who act as leaders.
Lancer: Agile warriors with high defense and multi-hitting attacks.
Special character classes include Royals and Thieves.
Screenshots​
 ​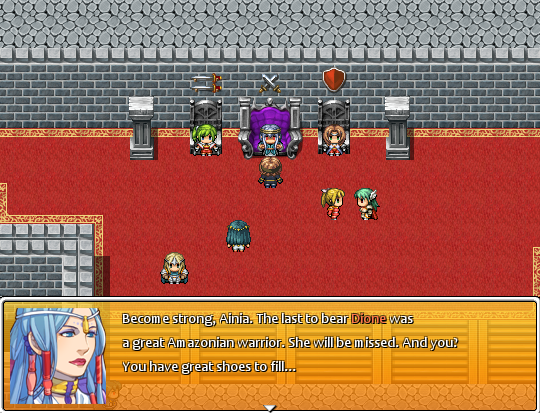 ​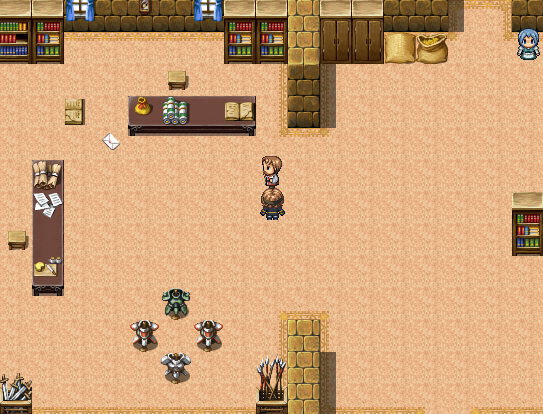 ​
Download the Demo:​
 ​
With RTP: 
http://www.mediafire.com/download/jcuidy8utzjw6cl/AmazonGameVer_1_0.exe
Lite version: 
http://www.mediafire.com/download/y9g88fdg50cm1gw/AmazonGame1_0_lite.exe
Thanks everyone, and let me know what you think of the game so far. Constructive feedback and ideas would be GREATLY appreciated!
Last edited by a moderator: