The Azure Falcon
Joined

Dec 4, 2013
Messages

100
Reaction score

12
First Language

English
Primarily Uses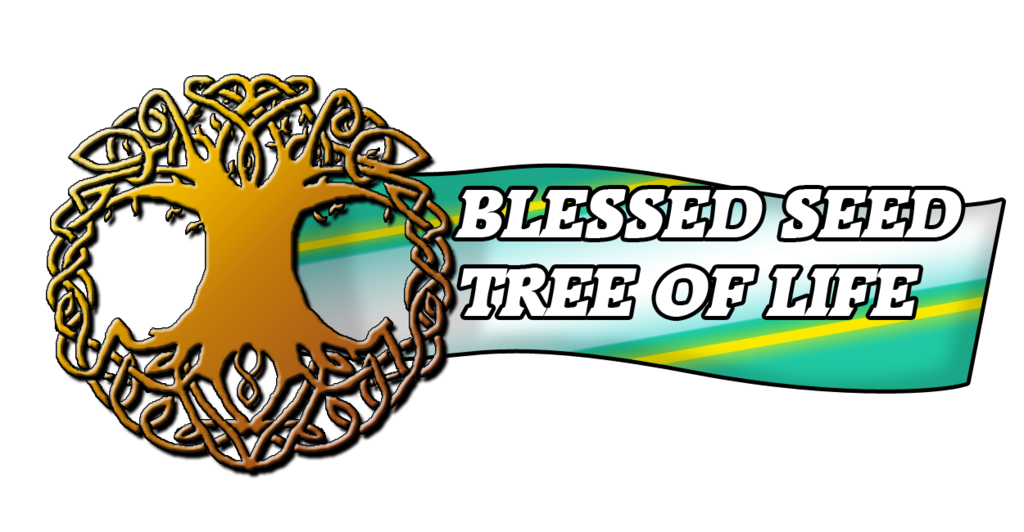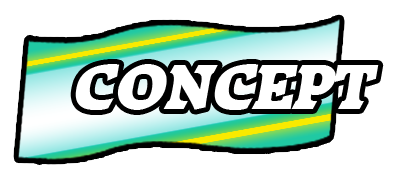 Take everything you love about Harvest Moon...now add monsters, RPG elements, and a whole world to explore! Relax and enjoy small town life and become a farmer, rancher, miner, archaeologist, fisher, entrepreneur, or try your hand at all of these and maybe even more! Create friendships with people in the town to cause events, fall in love, or uncover some of the towns peoples darker secrets. Don't care for the small town life? Travel deep into the forest to discover the world of magic and monsters become the hero the world may soon come to need. Untrained in combat, create bonds with monsters and form the ultimate party to strike down those who create chaos, choose to side with chaos, or cut down your own path!
Past: Enter a world where humans, monsters, magic, and science once coexisted in harmony, watched over by The Great Spirits. However, when a mettlesome human chose to abuse this harmony, magic was revoked from the world. Annoyed, the humans took their anger out on monsters, who were allowed to keep their magical powers. Angered with how the humans were treating her children, The Spirit of Monsters gathered her flock and left the plane of humans. As generations past, people soon forgot about the wonders of magic and the texts that contained its wonders soon became fantasies and fairy tales. Following this, The Spirits soon were forgotten and faded as humans explained the wonders of the world with the power of science. This in turn caused many of the spirits powers to become weak, and they faded away into the background. As for The Spirit of Monsters, she was never heard from again for centuries to follow...
Present time: Upon starting the game, choose your appearance, gender, and even backstory that can grant you bonuses and negatives at the start of the game. No matter what background you choose however, y

ou are a boy/girl who grew up with your grandparents telling you stories of magic and the spirits. After graduating school you decide it's time to move out and get on with your life.

On the ride to your new home you fall asleep, awakening to the sound of the moving van crashing into a bank on the side of the road. As you scurry out from under the van, surrounding you is a burning forest. You hear a cry for help, and from there you can either choose to run toward it or save yourself. Though there is a difference in the events based on the path you pick, in the end you end up surrounded by monsters

. There's a few flashes, and then everything goes black. "Come to the forest…" appears and the player awakens to the driver announcing your arrival.
As stated above, upon starting the game you get to pick your character. Really wanting you guys to feel immersed into the game, our artist made three fantastic different PC characters for both genders. Along with this, each character has been given five hair colors (which includes the one pictured) to give you a bit more room to customize yourself.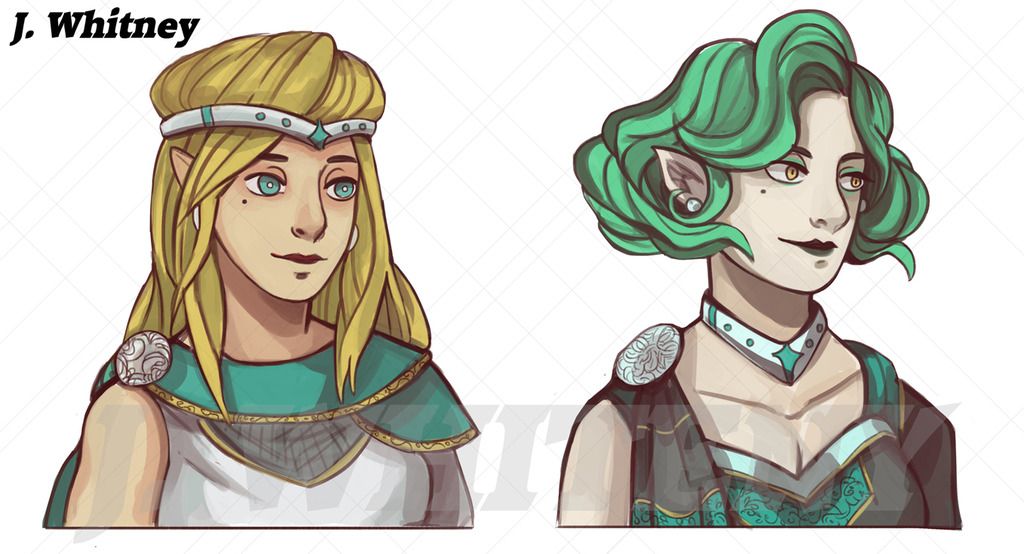 The two main protagonists/antagonists, depending on what route you choose, are sisters Leuna & Ekara. Pictured left is the older sister, The Spirit of Life Leuna. Pictured right is the younger sister, The Spirit of Monsters Ekara.
Leuna is kindhearted and caring, looking out for all those who fall under her domain. Though she has this caring disposition, she is strong and fierce, and because of this is sometimes hard headed about issues. She has maintained her powers through little sects pure worship of the humans, though halfhearted worship still grants her powers.
Ekara on the other hand abandoned the plane of humans a long time ago. She presently rules over the monsters of the world in harmony. Though she has a unkind disposition toward humans, she is not mean or cruel in any sense. However she can be very manipulative and tempered. She has kept her power maintained due to her undying worship by monsters, making her "stronger" than her older sister Leuna.
There are a few other spirits of the world, but they have lost their powers due to lack of worship. T
hese two will be the ones to guide you through your quest if you so choose to accept it. Also, there are more character in all than this of course. These are just the main characters that will appear at the start of the game.
Here is a quick list of positions still needed to be filled. Hidden in the spoilers will be a more detailed information on what I need with each position. I am looking for people who have a bit of experience and will be able to complete some of the tasks listed, but if you feel you are up for the job feel free to PM me or comment below for a position! Also a bit further down is an application you can fill out if that will help you.
SPRITERS (0/2) OPEN
EVENTERS/SCRIPTERS (0/4) OPEN
BUST ARTIST (1/1) CLOSED 
-

J. Whitney
If there is something I didn't list (Like mapping, sound/music, story/writing, etc.) but you feel like you have something to offer or want to help, I am all ears and open to ideas and new members to the team. The positions I listed are just ones that I would really like to focus on filling at the moment.
There's something I love about sprites, and I'll be honest, it's probably all just nostalgia. I need someone who can:
Create sprites in the style of DS resource pack or something with a sort of nostalgic feel.




Has a the ability to sprite a wide range of monster types. There will be slimes, animals, birds, undead, beasts, and humanoid-like creatures.



I am willing to pay someone to be in this position.

There are a few things that need to be scripted and or evented that a small team could probably throw together rather quickly than just me alone. Like all the other positions, we can figure out some sort of compensation.
Monster Breeding: Something I've always found interesting was being able to breed creatures in games to try to make brand new, stronger, better creatures! A few things that I need it to be able to do:
Upon breeding, it needs to REMOVE or CONSUME the monsters that create the offspring of an egg




Eggs need to be in the party, but not allowed to battle.




Breeding needs to cause stat increases to make it worth it



Livestock: If you don't enjoy watering your plants every day there's always the option to feed and grow livestock. I need the following:
Different gender animals




Automatic mating




Sickness due to lack of food or water




The ability to have multiple of the same animal




Give produce/product ONLY if fed correctly




Ability to name animals



PLANTS/CROPS!!!: One of the staples in Harvest Moon games is growing crops. This means I need to be able to do the following:
Use hoe to mark/ready dirt




Water plants to make them grow




Use fertilizer to make things grow faster




Ability to have different growth cycles




Have different level crop grades based on how you treated them (S,A,B,C,D)




Have tree growth



Monster Capturing:
Be able to capture monsters/capture the same kind multiple times




Be able to store monsters




Be able to nickname monsters



Current "Fix": I have a common event setup at the moment and a clone script in place. It works fairly well, but I feel there could be an easier script to use.

​
If need be, here is a sort of application you can fill out (Though it is not required)
Name:


Position Looking to Fill:


Experience: (If you have anything you want to show me that you worked on feel free to send it alongside this)


Time Restraints/Schedule: (How much can you actually work on the project. How much time during a busy week? How much time during a not so busy week?)


Compensation: (What you want in exchange for working on the project. Nothing, money, hugs, thumbs up, trades, etc. which will then be talked about more in detail)
J. Whitney
~Character Busts. Feel free to check out her other art:
http://www.jwhitneyart.com/
http://jwhitneyart.tumblr.com/
Kyle D. 

~
Ex-Project Monster Spriter.
Connor D. "Cjdgame" 

~
Organizer and Project Head
Last edited by a moderator: