Pixel Pusher

TIME FANTASY ADDITIONS
​
Terms of Use:
Free for non-commercial. Message me, if you want to use the tiles in a commercial game. Right now it will be free, but I would like to keep track about who is using those tiles. Credits needed. Do not repost my originals without my permission.
I did some benches, too, but since those are edits of the Time Fantasy tiles, I can't share them unfortunately. If you message me and show me a proof of purchase, I can send them to you. If you can't, I can send you a specific time fantasy mapping quest, and if you send me a screenshot back of your time fantasy map, I will send you the benches.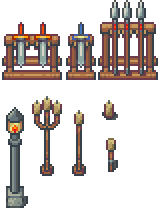 Last part is for a torch which you should place on walls.

Last edited: