Innovate, don't emulate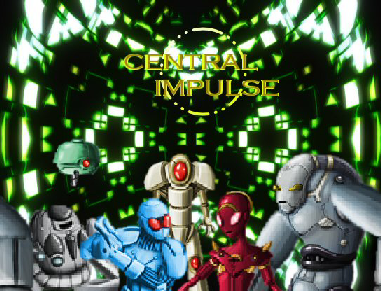 General Features:
- An all-robot cast!
-
About 3.5-4 hours in length, depending on the player
- A beautiful sci-fi setting aboard a massive space station
- Gameplay is equally balanced between puzzles/minigames and combat
- Floating pickups!
- Flexible gear customization: any playable character can equip any piece of gear in the game (as long as they have a slot available), allowing the player to pick combat roles for the characters.

Download links:
Non-RTP version ~120 MB
RTP-inclusive version ~304 MB
Screenshots: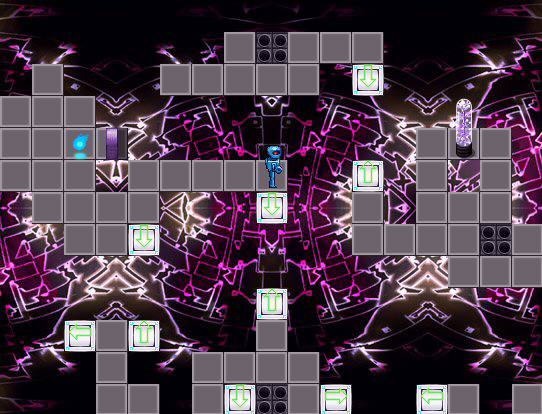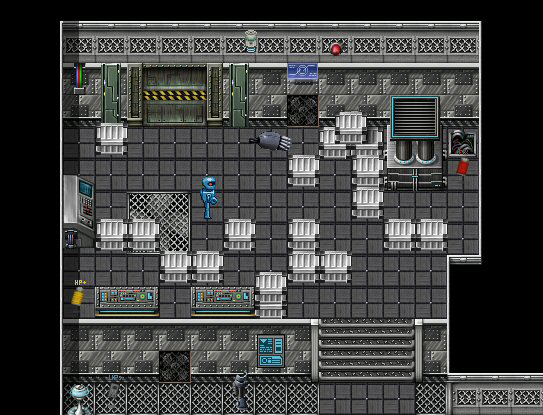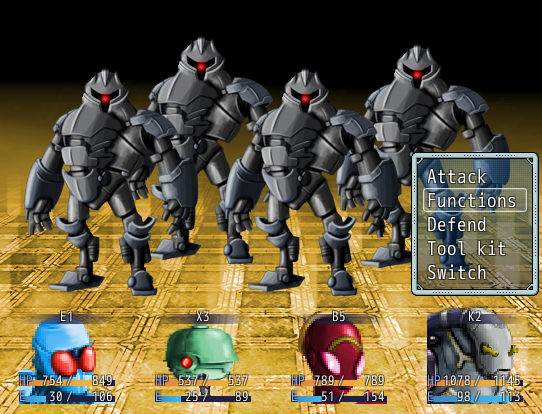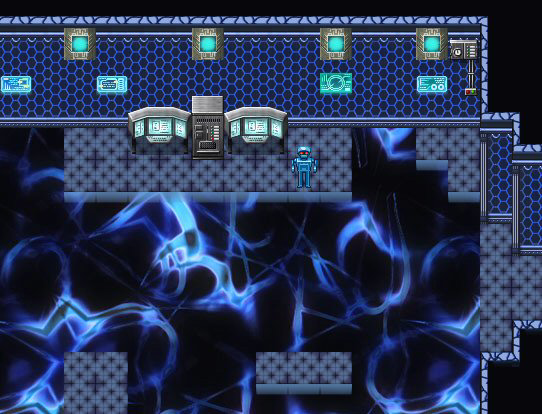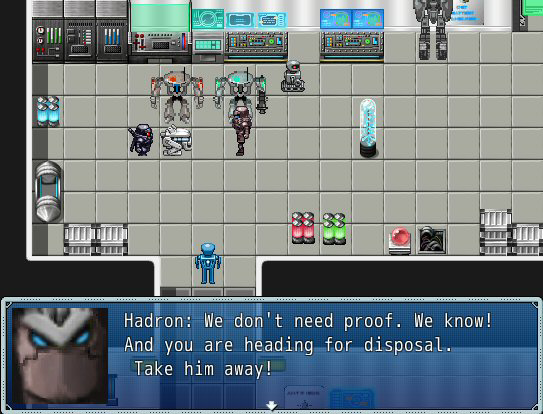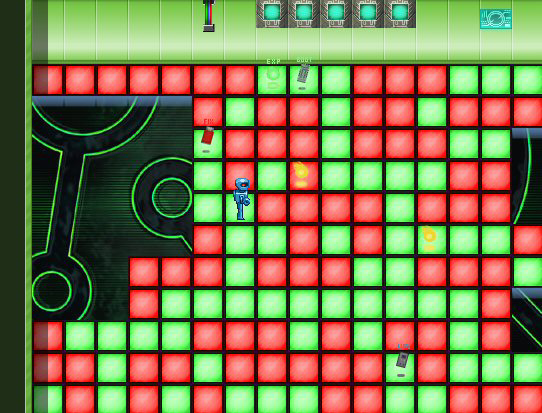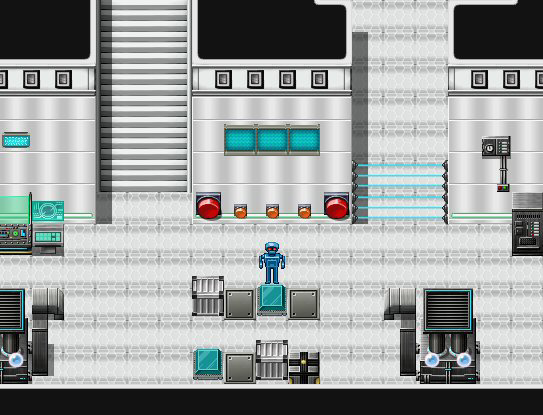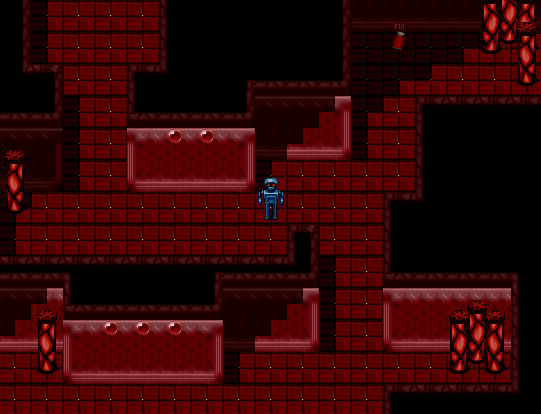 Gameplay trailer:
more samples...
Media:
Review by Redweaver (RPG Maker Monday series)




Ep 1 of Deathspark's Let's Play




Ep 1 of Zevia's Let's Play
The Story:
(first lines)
"I think, therefore I am" – Rene Descartes
A conscious thought is a surest sign that you're alive. But what exactly is consciousness? And where do we set the boundary between what is sentient and what is not? Is sentience the freedom to make our own choices? Or are they merely the products of cause and effect chains? Or perhaps there's something else at work… something bigger… more powerful… more intelligent than us…
(/first lines)
In an unknown corner of space, there stands a massive station. This station is wholly automated and is controlled by machines, who constantly work in an attempt to expand this station without questioning its purpose.
The atmosphere on the station had always been peaceful and none of the machines had reasons to challenge its authority. However, as of late things began to change. Those in charge of the station began to act more crudely and more ruthlessly towards the simple workers – reducing their maintenance times, transferring them away from those they deem as friends, and in worst case scenarios, sending them for permanent disposal.
E1 is one of those simple worker robots. Shortly after his romantic interest was transferred to another sector, he banded with a handful of friends in an attempt to find out why things began to change. This quickly attracted the attention of authorities, who will not allow insurgence aboard the station, and who will attempt to catch and dispose of anyone who dares to move out of place.
Playable characters:
Name: E1
Bio: Rather laid-back and reserved. E1 is an honest worker who doesn't usually ask questions and simply gets things done. Oftentimes he knows what needs to be done and how. However, he also likes to ponder on many things and issues surrounding him and the station.
Name: X3
Bio: Very friendly and outgoing. X3 always tries to be positive and likes to talk a lot about just about anything, especially small talk. He, however, doesn't like trouble and tends to stay away from it.
Name: B5
Bio: Witty and easygoing. B5, just like all robots of her species, can move really fast and particularly enjoys doing so. She tends to like to do things without worrying about the consequences and oftentimes knows how to support her friends.
Name: K2
Bio: Huge and powerful. K2 is a big, tough robot who likes to get his hands dirty and to achieve goals. He dislikes unfairness and those who exercise power and instead feels protective for his friends.
Name: H6
Bio: Kind and supportive. H6 tends to take things at a steady pace, often stopping to recalculate things if necessary. She and E1 started to experience romantic thoughts towards each other shortly before she was transferred away into another sector.
Name: F9
Bio: Grumpy and cynical. F9 is sick and tired of the injustice that started to happen aboard the station and often tends to express his dissatisfaction out loud, ending up getting in trouble with the authorities.
Credits:
DEVELOPED BY:
Matthew Ashworth (Matseb2611)
SOFTWARE:
RPG Maker VX Ace by Enterbrain
ART:
Enterbrain/Tsukuru
Celianna
Vibrato
IceDragon
Thalzon
Double Period
Timmah
Elise
Matsuo Kaito
Soruve
Revival
Rajavali
Avadan
Matthew Ashworth
MUSIC:
Gyrowolf
Hyde 9318 (RM Coalition)
JDB Artist
Benjamin 'Scythuz' Carr
Kairi Sawler (Blodeuyn)
Jon Jones
Aaron Krogh
Joel Steudler
SoundRay Studio
Jeremiah 'McTricky' George
Alessandro Cornio
Kain Vinosec
Enterbrain
Intelligentsia
Matthew Ashworth
SCRIPTS:
Neon Black
Yanfly
Dekita
STORY and CHARACTERS:
Matthew Ashworth
SPECIAL THANKS:
The Stranger
TESTERS:
The Stranger
Vision_bond
Alessandro Cornio
Cabfe
Last edited: