Casper Gaming
Joined

Mar 15, 2012
Messages

494
Reaction score

601
First Language

English
Primarily Uses

RMMZ
CGMZ Credits
By: Casper Gaming
Last Update: 11/22/2021
Latest Version: 1.1.0
​
This plugin adds a "credits" option on the title screen which allows you to enter in different categories such as art, programming, etc. and credit the people who helped you make your game.
Add a credits scene to your game
Clickable links in credit scene
Credits scene supports text codes in text
Import into plugin manager and enable the plugin. Some customization options available. Further instructions in plugin.
Plugin (along with all my other plugins) can be found here:
https://www.caspergaming.com/plugins/cgmz/credits
Requires CGMZ Core plugin:
https://www.caspergaming.com/plugins/cgmz/core/
To allow for more customization over the title screen command:
https://www.caspergaming.com/plugins/cgmz/titlecommandwindow/
To add this to the main menu:
https://www.caspergaming.com/plugins/cgmz/menucommandwindow/
Also available on Itch.io: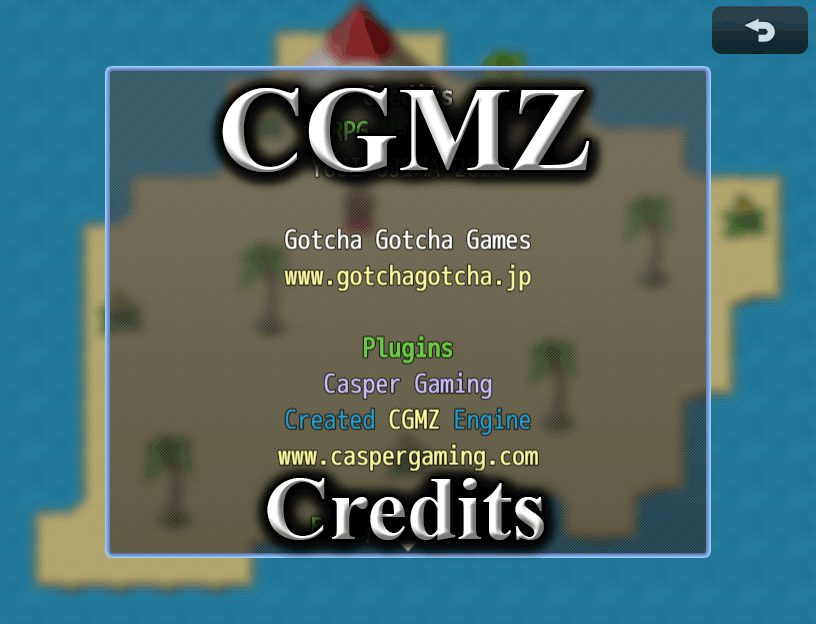 Adds a credits scene to your game

casper-gaming.itch.io
https://www.caspergaming.com/terms-of-use/
Version 1.0.0:
- Initial Release

Version 1.0.1:
- Bugfix for cursor not returning to normal after exiting scene via keyboard
- Bugfix for line height not respecting text size differences
- Bugfix for credits not handling more than 1 line of text in comment

Version 1.1.0:
- Added option to make the credits window transparent
- Added option to use custom background image in credits scene
- Removed automatic credit command in title screen
Last edited: