Game Maker
Joined

Mar 20, 2013
Messages

362
Reaction score

84
First Language

English
Primarily Uses
Mobius's Charge Turn Battle System 1.2
by
MobiusXVI
​
Release Notes
v. 1.0 Initial Release
v. 1.1 Customizable Turn Icons
v. 1.2 Beastiary Expansion
Introduction
This script overhauls the default battle system and replaces it with a
"CTB" system similar to Final Fantasy Tactics and Final Fantasy X. Battlers now use their speed to charge up a hidden turn gauge, and when it's full, they get a turn immediately. This causes turns to alternate in a semi-predictable order, making for a more strategic battle system.
Features
- Customizable "charge rate" formula: you can use any stat to determine turn order and adjust it to fit your experience curve
- Dedicated turn window so you'll always know whose turn is next.
- Weapons/Skills/Items can be set to boost/hamper speed when used, allowing you to create "quick attack" skills that let the user act sooner or "mega-death" skills that use up two turns.
- Designate specific enemies as "bosses" which will give them a special icon.
- Can customize the turn icons on a per actor or per enemy basis
- Customize the "escape" term
- Built-in "scan" skill that's easy to set up and use.
- Optional expansion to add icons for states, removing the boring state text.
- Optional expansion to add a beastiary
Screenshots
Standard battle system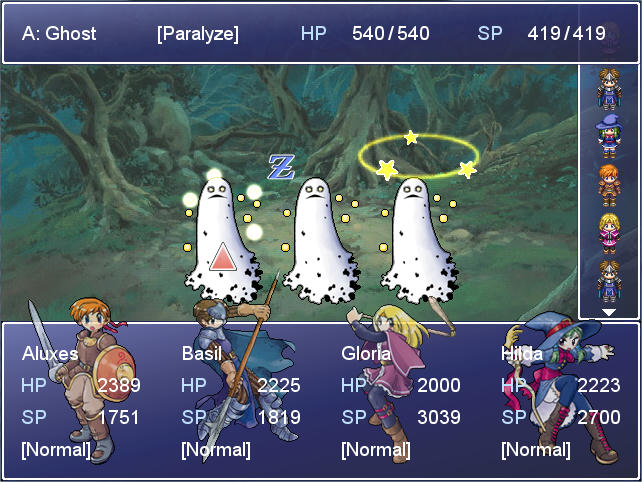 Battle System with "Status Icons" expansion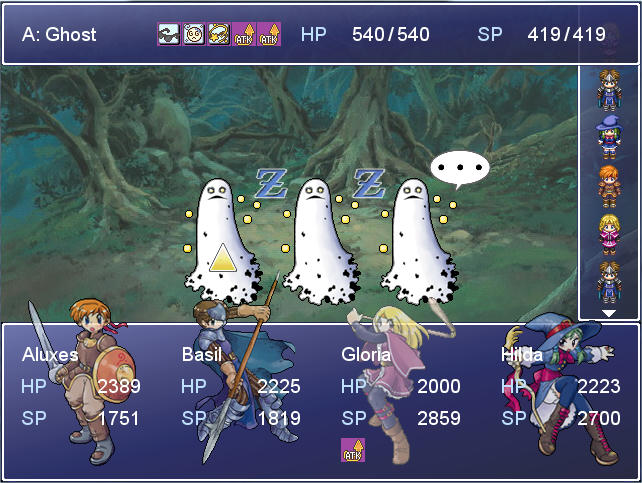 Video of v1.2 in action!
How to Use
Download the zip file below and unzip it. Import the EnemyIcons pictures into your project into the "pictures" folder.
Open the text file containing the script and copy/paste it into the script editor below all of the default scripts but above Main.
Download
Download everything you'll need: here
FAQ
Q. Can this do _______?
A. Maybe! Leave a post on the forum, and I might just add the feature if it can't already do it.
Credits and Thanks
- MobiusXVI, author
- TheRiotInside, for testing/feedback/suggestions
- Mudkicker, for suggesting customizable turn icons
License
This script is licensed under the MIT license, so you can use it for both commercial and non-commercial games!
Check the included license file for the full text.
Further, if you do decide to use this script in a commercial product, I'd ask that you
let me know via a post here or a PM. Thanks.
Last edited: