Creator
Joined

May 3, 2012
Messages

820
Reaction score

320
First Language

Javascript
Primarily Uses

RMMV
CT_Bolt's Timers v3.0
by CT_Bolt​
Features
A whole new set of timers (unlimited ).
Each has Custom properties (font color, font size, x, y, z, etc.).
Scheduled Tasks (turn on/off switches, run common events at specified time including start & expire)
Let's you press buttons with while a ct_timer is active.
Counts the button presses & stores them in a variable.
Allows a switch to be used to determine if the ct_timer will be visible.
Optional text before & after time numbers (ex. Timer #1: 0:25 Remaining).
Multiple buttons can be pressed.
Add\Remove time from a currently running CT_Timer with a simple script call.
Pause\Resume a currently running CT_Timer with a simple script call.
Play Audio with optional Fade-In settings
... & much more
Compatibility
This should be compatible with all scripts as long as they don't overwrite any methods used in this script.
How to Use
Screenshots (outdated, will make new ones soon):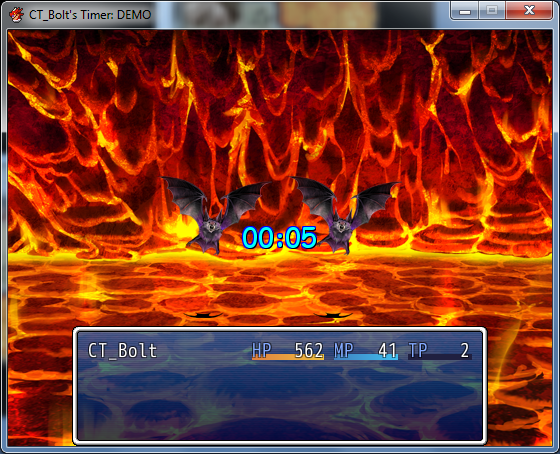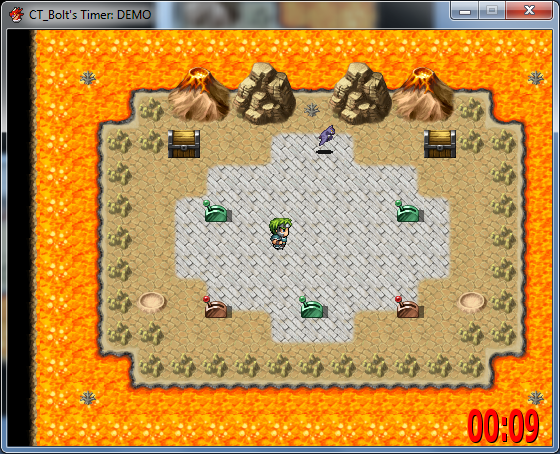 Demo:
Script:
FAQ
None yet.
Version History:
Version History:
v1.00 (02-28-2013)
-- First release
v1.02 (03-01-2013)
-- Bug Fix & More Comments
v2.0 (03-01-2013)
-- Major Update
-- Changed from a Timer Add-on to it's own timer
v2.1 (03-03-2013)
-- Added Features
-- Optional prefix & suffix can now be added
-- Multiple buttons can now be assigned for pressing
v2.2 (03-03-2013)
-- Added more features
-- Add or remove time from a currently running CT_Timer
-- Pause & resume a currently running CT_Timer
v2.21 (03-08-2013)
-- Bugfix - Save/Load wasn't working
v2.5 (07-21-2013)
-- Added features
-- Audio was added
-- Ability to fade in
v2.6 (08-16-2013)
-- Added features
-- Optional Turn a switch on when the timer starts
& turn off the switch when the timer stops
v2.6.2 (09-04-2013)
-- Bug Fixes
-- Slightly cleaner code
-- Made the demo into a mini-game to help nyxzryu
v3.0 (09-19-2013)
-- Major Update
-- Basically re-wrote everything
-- Added many new features
-- Unlimited CT_Timers
-- Schedule (turn on/off switches, run common events at specified time including start & expire)
-- Much more customizable
Planned Features:
A variable that can be set for each button press counter. (v?.?)
Run common events at a certain number(s) of button presses, not just when it expires. (v?.?)
Button Input modes (ex. Button Mash; just mash the buttons, Code Input; a specific sequence) (v?.?)
Credit:
Please credit me (CT_Bolt) if you use this.
Thanks
-
Sindaine
-
Tsukihime
for
this post
, & just for being awesome.
- Everyone who tests/uses this! I really appreciate it.
- To everyone who has ever contributed to this community!
Author's Notes
Enjoy! Let me know how it works for you. Please give feedback, anything that could be added, etc.
-- Unlimited CT_Timers
-- Schedule (turn on/off switches, run common events at specified time including start & expire)
-- Much more customizable
Last edited: