Villager
Joined

Jul 24, 2014
Messages

12
Reaction score

1
First Language

Indonesian
Primarily Uses
Note: Domain failure. Online system is completely down. ;-;
​
 ​
 ​

​
 ​



Hopefully this disclaimer is noted.
This game has few target audience. As clue, this game isn't recommended for advance developers.
Not so real, though, but the game has blood animations in the fight and few profanity. Plus, depict murders. Therefore, isn't family-friendly.
​
 ​

Here. It is 42.5 MB.
That is on Solidfiles. Therefore please click Direct download link
to download and avoid malware!
​
 ​
 ​
​
Just for demonstrate the online system and introduction.​

​

The gameplay is simple, as you just need to finish one quest only in ~40 minutes. As probably you can see from the first 10 minutes of the game in the video above. But let me explain it further in case you need it.

Defeat Demiurgos focus on its theme of the short story. So yeah, let's expect the theme than the fights, and let's expect quick story than long journey.
Although there are fights, even you don't need to do any grinding or face above 10 fights. The fights is meant to be spicy of the short story and perhaps, for fun if the developer decide to do further development. But hopefully, you could enjoy the fights although just a while. Therefore crafting, or such, isn't primary too, or even exist.

Short story, your purpose as player is solely to find out van Demiurgos in his house and kill him!
There isn't trap, there are shells for pistol and stimulants inside the house for your backpack, although not in clear spot, and van Demiurgos' subordinates which you must defeat (You must fight them if you enter the room of them in the house. So yeah, just shut up them). Sometime you could get shells or stimulant from the van Demiurgos' subordinates, after you defeat them.
And there is online system in the game. But I thought it would be useful if there will be further development. As the first step, introducing the specific gameplay is the most important point: quick story and focus on its theme. Oh, the theme is in the
blue message box
, neither in the red nor black message boxes.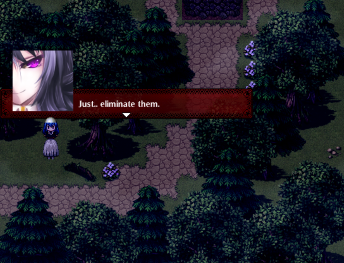 ​


(Purple/gray blend)
Hitomi is really strict about something. Including belief, 'Some people should … . Not do it because ...'. She love to learn, so she could understand about what should and should not do.
Therefore she need much times for find out about it and she tend to plan about something. Therefore she spend much of her times alone. But even Hitomi is really strict, she will not argue or else, she tend to please the other instead (gray). But, she could hold grudge.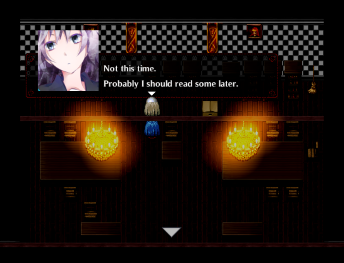 ​


Firearm: Beretta 92 with detachable suppressor. So, Hitomi could give damage in distance!
Feed system: detachable box magazine (15 rounds). Beware about your bullets!



Hitomi's supernatural competence could affect the velocity of the oppenent's firearm bullet.



(Red/gray blend)
Takato Makoto value the strength above any else. Therefore, she is strong. She believe the strenght could bring people to their best therefore people should value it and challenge everyone, to show their true strength. She will never put herself in lower position than anyone. She is always trying to be the top, with or without harsh attitude. And she will not doubt to loud out her mind. Aside from, she hold grudge to anyone who piss off her.



'Combat knives, or just knives. Whatever.'


Makoto's supernatural competence could affect the velocity of her knives.




Hitomi was in training program to become killer at this semester. She is hired by one member of her School Committee, Takato Makoto. Her first mission in the training program is to eliminate van Demiurgos. And if needed, eliminate van Demiurgos' subordinates in the van Demiurgos' house.

Takato Makoto told Hitomi that van Demiurgos is terrorist, therefore Hitomi isn't permitted to kill either him or his subordinates. Hitomi isn't alone, because Takato Makoto escort her in the mission. van Demiurgos is godly. One of his supernatural competences create natural disaster such as tsunami!
Makoto heard that van Demiurgos was hiding in certain house. Therefore, this is her chance with her worker (Hitomi) to eliminate him. For goodness!
​
 ​


Base on the gameplay, let's try to break down the features.
1. Simple game, could be good for story-oriented gamers. Theme-oriented, to be precise.
2. Could be finished in less than 40 minutes for the sake of the theme or the

blue message box

.
3. There could be patches. Therefore there could be many short stories ahead or some fights just for fun, including optimize the online system. Yes, this is the further development. Hopefully, therefore you just need to download the patch for update! And don't need to play from beginning!



You could play online only at the first time then login whenever you need. Yes, you don't need to be online everytime! (This isn't MMOG after all). Recommended if you just want to try the online system.

 ​


This credit included in the end of the game and complete credit included in the game's folder. Hopefully, there isn't copyright infringement!
​
​

TheoAllen: TSBS, and efeberk: ODS.
Tsukihime: 15 scripts, including Actor Inventory.
Yanfly: 8 scripts, including Skill Cost Manager.
Rycochet, Seiryuki, Xypher, DerTraveler, KilloZapit, regendo, GlitchyPSIX, various, Blackmorning84, Galv, Yami, and DoubleX.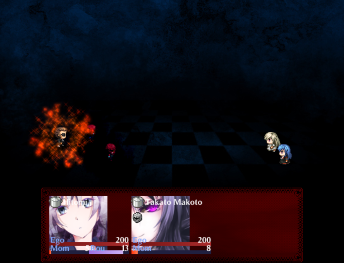 ​

Tsarmina, Candacis, Celianna, Avery, Timmah and wondertouch.


Benjamin Carr and JohnnyR
.
Sasaki Eri (Ring of Fortune).

Here. It is 42.5 MB.
That is on Solidfiles. Therefore please click Direct download link
to download and avoid malware!
​
 ​

Fixer [July 21]
: isn't needed for the latest .exe (42.5 M
.
​


The PDF included in the patch, or the fixer. So unzip and open the PDF. It is step-by-step guide with image!
​
 ​

Recommended  
OS: Windows 7 (32-bit). Processor: Genuine Intel® CPU. RAM: 1.00 GB.
How to know your system: right click on your 'Computer', then left click on 'Properties'. Yes, because the game developed in that system therefore it is recommended. Hopefully, minimum is alright too!
Minimum
OS: Windows XP / Vista / 7
(32-bit / 64-bit). RAM: 512 MB.



Your comment will be appreciated. Please don't be harsh or shoot.

Contact me if either you have idea for further development (after you complete the game), or you have valid knowledge for back up the developer. As this game topic is meant to be bucket for comments. Not review, but comments. Just share your playing and please

put it in spoiler tag

.
Thanks. ^^)/
​
Last edited by a moderator: