Villager
Joined

Aug 23, 2017
Messages

20
Reaction score

5
First Language

English
Primarily Uses

RMMV
I've tried anything I can think of to try fixing this, and reading other people's DragonBones threads, but nothing is working. I really need some help.
I have no clue what might've caused this, at all.
Update 1:
I was able to get it to this point here by following an already existing thread, but I'm stuck again.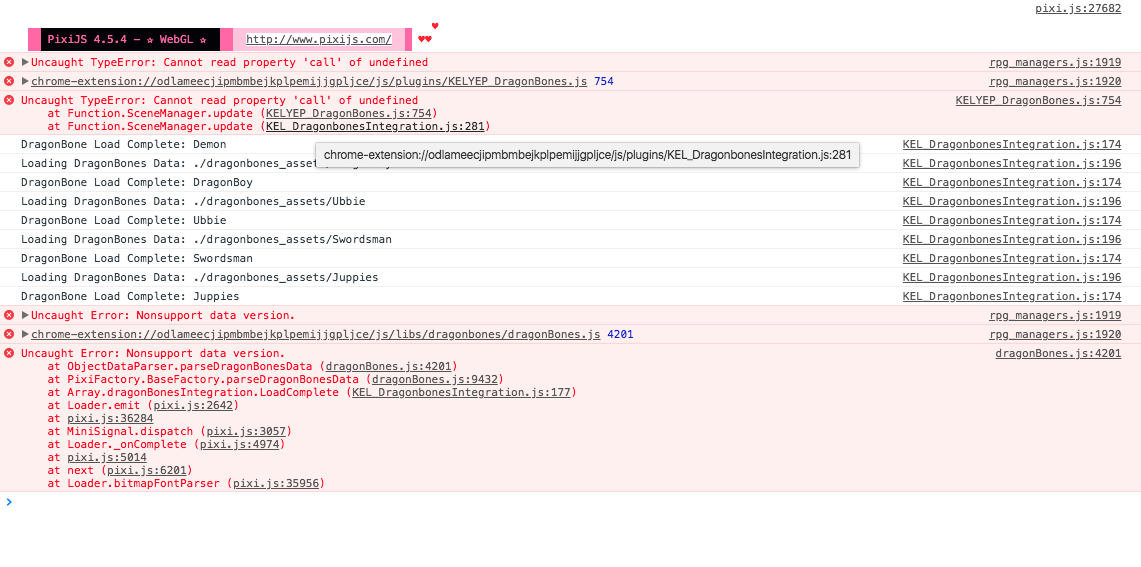 I'm guessing it's having trouble loading the assets, so it's crashing at this point?
Update 2:
I tried to delete the sprites that the game wasn't able to load, but the error log went back to looking like my first post.
The second error log only started to happen when I changed my game from not using side view, to using it.
Is this plugin only for side view games? If so, I'm probably gonna have to look around to see if there's one I can get working easier..
I'm gonna try deleting every Dragonbone file and then starting again
Update 3:
Okay. I think the whole problem is with how I'm doing the notes, but.. I have no clue how to do it right.
I took out all the custom files I made and am only using the assets that came with the plugin..
Maybe if I check everything I can find by Yanfly and the other guy on Dragonbones I can find a tutorial or something? (Someone please link any kind of note tutorial..)
Last edited: