forever rotting in the shamecube, floating eternal
Joined

Mar 1, 2012
Messages

1,009
Reaction score

209
First Language

Anglais~
Primarily Uses
Oh hey guys; 'sup? I guess you're here to take a look at some of these radical resources I was talking about. Welp, there isn't really that much in here yet, but I'll hopefully be filling this bad boy up with lots of awesome stuff before long.
There are some cool dudes you should credit if you use these resources.
If you see something of yours that I have yoinked and not given credit for, please politely remind me and I shall update this list to reflect that. (I'm, uh... a little forgetful some times.)
Credits

emmych

Enterbrain

​
Also, this should kind of go without saying, but NO RE-POSTING WITH OUT MY PERMISSION. If you want to share these with another community, PM me first and we can work it out - I don't mind sharing, I just want to keep track of where these are getting posted!
Okay, now that that's outta the way - on to these sweet resources.
Sprites:
Free to use
You can use and edit these bad boys just as long as you credit the appropriate folks.
This was my qualifying sprite for Pixel Madness. If you want to use her, credit
emmych
and
Enterbrain
.
The Incorrigible Prankster and a half-masked variation, also for Pixel Madness. Credit
emmych
.
The Stalwart Soldier, AKA the Archangel Michael. Credit
emmych
The Erudite Adviser. Credit
emmych
The Jabberwocky here as a boss sprite. Based off of one of my favourite poems ever~ Also, this was my first ReStaff release! Credit
emmych
Iiiiit's Quistis Trepe from Final Fantasy 8 in her SeeD uniform!
Emmych
HEY LOOK IT IS EMMYCH BY
EMMYCH
The not-so-free to use
If you want to use any of these sprites, please ask the permission of the folks I made them for. However, feel free to frankensprite with them. c:
Scatto, the leading man from Relic! If you want to use this sprite, please ask
Twidger
for permission.
Arianna, also from Relic. Make sure to ask
Twidger
for permission before using her, and be sure to credit
darr123
and
one hundred
if you edit or use her.
Faces:
I'll be adding these in eventually; keep your eyes peeled for 'em~!
Tiles:
Just a quick boat edit for
quigonkeichy
. If you want to use this, credit
Enterbrain
. I don't really need any - this took me all of five seconds to do. xD
Some prison bars for parallax mapping. I don't think it'll really go with much, but it's my first ever tile and I from-scratched it, so... enjoy~! Credit
Emmych
if you do decide to use it, as well as
Lunarea
for the nifty edit! :3
A1
A2
A5
Here's a small collection of tiles I've made for you to put in your tilesets! I'm, uh... I DON'T REALLY CARE FOR THEM THAT MUCH NOW but I figured I may as well share! It's much better than letting them rot on my hard drive -- maybe someone will find a use for them somewhere, eh? Even if it's just for editing and what not. OTL The water tiles might be REALLY REALLY WONKY, but I don't care enough to go back and fix them. Well... maybe I will eventually BUT NOT TODAY. IB One day I'll release tiles actually worth using, so, uh... KEEP A LOOK OUT FOR THAT DAY.
Credit
Emmych
if you do end up using them!
Sprite Template:
This is an old sprite template I made! I may make a newer, prettier one in the future, but for now this is a mediocre alternative to the RTP. x3The Lady Bases
The Gentleman Bases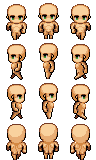 And here's some hair to stick on them! I may put up a version sans headband at some point, but that will require effort and work on my part and ahahahahahaha work and effort when I have so many other graphics to make ;___;
Credit
Emmych
if you use it.
Welp, that's all for now. STAY TUNED FOR MORE AWESOME AND RAD STUFF~! Be sure to spread the love by adding the support bar to your sig, ya dig?
Awesome.
Support:
Code:
[url="http://forums.rpgmakerweb.com/index.php?/topic/18-emmychs-radical-resources/"][img=http://i657.photobucket.com/albums/uu300/emmych/buttonradicalresources.png][/url]
Last edited by a moderator: