DAYDREAMER乁( ◔ ౪◔)「
Joined

Oct 19, 2015
Messages

102
Reaction score

297
First Language

Chinese
Primarily Uses

RMVXA
† Official Website †
† Steam †
† Itch.io †
† Facebook †
† Twitter †
† Trailer PV †
*This is not the final version of the trailer PV**
Escape from the Cursed Convent is a derivative work of the manga 'Hengoku no Schwester'.

It is an adventure game, filled with rich storytelling which includes several gameplay styles such as :
​
Quick Time Event Systems : during several scenes like taking water from well / escape from a chamber, you need to complete the stage to continue the game.

Collecting system :

By playing the minigames, you can collect mini crosses depend on your score, it can unlock extra stories when you finish the whole game

Herbs, flowers also can be collected in the game

Characters, cuisine, datas and cultural of sixteenth century can be collected

Mini games : Expect QTE events, this game also allows you to hunt animals via ARPG and QTE mode; and solves some puzzles in some certain scene.

Cooking system : Prepare your medieval style meal, or create your own recipes!

Different story lines and endings depends on your choice
An occurrence at a catholic convent, which is located in Holy Roman Empire;
The 16th century Europe which is filled with faith,and

Witch Trials

.
" Thou shalt not suffer a witch to live." (Book of Exodus, 22:18)
Adeline, a serf whose mother was wrongfully accused as an evil witch and making a deal with a demon.
During that period, the Witched Children are sent to the Claustrum Convent for the re-education of sorcerers.

However, it turns out that the convent is another living hell,
where torment and execution are considered to be redemption.
Adeline and her friend Helena decide to escape from the cursed convent.

And so, the story driven by saint, freedom and faith begins ...
† Mysterious, beautiful pixel art world, every detail is placed with love †
† Explore the 16th century culture, religion, buildings and more †

† Different story lines and endings depends on your choice †
† Several gameplay styles such as QTE, collecting system, mini games, cooking system etc †
*Check out more screenshot and gifs at our
Official website
! *
*Most of them are still in Chinese ver*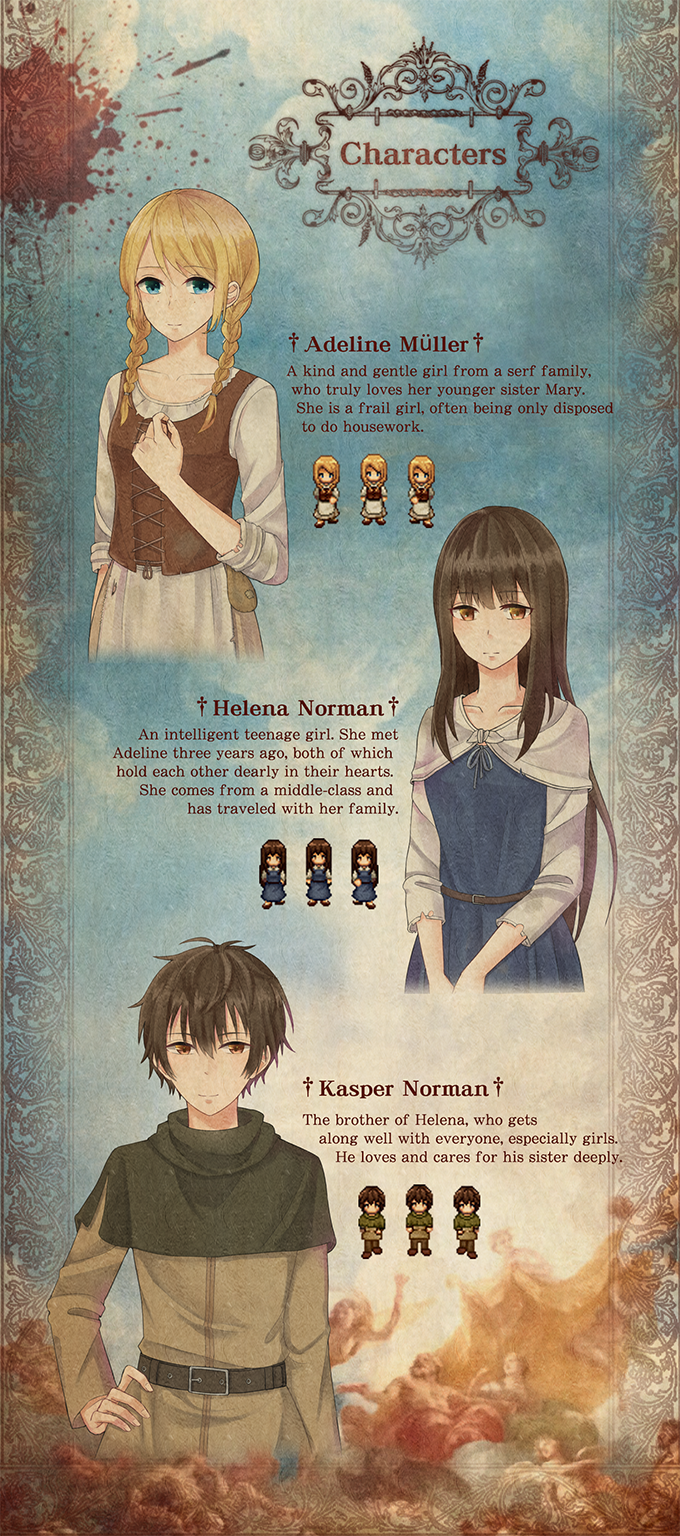 ■ Producer ■
Kim Shyuen

■ Graphic ■
Character Sprite - Kim Shyuen, Mr.Wondertainment, 雅彌
Portrait sprite - Homi
Poster Illustration - Clivef梨子
Map / Ui / Logo - Kim Shyuen
Adverts - Kim Shyuen,KagariJoshua
Chibi Illustration / Special Thanks - 五月梅花落

■ Scripts ■
Plot, Script, Character Design - Kim Shyuen
Script Modification - 絲綺拉,失眠的米迦勒

■ Music ■
Composer - Soon Hew
Sound Effect - 田海汕

■ Plugin ■
Original Plugin - RaidenInfinity, Luca Mastroianni, 嵐 風雷,魂
Plugin Modification - 椎名Yashiro, 木秋
Game Event - Kim Shyuen, KagariJoshua

■ Special Thanks / Tester / Translation ■
Chew Zi Yue, Яков, Mzery, 米二, 谈可
小叮噹慧慧,樣本1,迷糊的安安,再祁

■ Steam Producer ■
迷糊的安安
Hi folks! I'm Kim Shyuen from Malaysia, who is the producer of ''Escape from the Cursed Convent'.
This is a remake project of my very first game 'The Nun's Prayer' .The story, system, game play and graphic has been greatly improved compare to 'The Nun's Prayer'.
This game has been developing for three years and I've helped by many talented and amazing people such as programmer, artist, testers and more. Thanks a lot to them!
The prologue, epilogue and chapter 1 were done, hopefully the full version (eng&cn) will be released in Winter 2020.
If you're interested in this project, it would be great to follow us on
these social media
!
Thanks for your reading and hope you have a nice day!
​
Last edited: