Villager
Joined

Oct 13, 2015
Messages

20
Reaction score

0
First Language

English
Primarily Uses
I apologize if this was already answered or even on the wrong topic haha. I'm new to this. But I have looked around and can't seem to find the answer to my problem.
These are the two things I need help with right now:
Event triggering another event
Change the look of the message box
Event help:
I want an event to trigger a switch on another event. I have tried so many different things and can't seem to get it. Nor am I able to find a tutorial on what I need.
Here is a screen shot of my game for an example of what I want to do: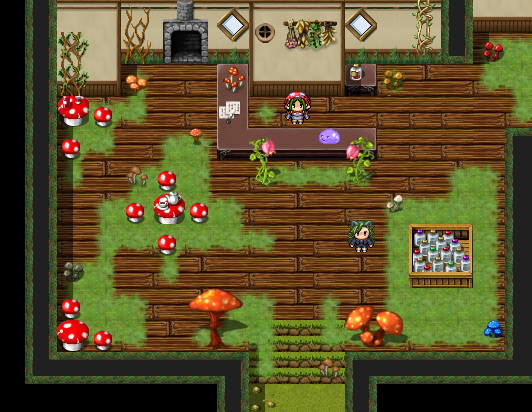 Now with this, I want to talk to the shop keeper (Kinoko) and depending on the choice I make, it will trigger the expression of the purple glob on the counter (have not named said glob yet haha).
Here is a screenshot of the choices: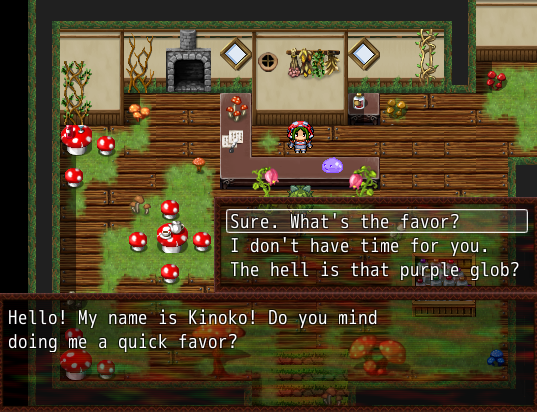 Now when I choose the final choice, "The hell is that purple glob?", I want the glob's face to become shocked like he is insulted with my comment. And then go back to normal and him just being his globby self. I want to use him as a character to just show different expressions throughout the game when things are said. Like say someone is yelling at someone else, or someone insults someone else, his expression will change from across the room. I love the idea and I can't seem to figure it out! I also want this to be able to work if I were to also talk to Kinoko from the side instead of over the counter.
Message Box Help:
I also can't seem to find a way to change the way the message box looks. I am aware there may be a script for it, but I can't seem to find it haha. Here is a screenshot of an example as to what I am talking about. (this screen shot is NOT mine. This is just an image I pulled from google. Game looks rad though.)
I want the picture to be placed as shown above instead of the default way where it's just a small picture inside the message box.
If anyone can help me, that would be great!! Please link me a video or post screen shots on how to go about doing these things, for I am a visual learner. A video would be the best if it is possible.
Thank you so much for helping!
(P.S. I do not own any content in the screenshots for my game. My sprite is generated for now, but I will make one later. Credit goes to those who created the wonderful tilesets. I don't feel like typing everyone out right now, but those people will receive respected credit in the credits of my game.)
Last edited by a moderator: