Veteran
Joined

Dec 17, 2013
Messages

659
Reaction score

253
First Language

English
Primarily Uses

RMMV
So I have some non-combat skills that the player can level up outside of battle.
In this case I'm working with thieving.
I'm trying to set variables so that the player can see how much progress is needed until they level up.
The formula for leveling up is 100 x Skill Level.
100 XP from level 1 to level 2.
200 XP from level 2 to level 3.
For a total of 300 XP from 1-3.
I'd like the player to be able to see their XP they've earned and how much XP for the next level.
I've got the formula and stuff down, I'm having trouble displaying it.
If their current thieving experience is greater than or equal to how much they need to level up it will increase their level.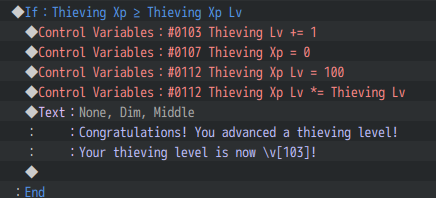 Any help would be appreciated.
Last edited by a moderator: