The Dragon Heretics
Joined

Dec 7, 2013
Messages

797
Reaction score

439
First Language

English
Primarily Uses
So there I was, working on my project for several hours feeling confident in all the work I have put in. I press the save button then the unexpected happened! Every developers worst nightmare! The blue screen of death! Da da daaaaaa! Ok, shifting onto a more serious note, I rebooted and went to check to see if the changes made it and I was greeted with this lovely message.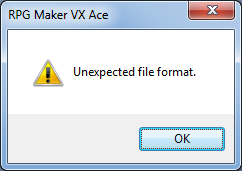 Yea, my heart sank when I saw that. Knowing how the VX Ace file structure works, I took the RVPROJ2 file called game and replaced it with one from backup (renamed the older one corrupted just to hang onto it.) and the project booted up with all of my previous changes intact.
So, the question I have is that will there be any adverse effects in placing a new project file in place of the corrupted one and what is the likelihood of facing problems down the road as I develop. Like I said before all the data is there and seems to be functioning. Or, is it smarter for me to revert to a week old backup.
Thanks in advance!
Last edited by a moderator: