I punch Therefore I am Harvest the land Taking the
New demo :
http://www.mediafire.com/download/p9d4wfqkcqzqypu/Hol%C3%A0l%C3%A0_Galiyuka.exe
For those who don't like mediafire I uploaded it on dropbox as well! :
https://www.dropbox.com/s/hwlpzcgm0mpj9gq/Hol%C3%A0l%C3%A0%20Galiyuka.exe?dl=0
Should feature around 6 / 7 hours of gameplay including two optional dungeons.  
Features
- Strategical fights from the get go, no "attack spam" and "most powerful spell spam" here.
- A wide world with a deep lore to discover through your journey.
- Earthbound-like encounters!
- Custom soundtracks
- Custom skills
- Satyric humour 
- Optional dungeons and storylines
- A crook selling awful insurance contracts like in real-life!
Synopsis 
How bad can a sheep chasing treck go?
Probably as much as it gets when one of them actually falls in the hands of some lunatic willing to unleash the essence of all negativity on the world to "teach them a lesson". Yeah, you got it, we're speaking about that kind of stupid villain being villainous for the sake of being naughty. Fortunately , you're Roger the shepherd. You're stubborn and most of all afraid of your wife. That's why you'll do anything it takes to get your sheeps back, may it be saving the world in the process or something like that. Nothing can be worse than your wife getting mad at you.
What's worse than your wife getting mad at you?
A (slightly angry) former love affair resurfacing in the process who happens to have become the head of a mob? Some side-effects like an orkid invasion? A glitchy magic sword to repair by going through dangerous places? Taking care of an amnesic psychotic witch while being stalked by some sociopathic chickorean mercenary? Having an empire's secret services on your back? A dysfunctional team which doesn't manage to get along with each other? Because you're gonna get it all Roger.  It's gonna be a wonderful journey, isn't it?  
Characters 
ROGER KILLJOKE : A peasant who lost his herd in a night and sets for an adventure which will bring him to actually have to save the day. He's a kind hearted man with a rather grumpy attitude when things start getting hectic. His peasant status hides a past that he's unwilling to talk about.
SELMA PEEL : Daughter of Krok-O-Ricco's mayor, she's born in this village and Roger is her only one true friend. Having an upstart and greedy attitude, no one else really like her there even though no one shows it clearly by interest. She's got a pretty high education and knows much about the world's History, legends and also about basic technology and economics.
She has a business in farm animals.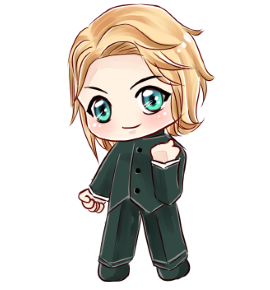 IKE ANFAIL : A teenager who skipped school one day with friends to go to a forbidden forest. There, he finds a magic sword that turns him into a girl. He will soon find out that the sword "glitched" and that he has to find "holy patches" to restore it. Prone to complain and cower in front of danger, he will have to go against his nature to fight his way through the dangerous places where the patches are hidden with the help of his friends. His sword is a key asset in some ancient legend but who knows if this legens is true?
IN-SON PARK : A villainous chicorean mercenary and one of the most feared warriors in Galiyuka. She currently teams up with Hal Zeimer for reasons known of her alone. Her past before her first deeds in Chicorea are unkown but from a very select few. She's a force to be reckoned with and her plans will somehow collide with our heroes goals.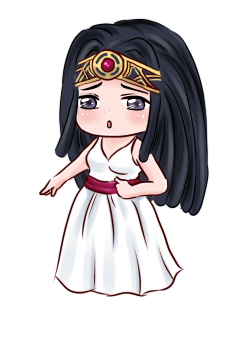 HAL ZEIMER : Considered the most dreaded witch ever, she's known for being also one of the most sadistic beings ever. She's got her own little land which she guards tightly but never tried to invade anything as she is too busy to abduct people and perform all kind of gruesome experiences on them. She also loves to perform twisted parties with her "employees".
Much more characters are to be discovered of course, but here the purpose is more to give a "pretaste" of what you will discover in the game. 
Screenshots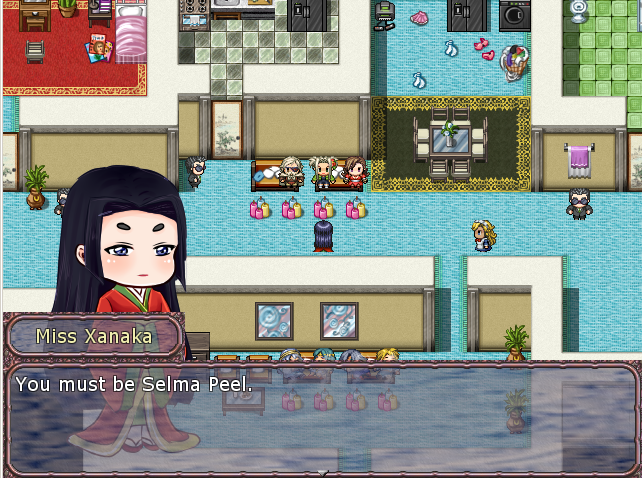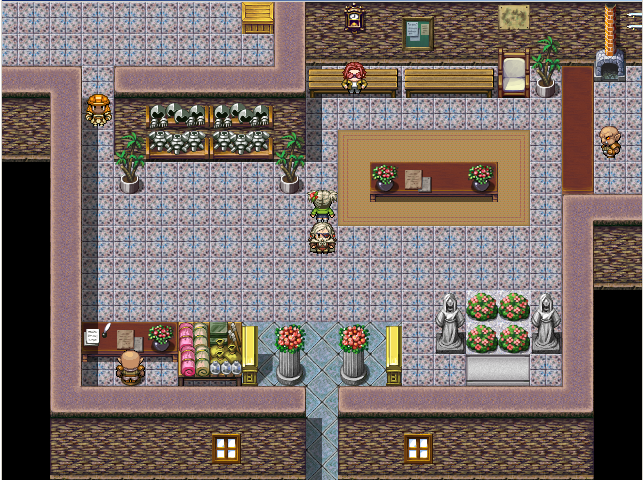 Soundtrack
World
Galiyuka is a planet that has millenary cycles. Each cycle goes like a downward spiral where societies become more and more corrupt until a cataclysm occurs and wipes out almost all living things, leaving a few ones to start over a new Golden Age and millenary cycle. 
The story starts in the 980's and the world shows a rather fragile "stability". The Elfaënorian Democratic Empire rules more or less the whole known world except some small nations still attempting to resist economical and military pressure. Elfaënor's society is ruled by a caste system that, if it was long ago based on merit and virtue, is now merely an hereditary system with privileged ones and others having a slave condition, middle castes struggling to survive (and in some rare exceptions , to raise the social ladder). 
Institutionnal corruption became a real issue and some signs of agitation can be seen in the lower caste, not taken seriously by the government. Insecurity is rising, the emperor giving weird orders to it's soldiers, leaving villages on their own against hordes of thieves and barbarian tribes. 
Despite all this, the empire still has a strong grip on other nations which, if they're not officially provinces, are more like "ghost states" , their governments keeping a so-called independance in exchange of supporting international treaties brought by the empire and providing it privileged access to business and natural ressources. 
Only four nations still remain strong enough to keep their independance : 
- Lopan , a small empire in the far-east which trading and military policy allowed to remain free. They're in a state of cold war with the Chicorean republic for some sordid racial feud. 
- Chicorea , situated on the same far-east continent than Lopan. It's system is more or less democratic with an ultra-liberal policy that allowed it to be economically powerful, at the expense of lower classes who live in an awfully miserable condition. 
- Rustia, a military dictatorship situated in the middle continent, near Elfaënorian eastern borders. It's authoritarian regime allows no thinking freedom but it also allowed the country to partake in severely drastic policies militarily and economically that allowed it to keep powerful enough to threaten even the almighty Elfaënorian empire. There is a state of cold war between both but no one dares to really make the first move. 
- Clostro-Hungry kingdom, a theocratic regime that owns it's independance to a policy of total autharcy, allowing it to live on it's own ressources without having to ask anything to anybody. This independance is very fragile though, foreign agents being permanently on the move to sabotage their ressources in order to make them bow in submission. 
To these four nations can be added numerous humanoid tribes that more or less managed to keep their traditions and culture alive. Most of them are on the verge of disappearing though , because of hunting, racial feuds and most of all sheer human stupidity.
Credits 
If I ever have forgotten anybody please let me know so that I can add you! 
- Shirei Shou for artworks
- Enterbrain 
- Lunara for some character generator parts.
- RainbowGrenade for some character generator parts. 
- Thalzon for his awesome battlers! 
- Scythuz for his helpful advices and support! 
- Yanfly for his awesome scripts! 
- Moghunter for scripts
- Yami for scripts
- Vlue for scripts
- Galv for scripts
- NeonBlack for scripts
- Ms Littlefish for the support and encouraging words!
Last edited by a moderator: