Veteran
Joined

Oct 1, 2012
Messages

1,224
Reaction score

1,394
First Language

English
Primarily Uses

RMMZ

Action Indicators - Version 1.4
RPG Maker MV Plugin
Galv
​
Introduction
For the player to know what the action button is going to do before they press it.
Screenshot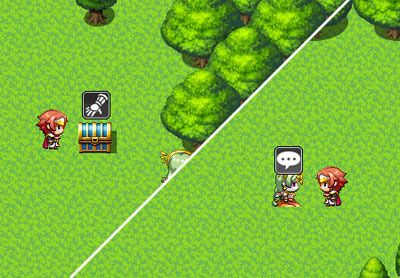 Features
Enables you to display an icon above the event the player is facing. This icon has a floating up and down movement and is determined using a tag inside a comment anywhere on an event's active page. The idea for this is to be used to indicate to the player what the action key will do before they press it.
How to Use
- Copy the "GALV_ActionIndicators.js" file into your project's /js/plugins/ folder.
- Activate plugin using the 'Plugin Manager'
- Read the help file to see how it works. Examine the demo if you don't understand.
Plugin
Get it here
Credit and Thanks
- Galv
Terms
Free to use in any RPG Maker MV project including commercial. Please credit "Galv".
Updates
2017-05-26 - Version 1.4 - fixed issue with same icon on different event not popping up
2016-03-06 - Version 1.3 - now works with counters and events that are 'under' the player.
2015-12-08 - Version 1.2 - Added options for enabling/disabling, auto hiding when events are running and Z value
2015-12-07 - Version 1.1 - fixed a bug causing crash when events were removed.
2015-12-04 - Version 1.0 - Release
Last edited: