Regular
Joined

Oct 1, 2012
Messages

1,465
Reaction score

1,769
First Language

English
Primarily Uses

RMMZ
Bust Menu - Version 1.7


RPG Maker MV Plugin
Galv

​
Introduction
And my "Menu Layout" script joins MV, now called "Bust Menu"
Screenshot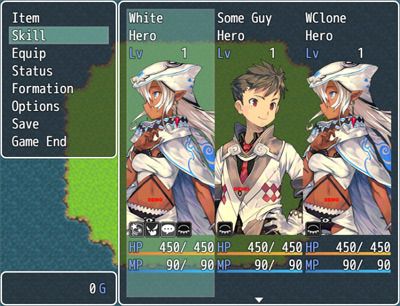 Features
Display the main menu differently using bust images.
Included are settings to customize the position of the actor's data (name, class, level, exp, hp/mp, etc.) and how many actors appear on the menu screen.
How to Use
- Copy the "GALV_BustMenu.js" file into your project's /js/plugins/ folder.
- Activate plugin using the 'Plugin Manager'
- Read the 'HELP' documentation (also found in plugin manager) for more details and try the demo if you don't understand.
- NOTE: You will need to obtain your own bust images.
Plugin
Get it here
Credit and Thanks
- Galv
Terms
Free to use in any RPG Maker MV project including commercial. Please credit "Galv".
Updates
2016-03-28 - Version 1.7 - Added ability to use -1 in plugin settings for fields to disable them from showing
2016-02-12 - Version 1.6 - Added 'Nickname', added script call to change number of actors displayed.
2016-01-12 - Version 1.5 - Fixed MAX level and EXP bar issue. Compatibility: Rocketmancers prettier gauges
2015-11-21 - Version 1.4 - fixed tiny JP alignment issue
2015-11-21 - Version 1.3 - Added compatibility with Yanfly's JobPoints
2015-11-19 - Version 1.2 - Fixed issue drawing single character bust
2015-11-08 - Version 1.1 - Added experience bar to settings
2015-11-07 - Version 1.0 - Release
Last edited by a moderator: