Veteran
I've had this problem for a while, but I put it away, because it's not a game breaking problem.
The problem I have is about the bow animation. While the animation of my archer attacking works perfectly, the animation when damaging an enemy is still the "hit physical". But I want it to be "pierce physical".
I know that this seems to be a common problem and that you might already be tired of hearing this, but I've literally tried
everything
to get rid of this problem. But nothing works. I have been at least able to erase the animation completely.
Okay, here are the things you might need to have to solve this problem:
# Pose for the targets of 'Bow' attack
    <action: arrow, reset>
    throw: self, user, image 'Arrow', arc 10, angle 45, init x -6, init y -12;
    wait: self, throw;
    anim: targets, effect;
    wait: 8;
    effect: active, targets, 100%;
    </action>
This is under all three modes: charset, kaduki and unspecific settings.  
This is the screenshot of the weapon used: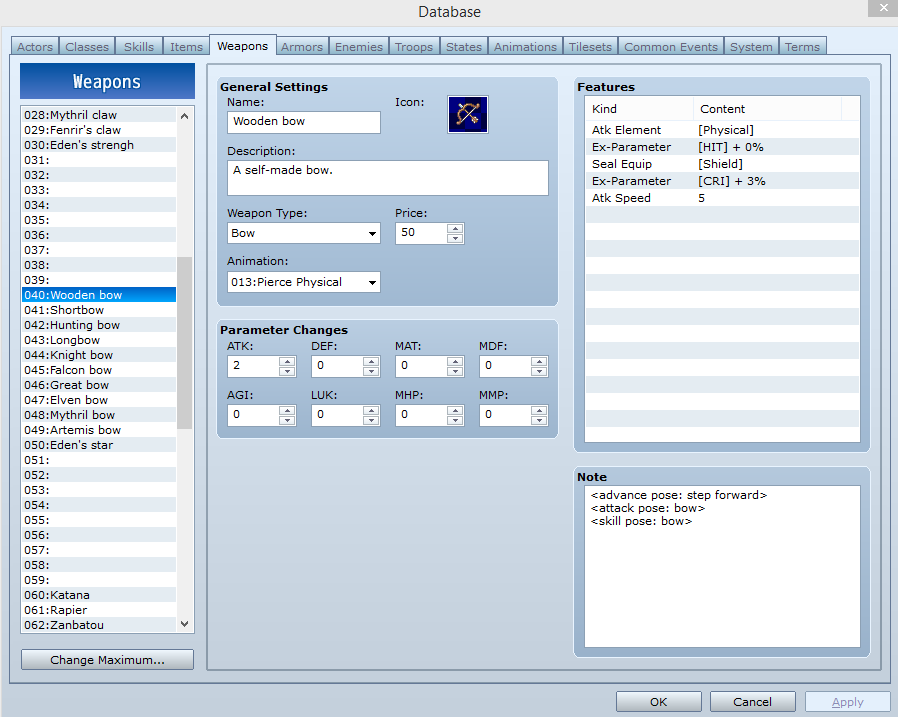 Here's the original, unedited script:
https://drive.google.com/file/d/0B0cSp2lASM9wdjMwNEMtMFlkR1k/view
I hope somebody can help with this, I've searched everywhere and nothing helped. TT.TT
Last edited by a moderator: