Veteran
Joined

May 27, 2018
Messages

69
Reaction score

74
First Language

english
Primarily Uses

RMVXA
Story
Your father and mother are missing, but there is trouble in the air as you embark on your journey to search for them. A supernatural event is taking it's place, at the centre of it is the Guardian stone. Will you be able to unlock the power within yourself to protect the ones you love, or will you lose control as hope begins to fade. Your friends can only aid you so far, after all, this is your journey, and one that will be hard to turn back on.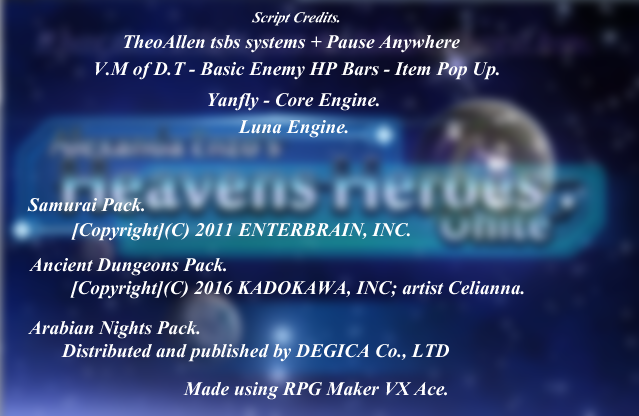 Try out the 2 Chapters and help Heavens Heroes grow through the fund raiser. I've been working on this title for the 5th year running, I use the above content from dedicated creators, and I made a great number of my own scripts and content also.

Heavens Heroes is still a work in progress. I've really done my best to use RPG Maker and Photoshop to give the game a good look with custom graphics, backdrops and sprites. There is a massive amount of effort gone in to the project. And really, I hope you will like to play.

With plenty of places to visit, story plots as you journey, and new mechanics with each place you visit. This has been one tough game to make, and I hope you'll enjoy it.
Blogger Tutorial Here.
This will explain eventually everything including Maps, Locations, Secrets and more.
For now there are, Battling Tutorials, Crafting and a getting started guide.
https://aw-rpg.blogspot.com/
Itch.io Link address.
Please let me know of any issues you may have. This is quite a revival and I hope those that were looking to play will give this a go and really enjoy it.
Take care and thanks to all those that gave me a little more hope to keep this going.
Fishing Tutorial-Normal Mode
Battle Mechanics: Learn to build.
Last edited: