Resident Palm Tree
The Golden Pearl is said to be able to grant the wish of any who touch it, but none that have sought it out have ever returned. Will you suffer the same fate?
In this open world you will find tools, items, and dungeons in whatever order you desire. Pick a direction and head out! How fast can you find everything needed to reach the end?
This game saves automatically every time you enter or exit a cave, dungeon, building, etc. So there's no need to worry about losing your progress if you're forgetful! The game still allows for manual saving if you need to stop or want to respawn mid-dungeon.
Secrets abound! Be sure to burn trees, blow up walls, and check under bushes!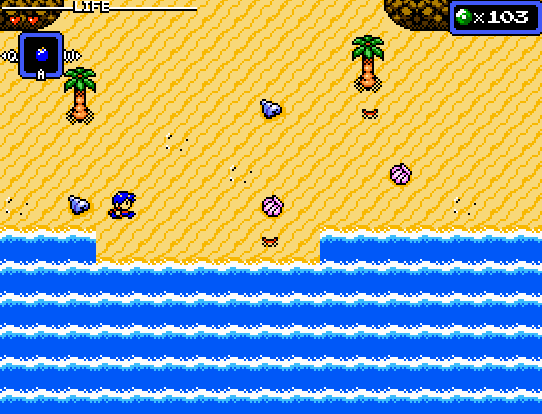 Download:
https://itch.io/jam/igmc2017/rate/187600
I'm putting my game here because everyone else is doing it. Peer pressure away!
Please mention any bugs you find on the games itch.io page or message me about it.
Remember if you like the game and want to see it improved, consider donating!
even if only 10 people donated $1 each it'd help so much in getting help towards improving the game.
V. 1.01

-Falling in pits has been REMOVED. You can no longer fall in holes. This will make the game easier, but also less frustrating. I doubt anyone will miss it.

- Autosave has been temporarily removed. Until I can get an autosave script written that allows for multiple save slots and doesn't conflict with my entire system,
this feature is being disabled. Remember to save often in the meantime.

-The Water Temple boss room should no longer let you jump on the walls.

-Fixed an error where you drowned on land when going north at the beginning.

-Fixed an oversight where the Frog Princess would only accept your magic seeds if you had EXACTLY 20. it is now >= instead of ==

-Default BGM volume set to 80 instead of 100

-Fixed incorrect dialogue leftover where The Lady in the Ice asked for "20 of something" when she really wants you to get 10 or more hearts.

-Fixed a game breaking bug where exiting the Fire Temple boss room and going back in would lock you out of being able to get the Ring of Fire.

-Fixed another game breaker where any room where you started at the top of a ladder would send you back out of the area.

-Completely removed the red-push-block enemies that pushed you into holes.
For obvious reasons. Rip...
Last edited: