Veteran
Joined

May 18, 2012
Messages

584
Reaction score

274
First Language

English
Primarily Uses
As part of my interview series, I'm speaking to prominent developers/contributors in our RPG Maker Web community to gain insight on their inner workings. Today we speak to
Hirei
, developer extraordinaire of the promising
Reincarnation: Dawn of War
, and the action-adventure RPG
Finding Eden
.
Hey, Hirei, thanks for agreeing to do this interview. Your time is valued greatly. First off, tell us a bit about yourself, if you will.
Sure thing! My name is Hirei. I consider myself a freelancing "Arting Starvist," which is to say I'm an illustrator, graphic designer, and an aspiring character artist. I've worked on a few games here and there such as Finding Eden and Reincarnation - Dawn of War -.
And you're also a mod of RMW. How did you become a mod and what is it like to be one?
Actually how I became a mod is quite interesting. I noticed that there was a lack of a "Creative Commons" area for people who draw and whatnot to share their work. I took it up to Touchfuzzy, the admin of RPGMAKERWEB. Not only did he create the "Art, Literature, and Music" forums but he gave me mod access. As for what is it like to be one... Well it's a large responsibility. This is the representative forum for Enterbrain/Degica's RM products so I constantly have to remember that I need to act professional, etc. It's a lot of work but overall very rewarding. I enjoy looking at all the resources people submit and of course all of the wonderful work seen in the Art and Literature forum. If you have any work to show off, please feel free to submit it in the Art and Literature forum!
Speaking of art, you commission art for people. What was the moment where you realized you enjoy creating art and were good at it? Was there a certain point where it was what you decided you wanted to do?
I think the moment I realised that I enjoyed drawing was actually very late during senior year of highschool, back in...2008 or somewhere along that time. I was actually working on a game with friends and we didn't have an artist at the time so I volunteered. Things took off from there. I started to learn how to draw by myself from that moment on. Most of my drawings from back then were super super ugly... I think once I actually saw the test product with my art I thought: Whoa...it's my art...in a game..!!! I also really loved creating the characters and illustrations for the title. Sadly the game never saw the light of day (and never will because I refuse to show off my old work). Since then I have been learning by myself for the past couple of years. I've never actually taken any art classes formally, I just look at people's artwork and try to deconstruct their techniques. However, I feel like I really shoud've taken classes as I'd probably be a better artist than I am today by learning "foundations".  
Reincarnation: Dawn of War
​
And recently you presented at Gencon 2013 the Return of Aetheria. Tell us a bit more about that.
Return of Aetheria is actually a joint project I was a part of for the past 8 months. Indiana University - Purdue University Indianapolis (IUPUI) and Gencon wanted to create a project that would emulate a real game studio project and also present it at a large scale convention. It is a augmented reality game that spans the whole convention center. Basically you take up the role of an "adventurer" and complete quests. I entered the class via portfolio review and was accepted into the ranks of the art team for the project. As part of the art team, I was responsible for User Interface Design for the mobile application, concept artwork, and character design. I had the amazing opportunity to design one of the "main characters" of the game, Sun Wujie. In addition, the other artists and I had the opportunity to present a seminar on art. It was a huge honor to be a part of the project and I learned a lot from the experience.
That sounds incredible. So people would run around with mobile devices doing physical quests? Explain more.
Yep, there was a home base at the convention and you also had a journal filled with story information and most importantly...quests. Quests varied from shouting a "dragon roar" at one of the live actors to solving puzzles or even battling ferocious monsters. After completing each quest, you would use a mobile device to enter in rune codes that will add to your score. We had a running leaderboard during all 3 days that the game was in session. I think we had over 100+ quests. Needless to say we had people at the top of the leaderboards who completed all of them. Every. Single. One. It was insane. At the end of the game session there was a giant awards ceermony complete with live acting for the ending of the story and more. Over 5000 USD in prizes were given out actually... Including multiple copies of RPGMAKER VX ACE
(Thanks to Degica/Enterbrain, one of our lovely sponsors!)
You graduated recently. What was the college experience like for you?
Stressful! But fun! I actually didn't enroll into an arts degree. I enrolled into New Media which is more video / graphic design / video game design. I learned a bit of everything. After Effects, 3D modeling, Actionscript coding, UDK...you name it. Some of the best things I learned from college was about project management. It came in real handy for my Final Year Project which was of course Reincarnation.
Oh yes, I remember reading that that was your final project. What mark did you get for it?
A perfect score. During the Capstone showings, each project has a booth. It's pretty much like a mini E3 with various teams of students hawking at people to play their game. Employers come to this event each year. Reincarnation was one of the hottest games to play during that time. We had so much overcrowding at the booth of people who wanted to play, we had to actually make queues for people to line up at. At the end we also raffled off a bunch of promotional material ranging from signed illustrations to limited edition copies of the pilot game. We aren't planning on selling the pilot version of the game at this point in time, so the three individuals who have the hard copies are the only ones in the world who have it. Big shoutout to those who helped me with the project, not only did we create everything in a month we also managed to muster enough energy to make a revamped version for Release Something Weekend. Despite all of the flaws people found with the game, I plan on continuing finishing up the pilot version and releasing it for free to the public.
Reincarnation: Dawn of War
​
Speaking of Reincarnation: Dawn of War, what was your vision with it and do you think you succeeded? Where do you plan to take it?
My overall goal was to use it as a test bed to see if a larger scale project was viable. Reincarnation -DoW- is only a pilot so there's a game that would be about 10x the size. I was very very lucky with the team that I have for it. I was fortunate to be working with a lot of people well known in the RM community. Overall I think we did a fine job of producing a game that amped up the standards of RPG Maker and showed off the potential of a game made with the engine. A lot of indivudals have complained that the story is too cliched, weak, and other issues with the game. Since we aren't on deadline anymore, I'd really like to try to hammer those issues out. I want to prove that Reincarnation isn't just a pretty game full of eye-candy.
Currently plans are to fix up errors with the pilot, and then release it. We actually had a ton of ununsed assets at the end of RSW, ex: over 5 unused event CGs. If we have enough interest after that...I may do a Kickstarter for the full game. Please show your support ;w; I'd love to make a full game.
You've mentioned Fire Emblem in your feed. Do you have any games which influenced you in the past that hold a special place in your heart/mind?
The Tales of series, Final Fantasy, and of course Fire Emblem. Actually, I'm a very very late gamer so I haven't played a lot of the oldies like FF VII... But if I had to say that there is a game that holds a special place in my heart it'd be the first RPG I ever played: Tales of Symphonia.
What's so good about Tales of Symphonia?
Personally I liked the characters a lot, and of course it was my first RPG. The anime cutscenes were awesome. Honestly if I ever make the full game of Reincarnation I'm all ready to do fully animated event cutscenes for important portions of the game. The battle system is really fun too as it's active combat and has multiplayer support.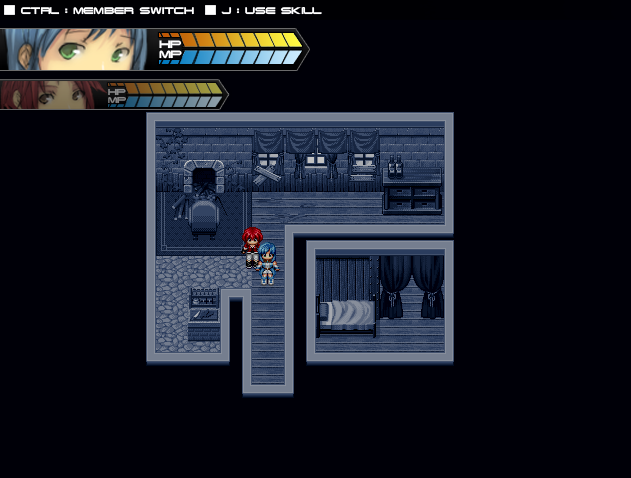 Finding Eden
​
That would be totally cool. OK, moving on to Finding Eden. How do you feel about that game? What was your experience like creating it?
Finding Eden was my first released RPG Maker game and I worked with Sailerius to make it. I did all the art / character design and we both collaborated with game design and setting. We made it in about a month (or was it a week) for a competition and took first place. In addition, it was featured on a lot of game sites such as Gamasutra and Indie Games Blog. I'm really proud of the fact it made an impact. As some people may remember, I ended up making a small prologue cutscene for RPGMakerWeb's Make a Scene competition and ended up taking first prize. I think as for my experience for both the cutscene and Finding Eden I found it really fun to design the characters and interaction. ...Actually now that I think about it, all the RM games I've released were under strict deadline and made within a month.
What is the biggest lesson you've learned making games?
Don't bite off more than you can chew and never underestimate the power of planning / project management! I've actually quite a few commissions for games that never finished, so I guess also the fact that it's good to finish your games is another. You tend to learn a lot from your mistakes.
That is sound advice. What is in the future for Hirei?
I'm planning on finishing Reincarnation and then maybe that Kickstarter. I want to get more into the games industry and do more projects. Not just RPG Maker related ones! I'm currently working on a short visual novel that might be released and some other projects that I can't talk about currently. But overall I hope to improve my art and learn more along the way.
Finding Eden
​
Last question: 5 favorites.
Favorite food?
Sushi!
Favorite actor/actress?
Bae Yong-Joon and Song Ji-Hyo for actress.
Favorite ice-cream flavour?
Mint Chocolate!
Favorite musical artist/style?
YUI and Nana Mizuki are my absolute favorite musical artists of all time. I can't choose!
Favorite day of the week?
Saturday, cause that's usually the day I get to sleep in and draw a lot. I love my sleep so much I might as well be a koala.
Thanks so much for the interview!
No problem. You were fantastic.
[
This is the ninth part of a multi-part series that will be released every few days, whenever I get the chance. The other parts are Archeia, Gorlami, Mister Big T, Shaz, seita, Tsukihime, Dark Gaia and Ronove. Download and play Reincarnation: Dawn of War here.
]
Last edited by a moderator: