Coldfire
Joined

Oct 25, 2015
Messages

449
Reaction score

275
First Language

English
ItemCombination.js v1.0
DownloadLink
http://pastebin.com/aks2WGDd
Jeremy Cannady
Introduction
Simple script to make an item combination system. Please follow the notetags exactly.
Please PM if there are any questions, I made this for my current monster hunter rpg so
if it clashes with another script let me know!
Features
Makes and Item Combination system.
  NoteTags




        <comboChance:0.95>      where 0.95 is 95%




        <comboIngredient1:1,1>  where you require one item #1




        <comboIngredient2:2,3>  where you require three of item #2




        <comboFail:4>                   If you fail you make item #4




       




        Plugin Commands




        no spaces and the exact format, must have comboChance, at least one ingredient and the combo fail or will crash




        itemComboForget 1       where you forget the recipe to combine item #1 which is a recipe




        itemComboLearn 5                where you learn the recipe to make item #5




        itemComboChanceChange 7,0.5     where you change item# 7 chance to combine to 0.5 which is 50%




        ItemComboMenuEnabled true       where true or false enables the menu option or not



Screen Shot: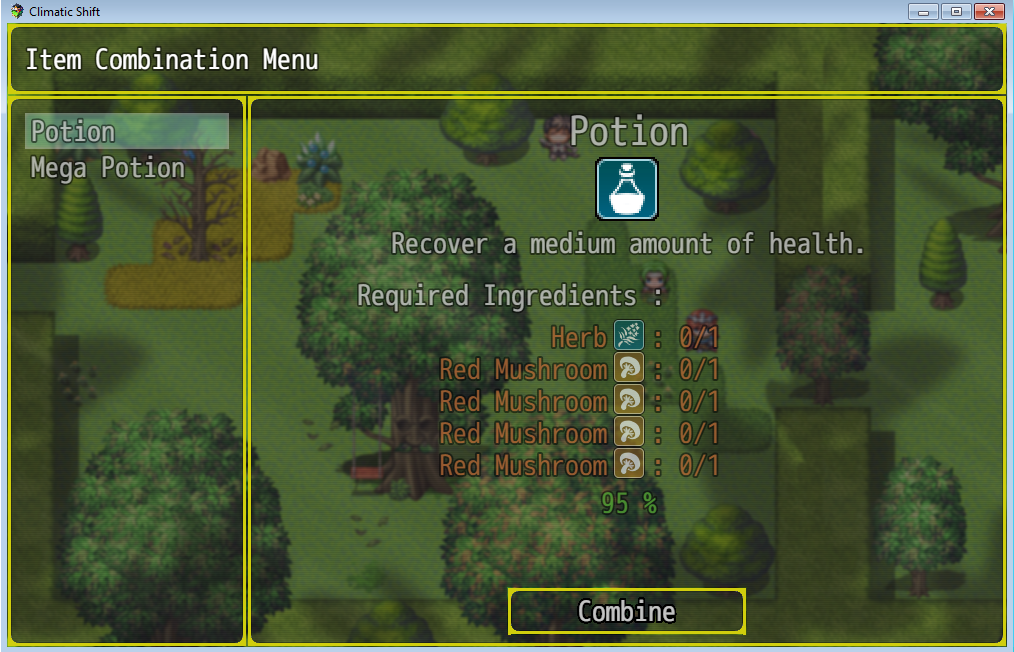 Notetags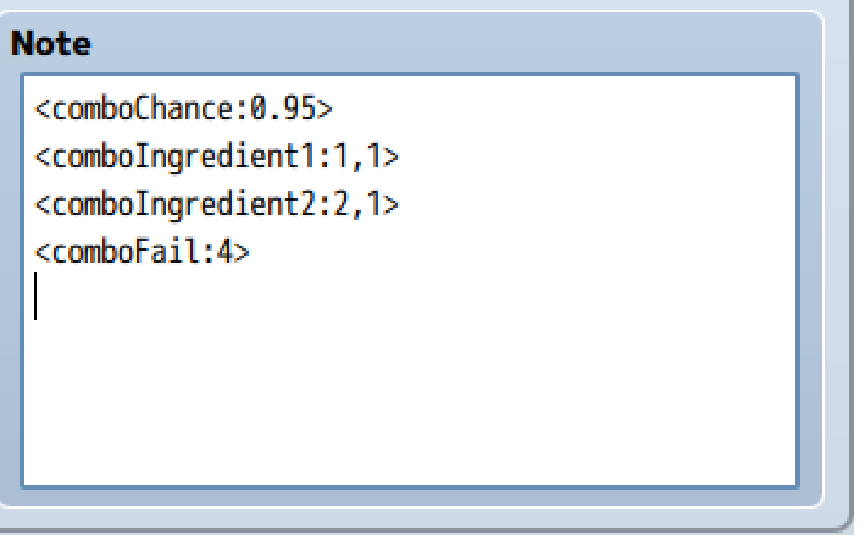 How to Use
Put the script, must be named ItemCombination.js and needs to be Java script and not text file. 
Author's Notes
Send a message if there is any questions or would like to know how to change the colors to what you want them to be instead of my default ones I have used. Thanks
Last edited by a moderator: