Indie Studio
Joined

Jun 25, 2015
Messages

709
Reaction score

645
First Language

English
Primarily Uses

RMMV
Website:
https://ltngames.xyz
Itch-io Portal
:
https://ltngames.itch.io/
Discord Server
:
https://discord.gg/3hxjESk
Terms Of Use:
https://ltngames.xyz/terms-of-use.html
Support Info
:
https://ltngames.xyz/support.html
Our itch-io page contains all my latest plugins, all of which are updated regularly and support is given by us at LTN Games and by the community.
You may report bugs
in this thread but you
MUST
provide all the details and follow the steps outlined in the "Bug Report Form" spoiler.
Before reporting a bug, you must...
Use the plugin's provided demo to re-create the bug

Have the demo uploaded to a site so we may download it

Fill out the below information
Plugin Name:
MV Version:
Changes made: (Any changes you've made to the parameters must be listed here)
Bug Explanation: Do your best to answer all questions below to help explain the bug
Where does the bug occur? (Title, Map, Battle)

What are you doing before the bug occurs (moving, processing event, opening menu, changing scenes)?

Do you know why this bug happens?

Can you provide what you believe is the offending code?
---------------------------------------------------------------------
Free Plugins (MIT License)
All free plugins branded with FeniXEngine logo and name are MIT License.



Copyright 2022 FeniXEngine Contributors

Permission is hereby granted, free of charge, to any person obtaining a copy of this software and associated documentation files (the "Software"), to deal in the Software without restriction, including without limitation the rights to use, copy, modify, merge, publish, distribute, sublicense, and/or sell copies of the Software, and to permit persons to whom the Software is furnished to do so, subject to the following conditions:

The above copyright notice and this permission notice shall be included in all copies or substantial portions of the Software.

THE SOFTWARE IS PROVIDED "AS IS", WITHOUT WARRANTY OF ANY KIND, EXPRESS OR IMPLIED, INCLUDING BUT NOT LIMITED TO THE WARRANTIES OF MERCHANTABILITY, FITNESS FOR A PARTICULAR PURPOSE AND NONINFRINGEMENT. IN NO EVENT SHALL THE AUTHORS OR COPYRIGHT HOLDERS BE LIABLE FOR ANY CLAIM, DAMAGES OR OTHER LIABILITY, WHETHER IN AN ACTION OF CONTRACT, TORT OR OTHERWISE, ARISING FROM, OUT OF OR IN CONNECTION WITH THE SOFTWARE OR THE USE OR OTHER DEALINGS IN THE SOFTWARE.
Do note that all free plugins will have limited support. In order for us to continue creating free plugins we need the time to do so, if I'm spending my time helping you with your questions, then I'm spending less time developing new plugins and fixing bugs. You will need to spend the time reading the help file, playing, tinkering with the provided demo, as well as asking the community for help.
Actor Item Stash
This plugins will provide a new way to interact with your actors inventory by granting each actor their very own inventory space! You can trade items between your party members, or choose to deposit or withdraw items in the global stash which is accessed in a new menu. All items gained through event commands are added to a temporary stash which lets you decide what to do with an item, all of which can be accessed on the current map.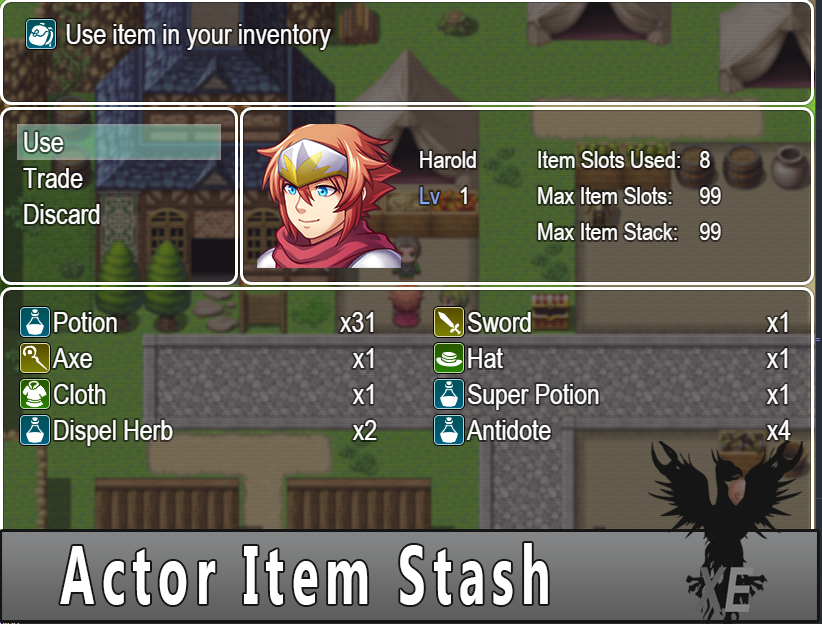 Gvie each actor their own inventory space, trade with other actors, and have access to a global stash.

ltngames.itch.io
Better Battle Status
This plugin changes the way the battle status window is displayed in front view battles. It draws actor portraits based on the actors face name and index and draws them in battle. Each portrait will act as a normal sprite, meaning enemy attack animations and damage popups will be displayed on the actor portrait.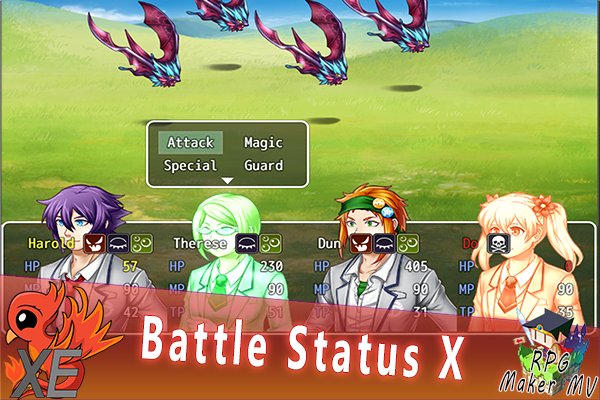 Improve the UI of the status window in frontview battles

ltngames.itch.io
Social Media Buttons
This plugin adds social media images to your title screen, allows for special effects like applying a filter and playing a sound effect when touching one. Upon click it will take the user to an external URL using the devices preferred application like the browser or twitter app.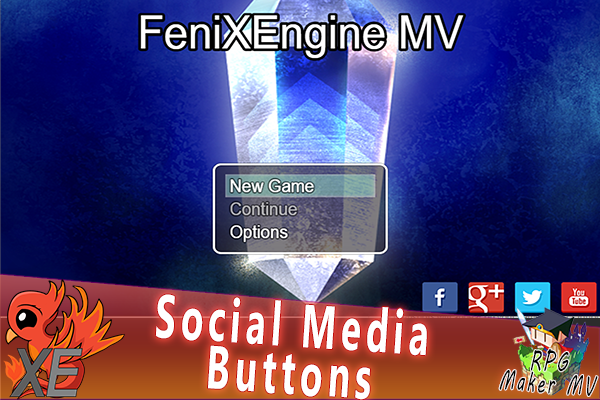 Place social media buttons on your title screen and gather your followers

ltngames.itch.io
Chapter Select
This plugin provides the user with the option of creating chapters for their game. Each chapter will allow you to reset and set up switches and variables which will be required for the player to play through the chapter again.

A chapter selection system for your games
ltngames.itch.io
----------------------------------------------------------------------
Paid Plugins
All paid plugins are available on our Itch portal.
All paid plugins follow the license
Attribution-NoDerivatives 4.0 International (CC BY-ND 4.0)
https://creativecommons.org/licenses/by-nd/4.0/
For further details on terms of use visit: https://ltngames.xyz/terms-of-use.html
Last edited: