a bean
Joined

Dec 28, 2017
Messages

26
Reaction score

14
First Language

English
Primarily Uses

RMMV
Introduction
Hello there and welcome to Malachite. This massive brainchild of mine is a little project I've been wanting to make for a while now, but recently I've hit quite a few bumps in the road. I'll go more in depth in the Recruitment section, but long story short, I need some help picking up the pace again. For now, any feedback would be very much appreciated. Questions, concerns, comments, whatever! However you choose to support the project is highly appreciated!
Malachite
General
Release date: TBD (ideally by late 2018/early 2019, but no promises.)
Genre: "Dramedy" (I want to go for a "light-hearted, but you constantly feel like something doesn't seem right and it becomes more obvious as the story progresses" kind of vibe.)
Warnings: Political commentary will be a relatively heavy theme in the story, as well as cursing and mentions of suicidal thoughts. PLEASE ask if there's anything else you're worried about, I don't want to be responsible for you having a bad experience with the game.
Rating: 15+ (I feel like it's a little too hardcore for it to be 13+ but not hardcore enough for it to be 18+? I'm not sure, honestly. 13-year-olds are pretty jaded by this point, what do you think?)
Gameplay
3 routes/ending, ~8 chapters per route
22 sidequests that may or may not unlock something if you complete them all.

Felicia: Equip up to four different gemstones to deal some heavy damage onto the enemy.
Francis: Equip up to four different "potion bombs" to heal your allies and debuff the enemy.

(I guess you could say they function similarly to Molotov cocktails. Yeah, I need to work on that.)

Winston: Equip up to four different tarot cards to generally be a nuisance to the enemy.

(Same here.)
Premise
(As I don't exactly have the plot fleshed out yet, I figured I should provide a little of the lore instead.)

The game essentially takes place in modern times, except that magic/witchcraft had about as much influence on society as technology did. All humans were created with a hint of magic within them; they can easily tap into their spiritual potential and use magic to assist them in whatever it is they wish to accomplish. Witches are people who actively practice witchcraft, and normies are your average Joe who chooses not to go down that route. (And yes, witch is a gender neutral term in this universe.) Witches and normies have managed to co-exist peacefully for ages, albeit with some underlying tension. Nowadays, the tension is beginning to rise, and the witches and normies are on the verge of a full-blown civil war. Unfortunately, our protagonists meet some friendly faces that just so happen to have very strong opinions on the matter...
TL;DR: Civil war between the witches and the normies is on the rise and our protagonists are helpless to stop it, so they try everything they can to protect their loved ones and stop them from getting involved.
Characters
(All character designs are made with Recolor.me. This is only temporary and supposed to get down the basic idea of the design. Actual art will eventually replace these as soon as we manage to make some. Also, there are more characters and classes than what's shown, but at least for now I'm only willing to show off the protagonists in public.)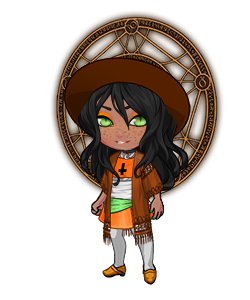 Name: Felicia Newell
Gender/Pronouns: Cisfemale (she/her)
Age: 17
Class: Crystal Witch
Sexual Orientation: Asexual Homoromantic
Main protagonist and Francis's sister. She is a MAJOR sweetheart, like, dangerously sweet. She will literally go out of her way to make sure everyone is happy. Is that so much to ask? While she is kind of shy at first, she's very easygoing and not nearly as oblivious as she comes off as. On the other hand, she can be quite stubborn and doesn't always think things through, but she means absolutely no harm in the long run. If anything, she wants to prevent harm. Fun fact: she has autism, though it's not very obvious unless you've known her for ages.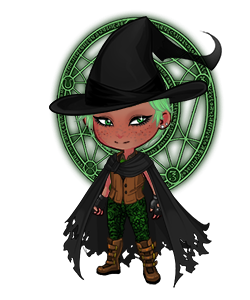 Name: Francis Newell
Gender/Pronouns: Cismale (he/him)
Age: 25
Class: Herb Witch
Sexual Orientation: Demisexual Homoromantic (in other words, GAY)
Deuteragonist and Felicia's older brother. The Ultimate Salt Lord. He has a hard time trusting others at first, but once he gets comfortable with you, he's like a giant teddy bear. That doesn't mean he doesn't have his own sense of humor. He's not some emotionless edgelord, he's just a lot more reserved than Felicia or Winston. He's a little overprotective of his loved ones, especially his little sister Felicia, but, of course, he means well in the long run. Unlike his forgiving and trusting sister, Francis is colder and believes that you should basically rot in Hell if you do something horrifically wrong with no chance of redemption.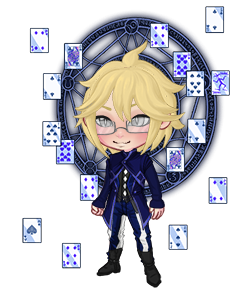 Name: Winston Bellamy
Gender/Pronouns: Genderfluid (dmab), uses he/him by default as well as she/her or they/them
Age: 23
Class: Tarot Witch
Sexual Orientation: Pansexual Panromantic
Tritagonist
and Francis's boyfriend (which technically is a spoiler, but not a major one since it becomes a thing at the end of Chapter 1).
Winston's just. How do you even describe a Winston? Long story short, he's one of the Dankest Memelords you'll ever come across and all his comments either consist of sexual innuendos or spicy, snarky remarks about how dumb you are. He's smug beyond belief, but trust me, his ego's not that big at all. If he says something you're uncomfortable with, he WILL apologize. If you need a shoulder to lean on, he will have it surgically removed for you. Somehow. But he would. Occasionally, he'll go by Wendy instead of Winston depending on his mood.
Types of Witches (Classes):
Crystal Witch: Witches who (primarily) use gemstones in their witchcraft. They're essentially the "jack of all trades" of witchcraft; they can use lapis lazuli to summon some kind of water-based attack, a rose quartz to calm someone down when they're having a panic attack, and so on. They seem very powerful on the surface, but the downside is they're completely defenseless without their gemstones.
Herb Witch: Witches who use herbs and plants in their witchcraft. They technically function like of real life Green and Kitchen Witches, but you get the idea. Herb Witches are generally a more passive class who excel in blessing their allies with their herbal remedies, but more advanced witches are capable of fighting more directly and manipulating plants and nature itself.
Tarot Witch: Witches who use tarot cards in their witchcraft. Tarot Witches are capable of summoning and manipulating Major Arcana-based tarot spirits (a.k.a. familiars) in combat, along with your typical fortune-reading stuff. They're a mighty force to deal with, but much like Crystal Witches, they're defenseless without their deck of cards.
Images
(I know the first screenshot kinda contradicts their designs, but I remade them afterwards, so whatever designs you come across in the Characters section are the canon designs.)
Recruitment
As previously stated, development has been kind of bumpy lately. We're a two-person group and, well, two people can only do so much with a project like this. That's why I need your help. Our biggest focus as of right now is character and plot development, but if you feel you can contribute in some other way, then feel free to do so! If you feel you can't contribute at all, we at least appreciate the support. We even have a Discord server set up so you can have all the information you need right on the spot!
Engine:
RPG Maker MV
Genre:
RPG, Dramedy, Fantasy
My Role:
Co-creator; Writing (characters/plot), sprites, events
Roles Needed (Priority):
Writers: We have a basic idea of the plot structure, but we are going to need other people's opinions as we go along and to help fill in the details. We also need help fleshing out the characters a bit more, a lot of the characters are rather underdeveloped.
Artists: To provide artwork, talking portraits for the characters, and the occasional CG (a la Wadanohara, Mad Father, etc.).
Roles Needed (Important, but not Priority):
Composers: To provide the game's soundtrack.
Mappers: To provide the game's maps. I have a basic idea of what the locations are going to look like, but I'd rather wait until the plot is fully established to ensure that we have all the locations/maps we need.
Sprite Makers: To provide walking/battle sprites. I've already taken up making up my own sprites, but I'm not very good with spriting at all, so if anyone wants to provide their own sprites, that would be very much appreciated.
Anything else you can think of! Literally! Anything!
Q and A time!
"So what do I get out of helping you with your project?" Right, so here's a list of what you get out of helping us with our project!
- Beta testing rights! For, you know, whenever we come out with a beta version.
- A special mention in the credits specifically for people in the Malachite Development Squad!
- nothing that actually has monetary value because im dirt poor pls help my crops are starving my children divorced me my wife is wilting...
"Alright, so how can I help?" Just let me know whether or not you're interested in lending a hand and I'll send you an invitation to the server through...whatever sort of PM system you guys have around here. I just don't want totally random people finding the server without providing why they showed up, you know?
"But what if I don't use Discord?" Lemme know what else you use and we can work from there!
"Wait, so lemme get this straight, what exactly do you need help with?" Primarily character development as of right now, but in the future, I'll probably need other assets such as the soundtrack. Like I said, you can contribute however you want!
Last edited: