Veteran
Joined

Nov 24, 2015
Messages

37
Reaction score

14
First Language

English
Monster Garden
Now on
Steam
:
Monster Garden is a short but sweet game about walking and talking with monsters. There is no battle system, leveling up, or epic narrative about saving the world - but there IS amusing dialogue and lots and lots of monster love.
Meet Mr. Bobo, your orange friend with a big rear-end who will guide you through wild and wonderful worlds to meet new monsters and create a home for yourselves in the Monster Garden. You start out just with one friend, shy pink Foofter, but depending on how you play you could end up with a party of six or more monsters out of a total of more than ten. Other monsters include a spinning Victorian baby hippo named Baby, a confident one-eyed monster in a dress named Feb, and Tookis, a unicycling member of the Booty Biker Boy gang. There are secret characters like mysterious and sinister Drizzy and Foofter's dark alter ego, Doofter. How you engage with mysterious forces along the way determines what monsters join you and how your garden grows.
The demo takes about 15-30 minutes to complete, and the final game will take at most one hour. Although it is short, your playthrough will be very different depending on what you do and what monsters join you. There is no battle system, but there are small puzzles and dialogue choices to determine your path.
Each "seedling" area has a themeーlike the haunting feeling that something is wrong in the first seedling, or anxious pressure to hurry up in the secondーand each monster offers its own response, from serious to joking to dark or playful. You should choose whatever feels right to you - there is no way to lose, and every possible option affects the garden different and attracts different monsters to join you. Even r
ejecting all monsters and rushing through seedling areas carelessly changes the garden and attracts new monsters. Welcoming all monsters and exploring every nook and cranny leads to other changes, and so on. It will take at least three playthroughs to see every monster.
Current features:
・Two (out of three) seedlings to explore, with multiple endings to each
・11 monsters to recruit
・Light-hearted, funny dialogue
Download it here (for Mac users, please download through itch.io/app):
https://wzackw.itch.io/monster-garden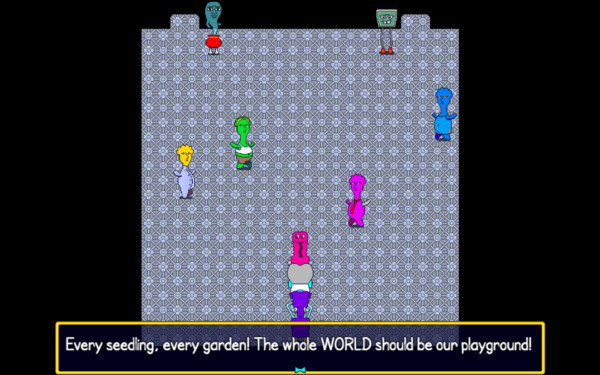 Last edited: