Villager
Hey There Fellow Content Creators! Fral Kritic here with something fun for you to scrap a few minutes away with!
Now... let me find those pictures!
BOOM BAM ZAM!!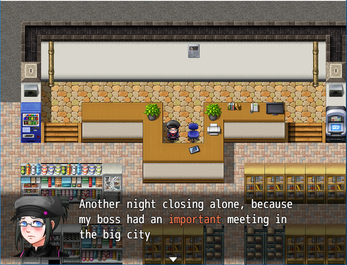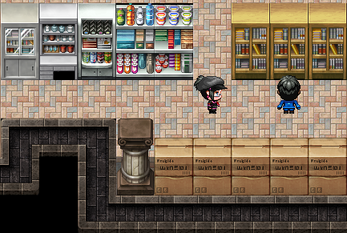 Ah! At last, my entry for the One Map Challenge has arrived... A little late on arrive; probably won't be tipping that delivery man ever again >.>
This is a short prototype for a bigger game I am developing in series. I feel it is weird to report what I said on Itch.io, but it is necessary to full fill my post LOL XD
Now where is that fancy copy combination button.... Ah yes, Ctrl + C
Hmmm....
Here it goes
_______
Important control detail, when talking to people, hold the directional button down towards them and select enter, if you are using a keyboard.
_______
Mysterious Revenge
is a story rich, adventurist, and dark detective game about a young lady; Jolene, who has moved to a new town, with the intent of starting over with her newly widowed mother. Soon after arriving she became an employee for a beautiful multi based market. Her life was finally looking up, until one night at work that change everything!
This being a prototype is very short with the game time being at max 15 minutes. It gives a small taste of whats to come. The final release will have custom graphics, artwork, music, and a detailed story-line to follow through out the series! Yes you heard that right, this game won't be one! So as you play, gauge the feeling I am trying to convey with the placeholder graphics.
I like to thank the team over at RMMV for the One Map Challenge that inspired this project. I only used
1/1 Map
9/10 Events (<- I was soooo cutting it close.)
6/10 Switches
5/10 Variables
2 Characters (No restriction here though)
Most importantly, I completed it and hope you all enjoy it!
If you like it, keep in touch so you can see the ending results of this awesome story!
CREDITS:
Music By Fral Kritic (Me A.K.A Nigel W.)
Game Assets Came With RPG MAKER MV
Thunder in My Custom Theme Song By Zapsplat.com (<- A place for free sound effects)
Story By Fral Kritic
TELL ME WHAT YOU THINK!! I love to hear your thoughts -winks-
Talk to you soon!
Oh.... I forgot, here is the link to the game! LOL XD
GAME LINK:
https://fralkritic.itch.io/mysterious-revenge-prototype
(it's free, but feel free to donate if you like
)
P.S. My game wasn't really delivered to me LOL XD