Veteran
Joined

May 8, 2013
Messages

313
Reaction score

54
First Language

English
Primarily Uses
After many months of working on this, I am finally proud to be able to introduce to you my second original game: Nothing But the Third. After the fairly successful launch of Casia, I decided to take on a new project. The end result has little in common with Casia, instead being a completely separate and original game with its own story and game type.
 ​
No RTP required​
Download link updated: 8.8.2014​
Features:
- About 2 hours of gameplay
- An interesting city with multiple districts to explore
- A captivating story with an underlying moral
- 4 characters with different personalities and loads of abilities
- Challening battles
World Setting
The game is set in a city called Ridoso, the entire game taking place within its borders. There are four basic districts, each very different from each other. There is also a fifth district, which serves as the central of the entire metropolis. The city has been a peaceful and wealthy one so far, but a menace is introduced that threatens the entire populace.
Story Synopsis
Immene, the main protagonist, gets infected by a mysterious intoxicating virus along with the rest of her city. Only her two closest friends, Amelie and Ted, have been spared from its effects - and it is them who manage to find an antidote and cure the city. Though this would normally be a cause for celebration, Immene feels deeply troubled by this. Amelie and Ted seem to grow closer every day, and it is this fact that allowed them both to share the immunity to the virus. Immene is becoming a third wheel and is afraid of losing Amelie to Ted.
Even as Immene begins developing dark thought towards Ted, a great conspiracy is set into motion in the city. A powerful entity has arrived and brought the magical Essence Orbs with him. Two politicians, Samis and Tario, plan to use treachery to win the people of Ridoso on their side and seize power. And then there is the secret of the virus, hanging over the people like a blanket of doom...
Screenshots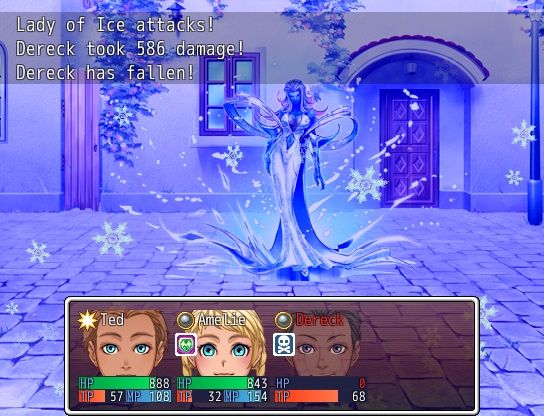 Characters
Protagonists

Immene
The main protagonist, Immene is a troubled young woman whose only wish is to be closer with Amelie than she is with Ted. She is angered by her new position as the "third wheel" in the three-way relationship and slowly grows desperate to patch up her relationship with Amelie. Meanwhile, a dangeorus virus is corrupting her sense of reason, making her negative emotions that much more apparent.
Amelie
Amelie is a smart law student who is close friends with both Immene and Ted. She used to be Immene's best friend, but has recently began to spend more time with Ted, which deeply troubles Immene. Amelie would want to be a good listener and conflict solver, but her skills at that need improvement.

Ted
Ted is a medical student who spends much time with Amelie and Immene... but much more with Amelie. He is resourceful and has a logical mind, but lacks skills at empathy and understanding and believes his way to always be the best way.

Dereck
A young and likeable inventor, Dereck is friends with Immene, Amelie and Ted, but does not spend as much time with them as they do with each other. Dereck is respected for his kindness and patience, as well as his great skill with technology and chemistry.
Antagonists
Rafazu
A dark entity of unknown origin, who plots against the world with the power of the Essence Orbs. Manipulative and mysterious, his true intentions remain to be discovered.
Samis and Tario
Fellow politicians and co-conspirators, Samis and Tario plot to seize power in Ridoso by unfair means and have made an alliance with Rafazu to achieve this goal. Skilled fighters, Samis and Tario are formidable opponents.
Please let me know what you think of the game by posting in this topic. Also, report any bugs or problems here as well. Enjoy the game!
Last edited by a moderator: