Creator
Joined

May 3, 2012
Messages

954
Reaction score

527
First Language

Javascript
Primarily Uses

RMMZ
Description:
Run common event (and/or call script) when variable(s) is changed.
How To Use:
Set up the list of Variable & Common Event, and/or Script Call (Optional) Pairings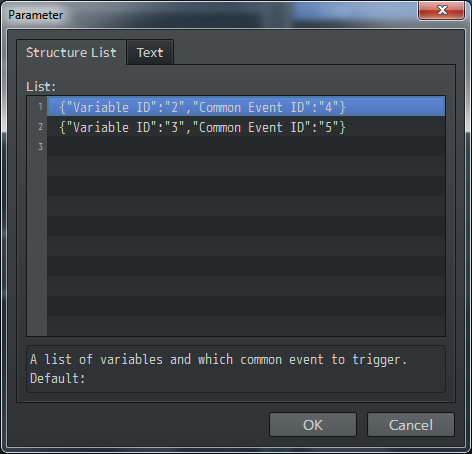 Additional Features:



Download:
OnChangeVariable
Plugin: Click Here to Download
History Log:
Version 1.00 Initial Release (11/20/2019)
Version 1.10 Cleaned up code & added extra feature (Script Call)
(11/20/2019)
Version 1.20 Added trigger by a change to variable in a damage formula (11/20/2019)
Version 1.21 Added ability to rename plugin file (please don't though)
Version 1.22 Bugfix (Trigger now only when the variable is actually changed not just when called upon) (11/21/2019)
Version 1.30 New Features (11/21/2019)
Version 1.40 Major Fix (Rewrite to fix battle damage issue)(11/21/2019)
Original Request Thread:
Click Here to View Thread
(Requested by
KazukiT
)
Credits:
None necessary, no credit needed.
Happy Game Making!
Terms Of Use:
Use anyway you'd like. Feel free to make modifications even.
Last edited: