Villager
Joined

Aug 17, 2012
Messages

25
Reaction score

3
First Language

French
Primarily Uses

N/A
I'm new around there, and I have some troubles with custom sprites. About their format, actually. I hope I'm not asking something which has already been answered...
Actually, what I want to do is to create a new state : Super Poison (got the idea from Pokemon, it's actually a poison which is much stronger.) For the icon, I would like to use a different picture : the original purple bubbles icon of the Poison state, but I'll color them green for the Super Poison state.
Here is the problem, I don't know the sizes of the icon and of the icon sheet. So I would like to have the original icon file sheet (
this picture
), so I'll be able to replace the icons~
My question
: where is the
original state sprite sheet
located ? Somewhere in RPG VX Ace folder...?
If it isn't anywhere, I could also use a sample, like this one :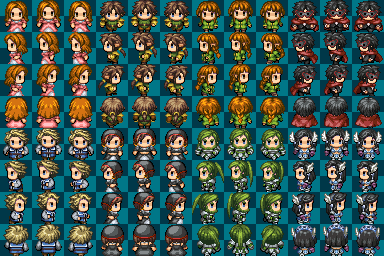 , but it's the only sample I found. I didn't find other samples. So, posting a state sprite sheet could also solve my problem~
Thanks in advance.