Let's go to paradise!
Joined

Jun 25, 2012
Messages

45
Reaction score

59
First Language

Portugues
Primarily Uses

RMMV
​
License:
Free for personal or commercial use.
Context:
The Games strategy that gives the player the possibility to choose the characters that will compose his group of adventurers is usually limited to making him choose the strongest and best equipped characters for the battle. These types of games rarely have more depth than that.
Description:
This script allows the developer to configure the characters individually so that they automatically receive status (states) when certain requirements are met.
Script configuration:
This script has no plugin settings and no plugin commands. However, it is necessary to configure each character on which you want this script to have an effect.
To configure a character, specific tags must be inserted in the "Annotation" field in the respective character configuration window of the database. There are 3 tag possibilities:
(1) Assigns a character status depending on whether other characters are present in the main group along with him. Example:
​
(2) Assigns a character a status depending on his position in the group. Example:
​
(3) Assigns a character status as long as another character is in the group.
​
Attention:
Apparently the tags (1) and (3) do the same thing but this is not true! The tag (1) only gives the character status if ALL the other specified characters are in the group at the same time. Tag (3) is specific to ONLY a single character, regardless of which other characters are in the group.
(4) There is a second possibility for using the tag (3). It is possible to have the attribute applied only if a database switch is connected. For that, it is necessary to complement the tag (3) with #switchId.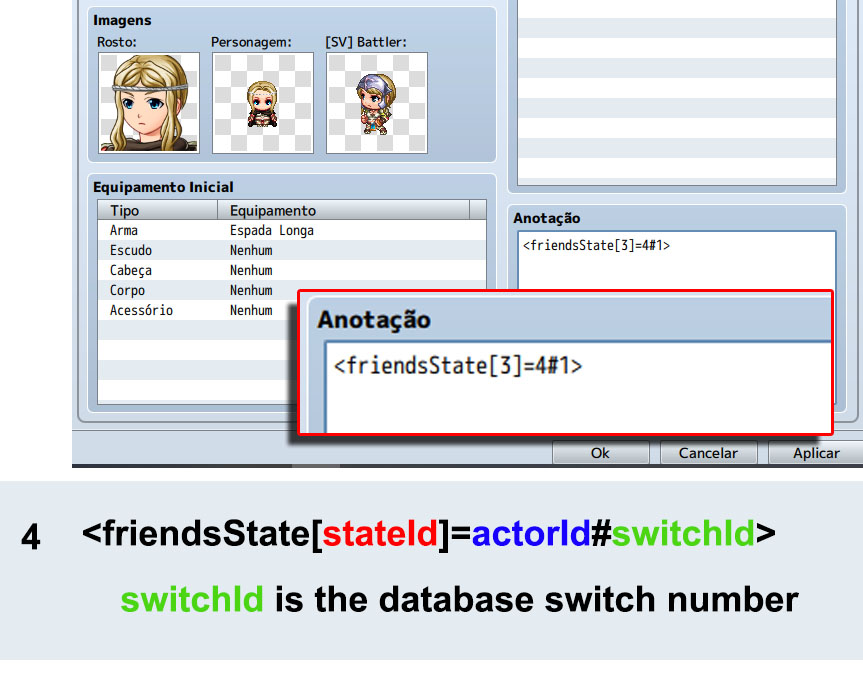 Special Thanks:
1)
@Iavasechui
for having suggested the idea of conditioning the status assignment to a database switch.
​
Last edited: