Kawaii on the streets, Senpai in the sheets
Joined

Aug 18, 2012
Messages

1,933
Reaction score

1,326
First Language

English
Primarily Uses

RMMV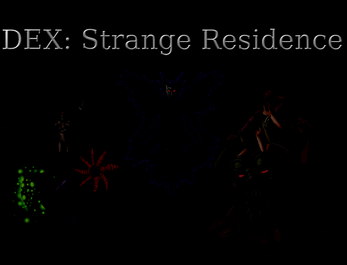 Genre: Survival Horror RPG
Engine: RPG Maker MV
Estimated Time of Release: October 2020
---
~~~Synopsis & Overview~~~
It's an average night for the paranormal detective, Jovon Williams; head to the Fincher Supernatural Museum and exorcize
the spirits inside. But this job is different. The spirits are unusually powerful, dangerous demons are hiding in the shadows,
and a serial killer roams the museum grounds.
Deus Ex Machina: Strange Residence (DEX for short) is a B-movie styled turn-based survival horror RPG about overcoming the
horrors of the Fincher Supernatural Museum by creating teams of survivors, solving puzzles, and battling demons. Inspired by games like Sweet Home, the Shin Megami Tensei series, and Resident Evil, DEX will have players using their cunning to escape the museum using tried and true methods of survival horror. Dex also brings its own twists to the formula:
-Control Multiple Parties: Create multiple parties of characters to explore the mansion together, solving puzzles and removing obstacles that one group can't solve alone.
-Unique Party Members: Every party member will have their own unique specialty from intimidating enemies, to revealing secrets and items, and even accessing certain areas that others can't reach. How you explore the museum will be up to who you bring along with you.
-Perma Death and Item Degradation: Directly fighting ghosts and demons isn't always the wisest or safest solution. Characters have HP that can be depleted through physical damage and a Mental Health Meter that can be depleted through scares and spiritual attacks. If the Anxiety Meter depletes, the character suffers a panic attack that will kill them. Weapons and armor will also deteriorate over time, rendering the player's supplies limited and expensive.
-Use Items To Navigate And Clear Obstacles: The ghosts and demons of the museum have taken full control and warped it to make it more difficult for the player to progress, creating obstacles like pitfalls, rooms of poison gas, and elaborate puzzles. Players will need to find the right tools to tackle the many situations that the player will find throughout the museum to help navigate the museum.
-A History of Occultism, Spiritualism, and Cryptozoology: Since the game centers around a museum dedicated to the strange and supernatural, there will be a focus on a variety of horror themes ranging from classic possession stories to more under-explored scares like encounters with cryptids and obscure mythologies not as commonly explored in horror media.
---
~~~Open Positions~~~
The game was first created as a demo for the 2018 Indie Game Maker Contest. Out of the 323 games entered in the contest, DEX made it into the Judge's Top 10! Thanks to the judge's positive reception, I decided to continue work on the project. I want to flesh it out and give it the love it deserves. But this project is too big and complex to do alone. I already have several people helping me bring this game together, but I need more help. And that's where you come in! I'm looking for qualified members to round out our team and help create an amazing game! Here are the roles that we are looking for:
-Database and Combat Manager: We need someone that likes working with numbers and likes to stretch their imagination for creating unique combat experiences. This position requires creating enemy types, character skills, and balancing to create a tough but fair battle system. Knowledge of multiple cultural mythologies, folklore, and is not required but encouraged.
-Sprite Artist: We need some custom pieces for environmental pieces and puzzle assets in the art style of Vexed Enigma's POP! Horror assets. You can find examples
here
and
here
.
-Map and Level Designer: This position would be a huge boon for the team. You will help with creating maps and designing puzzle areas. Maps will be made with on map enemy encounters in mind. Extensive experience with either creating or playing survival horror games would be a huge help.
Current Development Members:
-Producer, Director, Writer, Programming, Eventer:
@Uzuki
-Editor and Writer: Joshua Flowers
Art and music will be handled separately from this thread because more likely than not I will be commissioning them. If you are interested or know anyone that would be interested in helping in these areas then you can PM me.
Needed Requirements:
-Must be at least 18-years-old.
-A Discord Account.
-You will need your own legal copy of RPG Maker MV.
-One or several examples of your prior work. For the database manager, a file of the database file will suffice and for mappers and artist screenshots and links will suffice.
-You will need to own your own copies of Vexed Enigma POP! Horror City tileset and both Character Bundles.
---
~~~Q & A Section~~~
-Is this game worth making?
Yes! Survival horror games have had an amazing resurgence the last couple of years with games like Soma, Layers of Fear, Five Nights at Freddy's, Resident Evil 7 and The Resident Evil 2 Remake. Survival horror is stronger than ever and DEX would fit nicely into the genre.
-What is your experience with creating games?
I have nearly 7 years of working with the RPG maker series of engines, with 4 years with MV. I will be honest and say that I don't have a lot of completed games under my belt, but I do have experience with leading teams whether they be for sports, team projects, or retail. I understand the importance of completing objectives and achieving goals. I am 100% positive that I can lead a team to get this game done.
Joshua Flowers is a talented writer with published short stories in
The Literary Hatchet
and
Flash Fiction Magazine
. Joshua has been creating at least one short story every other week for five years and has written dozens of horror stories. He has experience editing and will go over dialogue and descriptions with a focus on creating interesting characters and a surreal atmosphere.
You can also find some more of his work through these links. The password to view them is "resetera":
The Black Hole in the Corner of my Room
Frightful Beast
A Quick Cop Story
The Girl Wandering the Beach
What's at the End of the Line
-What makes your game unique and different?
We believe that the core part of DEX: Strange Residence is the ability to control two parties at once to solve problems and defeat the supernatural. Through a blend of turn-based RPG mechanics, survival horror resource management, rogue-lite permadeath, and weapon degradation, we believe DEX: Strange Residence will be a hybrid unique to the genre.
-Is all of this set in stone?
No! We are very open to changes in nearly every aspect of the game except for the idea of creating a turn-based survival horror game. We want you to bring in your own creative ideas and energy to the project to help it feel as personal to you as it does to us.
-Can I try the demo?
Below is the link to the proof of concept demo. Everything in the demo is not final, including art assets, writing, music, and gameplay mechanics.
---
~~~Screenshots~~~

~~~Download Demo~~~
Download Demo
---
All inquiries are welcome! If you feel like that you can fill out one or more of these roles please either respond in the comments below or send a PM to my inbox.