Independent Developer
Joined

Apr 8, 2017
Messages

638
Reaction score

739
First Language

PT-BR
Primarily Uses

Other
I plugged a D-Input USB controller to playtest my game. The directional up is stuck (the menu cursor keeps goings up and the player keeps walking upwards as well).
Pressing Up, makes the controller stops going upwards (only in menus), but then, if I press up again, it don't responds.
If I unplug the controller, I can play normally with the keyboard.
Before this issue, I used another controller of the same model (image below) to play test my games, and it worked fine (I changed controllers because the controller cables broke, and only noticed this issue now).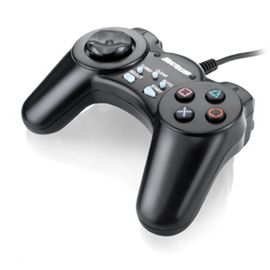 Restarting the game, checking the controller calibration, unplug-plug the controller, none of these fixed the issue.
This new controller works perfectly with any other game, and also works normally on RMXP.
Edit:
I just confirmed that the D-Input controller bug doesn't happens in my compiled game (published before the 1.12 update).
It seems that this added option to allow controls with both analog stick and directional pad to work causes this glitch, if the D-Input controller have only the D-pad instead of both D-pad and Analog Stick.
Last edited: