Aceituna como ninguna
Joined

Jan 11, 2015
Messages

12
Reaction score

9
First Language

Spanish/English
Primarily Uses
I have been lurking this forum for a while and as long as I find a solution I don't usually post (mostly because it would be deemed as necropost), but since two days ago I have been stuck with a problem and I couldn't manage to find the solution anywhere (or to match my question with a close answer). I'm not RUBY savvy, please excuse my ignorance. I have acquired RPG Maker VX Ace some weeks ago so I'm still fairly new to it.
The setting of my new game project is in space. I have made a tiled seamless background parallax I set to scroll 1,1 at the map properties that are the stars and deep space in general. My next step was to add a Solar System (in a non Orrery fashion) with lots of accurate astral bodies, comets, moons and planetoids that the player will eventually visit and explore and see real photos of such astral bodies after activating events (want to commemorate the arriving of Dawn at Ceres this 6 of March and the New Horizons to Pluto this 5 of May). I made this Solar System to fit a big PNG of 800x600 (most of it is transparent pixels and it weights less than 75kb), imported it into RPG Maker and I found I could not seem to make it into my game the way I want it.
-As a character sprite that doesn't move at all (no movement frames), I end with the tiny 32x32 square thingie that prevents me to set up events on each astral body for the player to visit. Not a solution.
-If I merge it with the star background parallax, I'll need to sacrifice the neat scrolling of stars that was meant for a soothing voyage and to allow the player to spot the planets and tiny comets more easily.
-As a tileset the sprite ends chopped into tiny random bits and only 2 rows are shown and the rest of the map is deleted.
-The script for calling an image only puts images on top of the player and moves with the player. You can see this happening here: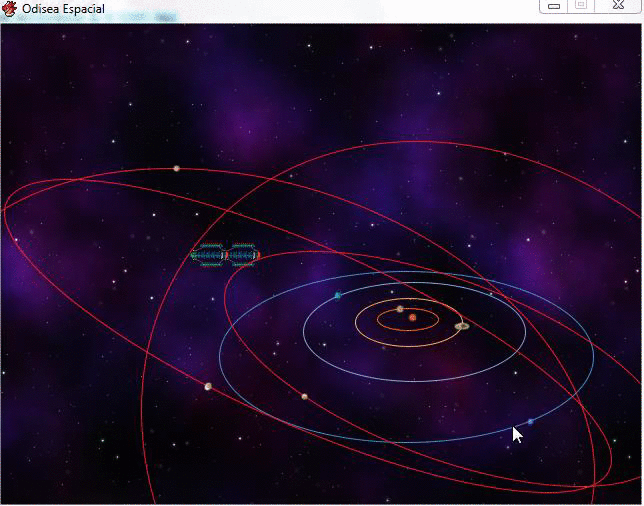 So I have pondered all of those solutions myself but to no avail.
I have seen the use of this last script for overlapping images more suitable for clouds and such things that pass on top of the player
, but I do need the Solar System to stay put, beneath the player AND to be visible on my editor so that I can add the events on each planet to call for "dungeon entrances". Is there any way to achieve this simple task? Thanks in advance and have a good day.
Last edited by a moderator: