chocobo wrangler
Joined

Feb 28, 2018
Messages

180
Reaction score

54
First Language

English
Primarily Uses

RMMV
Poppie's Mod System (WIP)
PMS for short (I can see the jokes already)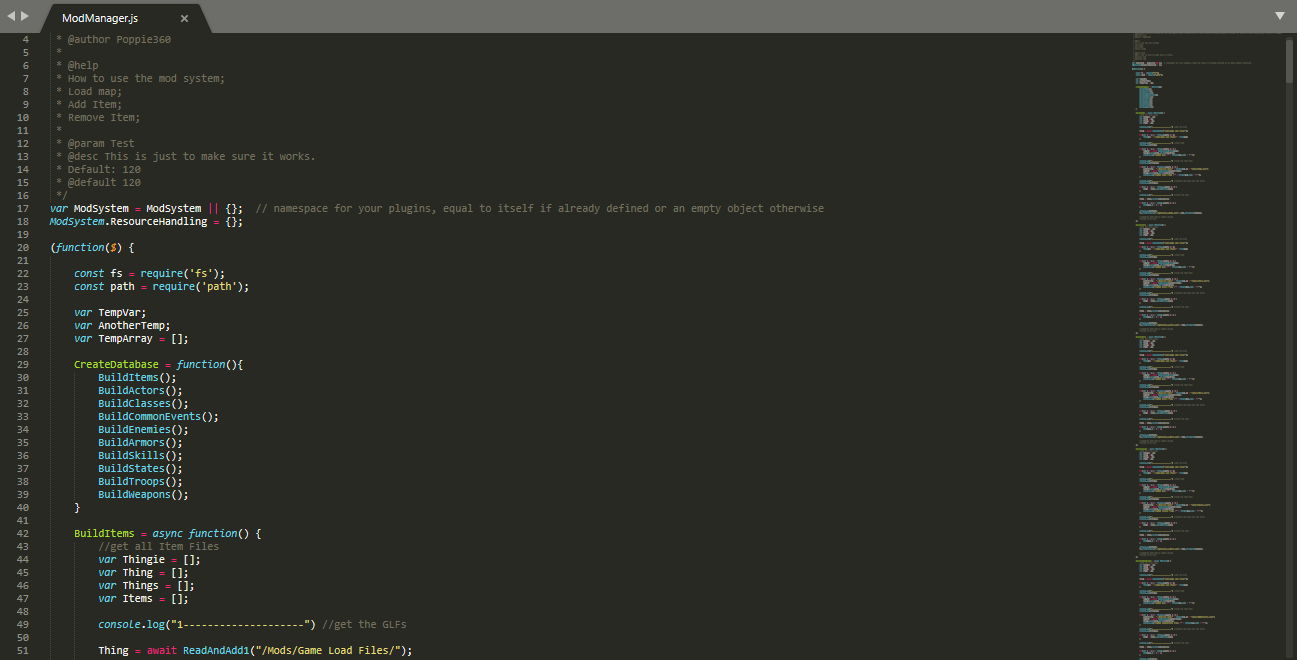 The plugin is about a few hundred lines long...
So, I wasn't able to find any mod systems for this engine anywhere. Being that I needed one for my game the only real option was to make my own, and i decided to make it a publicly available thing to anyone else who may wish to add such things to their own games. the following information will describe how it works and update progress, the mod system will allow the following things to be added to your games by your players;
[Data:

✓

Graphics:

X

] Actors
[Data:

✓

Graphics:

✓

] Items
[Data:

✓

Graphics:

✓

] Weapons
[Data:

✓

Graphics:

✓

] Armors
[Data:

✓

Graphics:

N

] Classes
[Data:

✓

Graphics:

N

] Common Events
[Data:

✓

Graphics:

X

] Enemies
[Data:

✓

Graphics:

✓

] Skills
[Data:

✓

Graphics:

✓

] States
[Data:

✓

Graphics:

N

] Troops
Currently custom tilesets are not something that i plan on making, however it might be something that gets added on down the road. Plugin commands that allow for setting up in game situations that normally would rely on database IDs which are no longer static to be done easily.
How it works
There is so much behind the scenes stuff it hurts my small brain
All it really does is it goes into the mods that are in the mod folder and gathers all the data that the mods want to add into the game, then slaps them into respective JSON files in the data folder. all this happens before it goes and loads the information, effectively hijacking the files before they are loaded and inserting our data into it (honestly i was surprised it was all that simple).
Planned features
I am dumb so these might take a bit
*Plugin commands to actually use modded data
*Key based mod encryption
*Allow custom icons to be loaded for items, equipment, states, ect...
*Allow custom enemy graphics.
*Allow custom event graphics.
*Allow custom Tileset graphics to be loaded.
*Possibly allow custom plugins to be added.
Suggested plugins
People smarter than me have already made some neat stuff
Some things wont be done by my plugin on it's own, I am just going to go and handle the dumb database/file side of modding. However some things others have already gotten to doing, such as loading maps by file.
CT_Bolt Read Map Data
(This guy is the real MVP here)
Downloads
Last edited: