Of the Earth
Joined

Apr 19, 2012
Messages

1,985
Reaction score

890
First Language

English
Primarily Uses
"Can you hear me? I keep calling out for you in my dreams, even though we haven't met, I have heard your cries. I know you are there, and I'm here to save you, and to save this land that you left so long ago... I was just a boy then, but I remember your prominence. I... remember. As long as it comes back to us all, we will find you and bring the magic back. I promise... Princess."
-I remember waiting this day. And it's here. What will await me in this new world? Only time will tell.-
Can you figure out the mystery of Kirish before it's too late?
Story Synopsis:
You reside in Foralia, just a small town in the large country of Kirish, a massive floating island above the world of Laia. Foralia is known for its flying fish, giant and colorful flowers, and its peaceful atmosphere. You are Kirish's first visitor since the Great Abyss War. It was something you've waited for your whole life, Kirish... What you've been studying and studying since your parents died. It sounded so... Perfect. A place away from it all, where you could settle down and live your life the way you wanted, peacefully. But soon after you settle in, you realized that maybe perfection isn't all it's cracked up to be and that maybe this isn't the new life you've been waiting for.
As in real life, people often block out many memories before the age of five. Just as our main character did, maybe some of the characters in the village of Foralia can point you in the direction of your "missing" memories.
-This is a Harvest Moon styled game, with a major fantasy/dark twist. There are multiple plots in the game: One is to save the Princess of the Sky (Isabella) by finding your true love (You can court and marry one of the four bachelorettes). And the other is to defeat the King who is stealing her magic.
World Development:
Kirish is a huge floating landmass that sits high above the clouds. Due to the teleportation circles many more people are finding out about it's existence. However it keeps well enough protected for one to have yet to see it float in the sky. This land is filled with beautiful architecture, giant flowers, floating fish, gentle and fearsome creatures, and Fae (Or Faeries). The land holds pride in their precious color, and their perfectly flowing rainbows. Kirish holds itself to high standards and the government rarely does a thing unplanned.
Everyone in Kirish is born with magical powers, and they use them for practically everything outside of everyday life.
Screenshots: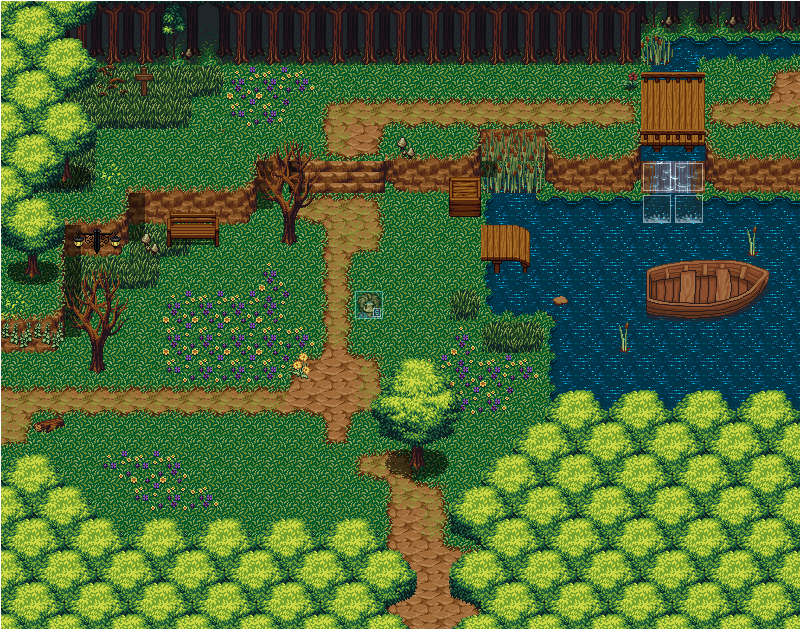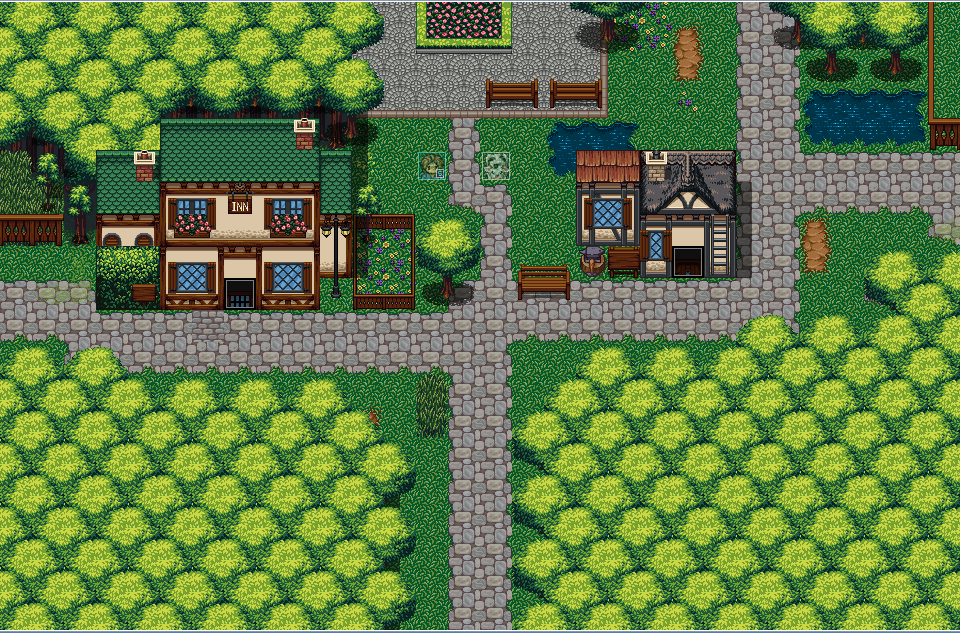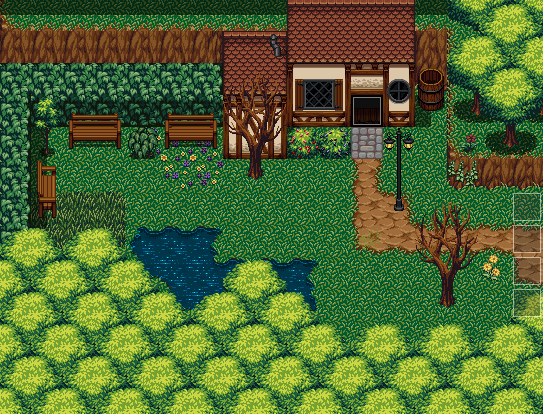 Characters:
The unfinished list, portraits, and biography of the characters in Serenity Oceans. As a Harvest Moon style game, expect there to be quite a lot of characters. These will be in alphabetical order for easy referencing.
Amelia. Amelia is a secret character. Information can be found about her as you progress through the game.
Caswen. Caswen is one of the town librarians. She is shy, bashful, and intelligent, however, make a ruckus in the library and you will see her feisty side! She is about 22 human years old, and 150 in elf years. She spends most of her days in the various libraries around Foralia. With her help, you can enter the coveted library that once belonged to a young Librarian- It's a rickety old place in the daylight, but enter at night, and you'll see the magic! She takes a minute to warm up to you, but she is a very useful ally, and completely soulful and adorable.
Birthday:
Winter 21st
Family:
None
Favorite Gift:
Any
book.
Rival Bachelor:
To be decided.
Clementine. Clementine is the young woman who runs the dragon hatchery in town. She is free-spirited and isn't afraid to speak her mind. You can often find her at Sky Falls searching for treasure. She believes that there is hidden places around the map, and if you befriend her, she might just show you she isn't crazy and will help you find places you didn't know existed.
Birthday:
Summer 17th
Family:
None
Favorite Gift:
Small Treasure Chest
Rival Bachelor:
To be decided.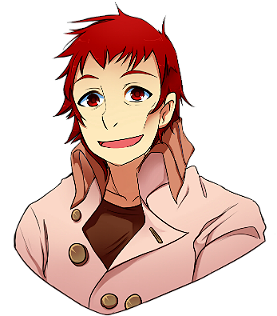 Cromwell. This is Mayor Cromwell. He will aid you in any service you need regarding the town, festivals, and history. He is a useful ally and his youthful appearance makes him very relatable and easy to talk to.
Birthday:
Spring 3rd
Family:
Kira
Favorite Gift:
Relax Tea Leaves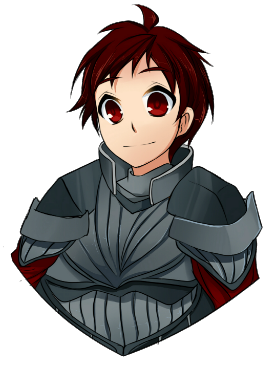 Edward. Edward is a knight-in-training at the castle. At least he was. Now that the magic is draining, the king would rather sport demons for his war companions rather than humans. Other than odd's and end's at the castle, you can often find him around various shops in town for work. Despite his cheery demeanor, Edward is a deep thinker, and wonders out loud why he cannot follow in his notorious father's footsteps and become a knight. He knows the ins and the outs of the castle and it's surrounding areas.
Birthday:
Winter 2nd
Family:
Deceased
Favorite Gift:
Ore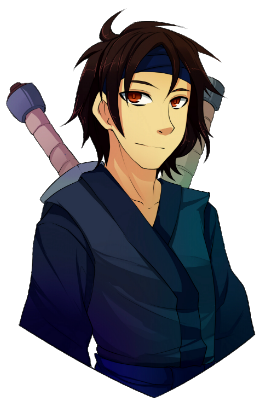 Keito. Keito comes from a similar background as you. Only, he remembers what happened to his family. His solemn vow is to become strong enough to defeat the king and restore what the land used to be. He opened his own training facility and is there daily. He is kind-hearted, however, and is very shy. He cares about everyone, although it's hard to gain his trust. He is a protector at heart and will jump in front of a blade for anyone. Sequoia is his best friend and they have been close since childhood. He will speak his mind no matter what.
Keito is probably the strongest ally you can get against the team, so use his presence wisely.
Birthday:
Winter 4th
Family:
Deceased
Favorite Gift:
Any
weapon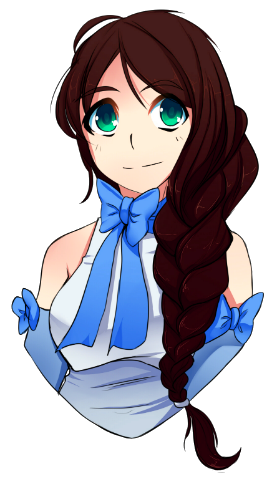 Sequoia. Sequoia is the dancer at the tavern, and Keito's best friend. She can often be found hanging out with him at his dojo, or at the tavern. She also loves to cook and to forage for ingredients. She is very frugal and will save when she can. She is the town sweetheart and loves everyone.
Birthday:
Autumn 8th
Family:
None
Favorite Gift:
Small Treasure Chest
Rival Bachelor:
Keito
Viola. Viola is a secret character. Information can be found about her as you progress through the game.
Willow. Willow is a secret character. Information can be found about him as you progress through the game.
Credits:
Celianna
Lunarea
StrawberryCat
Enterbrain
Ruby
Reisen
Dekita
ShinGamix
Ails
Pokeymon
BokuRaC
Sharm
Rhyme
Fanart?!?!:
Made by NPC, it's Keito!
<3 He's cute.
Next is Viola, by Spectrum Badass. I love her! <3
I want to thank everyone who had supported this game for the year that it has been developing. I have a long way to go, but we will get there! <3
Last edited by a moderator: