Regular
Joined

May 13, 2012
Messages

256
Reaction score

371
First Language

Indonesian
Primarily Uses

RMMV
Introducing
credits : Gakuto Mikagami, Doctor_Q
https://github.com/Echizen-ham/SRPGcore
https://github.com/RyanBram/SRPGcore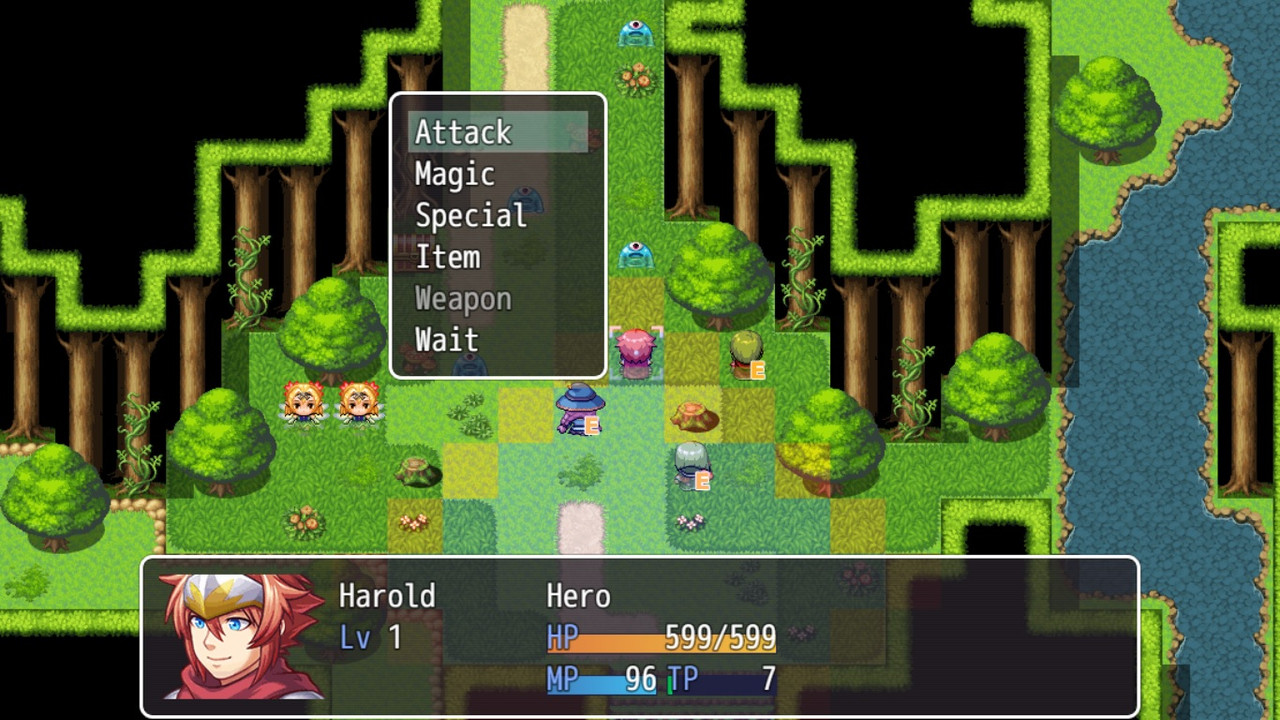 Hi, everyone.
Do you like Turn Based Strategy RPG games?
If so, then I'm also like it so much just like you.
Therefore, on this occasion, let me introduce a collection of plugins called SRPG_Converter. As the name implies, these plugins will change the RPG Maker MV engine that you have as an editor for Turn Based Strategy genre games like Fire Emblems or Shining Force.
DOWNLOAD
The following are the features of these plugins:
Provides feature complete of basic SRPG engine. Only one plugin then you can watch your RPG Maker MV turn into a Turn Based Strategy engine;
High compatibility with any plugins. There are almost no RPG Maker MV Core function that was altered, so you can still use RPG Maker MV and your favorite plugins as usual;
Easy to customize. Every character, weapon, skill, or class can be customized using note tag;
Turn based events trigger. Enjoy rich story customization, by choosing any event to trigger at the moments: Start of Battle, Start of Actor Phase, Start of Enemy Phase, End of Turn, Start of Action, and End of Action,
Can be extended with extension. If you know can write Javascript plugin, you can easily add features that are not yet available. Let us know if you made public extension;
Royalty free for commercial purposes. With the MIT license, anyone can use this plugin without worrying about legal issues. As long as you comply with the provisions of the MIT license, this plugin can be used for any purpose.
Making the SRPG Engine is a complex thing, even comparable to making a new engine that is equivalent to the RPG Maker MV Core scripts itself. Before I introduce this system to this forum, I am using this plugin internally for my own projects. I don't want to become the only one who get the benefits of this plugin, which become the reason I translated it and share it to this forum.
New feature:
On map battle as part of core plugin.
SRPG_AgiAttackPlus, SRPG_UncounterableAttack, and SRPGconverter_with_YEP_BattleEngineCore now become part of core plugin.
DynamicAction for performing action sequence in both Sideview battle and Mapview battle.
Mouse System as alternative to control your game without using keyboard at all.
Planned feature:
Since the era of RPG Maker XP, I have never seen a SRPG system that is truly complete. There are at least two possibilities for that: 1) Kadokawa had already made a new version of RPG Maker before the SRPG System was completed, or 2) The creator of the SRPG System was busy or had other interests that caused the project to be abandoned. Then I decided to offer myself to the author by helping him pushing the system forward, because I am afraid I never see this system finish before being abandoned again.
If you are a Javascript programmer, you can always help by creating extension for this system.
Best regards
Ryan
Author: Gakuto Mikagami, Doktor_Q, RyanBram
Translation: Me (RyanBram)
License: MIT
Non-commercial use: free
Commercial use: free
Redistribution: OK
Editing: OK
Redistribution after editing: OK
Series: RPG Maker MV
Special Thanks:
Dopan and Boomy for endless support for the community
Last edited: