Veteran
Joined

Mar 23, 2019
Messages

487
Reaction score

580
First Language

English
Primarily Uses

RMMV
@MechScapeZH

Congrats on completing and releasing the game! I'd be happy to look over a pitch and offer any suggestions, if I can.
Thank you so much! Well, it's not perfect, but here it is:
Hi everyone (
should I say this?
)
I just finished MechScape, the retro sci-fi game I've been working on for the past few years- some of you might have seen it on rpgmakerweb, since that's where I've been posting my devlogs. (
should I mention this site in case anyone who's seen it here might recall my game, or does this just seem like I'm advertising this site?)

Here's a bit about it-
MechScape is a RPG designed to embody the unique "cyber" brand of science fiction of the late 1990s-early 2000s in both its art style and its dialogue style. Mechanical beings, a post-apocalyptic setting, and of course, cyberspace- it's all here!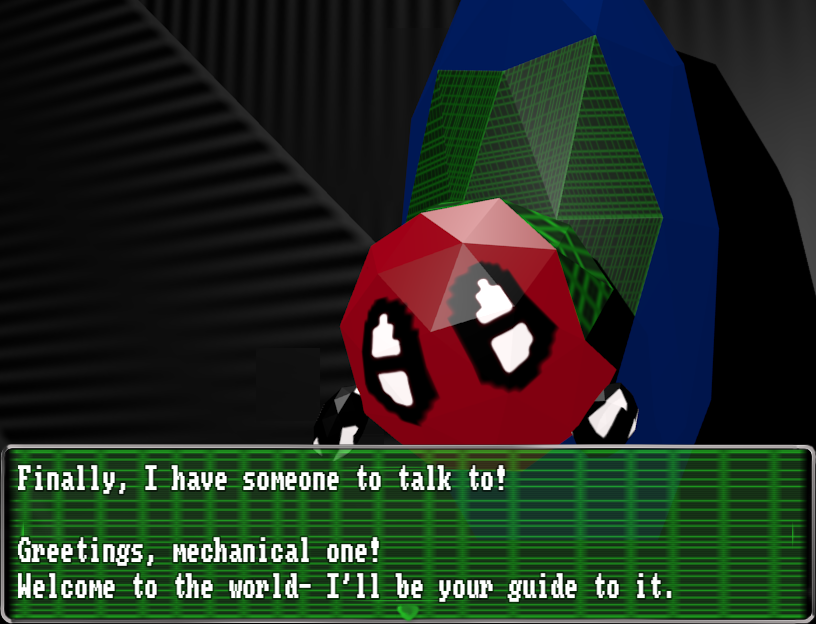 Experience an intriguing story illustrated in a retro style
At some point in the distant future, a Security Robot is revived due to a freak accident. Urged on by the mysterious being speaking to it through its radio, the robot traverses the alternate dimension contained in electrical systems known as Cyberspace. Along its journey, Security Bot will be forced into conflict with the Viruses that now rule the planet. Fortunately, it possesses the ability to assimilate the Skills of these creatures and delete them. With its mission thus, this lone robot forges on- in search of what, it does not yet know.
The saga of the Security Bot is illustrated in a retro low-poly style that perfectly emulates the early-3D look of video games released in the 64-bit/fifth generation era.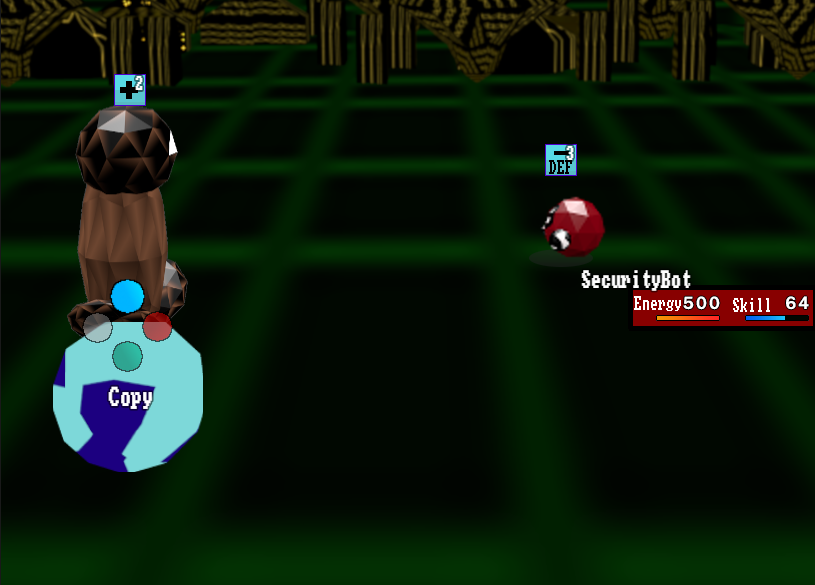 Copy the abilities of the hostile creatures you meet and use their powers against them
To delete the hostile Viruses that it finds itself facing off against, the Security Bot must copy their Skills. This power is the basis of MechScape's core gameplay feature- the ability to duplicate the abilities of your opponents and use them as your own. To win, you'll need to gather Skills and use them in a strategic manner- no mashing "Attack" here!
"Early bird price" in effect
For a limited time, you can grab MechScape for only $4.99! When you do, you'll get all of the DLC that's currently in development for FREE! This limited-time offer ends when the first DLC pack is released. As a bonus, you'll even get three wallpapers!

(
all of the above was-quite obviously- copied & pasted from my store page- I didn't have a better marketing blurb so I just copied this one... My two worries with doing this are 1.) people will notice it's copied & pasted & somehow have a negative reaction to it and 2.) it's rather long and I read an article saying that the patience of the average indie game customer is rather limited.
)
Thank you for taking a look at my game! (
Is this a good sign-off...? Maybe not?
)
My three things that I want to convey to potential customers are
1.) It's retro and designed to look like it was made in the late 90s.
2.) It's an RPG
3.) You can get it & its future DLC for a reduced price right now (everyone loves a sale, right?)
But I'm afraid I'm coming across as too... self-promote-y? I don't want to come off as one of those people who just talks about themselves & is far too fixated on their own success, if that makes sense... I want to present my product in a manner that doesn't make me look like that &- obviously- makes people want to play it. I'm awful at self-promotion- I
never
want to talk about myself, so this is terribly difficult for me...
Thank you,
@rue669
.