Artist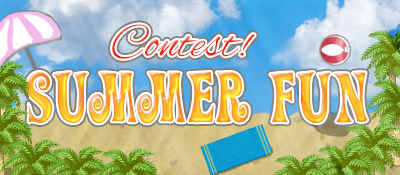 Ah, summer! The beach, the water, the heat that demands icy cold treats ... It is a time of fun and a time of celebration. So, let us give our own
homage
to this oh-so-lovely time of year by pitting lowly mortals- I mean by
encouraging our fabulous
community members to take part in a contest.
~Deadline~
Sunday, July 29th
at 11:59PM EST (GMT -4).
~Prizes~
First place:
Any one item from our official store.
That's right, folks! This is your chance to get your hands on a copy of VXAce, or perhaps that shiny new resource pack you've been eying.
Second place:
Any one item from our official store except VXAce.
Third place:
Any
resource pack
from our official store.
All participants will also receive a nifty little badge that you can proudly display in your signature.
~Rules~
1) Your entry must be a
mini-game
that's thematically related to summer.
Not sure what to do? Well, there's beach volleyball, ice-cream dash, sandcastle building, crab mini-maze or crazy surfing bonanza.
2) Your entry must be made in a legal RPG Maker engine or IGM.
3) You must provide credits for any non-RPG Maker material. No rips are allowed! Please make sure you have permission to use any external resources in your projects.
4) Your entry should be posted
here
.
5)
Judges must have an unencrypted version of your entry.
If you don't want your unencrypted entry to be made public, please pm it to me (Lunarea) before
Sunday, July 29th
at midnight EST (GMT -4).
5) You may create an entry thread at any point and update it accordingly. The project version that's in your thread at the deadline will be counted as the final entry.
~Judging~
The entries will be judged by the following criteria:
Fun factor - /40
Originality - /20
Playability - /20
Adherence to theme - /10
Effort - /10
~Judges~
Touchfuzzy, Frieza and Lunarea.
~FAQ~
1) Are teams allowed?
- Small teams (up to 3 people) are allowed. However, you will still only receive one prize (for example, you will receive only one activation code for Ace and you will choose to which of your team members it goes).
2) Can I do more than one mini-game?
- You can enter as many minigames as you want, but they need to be in a single project file. Just remember that a single polished entry will do better than 10 mini-games that don't quite work. Aim for quality rather than quantity!
Let the summer fun begin~!
​
Last edited by a moderator: