Veteran
Joined

Dec 13, 2015
Messages

161
Reaction score

19
First Language

Portuguese
Primarily Uses

RMXP
Hi! It's me again!
This time i want to talk about some parts of this incredible JRPG by Square-Enix. If anyone have interest in make even one part only i would be forever thankful!
PS.: This post is an "improved" version of the prior topics i've made. Due to the intrinsically nature of all Chrono Trigger systems, i decided to rewrite my previous requests in a better (and with more correct grammar) topic.
PS2.: Requesting one or more of this topics doesn't mean i have interest in hurt Square-Enix intellectual property!
First things first: The Complete gameplay (
WARNING! SPOILERS!
) for reference! In the next topics i will reference this video with timestamps for specific interesting parts:
Well, let's start, topic by topic:
Character Movement
Different from RMMV, in Chrono Trigger the movement are pixel-based (different from RPG Maker where is tile-based), and the main characters have more frames (the NPC and worldmap-specific charsets could be in the standard format;
Sprites Resource
and open
Crono
and
NPCs
to compare; the NPCs have RPG Maker-like frames while Crono have up to six for walk, plus running).
I'm aware there are a lot of more frames systems, but all uses confusing nomenclatures for files. In my experiences making Minecraft resource packs i have a better idea: instead to register all the information (frame count, etc) direct in the image filename, why not make a companion JSON file with the same name (and in the same folder) than the character png image, with a structured information about that char inside it? At least in Minecraft is this way we make to create animation for blocks like fluids; The specification can be found
here
and
here
.
Followers Control
Additionally, the follower system are far more fluid: for example when we tap the Run command, there are a sighly delay until the first follower start to run; after a sighlt smaller time the third and so on. The distance between followers are large, too.
[37:17, for a quick reference]
Another thing: in Chrono Trigger cutscenes the followers can be moved and make animations. I dont know any way to make this using the standard follower system, so we need to make a new one?
World Map
[1:47:15]
The section I tried to emulate back in RPG Maker XP but without success; the normal characters appear in the world map for half a second before the characters get changed; plus if we use the Chrono Trigger menu or another menu which show the player charset the world-map-specific are shown instead (opposite Chrono Trigger where even in World Map the standard charsets are shown in menu).
Battle System
[40:03 for normal enemy; 57:19 for boss]
This is the hardest part. I didnt know anyone managed to make this system in any version past 2k3 (in that time a pretty chop down version was made using events). I think (even being a non-scripter) the most difficult parts to make this is to determine where each battler (hero or enemy) should be positioned; perharps using some AI pathfinding to procedurally positioning the battlers would be a good choice, however i dont know how this would cost performace-wise.
The battlers can be saved in a folder in the same way the sv_battlers does (perharps using a ct_battlers or other prefix, and loading a dummy sv_battler to determine the real battler filename - using a similar technice for animation i've demonstrated in the above section?).
Magic
In Chrono Trigger each character have its own magical element: for example Crono have Lighting, Marle is Ice and Lucca is Fire. Magus and Robo (which doesnt is a living thing) are Shadow, and Ayla only have (but powerful) physical attacks.
Dual/Triple Techs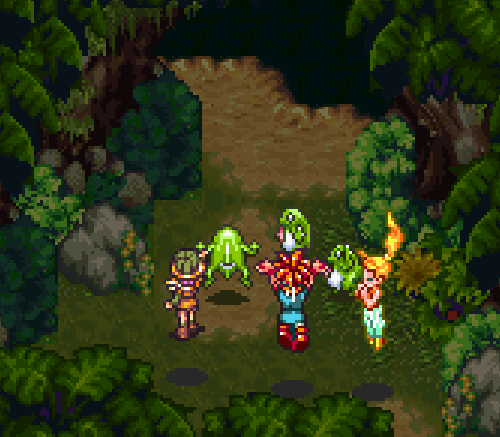 This is the best part of the battle system. In Chrono Trigger some skills (called techs in the game) can be "combined" to form a more powerful multi skill. It can be only casted if all participants have its base skills learned AND have enough MP to spell the "base" skill that multi skill is based.
In the GIF above, we have Delta Force, the triple skill cast by Crono, Marle and Lucca, based on Lightning 2 (Crono), Fire 2 (Lucca) and Ice 2 (Marle).
Accessory required skills
These single or multi skills require one of the members who are able to perform the skill to wear a specific accessory that unlocks the skill for use. These are only available while the accessory is equipped.
--
For a while is this! Thanks if you are reading this and willing to make some of this mechanics (or even to suggest the ones already made)! My sincere thank you!
And sorry if i sounded rude: my English isn't perfect, so sometimes i use wrong words to (try to) comunicate.