The Dragon Heretics
Joined

Dec 7, 2013
Messages

797
Reaction score

439
First Language

English
Primarily Uses
Pausing green light temporarily
After watching the statistics and gathering feedback from the users, it's clear me and Glenn need to work on our presentation and the project itself a bit more. It will take time but we want to do this the right way. We will still post updated information about the product and by time we are ready to re-post we may even offer a demo for yall to check out. It is best to do this right if we plan to do it at all.
Hello rpg makers! I am proud to announce that our game "The Dragon Heretics" has now been posted on steam green light.
It would help us greatly if you can tell us what you think about the what we have posted for it. Also, helping us spread the word
would also help us a tone! We also would like to have you guys exclusively involved in the developmental process of this project
so we can make the best rpg we can! you can find information about the game (and recently leaked pictures) through our link below.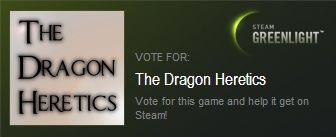 http://steamcommunity.com/sharedfiles/filedetails/?id=241912801
Here is what I posted on steam greenlight for those who have trouble accessing it (atm steam is being funky)
Quick Overview: 

The Dragon Heretics is an open world 2D action-adventure fantasy role playing game that is packed with content. The story follows Kaze (A dragon in human form) and Ashe (The princess of Arcania) in their (humorous yet interesting) adventure across the world in which dragons or dragon sympathizers are branded as heretics and are casted out of their own society (very much like the Salem Witch Trials!). It is their fate to restore the worlds order and to stop an unknown threat to the world itself.   

Honestly I can't tell you what to expect from this game due to the choices you get to make. Depending on your choices, you may laugh, cry, hate, love, or all of the above.   

Features: 

• Hours of game time with the main story line (even more so if you decide to do the optional side quests. 

• Full Blown RPG (None of that chapter stuff, you're getting it all!). 

• All custom resources (Or near all custom resources). 

• RTP Mode for the slower computers (or if you just like rtp). 

• Your choices affect the outcome of the whole game, everyone will have their own unique story. Also, the save data can carry your choices over into future installments! 

• Achievements! And if possible will carry over to steam. 

• Side by Side battle system with each character carrying their own unique skills. 

• No DRM! If you want to share with your friends go right on ahead! (Edit, if steam DRM does not allow this, It will be capable in RTP mode, there will also be a DRM to "help" prevent it from being posted online. Sorry about the confusion on this). 

• Massive open world. 

• Lots of puzzles and side quests (and they will not be grindy like cutting down 5 trees). 

• Congratulations! You leveled up, and so did your enemies! 

• Powered by the Luna Engine! 

• I can keep going, but if you want specifics you can post a question on our Q&A thread here:

http://steamcommunity.com/groups/TheDragonHeretics/discussions/0/558751364716355995/   

If enough interest is shown in the project, we will go into full development and launch a kick starter where you, the community, can became personally involved in the development of this game.   

To help you keep up to date with the dragon heretics, come join our steam group! 

http://steamcommunity.com/groups/TheDragonHeretics   

About Us: 

First and foremost, we are gamers first. We are not in this to make a quick buck. We want to provide you guys with the best rpg experience we can and treat this game with a lot of care and love. Heck, I even poured my own soul into it. Here is the team and their involvement with the game:   

Producer / Eventing: Adam Chatham – Siren Games 

CoProducer / Parralax Mapper: Glenn Debien – Gothic Games 

Music Composer: Kairi Sawler 

Character Design: radiostarkiller 

Programmers: vindaca, Engr. Shana 

Concept Artist: Hirei
Last edited by a moderator: