Regular
Joined

Aug 7, 2012
Messages

50
Reaction score

143
First Language

English
Primarily Uses

N/A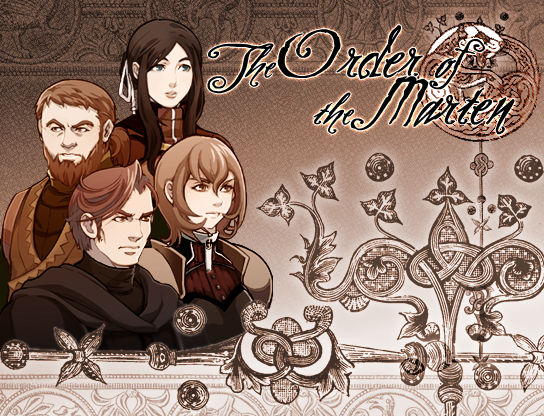 Story
This story is told from the view of a lowborn guards-woman. Her name is unimportant, as she has become a traitor to the king by abandoning her lawful duty, thieving from the king's own coffers, and refusing taxes. This peasant is thus sentenced to death.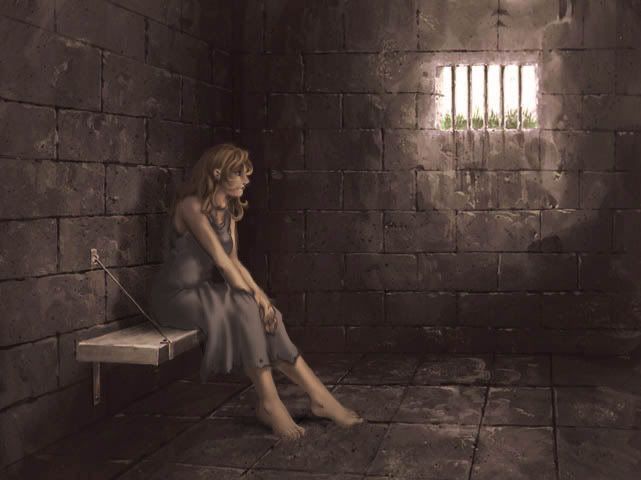 Her story has now ended, but her executioner came with a bargain. Serve him, and in doing so serve their king in a covert squad. You would think it a simple decision, die, or serve your king, however, this woman holds a great deal of animosity for her king, who has done nothing to protect border towns from the growing threat of the wildmen, rampaging sub-humans who have been terrorizing and raiding the outer territories. With reluctance the woman does accept the bargain, and her life ends at the hand of the executioner. Her name has been lost to the world, along with her story. But the end of her story signals the begining of another's.
Audrey, as the new recruit into this squad calls herself, has been enlisted as a bodyguard for it's leader, an enigmatic man known as Simon. She has learned that all members of this squad are former criminals, executed for crimes as petty as document forgery and as vile as rape and murder. After brief re-training, she and Simon set out to investigate the disappearance of one of the squad's informants, and discover a conspiracy unraveling, one which could endanger king and country, and the squad is the only chance this country has to prevent an international fiasco.
Loyalties will be tested, lies will be exposed and our heroine will learn that nothing is ever as it seems in the world of politics. Will she be able to cope with what this quest makes her do? Follow her tale and find out.
Characters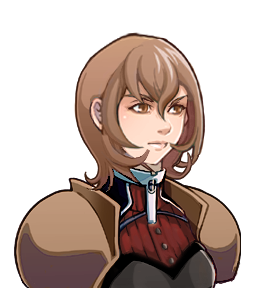 Audrey
Specialty: Martial Prowess
Enlisted to defend a kingdom she has no faith in, Audrey is at constant odds with herself. She is very sensitive to the suffering of the common people, and it pains her to perform her duty to the king when so many others suffer. Her faith lies in god however, and she believes that god has a purpose for her that she can only fulfill if she remains alive.
She is a master of heavy arms, years spent tending the fields of her homeland have gifted her with a strength unlike most women. In battle her raw strength and martial prowess allow her to defend her comrades and strike powerful blows to even armored foes.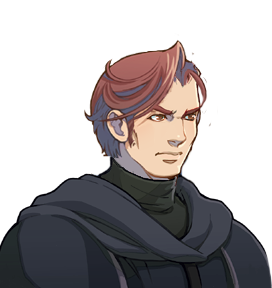 Simon
Specialty: Finesse and Espionage
Like many of the squad he leads, his past is lost to history. No one knows where he came from or what his crime was, and they don't particularly care. He is a dangerously intelligent man who holds sway over every member of his company. Many respect him for his tactical prowess and unfaltering calm, others fear him for the dark shadows he holds over their very lives. Simon holds agents in every corner of the kingdom it seems, and even traitors to foreign lords beyond the kingdom's borders.
His skill with light arms is unparalleled, and his fighting style hints that he may have been an assassin in his former life. His tactical maneuvers have also won many a battle.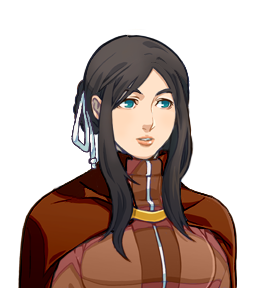 Isabel
Specialty: Explosier
Isabel often comes across as a very cold individual, and she my very well be, if she has any emotion at all. She is difficult to read due to a perpetually calm exterior. It has been discovered by some of the squad that she was charged with the death of her husband, amongst others. He, a skilled chemist, and his colleagues were burned alive in his workshop, for which Isabel was blamed. She is likely the member most loyal to Simon's cause.
She is skilled in the creation and use of explosives and other chemical creations. She also is skilled in the use of pistols and rifles.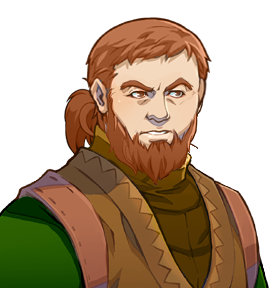 Jerome
Specialty: Apothecary
Jerome is a man of dark humor. He is certainly a social butterfly, but his life it seems has twisted his mind into a dark thing. It seems he is content enough to be alive, but holds some old animosity towards the capital. He is quite open that in his former life he was a drug dealer, profiting from the addictions of his clientele.
While he is a large and dangerous man in a fight, his great value in battle is the application of medicines. Jerome has the ability to use compounds to their maximum effect, whether they be helpful or harmful. To have any other person utilize salves would simply waste half the supply.
​
What it's Not:
This game does not include any of the following:

​
Teenager heros
Magic (aside from the fringe superstition of witches and cultists)
Asia-free, the farthest east I go is the ottoman empire
No saving the whole world
No gods, demons, fairies, elementals or santa claus
If you think you could dig a game set in a more realistic world, with real flaws, real danger and mature characters trying to achieve more real (yet not easy) goals, stick around. If you dig big eyed magical elves from the land of suteki going against the dark god Beazleburp, well, stick around anyways, maybe you'll like this too.

​
Screenshots: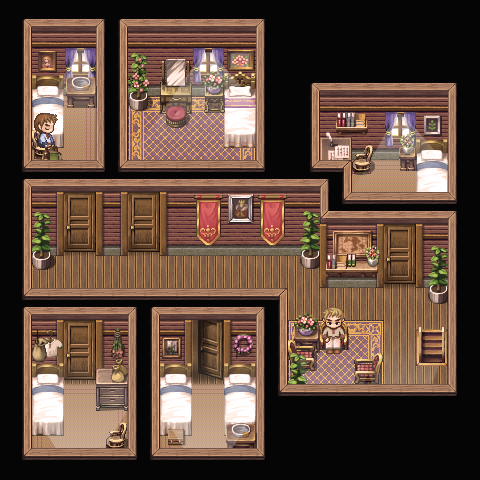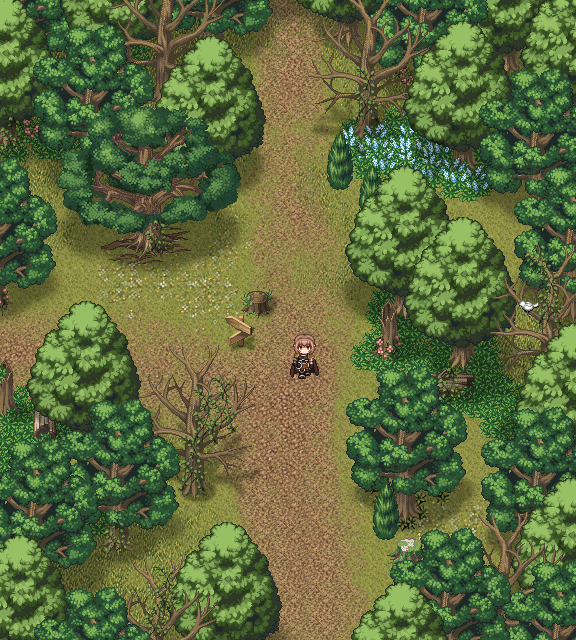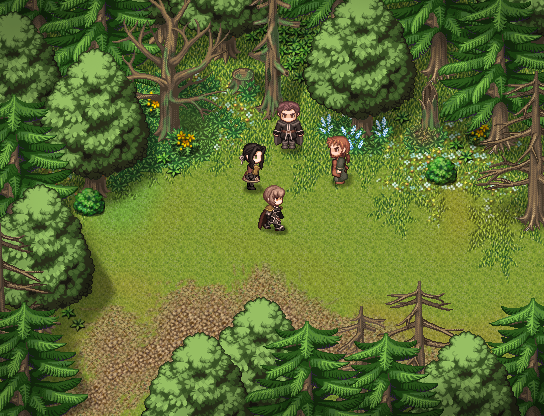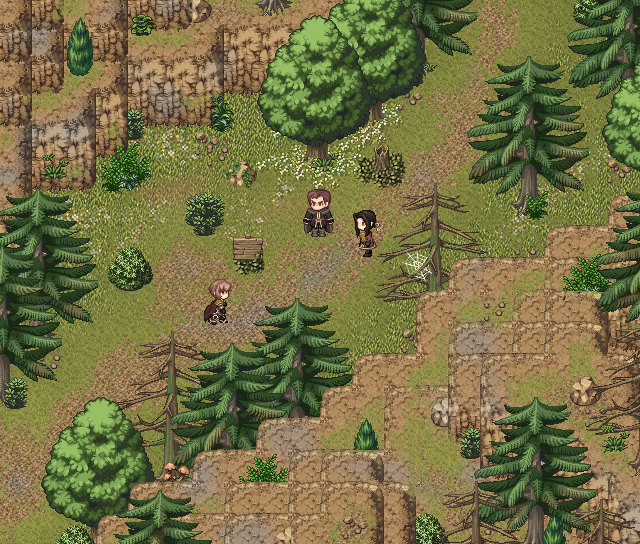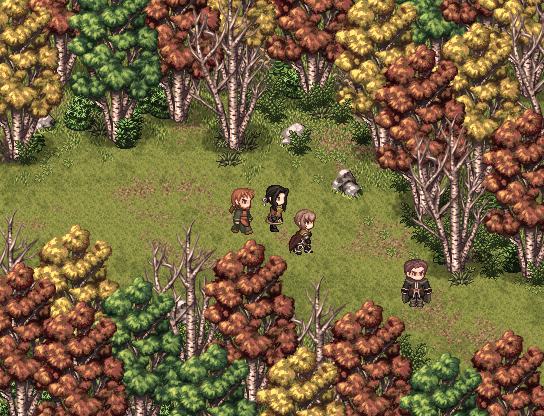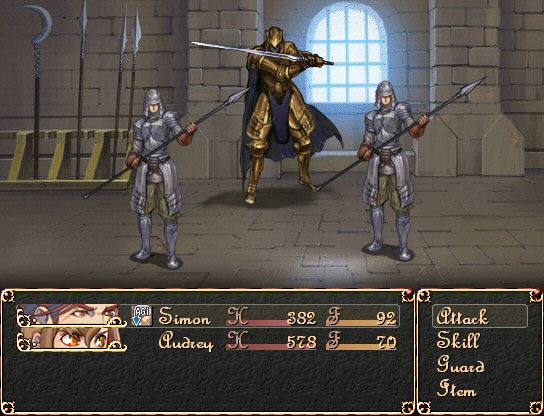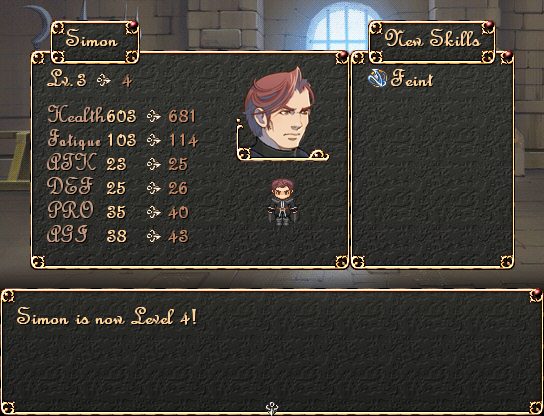 And now some crafting images: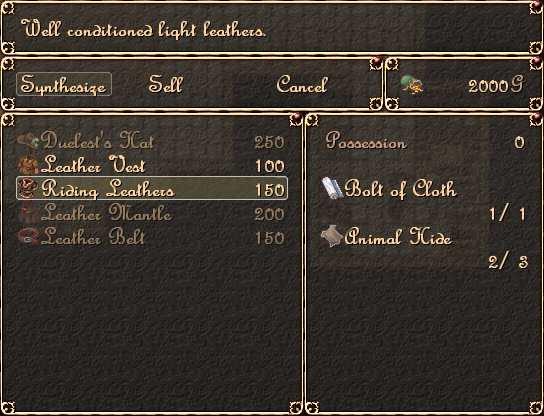 Times are tough, and tradesmen can't keep many finished goods in stock, so you'll have to find different types of craftsmen and provide them with raw materials to have access to a greater variety of armors, weapons and items.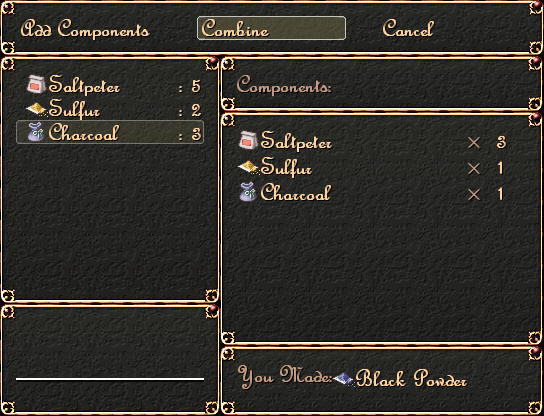 Isabel can craft her own goods from raw materials and chemicals, producing explosive results.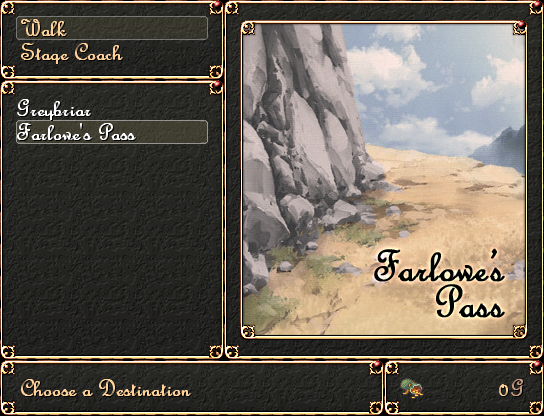 The travel system, courtesy of ModernAlgebra's Baldur's Gate system. To travel to different areas, access a signpost. Unless you fork over the money to be ferried, expect to be attacked by wildmen, bandits or beasts along the way.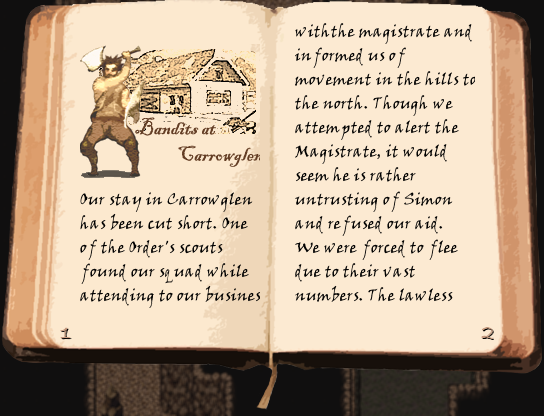 The journal system. Audrey keeps a written account of the events of the game.
Assorted Art: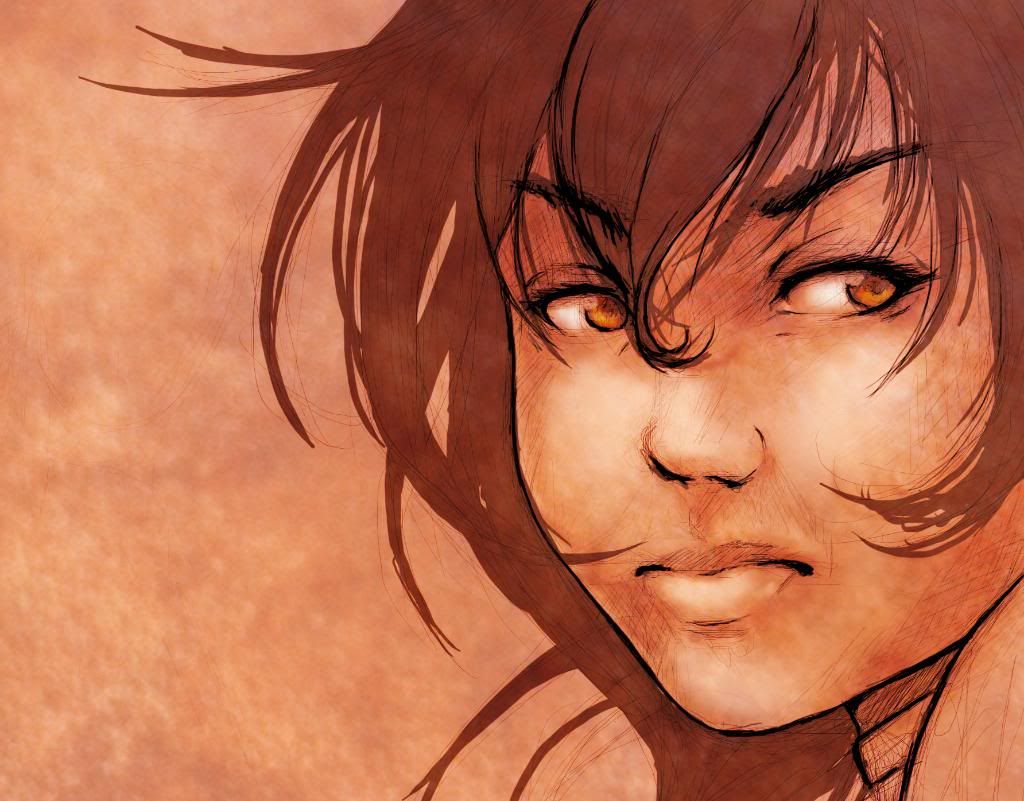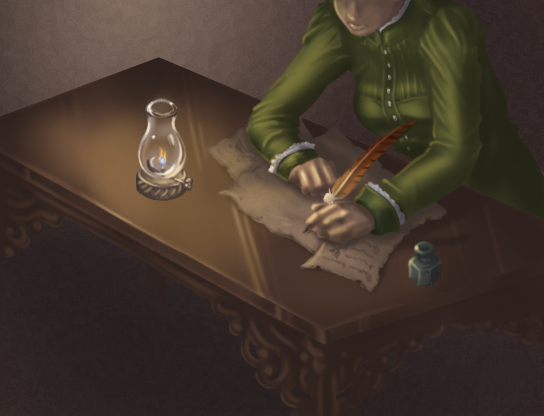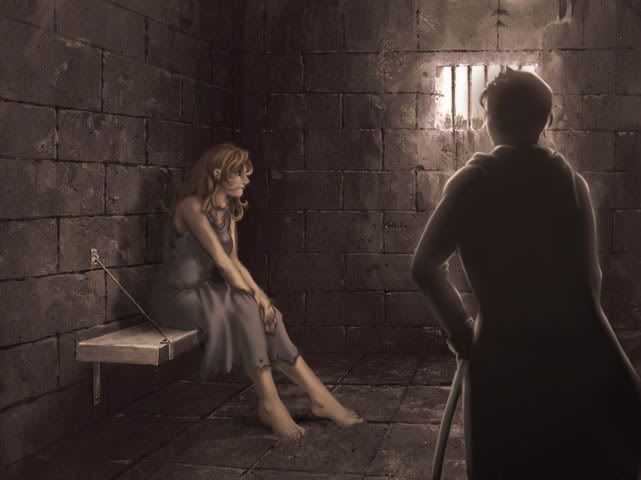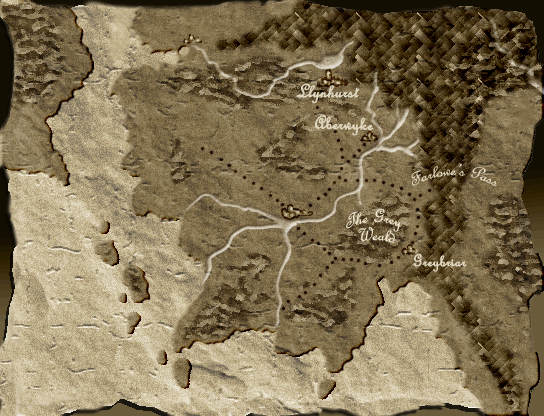 Videos:
​
Here we have a video (no sound, sorry) of a typical (if a little long) battle. This was made to show off several features, including:

​
Skills requiring item consumption (Administer Arnica and Eyewash, Dust Cloud, Tranquilizing Shot, Toss Grenade, Smoke Screen and Apply Toxin)
Actor face bars courtesy of a script by Moogle Warrior.
Animated states by Ziifee and mob battler states by Modern Algebra
Multi-layerd animated battleback script by Yanfly (my own edited battleback and animation)
State variations by Ziifee (Oil increasing damage by fire/explosives)
Regen on guard by Synthesize
Graphics highly edited RTP and closet battlers and windowskin
And here is a quick video which shows another animated battleback for rain!

​

​
Features:
]
As there is no magic, a character's skills are governed by their prowess, and utilizing them requires Fatigue
Equipments require certain levels of strength or prowess to be used
ranged weapons and some special weapons require ammunition or reagents to use, best keep an eye on your supplies
No world map, travel is done through signposts, with varying levels of danger to travel from point A to B. Hiring a coach can reduce the danger.
Each character brings a completely different set of skills to the party you'll have to use them well if you're to survive
Very few RTP graphics!
A complex politically fueled story with mature characters
Explosier crafting system, make everything from smoke powder to grenades to special bullets.
And more to come...
Demo Progress:
Database: mostly done, just need to add descriptions, item prices and test parameters.


Story: Done


Eventing: Much to do still


Mapping: six or seven maps to go


Scripting: just need to populate crafting recipe lists


Graphics: Maybe a few more icon edits, adjusting tone on NPC facesets
The Team:
Joy: Maps, Art, Story, Eventing, Eventual breakdown.


Holk: Voluptuous musical masses.


grafikal: perfectly proportioned pixels.


EvilM00s: Wittily whimsical wording.
Support Bars:




Last edited by a moderator: