Veteran
Joined

Oct 10, 2017
Messages

49
Reaction score

23
First Language

Portuguese
Primarily Uses

RMMV
Hello! I'm just passing by to show my game idea in hopes of getting feedback. I only have a few maps made for the project, but I do have a little notion of which direction I want it to follow.
So here comes;
Working title;
The quest
Characters;
Note; I will be using the "default" characters, since for some reason I kinda like them!
Harold: Young and courageous boy, has quite the guts and is kind to the soul. Harold is still in his teens, and is still trying his best to meet everyone's expectations of him, since he was born such a skilled swordsman. The boy has a lot to learn but even so managed to get Therese to let him join in a big quest she was going, "so he could learn more".

Therese: The gentle warrior lady who has a strong heart. Different from most people's thoughts of her, she is a very warm person with a heart of gold. Therese has been struggling with a lot of different things ever since Harold's parents died, leaving their newborn son in her hands. One of the things Therese is trying her best at, is hiding the truth of his parents from Harold, since it's a secret she wants to take to her grave.
Lucius: Always spending time in the tavern with his lover Marsha. He is very good friends with Therese and Harold, generally acting like a father to the latter. He is a very skilled Priest that came from another city. Lucius might look like it, but he is no fool, he knows that something is up with Therese these past few years, now more than ever. Something related to Harold but he can't put his finger on what it is exactly.
Marsha: The intelligent sorcerer who is lovers with Lucius. She is the main protector of the Northpass village and is always in good terms with the elder. Always caring for her friends, Harold and Therese. She is not the type to suspect her friends and is very trusting, sometimes too trusting. Even though Marsha is very short and thin, she is actually much older and powerful than other sorcerers around.
Plot/Story;
Therese has finally allowed young Harold to go with her in a quest accompanied by Marsha and Lucius. The group has been sent to find an ancient sword for a scholar. Just when the group found the sword deep inside a cave, time seemed to stop while Harold found himself speaking to the sword and taking it for himself before fainting.

After that, the boy wakes up in a infirmary with a worried Therese. She tells Harold that before she could blink he grabbed the sword and fainted, so Therese and the other two took him to the closest town, which happened to be the capital of the kingdom. Harold decides to keep quiet about what really happened.
When Harold recovered, the group went to give the sword back to the scholar they were supposed to. However, the Scholar said that they could keep the sword; He "felt that great things would come if they kept it", and so, the group left with the ancient sword.

Therese decides that the group should stay in the capital for some time before heading back to their village. Just when they thought everything was fine, the city was invaded by mutiple masked men, they seemed to be wanting to get "the Abyssal Blade" for their master.

Our group manages to escape from the city, but even so, Therese and Lucius knew that something was up, something related to Harold's sword. And so, the story centers around Harold and the sword that was bound to his soul the moment he touched it. Our main heroes will not only have to find a way to free Harold from the sword, but also reveal things from the past that have been buried a long time ago while the fate that wraps itself around Harold keeps on gripping tight.


Map Screenshots;
Screenshots of the maps I made for the prototype, they might change or be completed remade, but feedback is welcome!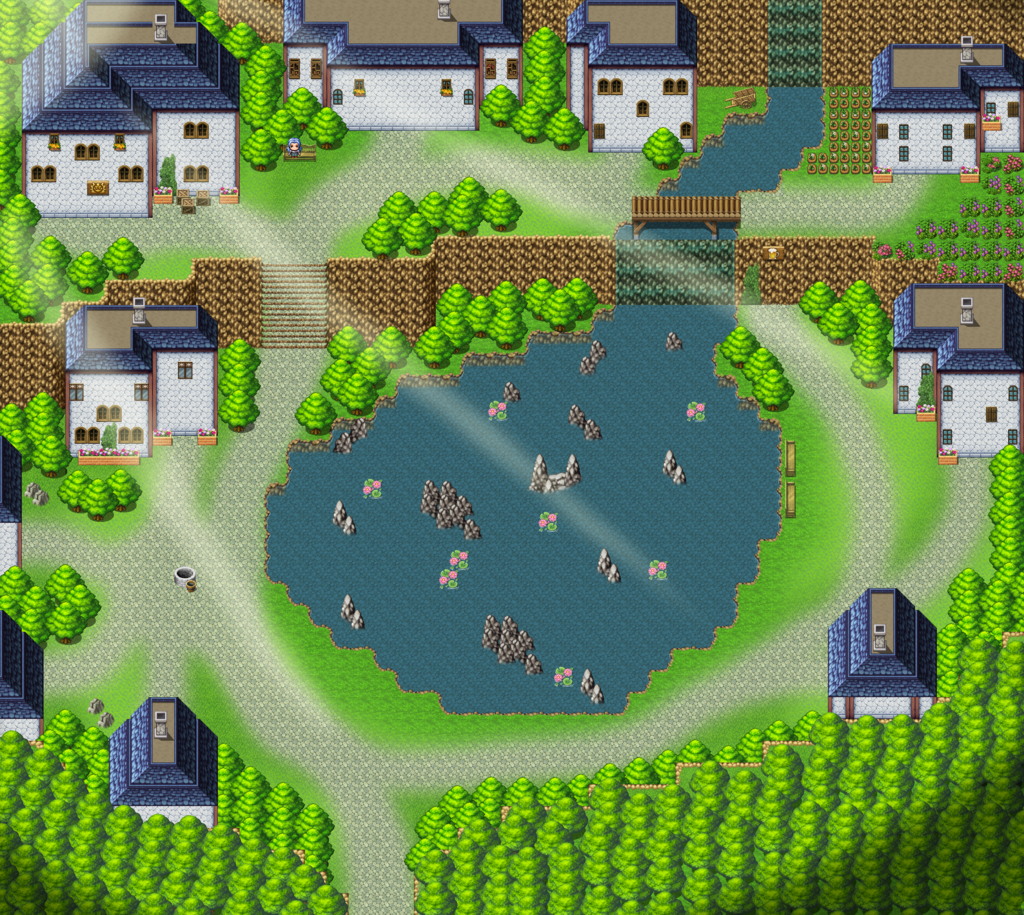 This is Northpass Village, the main Village where all main characters come from/live nearby. I used a few things from the Town of Seasons (The DLC) and other few things from people of this forum, the credits are on the bottom (for all the maps)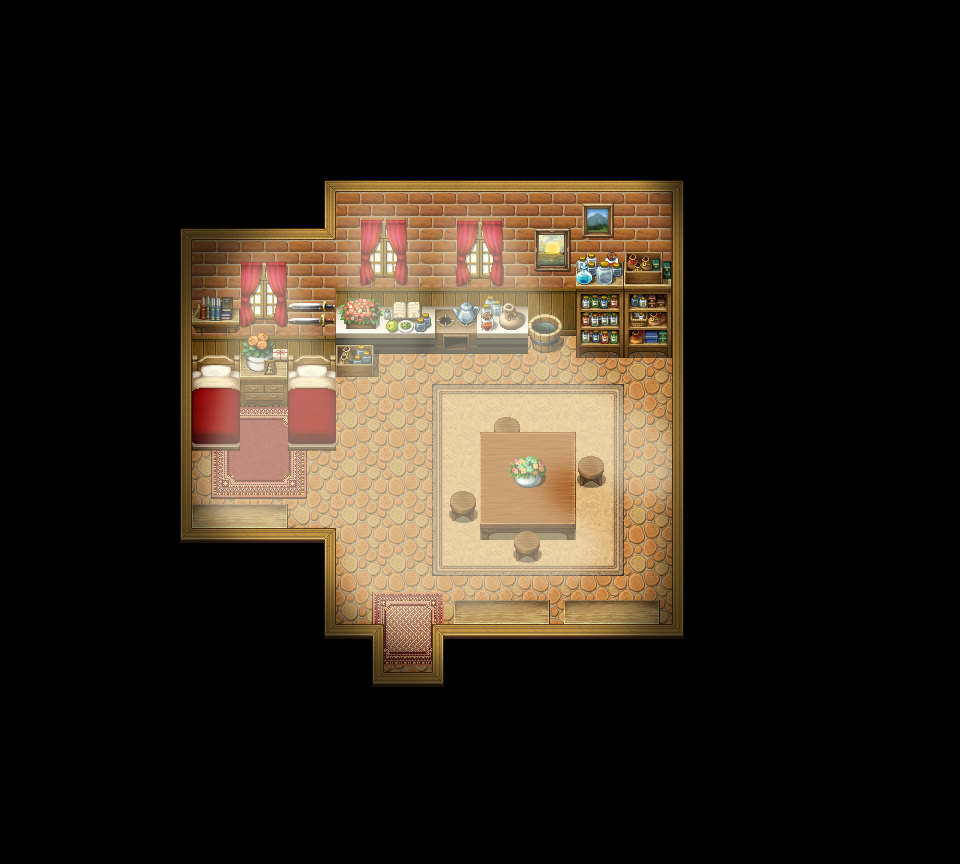 This is Harold and Therese's home, they live outside Northpass village.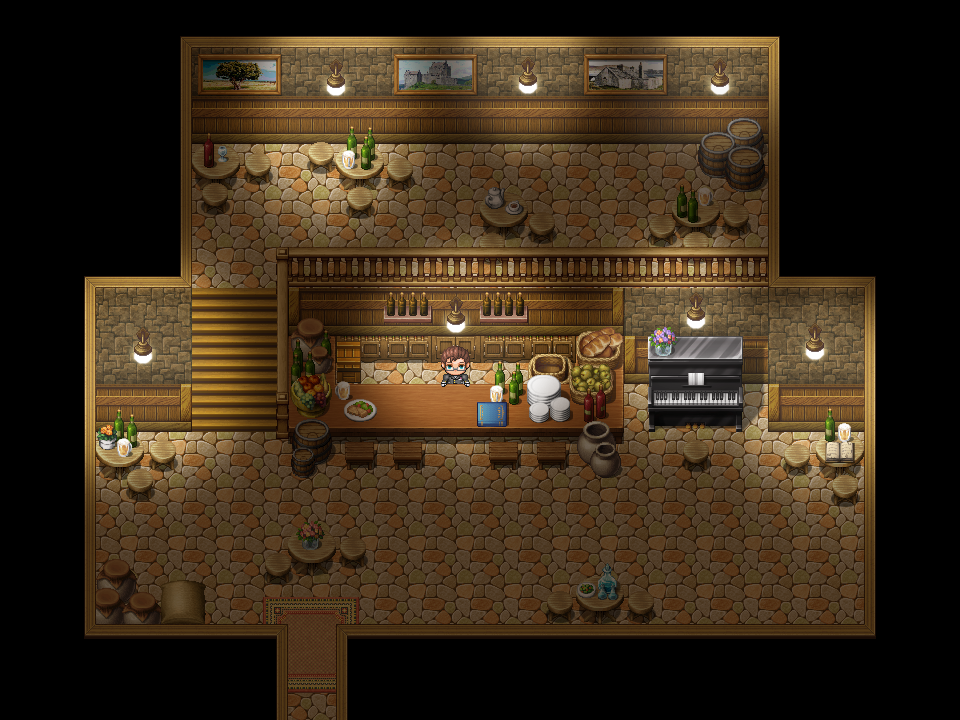 And this is The Tavern (located in Northpass village), a cozy and sweet place to hangout, get quests and drink... a lot.
Credits for the maps
Kadokawa
Chiara
Idrah
Whtdragon
Starbird​
Final Notes;
This is all I have for the game, locations and mechanics are still something I'm thinking about.
But I do want the game to have multiple endings based on the choices the player makes.
Anyways, I hope this gets posted, I really want some feedback on my idea!
Thank you for reading through, and I will keep on working on this project.